Live! From Pine Beach NJ: The world's most popular metal finishing website, and the internet's friendliest corner
topic 19039, page 4
How to restore antique cook stoves, p.4
---
---
A discussion started in 2003 but continuing through 2019
April 22, 2012
Q. Hello, I need to know where to find a copy of the assembly guide for parts for a 1900 Eagle wood stove.
Mario Thompson
- Due West, South Carolina, USA
---
May 3, 2012
Q. I have acquired a Columbian Choice 6 plate cast iron cook stove ca. 1926. made by Keeley Stove Co., Columbia PA. Aside from needing cleanup, it is in decent working condition. However. I have discovered a hole in the lower side of the cast iron body next to the oven. It is not visible from the front and is at the very bottom of the side panel. The oven box is intact but whoever had the stove prior, tried to patch the hole on the exterior with what looks like automobile body putty. I scraped it all off, but now I have an opening at the lowest point on the side to deal with. It measures about 3 inches in height by 12 inches in length. It needs to be patched or filled. I fear it will smoke once I fire it up. I am at a loss as to how to repair it. Can anyone help?
S.B.
[last name deleted for privacy by Editor]
- Salisbury, Pennsylvania
---
June 10, 2012
Q. Am thinking about restoring my wood burning stove and have some questions. What is the best method to protect a wood burning stove -- high temperature paint or stove polish? [Ed. note: for this question please see thread 11428, "Restoring a cast iron wood stove completely covered in rust"]
Also does anyone have any information on a Atlanta 828 Challenger wood burning stove (such as manuals or parts)? Where can you find firebox grates for wood burning stoves? Are there any type of bolts that are better when replacing them? How are trivets used on wood burning stoves? Thanks for any help.
John Smedley
- Mission, Texas, USA
---
December 11, 2012
Q. Hi, we are inquiring about a Monogram stove 4c80, Monogram Industries, Quincy, Ill. Can you tell me if it is a gas, coal or wood burning stove?
Gail Little
- Crystal, Michigan, United States
---
January 6, 2013
Q. I am beginning research and work on a Washington Stove Works Olympic stove. I am looking for an owner's manual and information regarding paint/sealer as I am removing surface rust.
Brett Martin
- Topeka, Kansas, USA
---
March 2, 2013
Q. What is the best method of preserving a cook stove being left outside in a covered area. Our climate can get very damp in the winter. This is for namaste and not for use. Thinking about wiping with some type of oil. Thanks for your time. Grant
Grant Lange
- Port Alberni, BC, Canada
---
March 7, 2013
A. Hi Grant. Bare steel or cast iron will rust quickly outdoors. I think you'd be better off with a high quality paint job than with oil. Good luck.
Regards,
Ted Mooney, P.E.
finishing.com
Pine Beach, New Jersey
Striving to live "Aloha"
---
June 20, 2013
Q. I am in desperate need of finding information on a Muscogee stove. I have searched the web with no results. Could someone please please please help me!
Thanks!

Mindi
Mindi Pittman
- Aiken, South Carolina, United States of America
---
October 19, 2013
Q. Magee Grand 1901 Cookstove. Does anyone know where I can find parts for this beautiful stove
I need a grate, damper and side car...anything that would pertain to this stove
Rusti Wolny
- Equality, Alabama, USA
---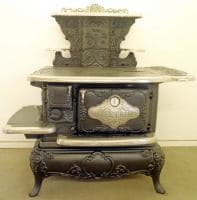 (photo from www.goodtimestove.com)
October 29, 2013
A. Hi Rusti. You might try The Love Barn in Oland, ME at www.antiquecookstove.com, or Good Time Stove in Goshen, MA at www.goodtimestove.com
They both sell restored and unrestored antique cookstoves, claim to have some cookstove parts, have some Magee stoves listed, and probably have the experience to guide you. Good luck.
Regards,
Ted Mooney, P.E.
finishing.com
Pine Beach, New Jersey
Striving to live "Aloha"
---
October 28, 2013
Q. Hello,
I recently purchased a camp that has a Quincy Stove Manufacturing Co. Monogram wood/ gas stove in it. Is it possible to use wood in for the heat in the oven section of this stove? and if so, How would I go about doing this?
Lisa Buchko
- Spaulding, Michigan, USA
---
December 6, 2013
Q. I have a Round Oak kitchen cook stove that burns 16 inch wood. I need new wood box grates, not the shaker grates in the bottom. Looks like there are 4. The inner or fire exiting side is warped and broken. I have the model and serial info. and would like to find a foundry or company that could help me. Thanks.
Darrell Jones
personal, retired - Crystal, Maine, USA
---
December 6, 2013
Q. I am needing suggestions on how to refinish the enamel coating to my antique copper clad malleable wood cookstove; not in bad shape at all but has some cosmetic issues. It is white with the mint green trim. Can I paint it to get the same glossy finish, or is it better to polish. It has a couple of surface rust spots and the left side damper slot has some kind of bond under the damper door that is a cream and is not smooth otherwise in good shape. Any suggestions would be appreciated.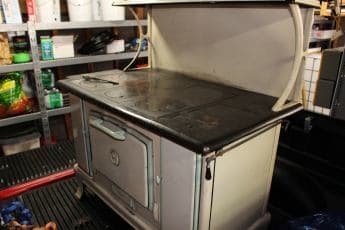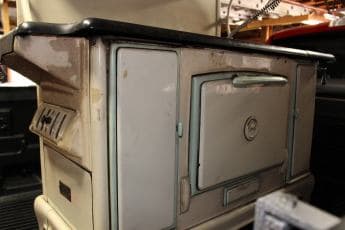 Rebecca Wright
- Jonesborough, Tennessee
---
Enterprise Oak wood or coal stove #215
April 4, 2014
Q. We have a enterprise oak #215 we can't find any like it on the net to see if we are missing any parts and how old it might be ... any help is appreciated.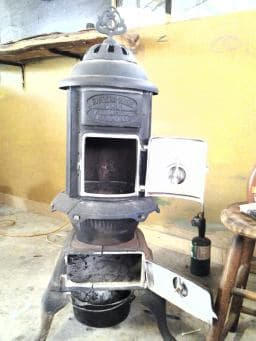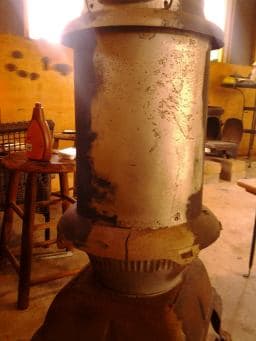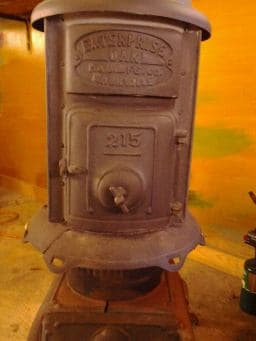 Thanks,
Elizabeth Authement
- sulphur, Louisiana usa
---
July 6, 2014
Q. I have a Diamond King wood burning cook stove made by Jacob's Mfg. Bridgeport Ala. that was used by my Husband's Grandmother. It seems to be all there, just needs TLC. Our problems, first, I can't find any information online about "Kitchen King" stoves. The oven door, although it does not seem broken or any parts missing, has no catch or way of staying closed.I would appreciate any help or advise anyone out there has. Thanks
Georgia Lowery
- Eureka, Missouri USA
---
September 28, 2014
A. I purchased a wood stove from my uncle in Wisconsin; it was in pieces. He told me to go to a welding shop and have them replace the belly of the stove with black metal. Then I got a roll of asbestos that I put in the seams to make it air tight. I used a spray can of paint black 5000 °F to paint the metal before I put it together.

If you have cracks in cast iron you can weld it with a stick welder using welding rods for cast iron.

I am not sure but perhaps rustoleum has black metal paint in a spray can you can paint your stove.

Also, on my stove all the cast iron has a nickel finish and I just wire brushed it and it looks just like new.

Auspot
William Smith
- Big Spring, Texas
---
Jacobs Diamond King stove
December 27, 2014
Q. I have an old Jacobs Mfg co wood cook stove with the Diamond King name on it. There are some things on this stove I am not sure about. Controls ... There is a piece in the back with a protector spring on it; don't know what it does. There is also a flap under the oven door and don't know what that does either. Thanks for any help.
michael allen
- galax, Virginia
---
January 9, 2015
Q. We purchased a Premier dual gas/wood cook stove; we need help finding some missing parts and I haven't been able to find anything so far.
The enamel is great on the stove, but I think it is missing a piece that holds up the plates on the wood burning side.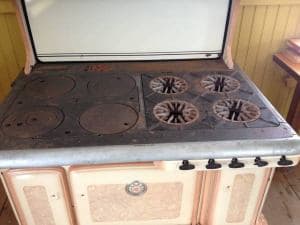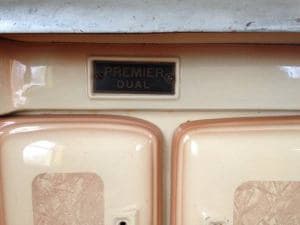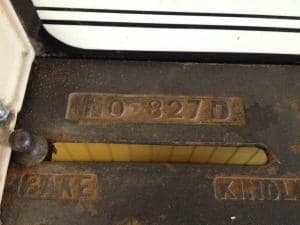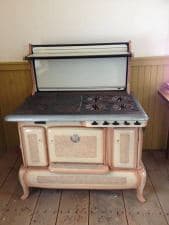 I would appreciate any help or information at all.

Gina Collins
- Winthrop, Maine
---
April 2, 2015
Q. As with others, I too am looking for parts for Washington Stove Works Parlor Stove No. 42.
To start with I need a foot/leg.
Thank you for this site as well; has helped me a lot.
There has to be a stove boneyard someplace in this wonderful country of ours with lots of parts. Please help me.
Rick Brower
So. Lake Tahoe, California
---
April 2015
A. Hi Rick. A few were mentioned earlier on in this thread.
The Barnstable Stove Shop in Barnstable, MA seems to be one more such place.
Maybe AntiqueStoves.com in Tekonsha, MI is another.
Woodman's Parts Plus in East Wakefield, NH is a possible third.
If anyone has names of other such boneyards we'll be happy to list them here, but we don't print testimonials that "Store X is better than Y" because it makes for hostility and gets a little bit silly considering the anonymity of the internet, with sales managers sometimes posting with fictitious names as "satisfied customers" :-)
Regards,
Ted Mooney, P.E. RET
finishing.com
Pine Beach, New Jersey
Striving to live "Aloha"
---
May 7, 2015

I want to thank you for the great response on where to get stove parts. I think the idea of posting ALL the places and bone yards of stove parts is a great idea and would answer about half the questions on this site, maybe it could be posted on a header page for this blog so lazy folks like me who don't read all the other posts can, most likely, have their question answered from the git go.
Of course no recommendations or the references.
Thanks again,
Rick
Rick Brower
[returning]
- So. Lake Tahoe, California USA
---
May 2015
Thanks Rick. If anyone wants to prepare such a list, I'd be happy to put their posting near the top of the page instead of having it perhaps get lost in the middle :-)
But it makes no sense for me to make such a list of names when I actually have no idea who on that list really has parts and who doesn't :-)
Regards,
Ted Mooney, P.E. RET
finishing.com
Pine Beach, New Jersey
Striving to live "Aloha"
---
---
Jacobs Heater Corporation
December 21, 2015
Q. Good afternoon, is there any information available regarding Jacobs Potbelly stoves? I have recently picked up a No 117 P from the curbside. Thanks!
Dan McCool
- Scotch Plains, New Jersey
---
January 5, 2016
Q. I have a south bend malleable wood cook stove. The cast iron top is pitted so much so that it needs a new top. Any suggestions where to look for one?
Thank you
jacky engebretson
- clearbrook, Minnesota
---
---
Replacement fire bricks for Prizer coal cook stove - Senate model
January 29, 2016
Q. We have a Prizer Senate coal cook stove that we use in our basement for heat. It really could use new fire bricks - all else is in fairly good shape - want to have these bricks to do a change over after the winter months. Where can I find them?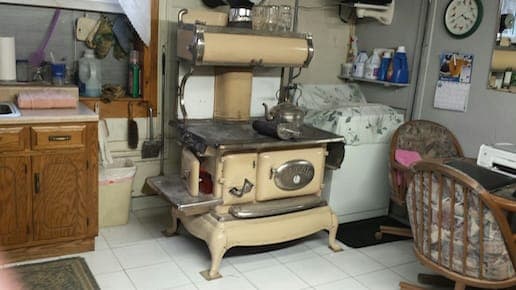 Sandra J Rittenhouse
owner - Sugarloaf, Pennsylvania USA
---
January 2016
A. Hi Sandra. Hopefully another reader will correct me, but I don't think custom size firebrick packages will be available for old stoves considering the hundreds of brands and thousands of models. I believe what you must do is buy standard size firebricks (they're about the size of concrete pavers) and saw them to shape with a concrete saw as I did for my old woodstove (actually my son ran the concrete saw). If you don't have a friend with a concrete saw and the muscles, the brick can probably be cut by a homeowner with a large enough tile saw. Good luck.
Regards,
Ted Mooney, P.E. RET
finishing.com
Pine Beach, New Jersey
Striving to live "Aloha"
Readers: Please see also thread 13218 "Restoring Nickel Plating on Wood Cookstove",
and thread 11428 "Restoring a cast iron wood stove completely covered in rust".
---
---


If you have a question in mind which seems off topic, please Search the Site