Where the world gathers for
plating, anodizing, & finishing Q&As since 1989
-----
Restoring rusty cast iron wood stove, painting it
Steel wool is the best choice. But if the rust is too bad for that, start with wire brushes. Sandblasting is okay if you have the equipment and

stove polish

[affil link]

may be preferred over high temperature paint. Read on...
Please see also thread 19039, Where & how to find information and parts for cast iron wood stoves.
---
Q. Hi, I'm refinishing an old McClary Garry Green wood stove & can't find any high heat paint in Garry green. I was thinking of doing a clear baked on 1300-2000 °F engine paint then putting the enamel color on, followed by a second layer of baked on high heat engine paint & sandwich the color in between. Would that work? I appreciate any & all advice given. Thanks ever so much.
Jessica Connolly
- Saskatchewan
August 9, 2022
A. Hi Jessica. If such an approach worked robustly the manufacturers probably wouldn't go the high cost of porcelain coatings. I'd suggest trying it on a tiny patch of the stove and see if it survives the first hot fire before undertaking a time-consuming restoration.

Luck & Regards,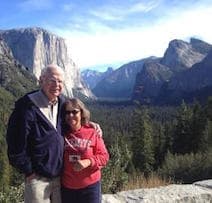 Ted Mooney, P.E. RET
Striving to live Aloha
finishing.com - Pine Beach, New Jersey



---
---
stovehospital.com
Star Campbell
- Alberta
January 13, 2023

Thanks Star. Yes, that's an interesting page!
Luck & Regards,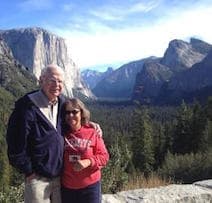 Ted Mooney, P.E. RET
Striving to live Aloha
finishing.com - Pine Beach, New Jersey



---
---
Q. Restoring a cast iron wood burning stove The four old bolts that go from the top iron to the base of the stove at each outer corner are rusted. These bolts are about 14" long
Litt martin
- Shreveport Louisiana
February 3, 2023
A. Hi Litt. I understand that the four bolts are rusted, but I'm not sure that I understand what your question is. You can't open the doors because they're frozen, or they're so far gone that you know you need to get replacements, or what?

If they're just frozen, then WD-40 [affil link] and tapping with a hammer, then more WD-40 and more tapping, etc. And when you can finally move the doors a little, with a crowbar or however, you keep wiggling them and WD-40'ing them until at long last, they open and close freely.

Luck & Regards,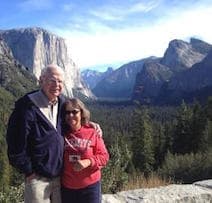 Ted Mooney, P.E. RET
Striving to live Aloha
finishing.com - Pine Beach, New Jersey



---
---
↓ Closely related postings, oldest first ↓
---
---
Q. Hi,
Me and my brother in law are trying to restore an old cast iron wood burning stove and have no idea on how to do it. The whole piece is completely covered in rust. So any info on how to restore this piece would be appreciated.
Heather P
[last name deleted for privacy by Editor]
- Hartford, Michigan
2001
A. Ahh yes wood stoves. This is how I started in the metal finishing business. Sure wish I had a sandblaster then because that is the best way to knock off the old rust and get to parent metal. We used to use wire wheels on drills: brutal, and should have worn better dust masks. Is this a "pot belly" or a cook stove?
Be careful of some of the old cook stoves as they had asbestos insulation. A lot of the pot bellies had a sheet metal jacket, usually corrodes away and has to be replaced, best to drill out the old rivets.
Most important if you are going to use it is the condition of the grates and the fire box. Cast iron is a son of a gun to weld well. Some of the trim may have been nickel plated and it can be hard in this day and age to find a job shop that can or will polish and nickel plate the parts (not chrome) and that is how I ended up in the plating business -- good young man's sport.
Jon Quirt
- Fridley, Minnesota
---
---
Q. This conversation is interesting to me because I also am trying to restore cast irons stoves -- all 3 of them that belonged to my grandmother. Have received a little bit of information from a couple iron workers and am working with a sandblaster for the most badly rusted pieces, but otherwise just going about it rather blindly. I am surprised that there is so little information on the Web about how to do this.
Any feedback that anyone could provide would be appreciated.
Charol A
[last name deleted for privacy by Editor]
- Doylestown, Pennsylvania
2002
Q. I am attempting to restore a old wood stove that has rust from dampness all over it. Started with steel wool to get it off, but don't know if there is a easier, faster way since it is inside and out and in so many small places?
Robbie C
[last name deleted for privacy by Editor]
- Grants Pass, Oregon
2003
A. I clean cast iron skillets by soaking them in lye water but if a piece is too large to get into a bucket, I use oven cleaner [affil link on Ebay & Amazon].
Dorthea B
[last name deleted for privacy by Editor]
- Cheyenne, Wyoming
---
---
GLENWOOD
Q. I'm really interested in what y'all are saying. I too am trying to restore a wood stove that I found in an abandoned shanty. It is a big one, a Glenwood and is really dirty. The entire thing was one gigantic mouse nest when I found it. I have disassembled it partially and am stuck as to what to do next. Perhaps clean out the rest of the mouse nest...
My goal is to get it into working condition but that doesn't seem very plausible as there is petrified mouse poop stuck all over the inside. Any ideas as to how to get the poop out? I would greatly appreciate it. My next step is to go and talk to some antique dealers in the area to figure out how to go about taking apart the pieces. Does anyone know what it means to burn the bolts? I saw that mentioned and tried to look it up but couldn't get a definitive answer.
Good luck with all your projects.
Alice H
[last name deleted for privacy by Editor]
- Fairlee, Vermont
2003
A. I am responding to "Alice H" question on how to clean of the mouse poop from her stove. I don't know how big this stove is but why don't your place the stove outside in a clear and safe spot away from anything that will burn and light a small fire in the stove. This would heat the stove to the point were it would burn off anything stuck on.
... Just a thought..
Cliff C
[last name deleted for privacy by Editor]
- Cobourg, Ontario, Canada
A. Hello, Alice. "Burning the bolts" probably refers to cutting them with an acetylene torch because they are too rusted to unscrew.
But I doubt that you are seeing 'petrified mouse poop stuck all over' :-). To my knowledge mouse droppings look more like rye seeds. Many wood burning stoves are meant to be airtight, which isn't doable by just bolting cast iron plates together; rather they are sort of caulked with fireproof black mortars.

I think that's what you are seeing. Good luck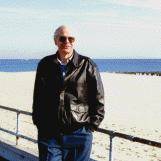 Ted Mooney
, P.E.
Striving to live Aloha
finishing.com - Pine Beach, New Jersey
A. Hi Alice H

In response to your query regarding burn the bolts, I agree with Ted Mooney, it is a term used for burning out damaged bolts, but you need to be very careful to not damage the parent metal even cast iron can be damaged, however I have successfully removed very rusted bolts by carefully heating up either the head of the bolt or any exposed thread to a bright red with Acetylene (be careful to not let the surrounding metal get too hot) then let it go cold this will shrink the bolt and may unscrew you may have to apply a penetrating oil product like WD-40 [affil link].

Wish you luck.
Colin Wilkin
- New Zealand
November 22, 2011
---
---
Q. Stove is sandblasted, bolts okay, fire box okay. Problem: square stove made up of four side panels. There are small spaces between each panel. We assume they should be closed. Considering sealing with muffler cement. What do you think? We do not want to ruin a great stove.
Cecile Fite
- Greenwood, South Carolina
2007
A. Hi Cecile. We appended your inquiry to a previous answer. Stove caulks/mortars are made for the purpose and will probably look better and work better than the muffler cement. Good luck.
Regards,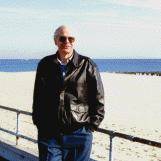 Ted Mooney
, P.E.
Striving to live Aloha
finishing.com - Pine Beach, New Jersey
---
---
A. In response to inquiries about restoring old wood burning stoves I will share the following process. I have over the years restored several stoves; in fact I am working on one now. The process is straight forward and anyone can do most of it. Some steps you will need to get help with, but your cost will be greatly reduced if you do all you can yourself.
#1 Disassemble the stove. Remove the rivets with an air chisel [affil link on Ebay & Amazon] .
#2 Bead blast the parts clean, except those that have plating on them. You can buy an inexpensive blaster from Harbor Freight or similar place [Adv. Bead Blaster [affil link]].
#3 Take the plated parts to a local plater and have them stripped, polished and replated [Ed. note, please see thread 13218, "Restoring Nickel Plating on Wood Cookstove"]
#4 Paint the remaining parts with a high temperature paint [Adv. high temperature paint [affil link]], if you intend to use the stove. If not, then any enamel paint will work.
#5 Reassemble the stove with bolts. You can get the bolts at your local hardware store.
Sam S
[last name deleted for privacy by Editor]
Plating - Orem, Utah
2004

I like how you cut right through. a simple 1-2-3 works just fine with most people. Did the same. My uncle has an antique business of his own and basically has the same formula.
Loralee K
[last name deleted for privacy by Editor]
- Chico, California
---
---
Multiple threads were merged: please forgive repetition, chronology errors, or disrespect towards other postings [they weren't on the same page] :-)
---
---
Q. I have a cast iron wood burning stove and I would like to have it installed in my home, but it has started rusting because it had to be stored outdoors. I would like to know how I can clean it up and paint it black again so it can be installed? Thank you for your time.
Felicita Graves
- Leesburg, Georgia
2005
A. stove paint [affil link]is a high temperature black paint, specifically for wood stoves, Felicita. I'm sure there are others, too.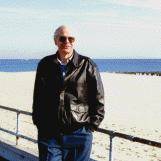 Ted Mooney
, P.E.
Striving to live Aloha
finishing.com - Pine Beach, New Jersey
---
---
A. I have 3 wood stoves in my cabin, 2 for heat and 1 is a kitchen stove. All of my stoves were made in the 1800 and were pretty rusted when I bought them. For each "refinishing" job I used 000 steel wool [affil link on Amazon] because the rust does not have to be "blasted off". I then wiped my stoves down with good old soap and water and let them dry. My next step was stove polish for black cast iron stoves -- brand name is "stove polish [affil link]". Rub this on, NOT TOO THICK. Let it dry and use 000 steel wool [affil link on Amazon] to polish. Fire the stove good and hot. (this bakes the polish in). t will smoke just a little and, wah lah, it is done... (this took me less than a day to do).

Oh and by the way blasting the bolts is referring to using a blasting agent... "PB Blaster penetrating catalyst [affil link]"... you spray this on and it eats away the rust that has froze up just about any bolt... however do not use this as a rust remover for it is very greasy

My newest stove is a 1901 Loth's liberty cook stove. I use this daily and the polish is fantastic! this thing sat outside for years, and had a solid rust surface throughout... I did I as I described and now own a beautiful antique stove that I am proud of!
Hope B
[last name deleted for privacy by Editor]
- Salem, Virginia
2005
A. To restore a cast iron stove, (I just restored an old Florin Pot Belly from Lancaster Co. Pa.) you have to wire brush the rust scale off and wipe off with a rag. If you can sandblast or use a wire wheel, it will go faster. After you clean it up, use stove polishing compound, stove black, to really bring out its beauty. It's a labour of love.(And a little elbow grease.)
Larry Pieller
- Emple, Pennsylvania
2007
---
---
Q. Regarding black stove polish, I am restoring a Fairmount wood burning stove that I do not plan to heat because the block has a large crack in it however I do not want to paint it because maybe I will repair the stove in the future. I would like to use the black stove polish but many of the postings say you need to burn the stove in order to get a proper finish? What should I do? How would the polish work if I did not heat the stove? Thanks
Glenn Govostes
- Georgetown, Massachusetts
2007
---
---
Magee Stove
Q. As time has passed, the grates scratched the long drip pans of the stove. It is a Magee, white and each side has one long drip pan, on which two grates..front and back rest on top. I painted them with white spray high heat paint, but the paint scratches off easily...so not good for grates to rest on nor for cleaning. So I need something that can handle high cooking heat on the top of the stove and is smooth like porcelain so it can be cleaned and will allow grates and other items to rub on top without scratching the paint surface off. Thank you.
Dennis D.
[last name deleted for privacy by Editor]
homeowner - Lincoln, Rhode Island
February 5, 2010
Hi Dennis.
I think I'd rethink the white look and try the stove polish look unless you want to hunt for a porcelain enamel jobshop. The white enamel you see on stoves is not paint, it is real porcelain enamel, which is more like melted glass than paint. The porcelain frit is melted onto the cast iron at thousands of degrees. Good luck.
Regards,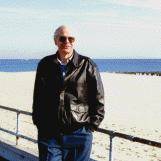 Ted Mooney
, P.E.
Striving to live Aloha
finishing.com - Pine Beach, New Jersey
Magee Stoves
are also mentioned in
thread 1428
---
---
Q. Does anyone know the best way, or if it can even be done, to clean rust from an old wood stove and, then, if possible, what to do to preserve it?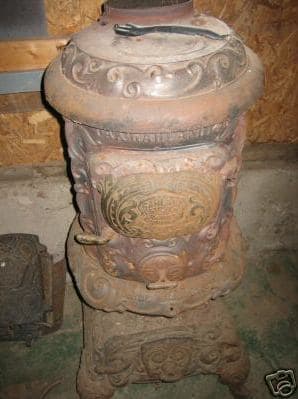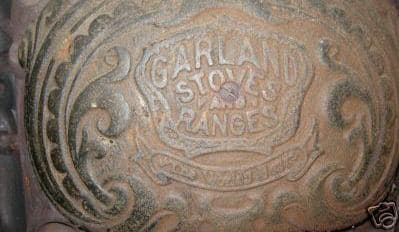 Thanks!
Heinrich P. Tesch von Cultz II
Hobbyist - Omaha, Nebraska, USA
2006
A. As I scanned through this thread I was surprised to see no one mention use of a product called "Naval Jelly [affil link]" to dissolve rust. I refinished a 1985 vintage cast iron Consolidated Dutchwest stove that had been in a damp barn and was covered with surface rust this way. You can buy it at any auto parts store that features body working products like Bondo [affil link], and you simply brush it on, let it sit for five or ten minutes, then wash it off with water. Wire brush any heavy deposits and reapply and repeat. After this I simply painted the parts with high temp black stove paint [affil link on Ebay & Amazon] and I have been using the stove for 4 years without any refinishing.

I also have a vintage Century Crawford kitchen stove that I intend to refinish in exactly the same way. I would have used the blasting method but it is extremely messy and requires too many special tools for the average person. The blasting gun and media is pretty cheap, but a high volume air compressor to run can be problematic for the average do it yourselfer, unless like me your other hobby is playing with old cars....
Grant Marques
- Wethersfield, Connecticut
March 5, 2009
---
---
A. Why don't folks electrolytically convert the rust? Drop the rusty bit in some water with washing soda [affil link] (in a plastic tub). Plug in your automotive battery charger [affil link] and attach the positive to some re-bar in the same water, the negative to the item that needs to be de-rusted. Just don't let the re-bar and the rusty piece of metal touch. Go read a good book and come back a few hours later. The rust wipes off with no trouble at all and non-rusty metal is completely unaffected. It will remove paint. I'm de-rusting and re-enameling an 80 year old stove this way and it's effortless. You don't have to work so hard!
Heidi D
[last name deleted for privacy by Editor]
self-employed - Bay Area, California
2004
I'm in the process of refinishing a stove and have found electrolysis does a great job of removing rust. I follow that with a fine wire brush and Scotchbright finishing pad. stove polish [affil link] finishes it off and no damage has been done to the underlying metal.
Kathy Hodgen
- east berlin, Pennsylvania
September 6, 2009
ATLANTA STOVE

I am using Heidi's electrolytic cleaning of an old Atlanta Stove, I hope it works.

I started with wire brushing with power drill, bah!
Looked at Evapo-rust; looks good but $21.00 gallon plus freight.

I will post result when I get them.
Vernon Zellers
- Walnut Cove, North Carolina
October 2, 2009
Q. I would like additional information on using a battery charger to "de-rust"....the positive is attached to rebar and the neg to the item of rust ... both in the same water tank?
Michael Tate
- Effingham, Illinois
April 13, 2010
A. Hi, Michael. Yes, electrocleaning is done with both electrodes submerged in the same tank but not touching. The actual idea is that the electricity splits the water into hydrogen bubbles at the negative pole (the piece you are cleaning) and oxygen bubbles at the positive pole (the rebar) which scrub the surface clean. In addition, to some small extent, the rust (Fe+, Fe++) is reduced to Fe0 by the electrons at the negative pole.
Don't forget the washing soda [affil link] for conductivity and alkalinity; and a little detergent can help but not hurt.
Regards,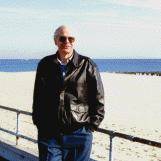 Ted Mooney
, P.E.
Striving to live Aloha
finishing.com - Pine Beach, New Jersey
---
---
A. Hand wire brushes are not helpful and will only aggravate you. Graduated coarsenesses of wire wheel brushes, drill mount and go to town; start coarse, go to fine, then some 00 steel wool [affil link on Amazon] all over and a spray down with some compressed air or a leaf blower. Then some solvent or brakeclean to clean surface, then some high temperature paint. The stove black is nasty stuff and can rub off very easily on clothes, etc. Also looks lousy and can't be painted over. Stove black isn't the weapon of choice anymore for a reason.

Also make sure your paint is rated to at least 1000 degrees.
Electrolysis weakens metal and is a quick way to get electrocuted/rupture a battery.
L. Jay
- NEK, Vermont
October 12, 2009

Hi L. Thanks for the helpful tips!
Beauty is in the eye of the beholder, and a number of readers say they prefer the look of stove polish to paint. I think you are right that they can't change their mind and paint once they've waxed the stove though, so they'd better be sure :-)
You're certainly entitled to feel that electrolysis is not a good and practical way to clean cast iron stoves, but I think there's little chance of electrocuting yourself with a 6 or 12 volt battery charger if you exercise reasonable care (anything is possible if you don't). But electrolysis does not weaken mild steel or cast iron (45 years experience in thousands of plating shops, almost all of which use electrolysis for cleaning the metal before plating); but electrolysis with the work negative does offer the potential of hydrogen embrittlement of hardened steels.
Regards,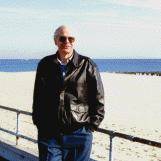 Ted Mooney
, P.E.
Striving to live Aloha
finishing.com - Pine Beach, New Jersey
---
---
Q. Hi Y'all rust is bad and can just ruin a stove. You got to get it all off or it grows like mold, now you can't be in a rush and do a good job, so this is what you do, so you go get yourself some sandpaper now just cut off a little piece the size of three fingers and now you go counter clockwise until it's all gone.
Wilma Jones
- Ridgway Pennsylvania
October 20, 2009

Hi, Wilma. I'm left handed. Do you think I could go clockwise, or -- what with the old lefty-loosey / righty-tighty rule -- would that make the rust grow instead of shrink? :-)
Regards,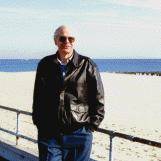 Ted Mooney
, P.E.
Striving to live Aloha
finishing.com - Pine Beach, New Jersey
---
(You're on the 1st page of this topic) Next page >
---