Where the world gathers for
plating, anodizing, & finishing Q&As since 1989
-----
Fixing Nickel Plating on Cast Iron Woodstove
Q. I am restoring an old wood cook stove. I am interested on the ways to repair the nickel plating without removing the old plating. Also what works best for removing the rust from the plating as well as the iron itself?
Pat Spencer
- Helena, Montana
2002
---
2002
A. Nickel doesn't actually rust, Pat... the underlying steel does. So, although you can clean the rust away with some metal polish (ex: SimiChrome [affil link]) and restore the shine for a short time, the rusting is occurring because the plating is porous now (has pinholes) so the rust will quickly come back. If the nickel were in an area where it didn't burn off too quickly, car wax or museum wax (ex: wax [affil link]) would help, but that may not be the case for wood stoves. The nickel plating can't be touched up, sorry; you either go to the effort and cost of sending it to a plating shop for stripping and replating, or you paint over it, or you live with it. Sorry :-(

rust converter [affil link on Ebay & Amazon] (ex: Rust Bullet [affil link]), followed by painting with high temperature paint (ex: Stovebright Mojave Red paint [affil link]), is how to deal with the rusty ironwork. Good luck.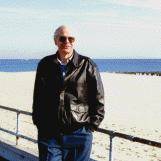 Ted Mooney
, P.E.
Striving to live Aloha
finishing.com - Pine Beach, New Jersey
---
Q. I am interested in finding a product or process in which to restore old nickel plating to a proper finish. Will generally available chrome polish or something like this work?
Robin Fladda
- Bowerston, Ohio
April 22, 2010
---
May 2010
A. Hi, Robin. We appended your question to a thread which somewhat answers it. Chrome polish is fine for nickel plating, although the tarnish on a very hot wood stove can be very thick and require you to use the chrome polish with a buffer, or at least a buffing pad on a power drill.

But remember that it is only nickel plated steel, not a solid nickel object. If rust is showing through, the plating has become porous or worn through; the polish will briefly remove the rust, but not cure the problem that the underlying and rapidly rustable steel is exposed. At some point sending it to a plating shop for replating is necessary.

It's possible to buy a nickel plating kit from a hobby plating supplier, but that is probably more for very serious hobbyists willing to invest weeks or months of learning a new avocation than for the average person trying to effect a home repair. Good luck.

Regards,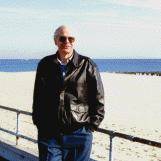 Ted Mooney
, P.E.
Striving to live Aloha
finishing.com - Pine Beach, New Jersey
---
2000
Q. I am attempting to refinish an old cook stove (wood fired) I am looking for
1) products to paint the iron surfaces--high heat resistant, safe and
2) ways of refinishing the old chrome or nickel parts that have worn and pitted.
Thanks.
James P
[last name deleted for privacy by Editor]
- Spearfish, South Dakota, USA
---
A. Hi James,
1. You can either repaint the iron parts with stove paint [affil link] or apply stove polish [affil link] instead of paint. Thread 11428, "Restoring a cast iron wood stove completely covered in rust" discusses the preparatory steps and debates the two finishes.
2. The shiny parts are probably nickel plated. You can't easily repair electroplating yourself; you need to send them to a plating shop. If that is unaffordable, you could perhaps compromise by painting the accents with a high temperature silver paint for car exhaust systems. It won't really look like nickel plating, but it may provide the contrast you seek. Good luck.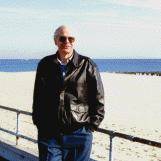 Ted Mooney
, P.E.
Striving to live Aloha
finishing.com - Pine Beach, New Jersey
---
Danville Stove: Removing paint from nickel plating
Q. Hello. I have recently acquired an antique cast iron Danville, Beaver stove plaque. From the limited information I have been able to gather, it seems that these originally were nickel plated cast iron. Unfortunately, somewhere in time someone painted the entire plaque a flat gray or primer gray.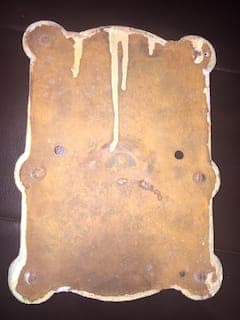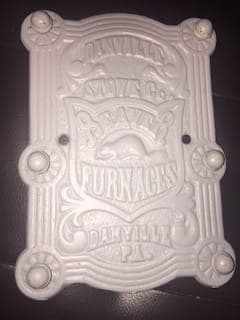 Is there any way to remove the paint without completely destroying the nickel plating. If that's not possible, any ideas on how to remove the paint from the cast iron at all? It is a beautiful, ornate, detailed piece that is full of history and that gray paint makes me want to cry. Any suggestions would be greatly appreciated. I'm a complete novice here. Thank you :)
Kelly Inal
Collector - Franklinville, New Jersey USA
April 11, 2017
---
April 2017
A. Hi Kelly. Aircraft stripper does not damage metal, and it will remove virtually any and all paints. It may also remove your brain and reproductive organs if you're not careful :-)
Seriously, it is highly toxic, so only use it wearing goggles [affil links to item on Ebay & on Amazon] and rubber gloves [affil links to item on Ebay & on Amazon] as a minimum, and working outside from upwind.
But the thing is, I doubt that the plaque was painted for no reason. The nickel plating is probably mostly gone and the cast iron rusty. I think you'll find your only choices are to paint it again with a paint you like better, or to send it to a shop for nickel plating. Good luck.
Regards,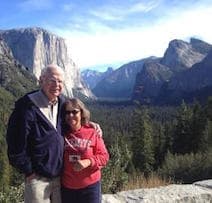 Ted Mooney
, P.E. RET
Striving to live Aloha
finishing.com - Pine Beach, New Jersey
---
April 14, 2017
Q. Hello Ted, thank you so much for your product tip and advice. I have other vintage metal items that this stripper will be perfect for. I greatly appreciate that "bonus" tip :)
Now regarding my original question, I think I will give the stripper a try on the Beaver plaque. If it is in bad shape, at the minimum I can always just repaint. Who knows, maybe I'll hit the jackpot and luck out with a perfect piece underneath. (Along with stacks of winning lottery tickets and a magic genie). On the much, much more likely chance I find it in one of the conditions you describe, aside from having it professionally restored and plated, any recommendations on a paint or finish that could help give it some what more of an authentic cast iron look than this? Are there any "faux" nickel plating options? Im basically just hoping to be able to get it in a decent enough shape that I can display it in my home alongside all my other vintage "finds".
Kelly Inal
- Franklinville, New Jersey U.S.A.
---
April 2017
A. Hi again. There are several brands of metallic paints offered by Rustoleum, Krylon, and others. A 'brushed nickel' or 'chrome' paint might satisfy you, although they are not really good imitations of plating. Good luck.
Regards,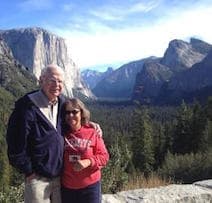 Ted Mooney
, P.E. RET
Striving to live Aloha
finishing.com - Pine Beach, New Jersey
---
Please also see thread 11428 "Restoring a cast iron wood stove covered in rust",
and thread 19039 Where & how to find information and parts for cast iron wood stoves.