Where the world gathers for
plating, anodizing, & finishing Q&As since 1989
How to restore antique cook stoves?
-----
Valerie from Glendale CA's
"Moore's Merit"

Bob from from Seattle OR's
"South Bend Malleable"
July 27, 2022
Q. Hey, Glen Buss,

Do you have the stove still?

I have the same model, just fired it up today to cook some eggs and chorizo.

I am looking for an original leg. One of my leg tabs has broken off.
Do you have any cast legs? Do you know where I can get any parts?


Lloyd Ramby
- Houston, Texas
----
Ed. note: Glen's posting was from 5 years ago but we'll see if he can be reached :-)
---
---
---
Previous closely related historical Q&A's, oldest first:
2003
Q. My mother asks if you have any books on Quincy stove. In the back of the stove is the numbers 43m467 and under that it read oil fire momo gram heater. Do you have any idea what year it was made and any information how to operate it. If so please answer soon as she plans to use this for her house to heat this year.
Brenda H
[last name deleted for privacy by Editor]
- Canton, South Dakota
---
---
2003
Q. I am in the same process as you on a old Kalamazoo wood cook stove, what help have you found, and tips on care and where to find parts.
Debbie H
[last name deleted for privacy by Editor]
- Dinosaur, Colorado
---
---
2003
Q. I also am interested in the refinishing of these wood stoves as I have two old Crawford and one Glenwood baseburner that I want to restore.
One of the Crawford has a cracked back and I would like to find out where to get it recast or where to find a new back to replace it with.
Anyone with any information also on who will re-nickel let me know.
Thanks Christopher
Christopher M
[last name deleted for privacy by Editor]
hobbyist - Springfield, Vermont
----
Ed. note: for the re-nickeling, please see our Directory of Metal Finishing Jobshops.
---
2005
A. Hello, finding a back is possible, but depending on the model & size, not very likely. Having it recast is not at all cost effective. If you have most of the pieces it can be welded by someone that knows stoves. The backs on many old cook stoves cracks with over heating or uneven heating. The hard part in welding cast iron is that the piece will be heated in use, and most welds look great before use, then "pop" when heated up. The piece needs to be heated fully till it is cherry red and welded while hot, then cooled slowly. This stops the "pop" and re-cracking.
Richard Waite
old stoves - Hatfield, Massachusetts
---
---
2004
Q. My husband and I just purchased an older wood burning stove. We are unsure how old it is or if we got a good deal? (We paid $200) When we purchased it, the man told us that it needed to be sealed with a fireproof sealer. (It can come apart and needs some sort of a sealer on the door too) This particular stove has a claw foot style at the bottom with a ash pan and a sliding vent. It has a round belly with a door, then a top piece with a cast iron circle lid on top. I have been unable to find it on the internet to compare prices, or find something out about it. If anyone knows any info. about my stove, I would greatly appreciate it:-)
Teisha L
[last name deleted for privacy by Editor]
- Tucson, Arizona, USA
---
---
2006
Q. Have you ever heard of the Breakfast stoves made in Pa used in the early 1800s and do you have a picture of one. We found a door with that name and trying to find out info.
M Davis
- Iraan, Texas
---
---
2006
Q. Hi, am redoing a older wood stove for my teacher, and one of the legs is broken. is there a place that I can find NEW set.
Ethan W
[last name deleted for privacy by Editor]
- Milton, Pennsylvania
---
2006
A. You can take broken or duplicate parts to any jobber casting shop (foundry) and have a replacement part cast.
Dave Barr
- Centralia, Washington
---
---
2006
Q. Beautiful Antique Stove! Please Help Me Find Information! I have been given a small cast iron stove. I'm a new hobbyist and have been restoring this stove for some time. The problem I have come across is that after cleaning the rust off this stove, I cannot find any numbers or name on this. I have been searching the internet and contacting numerous people trying to figure out what I have, so far I have gotten nowhere. To best explain my stove I can only say this: It looks like a cross between a baseburner stove and a parlor stove. The cylinder stands about 20 inches off the base and to best explain it, looks ribbed. The base is square with a small a rectangle vent at the bottom front which I do have an engraved cover for it. Off the front is the tray which comes out approx. 10 inches. The top of the cylinder is a flat ring with an engraved cover for it. The stove and details engraved are all black, there is no signs of ever having any plating on it. The height of this stove is almost 26 to 30 inches tall. I was told that it would have possibly been used as a small heating stove. The stove came with 4 different handles, only one has a number and I am not sure if this would help in any way. If there is any that could help me, I would really appreciate it. I am awaiting photos to put up.
Benjamin R
[last name deleted for privacy by Editor]
truck driver - Gilbertville, Massachusetts
---
---
2006
Q. My mother recently purchased an antique Miller stove. I believe it is made of enamel and porcelain. She asked me to find information about how to restore it and find parts for it and I'm not having very much luck. If anyone has any information regarding this, please let me know. Thanks.
Hostetler
- Las Vegas, Nevada
---
---
2007
Q. Anyone know of any good sites to buy old stove parts?
Thanks.
Tim
Tim Peterson
- Goodlettsville, Tennessee
----
Ed. note: If anyone has names, we'll be pleased to list them. But please don't tell us about about how good they are because we can't print that. A public forum is too anonymous for testimonials. (why?)
---
---
2007
Q. Purchased at an Estate Auction a Jacobs Manufacturing, Bridgeport, Al wood burning kitchen stove...Model #88-18. Would very much like to have the right hand end shelf that attaches to it. Have been researching this for sometime now and am coming up empty handed. If anyone has any ideas or solutions would greatly appreciate a reply. Thanks!
Carole Lowe
- Burlington, North Carolina


---
January 11, 2008
A. TO CAROLE LOWE, I have a Glenwood F iron cook stove, one of the black iron type with nickel trim. It is missing a shelf on one side, and I have visited and written to folks who sell and restore them, but the response is always the same: They have dozens of these shelves, but don't want to part with them. The reason is because they make a lot more money restoring and selling a whole stove than they would if they sold me one shelf.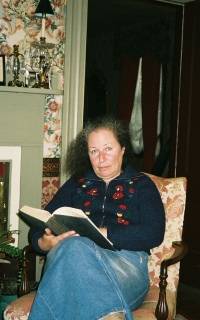 Erika Donneson
- Saco, Maine
---
A. Hi Carole, hi Erika.
I'm not saying it's dead easy to find the right shop, but a small foundry (maybe even a hobbyist specializing in it) can pretty easily make a replacement casting, especially if you already have one of the item, so a sand pattern can be made directly from it. Good luck.
Regards,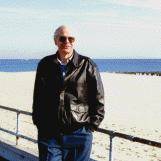 Ted Mooney
, P.E.
Striving to live Aloha
finishing.com - Pine Beach, New Jersey
---
---
October 1, 2008
Q. Hi All, I'm restoring a rusted out Brand Stove Co no 118 industrial kitchen stove that was in a cabin we just bought. It's a double oven with the fire box in between, large old stove. Just can't find much information on this company. All the cast parts are good but I need to replace all the box metals, sides, oven boxes, etc. Its around a 100 years old, guessing, and from a restaurant in San Francisco. Thanks for any help here!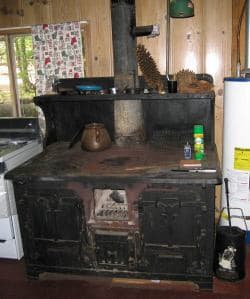 Ron Slater
hobbyist - Woodland, California
---
---
October 13, 2008
Q. I live in South Africa and my work recently rented an old farmhouse, which we repaired and cleaned for field staff. In the storeroom we found an old stove. The owner of the farm is not sure, but thinks its about 50 - 60 years old. The brand name is Coronet and apart from the iron bits, it is enameled. The colours are pale green and cream. We took it apart, remove the slight rust with a wire brush and cleaned it. Its back in the farmhouse and I've used it twice. Its chimney at the back is gone, but we placed it under the original hearth chimney of the house. At first it smokes a lot, smoke coming out from underneath the plates - although the plates are in perfect nick.
I don't know if its a coal or gas stove, and the owner can only remember that his mother used wood - how does one determine which it is?
And how can I stop the initial smoking? Both times I've used it for cooking and it cooks beautiful, you just have to start well in advance. Also, I can't find any information on the brand, Coronet. Has anyone heard of it before? The inside of the oven is also enameled. I have to find somewhere in SA to get wood stove polish, so far no one seems to know where one can buy it. I read somewhere that to see the "leaks" one can put a light in the firebox and see where the light leaks out. These then should be fixed with stove or furnace cement - does this sound right to those in the know?
Mel Gardiner
hobbyist - Garies, Northern Cape, South Africa
---
---
---
January 14, 2009
Q. Hi, Have acquired an antique stove of Thatcher Stove Company 'Twin Fire' Patent Jan 8,1918. I'm looking to get more information. Unsure if it is in working condition or how to go about and test it. Any information is helpful, thanks. I've looked online and have not been able to get sufficient information on this particular item.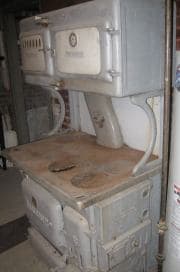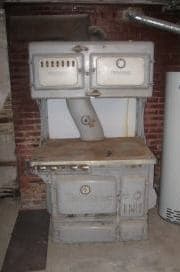 mich mcconnell
newbie - Nyack, New York
---
---
February 25, 2009
Q. I have an old wood/coal kitchen range. The plate on the oven door says "Columbian" and it was made in Pennsylvania.does anyone have any knowledge of this. I can find nothing on the net.
Lea Davenport
homeowner - Stillwater, New Jersey
---
---
May 27, 2009
Q. I didn't see an answer how to fill the gaps on a square stove where the sides don't completely touch. What product similar to "chinking" used for log cabins should I use?
G.D.Clark IV
- Eureka, California
---
October 12, 2009
A. For gaps and cracks: Grind and clean, stove cement on inside of crack (clean and wet surfaces first), stove silicone on outside. If crack is structural get it welded or at least JB weld it, unless you want a pile of burning wood in your living room.

Also make sure your cement is rated to at least 1000 degrees. The silicone needs only about 450 because its on the exterior.
L. Jay
- NEK, Vermont
---
---
April 13, 2009
Q. As a small child I remember visiting a neighbor who used a cook stove for heating her home and cooking meals. This lady died many years ago and left the stove to my Mother. If living my Mother would be in her mid-seventies and I am in my early fifties, therefore I feel I have acquired a very old cook stove. My Mother had the stove stored for years, I have now moved it to my house and would like to restore it. The condition is good with very little rust only on one side. My question, Best way to remove the rust and recondition the stove. Will not use for heat or cooking. I will very much appreciate the recommendation of any products. Thank you.
Peggy Sutherland
- Bristol, Virginia
---
---
August 13, 2009
Q. We have several old wood heating stoves. They have been sandblasted and one we painted with flat black high heat spray paint from Sherwin Williams. Since it has been used for two seasons this way it needs touch up. Can we go over it with black stove paste polish and get workable results. Don't want to cause paint pealing etc.
Cecile Fite
- Greenwood, South Carolina
---
---
October 10, 2009
Q. I have a C. 1809-1910 Crawford Fortress stove which has graced our summer home's kitchen for years. It was converted to oil (I believe kerosene, with two burners under the left two cooking plates)back in the 40's and we used it for heating through till the early 80's. I disconnected it as I felt it was not overly safe and it has not been used since. The stove is in great shape but since it has not been used for the past 30 years for anything other than a food prep area, the finish has deteriorated a bit (stains, a bit of surface rust, nickel discolored / pitted), etc. I would like to both refinish / restore the stove to bring back it's natural beauty, as well as, remove the oil burners and either replace with a propane gas kit, or go back to basics and get it back to wood.
Any advise or counsel on the questions below would be very helpful:

1) I want to re-plated the nickel pieces and would love to get a recommendation of a good platter. I read that it is very important to pick a good platter since the quality varies considerably. I live in the Boston area and would appreciate any input on people that do a good job at a reasonable price.

2)What is the best way to practically restore the black finish? I heard that sand blasting is the best but that would require a disassembly and shipping it to a restorer or sand blaster. I really want to do it myself and would like to hear of any chemicals, mechanical devices or methods to restore in place.

2a) What is the best solution or chemical to clean up-degrease? Simple soap/water, or would a more aggressive chemical or solution speed up the process?

2b) Is it advisable to sand or wire brush the exterior once the grease and dirt is removed?
2c) IS there anything I need to consider with regard to preparing the surface for refinishing?

3) What is the best refinishing material, stove black?, High Heat stray paint?, if paint, is the original finish Flat, Mat, Semi-Gloss, Gloss, etc. I see that some restoration companies sell finishing paint (?) but don't know if it is necessary to buy something special or simple paint from Lowes would work best/

4) is it practical to think I can restore the stove in place without really messing up the kitchen? It would take a lot of convincing for me to get my wife to allow me to disassemble the stove, but if it is a must do, I could start working on it now....any general advise is appreciated on this.

5) Any advise on propane gas kits for a six burner Crawford would be appreciated. I would like a burner kit that lays under the plates so when in use, you do not see the gas flame.

Many Thanks.

Chuck
Chuck Czerkawski
DYI - Cohasset, Massachusetts
---
---
January 21, 2010
Q. MY DAD HAS A CRAWFORD WOOD BURNING COOKSTOVE IN HIS KITCHEN.HE USES IT EVERYDAY, IN FLORIDA! IT'S BEEN A COLD WINTER THERE. THE FRONT HAS ABOUT A 4" THERMOSTAT. IT IS BROKEN. WHERE CAN HE FIND A REPLACEMENT? PLEASE HELP. THANK YOU, DEBRA
DEBRA CLARK
DAUGHTER OF HOMEOWNER - Richmond, Virginia
---
---
June 27, 2011
Q. We have a hiking cabin 1 mile up a mountainous rocky Trail in California. Inside is a Moore's "Merit" 4 burner stove with warmer and oven. A while back there was a leak in the roof and it rusted out the sheet metal in the stove.

We still are able to use the stove although it is heavily packed with foil to protect the stove from setting the cabin on fire.

It needs to be fixed and unfortunately no one in their right mind would professionally come out to do it. Needless to say we need to do it our selves. transporting the stove would be next to impossible...

I have a few questions what type of sheet metal is needed to replace the box? does this need to be professionally bent and welded or can it be assembled at the cabin?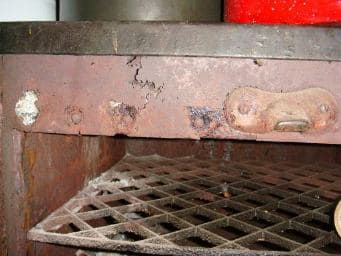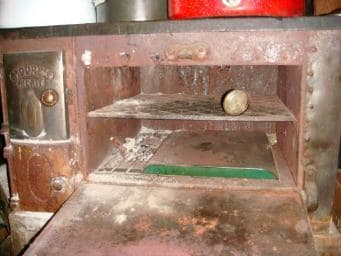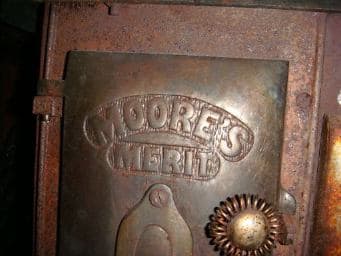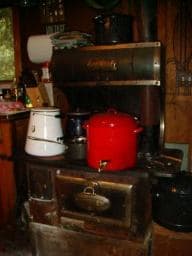 It will be at least a year before we attempt to tackle this project as I need to get as much info as possible before I start it. I am crafty but not a welder. I read the forum on wood stove repair but didn't see any suggestions for the sheet metal replacement. since the metal is so rusted in spots I am just not sure what gauge and what type of metal I would be using.

If it is not welded together what type of adhesive is used to connect the pieces.
Also what type of bolts would be purchased to replace the riveted bolts on the stove?
Valerie Campbell
Hobbyist/cabin owner of a stove that needs help! - Glendale, California USA
---
---
May 30, 2012
Q. I have a South Bend Malleable Wood Cook stove that is in great condition except for the backsplash piece behind the shelf unit. It was replaced with a piece of sheet metal and painted. The paint is chipping and flaking off.
Is there anyway I can put a reasonable paint job on it that approximates the original and how do I match the paint color that is off white. Is there any place that might have an original piece with original finish.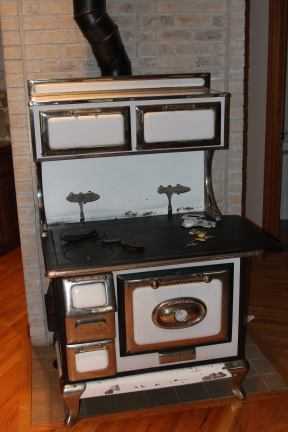 Thanks
Bob Cartano
- Seattle, Washington
---
December 2012
A. Hi, Mel. Warm air rises, creating a very slight vacuum that pulls room air in to replace it. When you have an exhaust flue or chimney, this "warm air rising" in the flue pulls room air in through those gaps around those plates. I think you need to actually connect the stove to the chimney with a length of flue pipe, or at least put a couple of feet of flue pipe on the stove to reduce the smoking.

Hello, G.D., furnace mortar sounds like the fix for those tiny "leaks".
Rutland Stove Polish [affil. link to info/product on Amazon] may be available online if not in local stores.
Regards,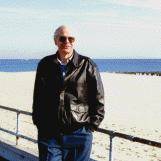 Ted Mooney
, P.E.
Striving to live Aloha
finishing.com - Pine Beach, New Jersey
---
(you are on the 1st page of the thread) Next page >
---