The world's most popular metal finishing site, and the internet's friendliest corner
topic 19039 p3
How to restore antique cook stoves, p.3
---
---
A discussion started in 2003 but continuing through 2019
---
July 14, 2011
Q. I have the same problem as Bonnie from California - "Underneath the cookplates I found disintegrating layers of asbestos."

My question is, once I have the layers properly removed and disposed, what do I replace it with? Is asbestos still used for these things or do I have an alternative?

It's a Quick Meal stove I just acquired, and it needs some TLC. It's mostly just dirty, has a little surface rust (mostly outside the water reservoir), and the problem underneath the cookplates.

Thanks in advance!
Brenda Roberts
- Columbus, Ohio, USA
---
June 13, 2012
-- this entry appended to this thread by editor in lieu of spawning a duplicative thread
Q. I just purchased an old wood cookstove that I plan on restoring and using to heat and cook with. It is in pretty good shape and was used up until 10 years ago. It was well cared for. How do I know if there is asbestos? That is my only concern. And what do I use for insulation? Where do I purchase it? There are spots in the insulation that is damaged, need to apply more.
Andrea Ricke
- Bagley, Minnesota, USA
---
December , 2012
A. Hi Brenda; hi Andrea. Some if not all such rope gasketing today is fiberglass and graphite/carbon rather than asbestos. See next inquiry please.
Regards,
Ted Mooney, P.E.
finishing.com - Pine Beach, New Jersey
Striving to live Aloha
---
2007
-- this entry appended to this thread by editor in lieu of spawning a duplicative thread
Q. I am trying to locate a source for rope gasket used between plates on a decorative cast iron wood burning stove I acquired some years ago. The stove is rectangular in shape with a forest scene on its sides. I do not know the manufacturer. Any suggestions on locating a source or the application of the gasket material once it is located?
Carolyn Desmond
- El Dorado, Kansas
---
December 2012
A. Hi Carolyn. The rope gasket is usually a pretty "standard" item, rather than specific to the manufacturer. You can follow the link =>

for one source, but it should be widely available. Good luck.
Regards,
Ted Mooney, P.E.
finishing.com - Pine Beach, New Jersey
Striving to live Aloha
---
---
January 12, 2011
Q. Hello, I have a small wood burning stove/heater, very old, I can't find anything like it on line, I need parts for it and I'm hoping one of you could help me identify and help me find a place with parts for it....It says number 115 Duro Oak....

Thanks for the opportunity

Beverly
Beverly Sessegolo
hobbyist - Easton Pennsylvania USA
---
January 24, 2011
Q. Hi I am looking for someone to tell me how to go about fixing the top of a 1864 Home Comfort wood/coal cookstove. There are cracks in the lids and top plates and it smokes. I need to find some way to repair it or find some parts so I can use it. It cooks and bakes beautiful. Please would someone have any ideas.

Joyce From West Virginia
Joyce Faulkiner
Homemaker - Bridgeport, West Virginia
---
January 25, 2011
A. Hi, Joyce.

A stove which smokes because it leaks is extremely dangerous both in terms of the possibility of fire and carbon monoxide poisoning. I would suggest that you visit a major fireplace shop and see what guidance they can offer. Often they will know local welders, glass cutters, firebrick providers, local vest-pocket foundries, etc. who are familiar with stove repair.
Regards,
Ted Mooney, P.E.
finishing.com - Pine Beach, New Jersey
Striving to live Aloha
---
February 3, 2011
A. Most all of the old wood cook stoves are cast iron parts on a sheet metal box. Usually if not broken the cast iron parts can be cleaned up and/or replated and are as good as new. If the sheet metal box is in bad shape take it to a sheet metal shop and have them build you a new one on the old pattern then bolt the restored cast iron parts back on - good as new.
Dave Hohl
- Pinedale, Wyoming, USA
---
March 13, 2011
Q. Hello all! I am looking for information on a Cribben & Sexton Herald model #8-17. I believe that I have the majority of the parts, however I am not sure as I have been unable to find a photo of one. The scroll work on it is over the top for what one would expect. I was hoping to find some info. and rebuild it. The parts that I have are far too ornate to simply scrap! Any help would be muchly appreciated. Photos, mfg.date, replacement parts availability. Thank you good folks and have a great day!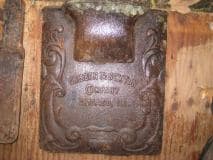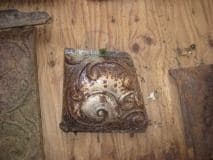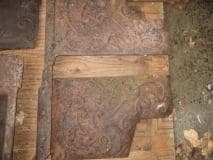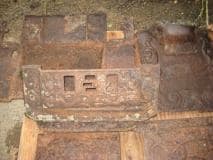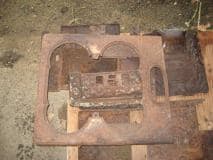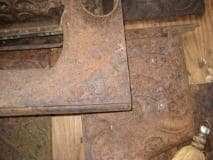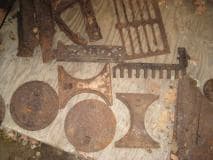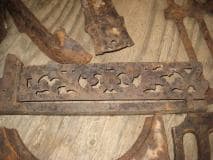 Robert Backes
Hobbyist - Central Point Oregon U.S.A
---
April 21, 2011
Q. I'm trying to restore a Estate 6 burner stove. My problem is the cast iron that the round plates sit on is warped, and I need to find someplace to purchase 3 of them. Anyone know where I can find reproduction parts or what I can do to fix this.
Thanks,
Theressa
Theressa Tinnin
- Caliente, Nevada
---
July 21, 2011
Q. Hello my name is V beaver. I was given a very small wood cook stove that needs to be restored. It was made by Jacob Manufacturing Co, in Bridgeport Alabama. There is writing on the oven that says "Wonder". I have been looking for information but can't find any. This little stove has a burner that is made to keep hot cereals from burning, very different than any I have ever seen. If anyone knows where I can get any information on this stove please help!
Vicky Beaver
collector - Winston Salem, North Carolina, USA
---
September 2, 2011
Q. I have an old wood burning stove,trying to find info on it,it is a Spencer made by Spencer Foundation Co. Ltd. in Ontario.
The piece that holds the little door closed is broken off, and there is a very small crack in door, can this be fixed? Does anyone know approx. year of this stove, on the front is a number it is 105A or 705A, it is very clear but not sure if first no is a 7 or a 1. Would like to find more info on the stove, can't seem to find anything on the company?
George Lister
had stove for 30 years, - Calgary, AB, Canada
---
September 13, 2011
Q. I have a 1911 Barstow wood burning cook stove. Mfg. in Providence, R.I. I need to replace the rounded edged fire brick.
Where can I find this brick??
Paul Dumas
stove user - Woodland, Washington, USA
---
September 14, 2011
A. Hi, Paul.
I doubt that anyone sells firebrick pre-cut to fit a 1911 stove, but a concrete saw makes short work of shaping fire brick. I don't see why it can't be cut with a tile saw as well. Good luck.
Regards,
Ted Mooney, P.E.
finishing.com - Pine Beach, New Jersey
Striving to live Aloha
---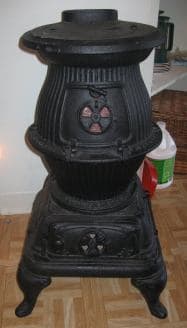 October 29, 2011
Q. Hello, I have an Antique Pot Belly Stove. However, it's painted shut. Can this be undone? Also, the handle for the top of the stove is missing. Can that piece be found somewhere? Thank You.


Kenny Stedman
consignment - Glen Cove, New York, U.S.A
---
---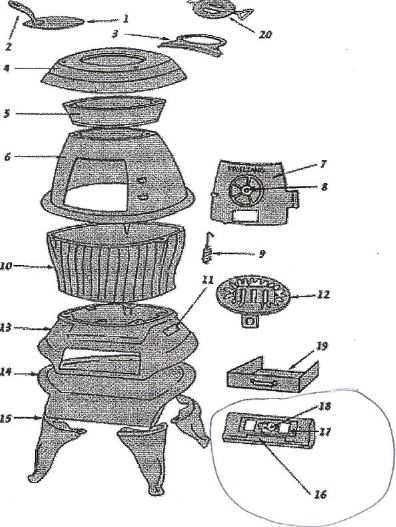 December 24, 2011
Q. I have already restored my pot belly wood burning stove and it was no big deal. The most frustrating part was finding out that wood burning stove parts, pipes, etc., are not interchangeable or universal. What I AM having trouble with is replacement parts! I need one little part that I can't seem to find. It's the ash door. It's for a PB65XL Railroad Potbelly stove, listed as part #65-16. Have not been able to find it anywhere. Would anyone happen to know where I can get one? I have improvised for now but really need to correct one. Live in a very rural area that hasn't even heard of an iron worker, per se, to have one custom made.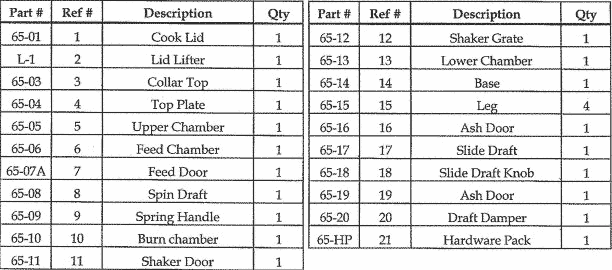 Thanks for any help,
Allyson Newell
- Chandler, Arizona, USA
---
January 17, 2012
Q. I have an antique cast iron cook stove that belonged to my grandmother that I am wanting to restore. My family used to use the stove for heat and for cooking on a regular basis. On 3rd January of this year we had a house fire that destroyed everything except my grandmother's cast iron stove and her cast iron cookware. Once I get more settled I'm wanting to restore the stove and cookware.

Can I use the same suggestions that have already been given here on this stove or should I proceed with extra caution with both the stove and cookware since they've been through the house fire? I haven't gotten a chance to inspect the stove up close yet but the cookware was completely stripped of the seasoning (except one skillet that was sitting in another and the side of it was protected by the one it was sitting in) and I'm assuming the stove has as well. The stove has gone through a couple of good rain storms and a snow since the fire so I'm also assuming I will have to deal with rust in the restoration process.

Any tips and suggestions would be most appreciated as I really want to preserve this stove and the cookware as they all have great sentimental value to me.
Jennifer Gibson
- Murray, Kentucky, United States
---
February 9, 2012
Q. I have a very old pot belly wood stove that it in good condition other than the back, which appears to be sheet metal. What type of material should I use to replace it? Also on the front/bottom door there are several little windows 2x2 that have some type of material in them. Its not glass. I would also like to know where I could purchase these items.
thank you
Dan Tanis
Hobbyist - Muskegon, Michigan, USA
---
February 10, 2012
A. Hi, Dan. Hot rolled steel is probably what you are looking for for the back. A local weld shop probably stocks enough to complete the job to avoid the complexity of going to a steel warehouse.
If you don't describe these 2 x 2 items, I don't think anyone can hazard a guess as to what they are made of :-)
But if they are in fact "windows", then they are probably a glass-like transparent ceramic that goes by trade names like Pyroceram or Neoceram. My local glass shop stocks it and cuts replacement "glass" for woodburning stoves, and I think many glass shops will have it and be able to cut it.. Best of luck.
Regards,
Ted Mooney, P.E.
finishing.com - Pine Beach, New Jersey
Striving to live Aloha
---
February 17, 2012
Q. My husband and I have tackled the task of refinishing an old wood cook stove to use. He completely disassembled the stove and is in the process of putting it back together. My question is, what to do to the actual cooking surface. Paint or not to paint? Condition it as you would a cast iron pan?
Brenda Rude
retired from health care - Marquette, Michigan US
---
February 20, 2012
A. Hi Brenda. There may a bit of a semantics issue here since I don't think people would fry bacon or eggs directly on this, without a pan, as if it were a griddle. If there actually is a griddle section, yes, it would need to be seasoned like a cast iron frying pan. But if the surface is one that you put a pan onto, then stove paint or stove polish is probably fine.
Good luck.
Regards,
Ted Mooney, P.E.
finishing.com - Pine Beach, New Jersey
Striving to live Aloha
---
---
Readers: Please see also thread 13218 "Restoring Nickel Plating on Wood Cookstove",
and thread 11428 "Restoring a cast iron wood stove completely covered in rust".


If you have a question in mind which seems off topic, please Search the Site