ABOUT THIS SITE
Finishing.com is the home page of the finishing industry ® -- a place for people with an interest in metal finishing & the allied surface finishing arts to get information, secure business, enjoy the camaraderie of their peers from around the world, and have some fun!

We do all in our power to make finishing.com not just the most helpful site for people with finishing needs -- but friendly and fun! You'll see no profanity, ad-hominems, or spam. Advertising is relevant and non-obtrusive, with never, ever, a pop-up or pop-under.


Finishing.com is ONLY A WEBSITE! While the advertisers listed in our on-line directories offer metal finishing services, supplies, and consulting, we provide no services except this informational website.
Contents of the site
Our Home page is a site map / table of contents of the site. Our most popular area is a very active 'Public Q&A Forum' page where your peers from around the world meet to discuss technical issues, and have a little fun.

We also have a technical library, FAQs about metal finishing, news & editorials, contact info for metal finishing societies, and helpful links to kindred websites.



On the commercial side, RFQs on our forum page present business opportunities. Our Worldlink Directories locate consultants, training services & software, chemicals & consumables and equipment for finishing shops, and jobshops who can perform every type of finishing service for you. Our help wanted page is solely for positions in the metal finishing industry, and is award winning.
Affiliation
Like the media of the old days, Finishing.com, Inc. is an independently owned & operated small business. We do not seek and will not accept government grants nor association stipends. Our supporting advertisers who order a Worldlink listing, plus commissions we earn from Amazon & other on-line vendors, make the site possible.
History
Finishing.com has been continuously on line since February 1989, starting as a dial-up BBS. Extracts from our Hotline-Letters page were printed monthly in Metal Finishing magazine (an Elsevier Science publication) as the "Heard On the Hotline" column for over 10 years.

In April of 1995, Ted Mooney & Tom Pullizzi founded finishing.com as the first WWW service for the finishing industry. Although Tom has moved on to become a high school science teacher, Bob Dylan & George Harrison said it best: If not for you, I couldn't even find the door.

In 2003, the American Electroplaters & Surface Finishers Society honored Ted with its prestigious Frank E. Lane Industrial Achievement award for the establishment of www.finishing.com.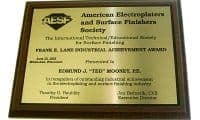 Contact Information
Ted Mooney, P.E. <mooney@finishing.com> is president of finishing.com.


Our address is:
Finishing.com, Inc.
523 Springfield Ave.,
Pine Beach, NJ 08741



Sorry, sorry, sorry! Apologies, but please understand that we cannot offer ANY private help WHATSOEVER on finishing questions! We cannot suggest a shop, supplier, or consultant.
This site is possible only because of our advertisers, including consultants who earn their living offering metal finishing expertise; in return for the support of our advertisers we have agreed that we will not respond to any finishing questions in private. If you want free guidance, it must be in PUBLIC via posting a question in the forum. If you need private, confidential help, please see our Consultants listings. Sorry!
If you are interested in web presence here (directory listing, banner ads, home pages) our phone number is 908-910-7464. We are located in the Eastern time zone of the U.S.A. with office hours of 9:00 A.M. to 5:00 P.M.