The world's most popular metal finishing site, and striving to be the internet's friendliest corner
topic 38112
Nickel plating cast iron
A discussion started in 2005 but continuing through 2019
2005
Q. I have a cast iron vintage car front axle that I have highly polished. I would like this item to be nickel plated but am worried that the process can cause brittleness in the item. Are my fears founded or will the item plate and remain safe to use.
Iian Caldwell
hobbyist - Scotland UK
---
2005
A. Nickel plating is almost 100% efficient, so only a little hydrogen will be co-deposited. There will therefore be some risk of hydrogen embrittlement, but this can be relieved by doing a suitable bake out or heat treatment. Although you have got a highly polished cast iron axle, it will almost certainly be porous, as most cast iron is. You should firstly plate the iron a cyanide copper to fill in the holes and then re-polish the surface. You can then plate the copper with nickel.

Trevor Crichton
R&D practical scientist
Chesham, Bucks, UK
---
---
Electroplating nickel onto grey cast iron
June 16, 2019
Q. Hello.
I am Interested in doing some electroplating on cast iron with high carbon content, the kind found in lathe bed/ways.
largest continuous surface area to be covered is 30 mm x 300 mm dovetail shaped ways.

I have done a small amount of copper electroplating and have been reading up on nickel plating.

what processes/recipes would you suggest for a hobby electroplater, looking to build up worn sliding surfaces and end up with a coating that is both wear resistant, lubricious and harder than the opposing cast iron face.

would a strike coating or pickling be required?

I would prefer to use either electroless or brush plating options.

I have a benchtop lab power supply adjustable from 0-30 V and 0-15 Amps.

Buying proprietary chemicals seems laborious in Australia but i'm happy to go down that route if it's the only sensible option.
Alex von Horn
Hobbyist/Restorer - Perth, Western Australia
---
June 16, 2019
A. Plating on cast iron can be a difficult problem, even for an experienced shop with all the necessary equipment.

If it's a hobby, I'd suggest you do nickel plating on ordinary cold rolled steel.

If it's for function, I'd go to the best shop I can find.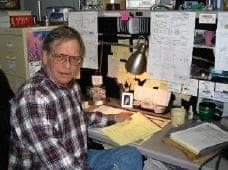 Jeffrey Holmes, CEF
Spartanburg, South Carolina