60,000 Q&A topics -- Education, Aloha, & Fun
topic 38112
Nickel plating cast iron
A discussion started in 2005 but continuing through 2019
2005
Q. I have a cast iron vintage car front axle that I have highly polished. I would like this item to be nickel plated but am worried that the process can cause brittleness in the item. Are my fears founded or will the item plate and remain safe to use.
Iian Caldwell
hobbyist - Scotland UK
---
2005
A. Nickel plating is almost 100% efficient, so only a little hydrogen will be co-deposited. There will therefore be some risk of hydrogen embrittlement, but this can be relieved by doing a suitable bake out or heat treatment. Although you have got a highly polished cast iron axle, it will almost certainly be porous, as most cast iron is. You should firstly plate the iron a cyanide copper to fill in the holes and then re-polish the surface. You can then plate the copper with nickel.

Trevor Crichton
R&D practical scientist
Chesham, Bucks, UK
---
---
Electroplating nickel onto grey cast iron
June 16, 2019
Q. Hello.
I am Interested in doing some electroplating on cast iron with high carbon content, the kind found in lathe bed/ways.
largest continuous surface area to be covered is 30 mm x 300 mm dovetail shaped ways.

I have done a small amount of copper electroplating and have been reading up on nickel plating.

what processes/recipes would you suggest for a hobby electroplater, looking to build up worn sliding surfaces and end up with a coating that is both wear resistant, lubricious and harder than the opposing cast iron face.

would a strike coating or pickling be required?

I would prefer to use either electroless or brush plating options.

I have a benchtop lab power supply adjustable from 0-30 V and 0-15 Amps.

Buying proprietary chemicals seems laborious in Australia but I'm happy to go down that route if it's the only sensible option.
Alex von Horn
Hobbyist/Restorer - Perth, Western Australia
---
June 16, 2019
A. Plating on cast iron can be a difficult problem, even for an experienced shop with all the necessary equipment.

If it's a hobby, I'd suggest you do nickel plating on ordinary cold rolled steel.

If it's for function, I'd go to the best shop I can find.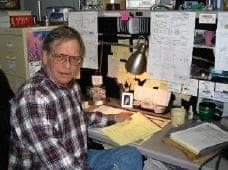 Jeffrey Holmes, CEF
Spartanburg, South Carolina
---
---
December 6, 2019
Q. I am looking at nickel plating (high gloss) feet for a Great Majestic wood cook stove. The feet are probably 100 years old (for metallurgical concerns) and are coated with glass enamel I've been trying to remove. I probably have what I need to do the job myself and plan to .. but living in Alaska presents problems in shipping chemicals. Have some nickel acetate made with nickel material and electrical current in vinegar, and have read can do the same with copper.

Wondering if I can use the resulting copper acetate to first plate my cast pieces, buff and re-plate.. and rebuff.. and finally plate with nickel.. buff and plate until a nice plate is achieved?
Question is, will this work? What suggestions might anyone have?
There is need of plating a multitude of other pieces so learning what works over sending it out is greatly preferred. NO ONE in Alaska does plating or anodizing commercially and I need both.
Thanks to any and all!
Jack Knife
Retired (electrician/welder) - Wasilla, Alaska, USA
---
December 2019
A. Hello Jack (please use your real name on your next posting). Vinegar-based plating solutions are suggested for grammar school science projects for safety reasons -- but they are not the basis for practical electroplating, and acid copper plating is inappropriate for cast iron and other ferrous substrates anyway.
Please look up "Watts nickel formula" on this site and get the requisite nickel sulphate, nickel chloride, and boric acid (if you can't purchase a nickel plating process from a plating process supplier). If you can remove the ceramic coating, and Watts Nickel plate the legs, you can buff them to a good shine.
Jeffrey's advice is not inappropriate even in Alaska though -- there's probably a lot of things that are not made in Alaska but which you can still get anyway :-)
Regards,
Ted Mooney, P.E. RET
finishing.com - Pine Beach, New Jersey
Striving to live Aloha
finishing.com is possible thanks to our supporting advertisers, including this shop: