Where the world gathers for
plating, anodizing, & finishing Q&As since 1989
-----
Restoring
Comstock Castle

cast iron stove

Q. The Connecticut Trolley Museum has this beautiful Comstock-Castle Model A on display in our lobby. It would be great if someone could help us with some information so that we can prepare a sign for our visitors. Year of manufacture (even approximate) is most useful, also how this model would have been used - possibly (hopefully!) to heat trolley cars, train cars, stations, or ticket booths? Many thanks.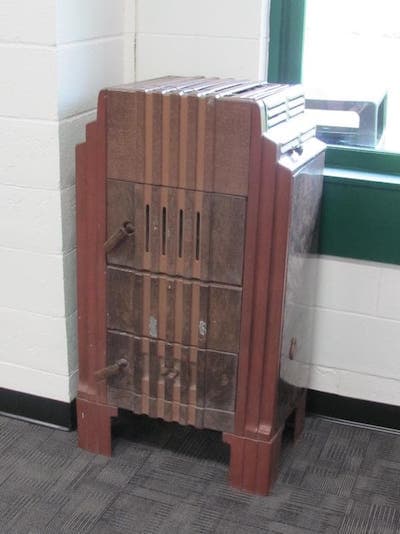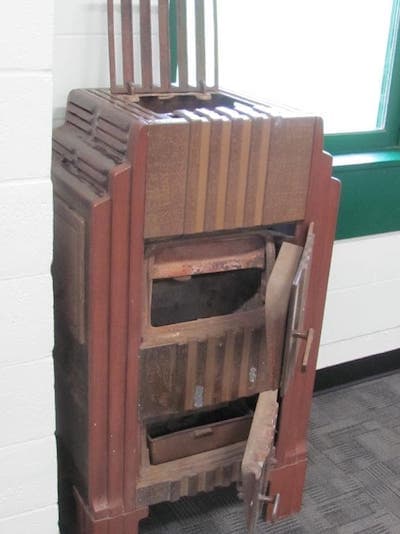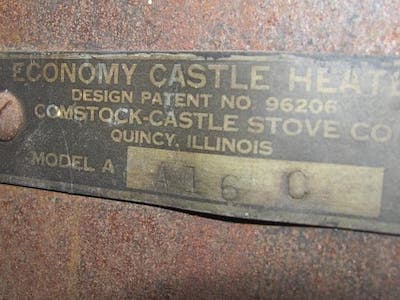 Scott Whittlesey
Museum Volunteer - Enfield, CT
April 28, 2023
A. Wow! An art deco wood burning stove. Never saw anything even remotely similar, but art deco started in 1919, so I'd guess early 1920's for the stove.

It was surely designed for a public space like a trolley station. Get it out of the corner if you can, it surely belongs in the middle of a wall :-)

I'll try reaching out to Comstock Castle and see if they have any records or comment.

Luck & Regards,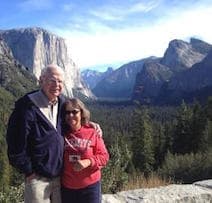 Ted Mooney, P.E. RET
Striving to live Aloha
finishing.com - Pine Beach, New Jersey



---
---
↓ Closely related postings, oldest first ↓
---
---
Q. I recently purchased an 1876 small cast iron stove at the flea market and want to restore it. It is a mess, rusty and the inside still is full of soot and some ashes. It has beautiful scroll work and Mascot Comstock Castle Stove Co. Quincy, ILL on the front of the stove.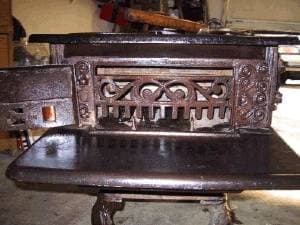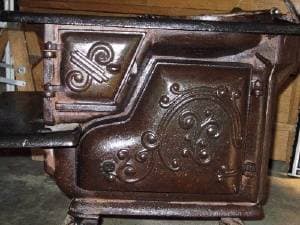 It is structurally sound with no holes or broken parts. I don't know where to start. I don't want to do anything that will wear down the detail.
Thank you,
Sally S
[last name deleted due to age of posting]
- Parker, Colorado, USA
2002
A. Comstock-Castle is still in business. We can give you suggestions on proper restoration. Contact me & I'll advise. Nice to see a product last so long ... shameless plug :)
John Spake
Comstock Castle Stove - Quincy, Illinois, USA

Hi John. Yes, it's great to see you still in business!Please jump right in with public suggestions on proper restoration!
There are thousands of readers, and taking a conversation private disenfranchises all those readers who were following along in the discussion, only to be cut off from the answers and dispositions. The advertisers who make this site possible are also poorly served when conversations go off site. Thanks for your understanding :-)
Regards,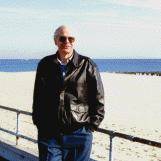 Ted Mooney
, P.E.
Striving to live Aloha
finishing.com - Pine Beach, New Jersey
---
---
Q. My neighbor recently acquired an old wood burning stove & we are going to try & restore it together. Would appreciate any tips about bringing out the 'gold leaf' effect. The back of stove says Comstock Castle Stove Co Quincy, Kansas City, Chicago, Minneapolis. The front of stove says 'Elite Economy' and the number 196.
Diane N
[last name deleted due to age of posting]
- Bandera, Texas
2003
A. As the original mfgr. we may be able to give you some guidance.
John Spake
Comstock Castle Stove - Quincy, Illinois, USA
Ed. note: There are thousands of readers but few writers; please offer any guidance publicly -- we have all the room in the world. Thanks!
Q. I just read the post from Diane N., Bandera, Texas, concerning the Elite Economy wood burning stove and am very interested in knowing what she was able to find out since I also have a stove by the same manufacturer, the model number is different. Mine is model 192, Elite Economy. I am missing the front door, approximately 7 in. X 8 1/2 in. and a small top round plate, approximately 3 3/4 in. I would like to read any information on this if you know it.

Thanks,
Paula H
[last name deleted due to age of posting]
- Texarkana, Texas
January 19, 2009
---
---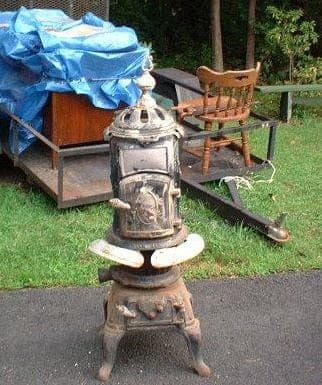 Q. I have an Elite 111 coal burning stove that my dad found in a railroad car several years ago ...

I would like some information about it and if possible how to go about finding some of the skirts that go on it. they are white and hook on.
Judy W
[last name deleted due to age of posting]
- Greensboro, North Carolina
2004
---
---
"Antique Iron: Identification and Values"
by Kathryn McNerney
from Abe Books
or

Affil. Link
Your purchases make finishing.com possible
Q. Just got a Redwood Comstock Castle model 38 given to me. I was wondering if anyone has any information on the year this is. It is in fair shape , but in need of some TLC. Has ornate relief on exterior of stove. Any Help will be great.
Patrick F
[last name deleted due to age of posting]
home owner - Kingsford, Michigan
2004
A. Regarding the Redwood. It is an iron box heating stove. We made it for several decades in the mid-late 1800s. Sold a lot to the Indian Territories. Redwoods are easy to restore if the parts are not cracked.
John Spake
Comstock-Castle Stove Co.- Quincy, Illinois

Thanks John!
Regards,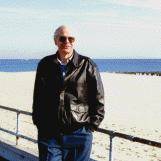 Ted Mooney
, P.E.
Striving to live Aloha
finishing.com - Pine Beach, New Jersey
---
---
Q. I recently purchased an old Aurora Comstock Castle Iron Stove at an auction. I own a 102 year old victorian home and would like to restore this stove and use it if possible. Anyone know how old this is and how to restore it? I have cleaned off most of the rust, but don't know what to do next. Help?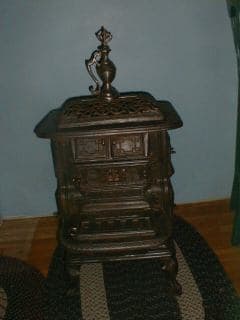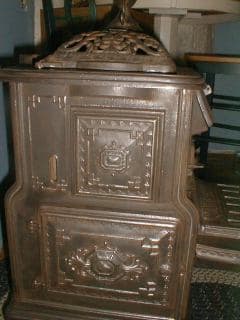 Jamie Ostrow
hobbyist - Parksley, Virginia
2004
---
---
Q. My mom bought a stove. It has to be over 50 to 60 years old and its an Economy Comstock Stove that is wood, coal and gas burning with 6 burners.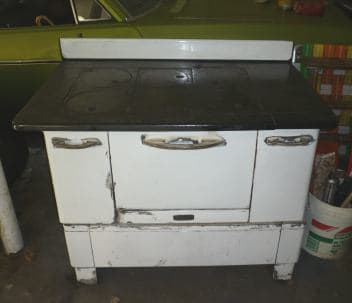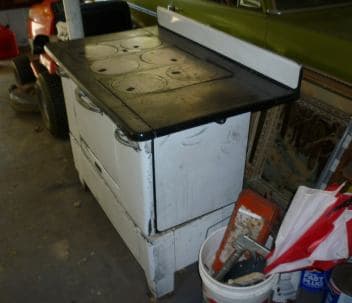 Do you have any idea how to fix it up?
Richard Russo
homeowner - Waterbury, Connecticut USA
July 13, 2010
---
---
Q. I recently acquired a cast iron stove by Comstock-Castle at a really good price it seems to be model#348. It does have some rust and missing hinges to the doors but would like to restore it. Could start off as a nice hobby for me. Anyone have any suggestions on what to use to clean the rust and wear? Thanks.
Julia soto
Home remo. - Tucson, Arizona
March 5, 2014
---
---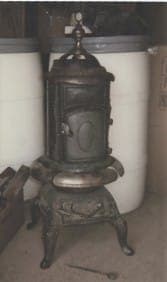 Q. I have just acquired a Comstock castle wood stove model Cub Economy #113. wondering how old it is. It is in perfect condition, and I am getting ready to put it in a restored old cabin. It is missing the collar that goes to the stove pipe. Can I buy such a thing or need to have it fabricated by a fireplace shop. Grates and everything in great shape, chrome needs a little refinishing but over all what a great find. Thanks for any help
Bill Allen
- Wapiti Wyoming USA
February 20, 2017
---
---
Q. I am searching for information on a Comstock Castle PRINCESS ECONOMY wood stove. Date of manufacture and any pictures of what the stove would have looked like when new?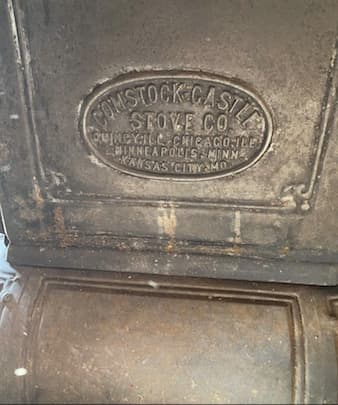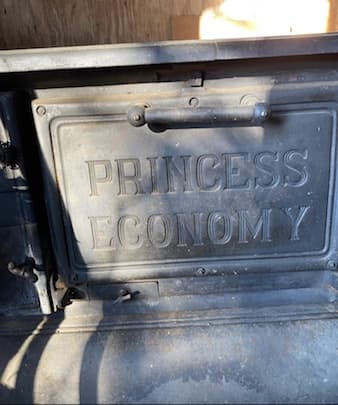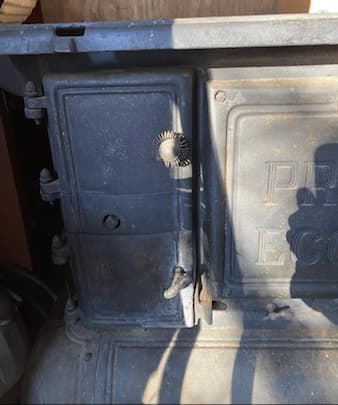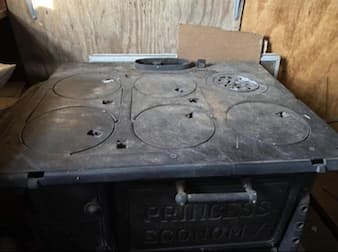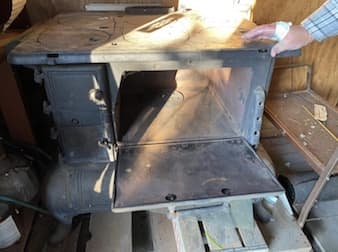 Jerry Marks
Lover of old cast iron stoves - Saint James, Missouri
December 20, 2021
Ed. note: No comments about valuation please, gentle readers! It drives the discussions towards buying/selling, and this is a technical site, not a free e-bay :-)


---
---
Q. I'm missing a couple foot warmers and the top front trim piece for the stove. Does anyone know where I might find parts for this stove?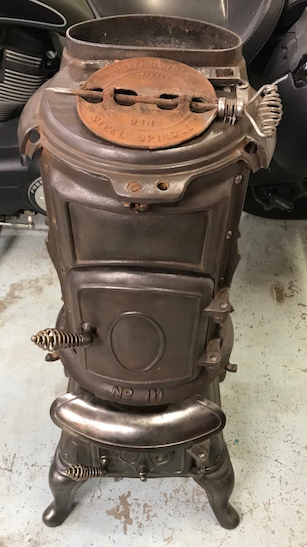 Jim Golden
- Tucson Arizona
January 19, 2022
---
----
Ed. note:
Letter 11428, "Restoring a cast iron wood stove completely covered in rust" compares sand blasting, wire brushing, and steel wool for clean up, plus stove paint vs. stove wax as a finish.
Letter 19039, "How to restore antique cook stoves" suggests types and sources for parts.
Letter 13218, "Restoring Nickel Plating on Wood Cookstove" may be of interest if the stove includes any plating.