Live! From beautiful Pine Beach New Jersey: Welcome to the world's most popular metal finishing website
topic 9527
Starting a small plating business
A discussion started in 2001 but continuing through 2018
2001
Q. I AM WANTING TO LEARN ABOUT THE BASIC PROCESS AND PROCEDURES OF ELECTROPLATING BECAUSE I WANT TO START A SMALL PLATING BUSINESS.
RODEL M
[last name deleted for privacy by Editor]
- MANILA, PHILIPPINES
---
2001
A. Hi, Rodel. We have many on-line articles here that may be a start for you, including our: "Introduction to Chrome Plating", and "Electroplating: How It Works", "Barrel Plating", and "Plating Shops for the New Millennium".
There are a number of good introductory texts listed on our Books Page. One that is both good and very inexpensive is the Garden State Branch AESF "Practical Electroplating" book. Another that can usually be picked inexpensively, because it's an annual, is the Metal Finishing Guidebook.
In the USA all electroplating businesses are "Categorically Regulated". This means all of the waste, even hose water, must be permitted and is considered hazardous even if it's pure enough to drink -- and you are legally responsible for it f-o-r-e-v-e-r, no matter how much you pay to dispose of it. For that reason we urge a thorough investigation before you buy any chemicals ...
People tend to not believe that the government holds them responsible forever for wastes after they have have paid for proper disposal. But what happened is the nation became saddled with huge clean-up costs (super fund sites) because people had their wastes disposed of by companies that turned out to be fly-by-nights. The government's solution was simple, if draconian: the generator of the waste is responsible for it forever regardless of who they paid to get rid of it or how much, or how long ago.
To open an electroplating business, if you have not even set foot in a plating shop, is a huge leap. We encourage you to pursue your dreams -- but we suggest that, if possible, working for a summer in a plating shop first is simple common sense. Good luck!
Ted Mooney, P.E.
finishing.com
Pine Beach, New Jersey
---
July 25, 2012
A. Not to mention all the legal battles with local governments and approvals. Very costly. The plating facility is the easy part.
steve kaczor
been a manager for a big plating company - phoenix, Arizona, usa
---
November 21, 2010
Q. I want to start small zinc plating business, so please provide the process information.
sanjay sutar
- Pune, Maharashtra, India
---
November 21, 2010
A. Hi, Sanjay.
Although there are entire books covering just the process information for zinc plating, such as Geduld's "Zinc Plating" [link is to product info at Amazon], you probably won't need quite that level of detail. In addition to the previously mentioned resources, see if you can locate a copy of the Electroplating Engineering Handbook.
The first three technical questions to ask yourself is whether you want to offer rack plating services or barrel plating services, whether you want to go for alkaline zinc plating or acid zinc plating, and whether plain zinc plating is sufficient or you wish to offer an alloy plating like zinc-cobalt, zinc-iron, zinc-nickel, or tin-zinc. I think if you try to do a little research towards answering those 3 questions, you will soon have a pretty fair "book knowledge" of the process of zinc plating.
You will find that zinc plating processes are highly proprietary today and the process vendors will be happy to lay put a process sequence for you. It will probably include as a minimum: soak clean, electroclean, acid activate, zinc plate, and trivalent chromate conversion coating. Good luck.
Regards,
Ted Mooney, P.E.
finishing.com
Pine Beach, New Jersey
---
December 13, 2010
A. From experience, I decided to start a chroming company without having any experience in the field, and it ended up costing a lot more than I knew to get all the equipment. It takes a lot of practice too. I now finally have my company completely up and running and have an advantage over most companies because I have a spray-on chrome machine that can chrome ANY surface! It used to be that you could only chrome conductive (metal) surfaces. With this new technology you can now have a shiny chrome finish to any surface including plastic, wood, vinyl, etc.
Trevor Stewart
- Phoenix, Arizona
---
December 13, 2010

Hi Trevor.
Shiny spray-on "chrome-look" paint is a more practical starting point for hobbyists than electroplating, and it avoids much of the environmental liability. But it is important for readers to realize that what you are talking about is just paint, it's not chrome plating.
It is not true that real chrome plating can't be done on plastic. Just look at automobile grills. All of them are genuine chrome electroplated plastic; no OEM to my knowledge ever uses "chrome-look" paint. But chrome electroplating on plastic is a complex and extremely expensive process of more than a dozen steps: etch, activate, accelerate, electroless nickel plate, copper plate, semi-bright nickel plate, bright nickel plate, and chrome plate, as a minimum, with multiple rinses between each listed step. nothing in common but a shiny look. Good luck with your business.
Regards,
Ted Mooney, P.E.
finishing.com
Pine Beach, New Jersey
---
---
How to do Zinc Yellow coating on HR Material
June 25, 2016
-- this entry appended to this thread by editor in lieu of spawning a duplicative thread
Q. Dear Sir,

I wish to start plating shop. I am new entrepreneur, manufacturing of Washers with Mild Steel and HR Grades. My supplier asking with Zinc Yellow coating. So for this I am doing at outsource. For Cost reduction I wish to do myself at my site. I am BE Mechanical Engineer Graduate with having 5 years industrial experience. Kindly advice me do this process step-by-step procedure from basic cleaning to final process, name of chemicals and its ratio to mix, volts, amps, etc. Please explain in detail sir. Looking forward your positive response.
Siddha lingam
Entrepreneur - Salem,Tamilnadu & India
---
June 2016
A. Hi Siddha. The plating of washers is far more more complicated than the stamping of them, but if you can tell us the exact materials and sizes, and what tumbling or vibratory processes you use, and what the result is in terms of surface finish & freedom or presence of burrs, and what soils, oils and greases might be on the washers, people can probably suggest the first cleaning steps: usually it will be a hot (80 °C) alkaline soak cleaning step followed by hot (80 °C) alkaline electrocleaning. The voltage for the electrocleaning will probably be about 8-10 volts depending on the size of your plating barrels. The amperage for electrocleaning is about 100 ASF (10 ASD), but only a small fraction of the load's surface area is exposed at a given moment in barrel plating so maybe 500-1000 Amps will be consumed while cleaning the contents of a normal production plating barrel designed for washers.
But people don't usually try to make up the process from commodity chemicals, they buy the processes from plating process suppliers who have formulated them to offer the best combination of saponification, wetting, emulsification, de-flocculation, chelating or sequestering, buffering, and inhibition. They can also run test parts through the plating laboratory and suggest the other steps in the process.
Digital version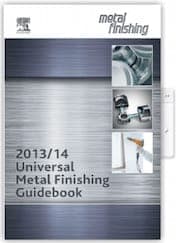 (No longer published, but Elsevier hasn't yet de-commissioned the online version of the Guidebook)
Download it before it disappears.
You had posted this on topic 97, a thread about where to get training in plating --so hopefully you are taking that step. Meanwhile I would suggest browsing through every chapter of The Metal Finishing Guidebook =>
(if not reading it cover to cover), which will be at least a good first step towards your request for a step-by-step procedure from cleaning to final process. Good luck!
Regards,
Ted Mooney, P.E. RET
finishing.com
Pine Beach, New Jersey
Striving to live "Aloha"
---
---
February 23, 2018
Q. I am currently working in a company where we need our parts to get plated (zinc clear chromate, zinc black chromate, zinc-nickel chromate, zinc black chromate) rack and barrel. Since I have a potential customer and I know that what would be my sales in a year I would like to start a plating company. I already know about the difficulties and risks about licenses and disposal of hazardous material. What I need is to know how much would it cost me to start a company, how long does it take to get all these licenses, and how much would be my profit margin. Mr Mooney has a lot of experience -- does your company offer consulting services too, or not? Thanks a lot.
reza adibi
- dallas texas
---
February 2018
A. Hi Reza. Although I was a plating equipment engineer and consultant for decades, just posting the questions on this website takes all my time and then some anymore. There are consultants who can help you though.
You should probably make contact with one of the major plating chemical suppliers and see if they can spend a couple of hours with you providing a proposed process sequence, testing it in the lab, and possibly getting you in to see a zinc plating shop or two.
Regards,
Ted Mooney, P.E. RET
finishing.com
Pine Beach, New Jersey
Striving to live "Aloha"
---
---
October 11, 2018
Q. Hey I have started a zinc plating shop and I have little orders but I don't know how to approach people to take orders
Raksha Manjunath
- Bangalore,Karnataka,India


If you have a question in mind which seems off topic, please Search the Site