World's #1 finishing resource since 1989
Metal Finishing magazine

A digital version of the Metal Finishing Guidebook is included with your subscription, and is very well done. Subscribe at this link at Elsevier.
Update: Metal Finishing magazine and the Metal Finishing Guidebook are history. Elsevier shut them down at the end of 2013 :-(
Metal Finishing Guidebook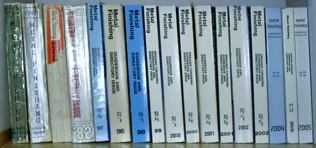 Pictured are the following editions: 1955, 1961, 1963, 1982, 1997 part 2, 1998 part 1, 1999, 2000, 2001, 2002, 2004 part 1, 2004-2005 part 2, and 2005 part 1.

Table of Contents varies slightly from year to year as older articles are gradually replaced. Review by Ted Mooney:
For many years now the Metal Finishing Guidebook has been considered "the bible" of the Metal Finishing industry. In addition to technical articles, it contains advertising and various lists of suppliers and organizations that help the reader get a "feel" for the metal finishing industry.
Originally the Guidebook was a single volume covering both inorganic and organic finishing. In later issues the organic end was split off into a second volume.
If you have a choice of edition, we highly recommend the 2002 edition, because the 2004 through 2006 editions lack an index, an incredible and maddening shortcoming for a technical resource; and later issues got increasing shorter on technical data as the industry grew more proprietary. The new digital edition includes an index, and (unlike some digital magazines) is quite easy to use. [Ed. note Sept. 2019: Sorry, Elsevier no longer makes the digital edition available; old hard copies are your only option].
These links attempt to go directly to the book in question:
"Available" or "Sorry!" note is based on a recent finishing.com search and is not an official position of the bookstore.
Inventory at book dealers varies, and these links might redirect if the volume is out of stock, so please check that the offered book/edition is what we illustrate/discuss here and that you want. If a link doesn't work or points to the wrong book, the dealer may be out of stock; please try another source. Disclosure: finishing.com may receive a commission if you buy after following these links.