World's #1 finishing resource since 1989
Metal Finishing magazine

Update: Metal Finishing magazine and the annual Metal Finishing Guidebook are history. Elsevier shut them down at the end of 2013 :-(
August 2021 note: A digital copy of the 2012 issue of he Guidebook is currently available at:
https://www.academia.edu/36741165/Metal_Finishing_Handbook_2012

Download it while it's still available!


Metal Finishing Guidebook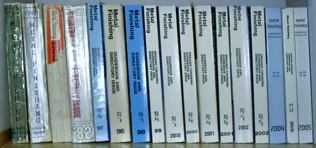 Pictured are the following editions: 1955, 1961, 1963, 1982, 1997 part 2, 1998 part 1, 1999, 2000, 2001, 2002, 2004 part 1, 2004-2005 part 2, and 2005 part 1.

Table of Contents varies slightly from year to year as older articles are gradually replaced. Review by Ted Mooney:
For many years now the annual Metal Finishing Guidebook has been considered "the bible" of the Metal Finishing industry. In addition to technical articles, it contains advertising and various lists of suppliers and organizations that help the reader get a "feel" for the metal finishing industry.
Both in the early days and the closing days the annual Guidebook was a single volume covering both inorganic and organic finishing. But in the mid years organic finishing was split off into a second volume. If you find a copy where the cover says "Organic Finishing" beware that it may not meet your needs.
If you find copies available, we highly recommend the 2002 edition, because the 2004 through 2006 editions lack an index -- an incredible, maddening shortcoming; later issues got increasing shorter on technical data as the industry grew more proprietary.