World's #1 finishing resource since 1989
No login needed: Chime right in
topic 34413
Anodizing anode to cathode ratio
2005
Q. Hey gang ... I have some questions which directly relate to the cathodes used in type II anodizing. They are as follows :
1. Using 6061/6063 aluminum sheeting versus lead sheeting -- what are the pros and cons?
2. I understand that the cathode:anode ratio should be around 3:1. How critical is this? Can a person utilize a much greater ratio, for example 30:1? What might the result be?
3. I realize it is common practice to remove the cathode(s) from the tank when not in use but I am curious what the cons are to leaving the cathode(s) in the tank full time.
4. When calculating the surface area of a sheet of aluminum which is resting flat against the wall of a tank (or very close to the wall), does one consider both sides of the sheet in the calculation or just the side facing inward to the tank?
The reasons I ask these questions is because I am currently building an anodizing tank. Using 1/2" polypropylene, I have welded up a box with internal dimensions as follows : 30"L x 14"W x 19"H. I was thinking of using 1/16" aluminum sheeting as the cathodes and basically line the inside of the tank. My thoughts were to leave this aluminum in the tank full time.
My thanks goes out to all who reply. Cheers!

Daniel DeGueldre
anodizing shop entrepreneur
Ste. Anne, Manitoba, Canada
---
2005
A. Aluminum is more conductive, takes less watts, saves on cooling. Lead puts some lead into the waste stream. Purists say use 6063T5, but just recently a shop (who claims no stray current or galvanic current) got less than 6 months. Another shop that I set up got 4 years out of 6061 1/8 inch thick!
For type II the ratio is NOT critical, but 30 to 1 may be a problem. Do not do it. If you are talking a lead lined tank, than use plastic to mask the bottom and ends.
My client that got 4 years with 6061 NEVER removed the cathodes. There was no stray current. The heat exchanger was outside.
Use one side facing the work.
Wow, 1/16 might be a bit thin. But do not line the tank. Have no cathode on the bottom and no cathode on the ends.

Robert H Probert
Robert H Probert Technical Services

Garner, North Carolina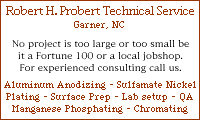 ---
2005
A. The use of lead in the form of sheet or tubing is both more expensive and less efficient than aluminum. To avoid the aluminum dissolving readily in the anodizing bath the use of 6063T6 mandatory. It is not necessary to remove them when not anodizing. Try to stay as close to a 3 to 1 ratio (3 anode to 1 cathode sq. ft.). If you have more questions I would be glad to help.
Drew Nosti CEF
AESF Light Metal Committee
Member AAC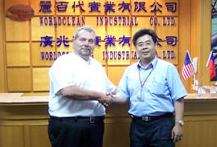 Drew Nosti, CEF
Anodize USA

Ladson, South Carolina

---
2005
Q. Thank you for the input. Drew, you posted that the anode-to-cathode ratio is to be in the range of 3:1. That is to say that for every 3 sq. ft of anode, 1 sq. ft. of cathode is required. I have been led to believe the opposite is true and that for every 1 sq. ft. of anode, 3 sq. ft. of cathode is to be utilized. Perhaps my research is incorrect. Please verify.
I appreciate the help and conclude that: 6063T6, 1/8" thick sheeting will be utilized as cathodes. The sheeting will be fabricated to hang over the sides of the tank in multiple sections thus allowing cathode size manipulation. The cathodes will be removed when not in use, rinsed and hung to dry.
Now is the anode-to-cathode ratio 3:1 or 1:3? Thanks all ... Cheers!

Daniel DeGueldre
anodizing shop entrepreneur
Ste. Anne, Manitoba, Canada
---
2005
A. To answer my own question - a rather basic one I might add. While visiting Mr. Nosti's website I have concluded that the anode:cathode ratio is 3:1.
I hope you do not mind Mr. Nosti, I have taken this quote from the AnodizeUSA [a finishing.com supporting advertiser] website, "...the ratio of 3 sq feet of anode to 1 sq foot of cathode gave the most consistent anodizing.". It should be noted that Mr. Nosti is referring to 6063T6 aluminum cathodes.
Its funny to think, how we grow we sometimes misunderstand stuff. in fact, I feel quite foolish at the moment. For 6 months now I was under the impression that the anode:cathode ratio was to be 1:3. I was anodizing with decent results utilizing this method. I was also using just simply 1/16 aluminum sheeting of an unknown alloy for cathode material. I have currently reversed that theory thanks to Mr. Nosti and finishing.com. My current setup will soon be recalibrated implementing a 3:1 (anode:cathode) ratio while utilizing 6063T6 aluminum cathodes. Just one more step in the right direction. Thanks people! Cheers!

Daniel DeGueldre
anodizing shop entrepreneur
Ste. Anne, Manitoba, Canada
---
2005

Thanks Dan, it is nice to hear that correct information is spreading. Remember it is not a perfect world and in anodizing you can get almost anything to "WORK" .The question is what is the best way. When starting or updating any metal finishing line try to travel in a direction that will lead to the best technology, even if it is in small steps. Good luck.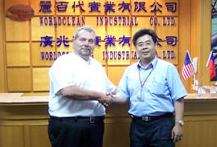 Drew Nosti, CEF
Anodize USA

Ladson, South Carolina

---
+++++
A. We have had a member on another anodizing forum try this unusual (to us anyway) 1:3 cathode/anode area. There is definitely something useful here, we will check this out in detail with properly instrumented anodizing experiments this Spring and inform Drew directly of our findings.
Paul Yursis
industrial electronics
Columbia, Maryland, USA


Ed. note: it is our sad duty to advise of the
passing of Paul Yursis in August 2005.
Here is a brief obituary by Mike Caswell.



---
2005
A. Hello, the ratio from anode:cathode is 3:1 as a minimal ratio in the project of a tank building for a full charge, maximal anode area or rectifier capability that define the greatest area that can be processed.
If you use in any given moment a 30:1 ratio, no problem; make sure that the rectifier is so adjusted to prevent burning, in the ratio ASF (amp per sq. ft.) that you use conform your bath and Tank construction condition.
I do not remove the cathodes from the Tank, only for cleaning or replacing.
Franz Robert Wagner
- Blumenau, Santa Catarina, Brazil
---
---
February 4, 2013
Q. The anode to cathode calculation is 3:1, this is for maximum load size of the parts? Since once we install the cathode of a size then we cannot change for each and every batch.
Aijazullah Tajir
- Abu Dhabi, UAE
---
September 17, 2013
Q. Hi everyone,
I have a quick question regarding the 3:1 anode to cathode ratio required for anodising. Is it necessary to be able to maintain this ratio by having the cathode in sections, or can quality results still be achieved by sizing the cathode for the maximum capacity?
Thanks for your help!
Gillian McDowell
- Coleraine, Northern Ireland
---
September 20, 2013
A. Just size for the maximum surface area load using separate cathodes and not using the whole tank for a cathode. Area ratio is not as important on regular anodizing up to 0.0008 inch, however, more critical in hardcoat.

Robert H Probert
Robert H Probert Technical Services

Garner, North Carolina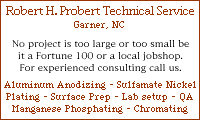 ---
September 21, 2013
A. Dear Sir,
First of all we need to define the size of anode. I have experienced that undersize anode will definitely heat up at the junction point. It results into loss of energy in form of heat dissipation.

So if you plan to give suppose 2000 amps DC current then the anode bus bar size should be minimum 100 mm width and 20 mm thickness. That is 100* 20 =2000 or you can use 80 mm width and 25 mm thickness. Again the calculation will come up to 2000.
So you can use different sizes with result amounting to 2000 for 2000 amps DC current.

Actually I am using 1:3 anode to cathode ratio. I am still confused whether it's right or wrong. But I am getting consistent anodizing.

Cheers!!
Happy Anodizing.
Sumit Lodha
- Ahmednagar, Maharshtra, India
----
Ed. note -- Readers: Please see also letter 3437, "ANODE TO CATHODE RATIO, SIZE, SPACING, PLACEMENT IN ANODIZING"
---
---
February 16, 2015
Q. I have a basic understanding of most of this; however, could someone please tell me what is the correct explanation of:

Which is the anode and which is the cathode. Is the anode attached to the part being anodized and is it attached to the negative lead or do I have it all mixed around. Many thanks.

Bill
William Heritage
- Foley, Alabama - USA
---
February 2015
A. Hi William. In metal finishing, the positive pole is the anode, the negative pole is the cathode. As you may know, in computer programming a "+" sign is sometimes used to represent the word "and"; so a memory aid I use is to mentally call the positive pole the "andode" and the negative pole the "can'tthode :-)
In anodizing, the part being anodized is made anodic (connected to the positive lead of the power supply). In electroplating the part being plated is made cathodic or negative. For this reason, when you are talking about electroplating, you connect the positive lead to "anodes" made of copper, or zinc, or nickel (or another metal) as the source of the metal; but in anodizing you connect the negative lead to aluminum or lead "cathodes".
No metal is deposited in anodizing. Rather, oxygen is drawn to the anodically charged parts and converts the aluminum on the surface of the part to oxides/hydroxides of aluminum. Good luck.
Regards,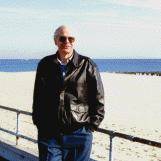 Ted Mooney, P.E.
Striving to live Aloha
finishing.com - Pine Beach, New Jersey
---
February 17, 2015

Thanks Ted
William Heritage
[returning]
- Foley, Alabama - USA
---
---
May 30, 2015
Q. I was led to believe that the Anode (parts being anodized) was 1 to 3 (cathode - negative plate). There is some conflicting information here ... (and elsewhere :))
Dan Orcutt
- Siloam Springs, Arkansas USA!
---
July 2015
A. Hi Dan. Although metal finishing is a science, a lot of it is empirical knowledge rather than based on first principles of mathematics. Furthermore, some of the advice has to do with secondary effects in production situations rather than whether or not you can successfully electroplate or anodize on a one-time basis. For example, in nickel plating you might polarize a nickel anode if it is too small, or in zinc plating you might have to fight against rising solution concentration if you have too much zinc anode area.
For decades it was traditional to line anodizing tanks with lead as a corrosion-proof lining, then simply connect the negative lead to the lining, making the entire area of the tank the cathode. This probably resulted in anode to cathode ratios of 1:5 to 1:50 and the process survived; so I doubt that slightly too much cathode area could be a serious problem in anodizing. Too little might cause over-heating, or perhaps excessive corrosion of the cathode, or perhaps limit the speed of the process due to not being able to get enough hydrogen through the boundary layer of a very small cathode, but I think the issue is not critical and it will not be valuable nor possible to prove wrong those who think a 3:1 anode to cathode ratio is fine -- so it's a good target if there's no good reason why not, but I doubt that 2:1 would cause any problems at all.
Or for the simplest answer of all, go with a 1:1 -- and never have to worry again about which way is which :-)
Regards,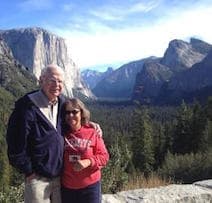 Ted Mooney, P.E. RET
Aloha -- an idea worth spreading
finishing.com - Pine Beach, New Jersey
---
---
Anode to Cathode Ratio for Type III Anodizing
January 28, 2016
Q. I have been experimenting with the anode to cathode ratio in our anodizing line. I'm currently at the 3 to 1 ratio for 55 sq ft. Is there a benefit to add more cathode if the tank size and solution flow allow it?
Scott Frazier
Anodizing Manager - Spokane Valley, Washington USA
---
January 2016
A. Hi Scott. Those who feel that a very carefully controlled anode-to-cathode ratio is important tend to favor the 3 to 1 ratio that you believe you have. So I would not change it.
Regards,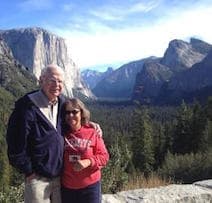 Ted Mooney, P.E. RET
Aloha -- an idea worth spreading
finishing.com - Pine Beach, New Jersey
---
August 5, 2016
A. Honestly I have seen ratios of cathodes all over the place. The 3:1 ratio is a starting point, I use it to do calculations for a set up. Since most anodizing lines see many different SQ FT of work, it is impossible to keep this ratio constant. So guys think of the 3:1 ratio as flexible and use what you need to get great work. I am though a strong believer in 6063T6 and have documentation/studies to confirm it.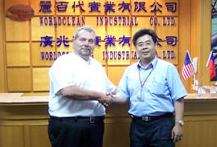 Drew Nosti, CEF
Anodize USA

Ladson, South Carolina

---
---
May 17, 2018
Q. Hello, Can someone spell about the effect of rack surface area on work out of Cathode area?
Khushal Rane
- Jalgaon, Maharashtra
---
May 2018
? Hi Khushal. Please spend at least a paragraph or two explaining your own situation. Between the brevity of your question and the somewhat different rhythm of Indian English compared to United States English, sorry, I have no idea what you are asking. Apologies.
Regards,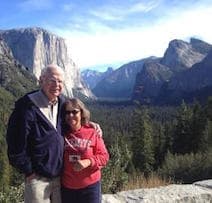 Ted Mooney, P.E. RET
Aloha -- an idea worth spreading
finishing.com - Pine Beach, New Jersey