World's #1 finishing resource since 1989
Trouble in Your Tank? Handbook for Solving Plating Problems
by Lawrence J. Durney
| | | | | |
| --- | --- | --- | --- | --- |
| ISBN/ASIN | Edition | Pub. year | Authors | Publisher |
| ‍B0006EMPLW | | 1983 | Lawrence J. Durney | AESF, Gardner Publications |
| | 2nd | 1986 | Lawrence J. Durney | AESF, Gardner Publications |
| ‍9991219641 | | 1991 | Lawrence J. Durney | AESF, Gardner Publications |
| ‍1569902003 | | 1996 | Lawrence J. Durney | AESF, Gardner Publications |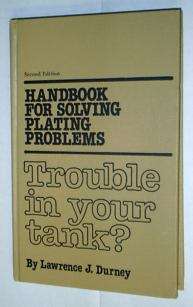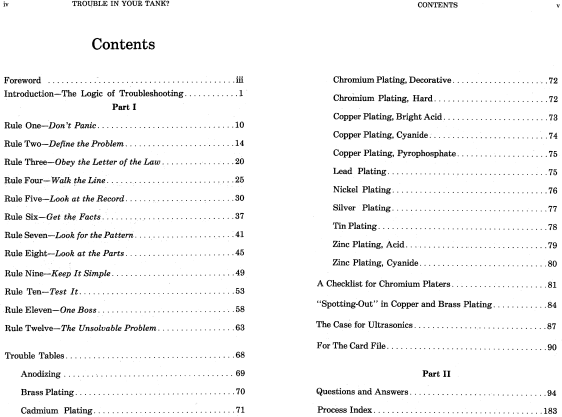 A Review by Ted Mooney:
2nd ed., 1986, hardcover, 185 pages is illustrated and reviewed.
Larry Durney was one of the luminaries of the plating industry.
"Trouble in your tank?" is an attempt to educate the reader into an organized and efficient methodology towards solving plating problems, while simultaneously transmitting hundreds of little tips learned in a lifetime.
The book introduces Durney's "12 Rules", explaining by way of anecdotes the value of each individually, collectively, and employed in the right sequence.
Also included are "trouble tables" for each type of plating, and individual chapters on certain classic problems. The volume includes over a hundred "shop problems" illustrating the application of the rules.


These links attempt to go directly to the book in question:
"Available" or "Sorry!" note is based on a recent finishing.com search and is not an official position of the bookstore.
Inventory at book dealers varies, and these links might redirect if the volume is out of stock, so please check that the offered book/edition is what we illustrate/discuss here and that you want. If a link doesn't work or points to the wrong book, the dealer may be out of stock; please try another source. Disclosure: finishing.com may receive a commission if you buy after following these links. As an Amazon Associate I earn from qualifying purchases.