Where the world gathers for
plating, anodizing, & finishing Q&As since 1989
-----
How to Do Platinum Plating/Coating onto Titanium
Q. I want to make the Pt/Ti anode by myself. Anyone can suggest the plating process for Platinum over Titanium?
Edmond Yeung
1997
A. Technic, Inc. or Sel-Rex, Inc. have proper chemistries, but surface prep is the key. Grit blasting or fluorides are usually required.
Good Luck,
Dave
SUNNYvale, CA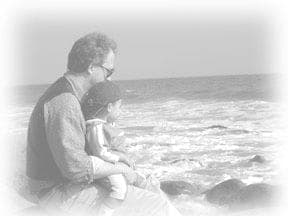 Dave Kinghorn
Chemical Engineer
SUNNYvale, California
---
---
2000
Q. I'm looking for information about plating platinum on some small to medium sized titanium parts. The platinum is required for corrosion resistance not appearance. Good adhesion is critical. Any suggestions are welcome.
Bob B
[last name deleted for privacy by Editor]
- Rochester New York
---
2000
A. Dear Bob
Plating titanium with platinum is usually done in melt of salts (KCN and K2Pt(CN)4), using the titanium as cathode and platinum as an anode. There are very few firms that use this process for making anodes e.g. for chrome baths. You can ask also suppliers for platinum plated titanium anodes for chrome baths where they plate them and maybe you find someone there who can plate your parts,too.
Good luck
Marcus
Marcus Hahn
- Sachseln, Switzerland
---
2000
A. Plating on to metals like titanium, zirconium, uranium, etc, that are very oxygen active is often done with ion plating, a PVD process. In some cases a "strike" is put on by ion plating and the coating built up by electroplating.
Donald M. Mattox
Society of Vacuum Coaters
Albuquerque, New Mexico
---
2000
A. Bob,
Electroless platinum plating technology might be applicable to your particular situation. A nickel strike may be required in order to get good adhesion onto the substrate. Good luck with your search.
Jeff Venarsky
- Jerseyville, Illinois
----
Ed. note: Letter 35217 also addressed electroless platinum plating.
---
2001
A. Dear Mr.Bob B.,
We electrodeposit platinum on titanium with plating thickness up to 10 micron with good adhesion properties.
H.H.
[last name deleted for privacy by Editor]
plating shop - Pune, MH, India
----
Ed. note-- Cousin H.H.: If you're at liberty to help out on these plating process questions, please do. But this forum is made possible by our generous supporting advertisers (you are welcome to join them if you wish), and we can't let their money be spent steering business away from them and towards their competitors. Thanks for your understanding folks.
---
---
Platinum Plating on Niobium Anode
2001
Q. Thanks for your long-running support to us, as a patronage. We are expecting the same in the future too. Kindly clarify the following:
We are a manufacturer of platinised titanium anodes. With our past experience, we like to step forward our activities to the process of platinum plating on NIOBIUM. However, we are interested to know about the procedure of pre treatment (surface preparation, etching, surface cleaning) of niobium mesh and sheet, before plating.
For titanium, we conduct the following pre treatment (surface preparation):
1. Shot Blasting
2. Etching with HCl mix.
3. Cleaning with DM water.
Like the above procedure, we want to do the surface preparation of niobium. Kindly advise us the procedure please.
Regards,
Sealen
- Chennai, India
---
2001
Q. Hi fellows,
I have the same problem of Platinum coating (20 Micron) over Niobium plates (3 mm thick). Whoever can help, how can I repair old plates or make new coating over Niobium plates. I appreciate in advance.
Regards,
Dr. Seyed Behrooz Ghozati
- Tehran, Iran
---
Q. We are a research group in arak university and have been working on platinum and palladium coating on titanium rods with various methods of coating sputtering, EGB, Evaporation and electrodeposition, and have been successfully done up to 1.5 micron thickness and good adhesion. Now we are trying to coat platinum on niobium at least up to 10 micron. Could anyone help us in this matter?
Alireza Salabat
Arak University - Arak, Iran
---
2002
A. Dear Sealen and others,
I'd suggest you to look into Patent UK 1253858 CH 527911 and related.
Hope this can be of help to you.
Kind regards,
Peter BRADLEY
- Geneva, Switzerland
---
---
2004
Q. I'd like to know how to plate platinum onto titanium strip without blasting. How to ensure adhesion.
Kelvin Kau
Metal works - Tokyo, Japan
---
2004
A. Hi cousin Kelvin. Getting good adhesion onto titanium is very difficult, so before we go too far in a difficult direction that may not even be necessary, may I ask if you are aware that platinum clad titanium material is commercially available?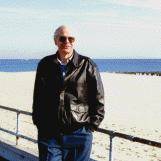 Ted Mooney
, P.E.
Striving to live Aloha
finishing.com - Pine Beach, New Jersey
---
2004
Q. I had experimented on using various acids to etch the Titanium strips but was unable to get adhesion of Platinum on Titanium during plating. I had baked the strip for about 30 minutes but without avail. Do you know of any process or someone who can offer advice?
Kelvin Kau
- Tokyo, Japan
---
2004
A. The difficulty of getting good adhesion onto titanium from conventional aqueous electroplating is a well known issue. Volume 5 of the ASM Metals Handbook, "Surface Engineering" (the ninth edition will suffice too) covers the problem is fairly good depth. Some people use the cleaning/pretreatment methods in that book, then nickel plate, then do a high temperature bake to diffuse nickel into the titanium. Then they activate and plate the nickel.
There are many suppliers of platinized titanium anodes around the world who can build exactly the components you seek if you don't have a special reason to do it yourself. Good luck.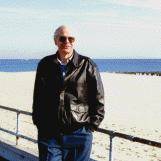 Ted Mooney
, P.E.
Striving to live Aloha
finishing.com - Pine Beach, New Jersey
---
---
Need Gold or Platinum Plating onto Titanium Foam
2004
Seeking Gold or Platinum Plating on Titanium Foam/Expanded Metal Package. 6.285" diameter discs, From 0.0051" thick to 0.046" thick, Qty from 100-500 depending on quality. Will require a sample before purchasing. Precious metals only, cannot use nickel or copper strikes. No palladium-nickel.
Kristy F.
[last name deleted for privacy by Editor]
Engineering R&D - College Station, Texas
Sorry, this RFQ is outdated, but technical replies are welcome. No public brand/source suggestions please ( huh? why?)
---
---
To minimize searching & thrashing, multiple threads were merged; please forgive repetition, chronology errors, or disrespect of other responses (they probably weren't there) :-)
---
---
Pretreatment of titanium for good plating adhesion
Hi,
I would like to plate some very delicate pieces of titanium with platinum. Right now I use a NaOH and HCl cleaning prior to a gold strike and then finally the platinum electroplating. The problem is that I have some adhesion problems. I suspect it may due to the titanium dioxide that builds on every raw titanium piece. Is it really the case and what should I use to dissolve the titanium dioxide before doing my deposition?
Thanks!
Marie-Maude de Denus Baillargeon
- Montreal, Quebec, Canada
---
Yes, it really is the case. Simple pretreatment cycles of NaOH followed by HCl are often fine for steel parts, but they are inadequate for titanium. See ASM's Metals Handbook, "Surface Engineering" for pretreatment cycles for titanium. Good luck.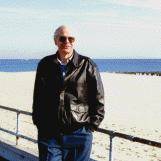 Ted Mooney
, P.E.
Striving to live Aloha
finishing.com - Pine Beach, New Jersey
---
2000
adv.
Our company has technology of plating Pt on Ti, if intermediate thin layer of Ni (0.1-0.5 micron) is acceptable for your application.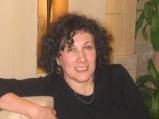 Anna Berkovich
Russamer Lab

Pittsburgh, Pennsylvania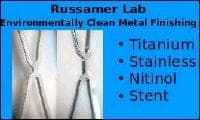 ---
---
2005
Q. Hi,

I am a post graduate student working on electrochemistry. I have accidentally removed the thin coating of platinum on niobium, which is my anode for high temperature, high pressure experiments. Can you suggest me the bath composition, current density, temperature and anode required to re-plate platinum on niobium? I want a matte durable thin deposit, not a shiny one.

Thank you very much
Seshachalam Vijayalakshmi
PhD student - Singapore
---
---
Q. Do you have a ball park figure on how much it would cost to produce platinized titanium electrodes at home instead of buying them commercially? For example, I found a quote for a 1.5 square inch electrode that was priced at $60 USD. This is expensive. I want to know what degree of cost savings i.e. percent wise, I could realize by making the electrode myself. I am thinking about making several electrodes so I hope that the cost savings might be substantial. I have the equipment for electrolysis already available.
Aaron Cowan
hobbyist - Toronto, Ontario, Canada
July 31, 2009
---
ASM Metal Handbook
9th Edition, Vol. 5
"Surface Cleaning, Finishing & Coating"
from Abe Books
or

Affil. Link
Your purchases make finishing.com possible
A. Hi, Aaron. My understanding is that the best anodes are clad not plated. But Dave Kinghorn has given us some clues in thread 1503.

I won't say you can't do it, but I think plating platinum on titanium is quite complex for a hobbyist (I saw a facility where it was done and it was quite involved and used very aggressive chemicals), but if you successfully plate platinum on titanium, let us know how thick you went, how long they last, and what you think they cost you. Thanks.
See ASM Metals Handbook, Vol. 5 for possible pretreatment cycles for plating titanium. Good luck.
Regards,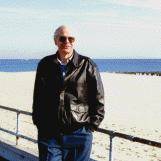 Ted Mooney
, P.E.
Striving to live Aloha
finishing.com - Pine Beach, New Jersey
---
---
April 11, 2012
Q. We are engaged in electroplating business since the 1980s and lately, we are receiving a lot of inquiries regarding the subject. We've been trying to find answers through surfing the internet but could not get the proper forum. We will appreciate it very much if anyone can furnish us the names of chemicals to be used and how to process. Thank you and we are hopeful a reply is forthcoming.
Danny Masalonga
plating shop employee - San Pedro, Laguna, Philippines
---
April 11, 2012
A. Hi Danny.
In terms of the answers that have already been offered, do you think plating out of molten salts as suggested by Marcus will be practical for your shop? Are you willing to invest in a PVD system as suggested by Donald? Do you feel that electroless plating as suggested by Jeff may be satisfactory?
If none of these seem appropriate for your situation, and it must be aqueous electroplating, please consult ASM Metals Handbook Vol. 5 for pretreatment processes for titanium, like nickel plating with a post-plate baking for diffusion, then activate the diffused nickel, and electroplate with a commercial platinum plating bath. Best of luck!
Regards,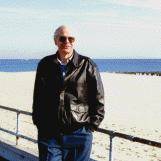 Ted Mooney
, P.E.
Striving to live Aloha
finishing.com - Pine Beach, New Jersey
---
---
Platinum plating on inside of titanium tube
August 5, 2014
Q. I would like to platinize the inside of a titanium tube. How can this be achieved in the easiest possible way?
Nick polous
- United Kingdom
---
August 6, 2014
A. Hi Nick

The simple answer is that you don't. It is a highly specialised process and you do not even give the size of the tube - microns or meters!

You are probably not aware that you can simply buy the material ready made. A few seconds search on "platinised titanium" turns up a number of suppliers that may have exactly what you want.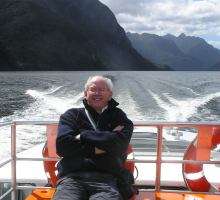 Geoff Smith
Hampshire, England
---
August 6, 2014
Q. Thanks for your reply Geoff.

I should have been more clear, actually I have a small cylindrical titanium block with a 2 mm bore drilled through the centre. It is this 2mm bore only that I would like to platinize and not the entire piece. Does this required specialised equipment and if so what kind of equipment are we talking about?

Nick
Nick Polous
[returning]
- United Kingdom
---
August 2014
A. Hi Nick. We appended your inquiry to a thread on the same topic, discussing several different possible approaches, none of which are easy, but the "electroless platinum plating" is probably the least difficult.
But is there any chance you could just bore that hole a little bigger and press fit a platinum tube into it? It would likely be world's easier :-)
Regards,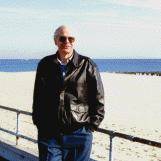 Ted Mooney
, P.E.
Striving to live Aloha
finishing.com - Pine Beach, New Jersey
---
August 7, 2014
A. Nick, This can be achieved by special surface preparation of the ID surface. After that you can plate anything on titanium. In order to isolate other surfaces, the tiny cathode wire is inserted into the tube.
adv.
We have done similar works. Contact us for help.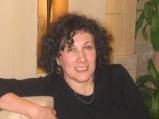 Anna Berkovich
Russamer Lab

Pittsburgh, Pennsylvania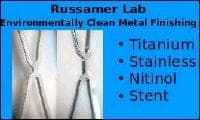 ---
---
February 20, 2020
Q. What are the process parameters such as voltage, current, electrode spacing and dip time for electroplating platinum on titanium?
Eshan Gupta
- Delhi, India
---
February 2020
Practical Electroplating Handbook
by N.V. Parthasaradhy
from Abe Books or

Affil. Link
Your purchases make finishing.com possible
A. Hi Eshan. Parthasaradhy's "Practical Electroplating" suggests periodic reverse current, cathodic 5 sec, anodic 2 sec, at 50 ASF from ammoniacal platinum bath.
Lowenheim's "Modern Electroplating" [affil. link to book on Amazon] has about 3 pages on electrodeposition of platinum, and "ASM Metals Handbook Vol. 5 "Surface Engineering" [affil. link to book on Amazon] has excellent info on preparing titanium for plating onto. Good luck.
Regards,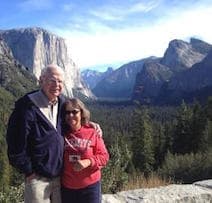 Ted Mooney
, P.E. RET
Striving to live Aloha
finishing.com - Pine Beach, New Jersey