World's #1 finishing resource since 1989
ASM Metals Handbook. Vol. 5, Surface Cleaning, Finishing, and Coating
| | | | |
| --- | --- | --- | --- |
| ISBN | Pub. year | Author | Publisher |
| ‍9993981532 | 1982 (Ninth Edition) | American Society for Metals | American Society for Metals |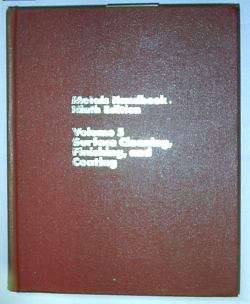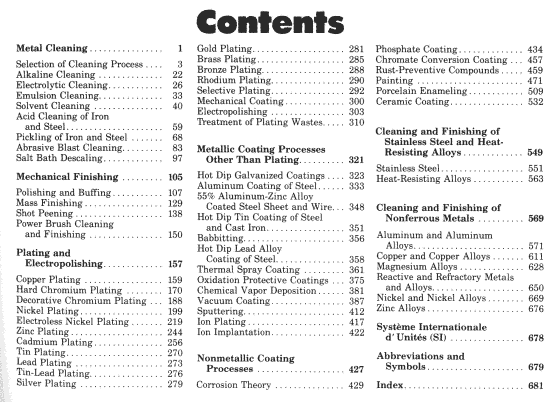 A Review by Ted Mooney:
Ninth Edition is reviewed and illustrated. 715 oversizes pages.
This is one of our "must have" books, and covers at least two subjects to greater depth than other books we are familiar with, namely some of the science of how plating solutions work (for example, what generic chemicals function as nickel plating carriers, primary brighteners and secondary brighteners, and how they work), and cleaning and finishing of metals other than steel and aluminum, such as magnesium nickel alloys, and the refractory metals.
This work covers cleaning, mechanical prep, plating of most of the common plateable metals, electropolishing, and treatment of plating waste. Approximately 100 pages are devoted to metallic coating processes other than plating, including galvanizing, aluminizing, hot dip tinning, thermal spray coating, CVD, vacuum coating, sputtering, ion plating and ion implantation.
Non-metallic processes covered include phosphating, chromating, painting, enameling, and ceramic coating.
This edition is out of print and has been replaced by ASM Metals Handbook, vol. 5, Surface Engineering, but is available from some sources used.
These links attempt to go directly to the book in question:
"Available" or "Sorry!" note is based on a recent finishing.com search and is not an official position of the bookstore.
Inventory at book dealers varies, and these links might redirect if the volume is out of stock, so please check that the offered book/edition is what we illustrate/discuss here and that you want. If a link doesn't work or points to the wrong book, the dealer may be out of stock; please try another source. Disclosure: finishing.com may receive a commission if you buy after following these links. As an Amazon Associate I earn from qualifying purchases.