60,000 Q&A topics -- Education, Aloha, & Fun
topic 37526 p.2
Want gold colored finishes without use of gold
---
< Prev. page (You're on the last page of the thread)
---
A discussion started in 2005 but continuing through 2020
June 25, 2014
Q. I have made Nordic Gold using copper, aluminium, zinc, tin. Good gold color came but in a few days it's getting black color. What to do? Please help.
ravi kumara m r
[returning]
student - bangalore karnataka india
---
June 29, 2014
A. Try using pyrite ores. I read it was used extensively in war time to achieve gold color on glass.I heated some pyrite up in a stainless steel tube hoping to extract gold!
When I removed tube from bottom steel plate, I had a gold colored tinting on metal.
Don't know if this will help, but it's a cheap alternative; pyrite ores are not usually valuable unless the gold in them is high.
Check under "GLASS BLOWING".
David Russell
- trout brook, New Brunswick, Canada
---
July 3, 2014
A. Just a quick point, pyrite ores are not valuable depending on how much gold in them as they contain no gold,
Hence pyrite's colloquial name 'Fool's Gold'.
Mark Lees
- Isle of Man, Great Britain
---
---
April 7, 2015
Q. Sir, please explain this line that you have written in the end of above formulation:
"He notes that the bath should contain between 9-12% tin"
ateeq ur rehman
a small shop - faisalabad,punjab,pakistan
---
April 2015
A. Hi Ateeq.
Presumably, Dr. Kushner means that the color will come out best if the copper and tin chemicals are adjusted so that 88-91% of the metal in solution is copper and 9-12% of the metal in solution is tin. But we gave you the link to the article; please read the article yourself as a minimum, instead of relying on my interpretation of it. Good luck.
Regards,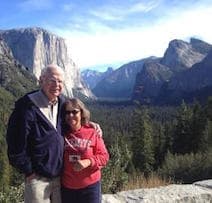 Ted Mooney, P.E. RET
finishing.com - Pine Beach, New Jersey
Aloha -- an idea worth spreading
---
---
September 2, 2015

Q. Hi I am looking for information on plating just mild steel but I want it'll be a good color; it's for corrosion protection of some parts I've made but I wish to know what is used to produce the gold colored plating found on many products to protect them from rust.

Anthony Muscat




- Melbourne Vic Australia





---

September 2015

A. Hi Anthony. There are more than a dozen commonly plated metals, hundreds of alloys, and thousands of combinations of plating. But zinc is the most common plating for steel and it often receives a post treatment of yellow ("gold") colored chromate -- so I suspect that's what you are thinking of. No one would confuse it for gold, but people sometimes think it's brass.

Regards,




Ted Mooney, P.E. RET




finishing.com - Pine Beach, New Jersey




Aloha -- an idea worth spreading





---

September 2, 2015

Q. That sounds like what I'm after. Is that stuff dangerous to work with?
And how would it be added after zinc plating?

Anthony Muscat




- Melboure Vic Australia





---

September 2015

A. Hi again. Are you asking whether it's dangerous for experienced platers who have had hands-on OJT training, and annual haz-mat training, and are wearing proper protective equipment? Or do you mean are there any possible dangers at all to an inexperienced hobbyist, his children, and his pets in attempting to do a regulated industrial process on his kitchen table?

Seriously, the straightforward way to approach the project is to send the parts to a plating shop -- but we also have dozens of threads on this site about what hobbyists want to do, what they can do, how they can substitute more laborious operations for more risky chemical ones, and what they still cannot do. A determined hobbyist can probably successfully zinc plate a few steel parts and can probably buy trivalent chromate conversion chemistry and apply it, without hurting himself. You can prove to yourself that you are a determined hobbyist by reading the Metal Finishing Guidebook cover to cover.

Regards,




Ted Mooney, P.E. RET




finishing.com - Pine Beach, New Jersey




Aloha -- an idea worth spreading




---
---
March 26, 2018
-- this entry appended to this thread by editor in lieu of spawning a duplicative thread
Q. Hi there, I am looking for a plating process which gives me a gold plated finish on my iron articles. Is there any kind of plating/passivation, etc., which is similar to gold plating finish? Kindly help.
umang goyal
business owner - jodhpur,rajasthan, india
---
March 2018
A. Hi Umang. We appended your inquiry to one of many threads about finishes that "look like gold". Titanium nitride looks very much like gold but is vacuum-deposited not electroplated, and probably not suited to low volume; brass plating can look a fair bit like gold to some people; zinc plating with iridescent gold colored chromate looks vaguely gold colored but wouldn't fool one person in a hundred.
If you want real help on this, it isn't going to be sufficient to be vague; rather, you must write at least several paragraphs explaining exactly what the parts are, what environment they will experience, why you want them to look like gold, how many you need so we know whether very high capital costs like for Titanium Nitride deposition are feasible, what your skills are, etc. Thanks, and good luck!
Regards,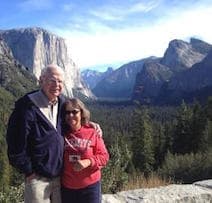 Ted Mooney, P.E. RET
finishing.com - Pine Beach, New Jersey
Aloha -- an idea worth spreading
---
---
April 6, 2018
Q. I have a stainless steel tube, 1.715 long, .224 od, .010 wall.
Will do 15k to 25k units a month. I want to have an 14 karat gold finish look (a bright yellow color). Is there an economical process for this. Also, can my tube be plated with another coating (copper,tin,zinc,etc.) so a treatment of yellow ("gold") colored chromate can be applied? Thank You,
CLAUDE KELLER
ink pens - MOUNT MORRIS, Illinois, USA
---
April 20, 2018
A. Hi Claude,

As long as the SS alloy is not 316, gold colors can be achieved by anodizing. It cannot be done in basket, but still the process is pretty economical. Please see the attached photo.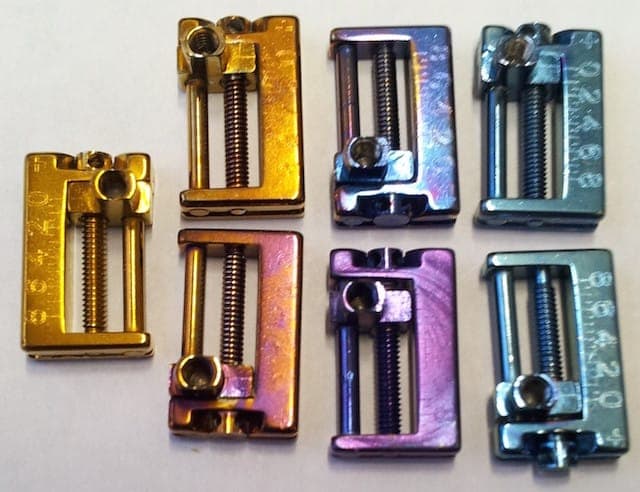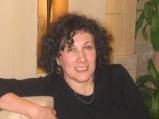 Anna Berkovich
Russamer Lab

Pittsburgh, Pennsylvania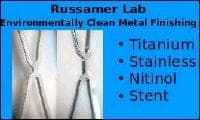 ---
April 19, 2018
Q. Someone know about electrophoretic gold plating: It is not gold, just the color is like gold. I would love to have some information. I would like to plate just the color of gold.
Karine Martimbianco
- Fairfax, Virginia, USA
---
April 2018
A. Hi Karine. As long as you don't expect too much in terms of actual resemblance to gold, electrocoating followed by a metallic gold colored post-dip could be what you are looking for.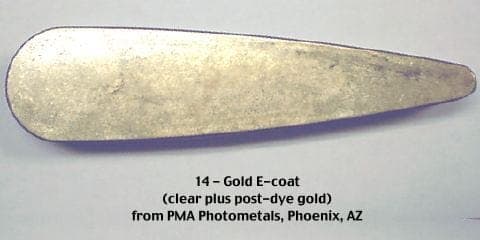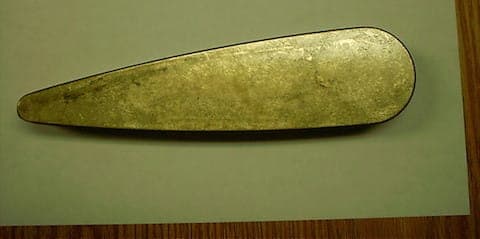 (CED coating with gold colored post dye; same part, different lighting)
The above part was just a "one-off" coating on a zinc die-casting for a corrosion study which finishing.com did for the International Zinc Association. I'm confident that vendors could improve the consistency with a little development effort and practice on the parts, but I don't think anyone would believe it's gold :-)
Please see topic 49008 for more about electrophoretic gold plating, or search the site for e-coating, electropainting, CED, or electrophoretic lacquer. Good luck.
Regards,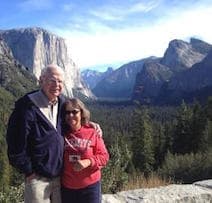 Ted Mooney, P.E. RET
finishing.com - Pine Beach, New Jersey
Aloha -- an idea worth spreading
---
---
May 15, 2018
Q. How do I do brass gold on ABS material?
Is there a direct one use chemical? I want it in reddish tone.
Narendra rathod
Alpenglow - Mumbai India Maharashtra
---
---
Mirror gold/brass finish on steel/stainless steel
September 17, 2018
Q. Hi,

I am building a sculpture and ultimately the finish needs to look like mirrored gold.

It s a large piece 5'x10'x9' that will be made moslty of sheet metal, angles and extrusions of stainless steel, steel and brass.

I am currently thinking of plating the pieces of steel/stainless steel with a thicker brass coating, complete the sculpture then polish the entire thing to a mirror finish and lacquer.

Or completing the sculpture in the different base materials, taking it apart then plating them to a mirror finish if that is possible, followed by lacquer, then putting the sculpture back together.

It doesn't matter if there is a slight color variation between the plated steels and original brass pieces.

The sculpture is going to be susceptible to damage/scratching so need the option to be able to re-polish if necessary without having to dismantle it. So vacuum coatings would not be ideal I am thinking.

A friend has a metal work shop and is experienced in metals and finishing. Ideally we would like to do the finishing work ourselves. There will be many different parts and it will take over a year to build so do not mind investing in a bath set-up to install at his shop.

Is brass plating the best option considering the base materials, mirrored finish, similarity to gold, ability to repair/re-polish; and the type of work that can be undertaken ourselves without too much of an investment in equipment?

Is it possible to achieve a mirror finish straight out of the bath without polishing?

Any other considerations/options?

Thanks,
Byron
byron kaplan
- Brooklyn, New York, USA
---
---
What gold substitute for motorbike parts?
October 29, 2018
Q. I'm contemplating plating some motorbike parts with a gold substitute. Parts include the outer heat shields of the exhaust system, air filter covers, headlight, and fuel tank dash surround.
What is the best way to do this please? Can anyone tell me what I need to ask electroplating companies near me in Perth West Australia please?
Jono Hoare
- Success, West Australia, Australia
---
---
March 13, 2020
Q. Hi,
my question is related to this thread that how can we identified that any component having either real gold plating or yellow bronze plating? As we have seen the colour of both finish are same.

Even though the thickness of real gold is very less as flash Plating to achieve the colour and could not be analyzed by XRF Machine? If there is any consolidated method please suggest.
Awadhesh Avasthi
S&S GARMENT ACCESSORIES INDIA PVT LTD - NEW DELHI INDIA
---
March 17, 2020
A. Hello Awadhesh!

You can put a drop of 5% hydrochloric acid on the part you want to assess. If the drop dissolves the coating, it is zinc. If not, it may be gold.

XRF must give you accurate data about the coating. It should give you thickness and composition of either zinc, gold or any other metallic coating.

Hope it helps! Best of lucks!

Daniel
Daniel Montanes
N. Ferraris S.A. - Cañuelas, Buenos Aires, Argentina
---
---
October 24, 2020
Q. Hi,

I have mild steel 0.8 diameter balls and want then to have a golden color look it is an imitation product. Can you suggest me the process to get it done.
I have some knowledge that it can be done in barrel.
Please suggest.
viraj bhalodia
- Mumbai Maharashtra
---
October 2020
A. Hi cousin Viraj. There are many ways to get a generally golden color without using gold: from vacuum metalizing with aluminum followed by a gold tinted lacquer, to PVD coating with titanium nitride, to brass plating in a barrel, to chrome-look paint plus tinted lacquer, to CED coating and post-dyeing, to specialty gold-tone paint. Further, when you say it's an "imitation product", that by itself doesn't really rule out gold plating, as costume jewelry and imitation jewelry is usually gold plating on a cheaper substrate.
So it's hard to suggest anything until you give us a requirement & parameter or two.
Luck & Regards,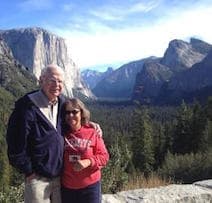 Ted Mooney, P.E. RET
finishing.com - Pine Beach, New Jersey
Aloha -- an idea worth spreading