World's most popular finishing site / Internet's friendliest corner
topic 37255
Restoring the yellow dichromate finish on automobile carburetors
A discussion started in 2005 but continuing through 2019
2005
Q. I am restoring vintage carbs and need to find out some info on restoring the finish. I am looking for dichromate in small quantities like 5 gallons. Any help would be appreciated.
Stewart Wood
automotive repair - Tulsa, Oklahoma
---
2006
Q. I wish to know the proper technique for dichromating automobile carburetors to their original factory appearance. Any help would be appreciated.
Lynn Palmer
Auto restorations - Houston, Texas
---
2006
A. Hi, Stewart. Hi, Lynn. I believe you will find that these reworked carburetors must usually be zinc plated before they are chromated because, after years of environmental exposure it's difficult to impossible to get the old diecast metal uniformly active so that it can accept a uniform chromate conversion coat, whereas a fresh coating of zinc can accept the chromate better. A local plating shop can do this chromate conversion coating for you, and the zinc plating if necessary, and might be the easiest approach.
Otherwise you might want to get hold of one of the "must have" books on electroplating to understand the issues. We can't easily give step by step instructions because the compounds are dangerous and carcinogenic, disposal is difficult, and the metal preparation steps are more difficult and crucial than the chromating step. Exaggerating slightly, trying to do the cleaning, activation, zinc plating, and chromating process successfully without prior experience or someone to guide you hands-on is somewhat like asking for step by step instructions for an appendectomy :-)
So, if you insist on doing it yourself, and you can't get some hands-on help, please pick up a plating book and get a bunch of junk carburetors to practice on before risking a vital one. Good luck.
Ted Mooney, P.E.
finishing.com - Pine Beach, New Jersey
Striving to live Aloha
---
---
2005
Q. We are trying to restore the dichromate finish on some carburetors to like new condition. We are using a dry media in a tumbler that leaves no residue. Following the instructions to the letter from the kit that we bought, the carburetors dichromate finish comes out uneven with various shades throughout. What is the correct procedure to ensure that the dichromate finish is perfect giving the carburetor the appearance of being new in condition? If any additional info is needed, I will provide it. Thanks.
George David Patrick
dichromating carburetors - Sylvania, Georgia
---
2005
A. Step 1. would be to ask the company that sold you the "kit".
That said, carbs are normally made from a casting which seems like it is as porous as a sponge. It is very difficult to get the soaked in gas and oils out of the metal any deeper than the surface. You might try this. Boil the unit for an hour in a solution of distilled water with enough bicarbonate of soda added to raise the pH to 8. This would be a couple of tablespoons per gallon or thereabouts. Add a few drops of baby shampoo or a commercial wetting agent like triton 100. Blow it dry and then put it in your tumbler with new media. When you chromate it, you will need a weak etch cleaner rather than a strong etch cleaner as it will remove a lot of the "clean" metal that you now have. What are you using for a deoxidizer/ desmutter?
James Watts
- Navarre, Florida
---
---
Historically correct clear and gold chromate finishes for carburetors
2005
Q. We are reproducing carburetors which were first manufactured during the thirties. We are attempting to reproduce the original colour on the zinc (ZP5) die castings also. Materials used were: Nitric, Sulfuric, and Chromatic acids which produced a pewter grey with slight gold overlay and pink/ blue/ green iridescence.
In the fifties this was changed to a gold dichromate with red/green iridescence. Are there modern equivalents of these which will create the correct appearance?
Ed Wimble
carburetor manufacture - London, England
---
---
Need Chromate Dye for 67-72 Holley Carburetors
May 29, 2008
Q. Hello, my company deals in restoration of Ford Holley carburetors. I am looking for a chromate dye that we can apply to the completely disassembled and fully cleaned metal that will restore the original factory look. I can best describe the original finish as gold with a slight green hue. Thanks for your help.
George Lanoue
Restoration of vintage auto parts - San Jose, California, USA
---
June 13, 2013
Q. I was just wondering if you ever came up with a method for refinishing the Holley carb's Zinc Dichromate finish that works well.
Steve Hulett
- Ocala, Florida, USA
---
---
April 8, 2009
Q. I am restoring some carburetors for classic cars. Some of the cast steel parts are finished with a translucent yellow and some with opaque black. How can one reproduce such finishes?
Thank you.
Bill Clark
Hobbyist - San Antonio, Texas, USA
---
April 2009
A. Hi, Bill. The translucent yellow on steel is probably zinc electroplating followed by a yellow chromate conversion coating. I am not familiar with those carburetors or their black coatings; they might be zinc plating followed by a black chromate conversion coating.
Regards,
Ted Mooney, P.E.
finishing.com - Pine Beach, New Jersey
Striving to live Aloha
---
April 13, 2009
Q. Thanks for the information. It turns out that some of the carburetor sections are steel or cast iron (the base) and some (the air horn and bowl) are a cast zinc alloy.
So, my questions are better asked like this:
1. How do I get the cast iron or steel to turn black?
2. How do I get the cast zinc alloy to turn yellow?
Many thanks,
Bill Clark
[returning]
Hobbyist - San Antonio, Texas, USA
---
April 15, 2009
A. I would suggest that you first have the components refinished by a metal finisher before you perform the mechanical restoration of the components.
Gene Packman
- Great Neck, New York
---
---
Cast iron carburetor rust protection
October 16, 2016
Q. Hi, I am rebuilding the cast iron carburetor on my 1960's John Deere 3010 tractor. After removing the grime and rust, what would be a good way to protect the cast iron from future rusting on both the outside, and especially the inside of the carburetor. Obviously the inside will be constantly exposed to gasoline (with 10% ethanol) and small amounts of water from condensation. All suggestions will be greatly appreciated.
Bill Jahn
- Franklin, New York USA
---
December 5, 2016
Q. I am also restoring an old tractor, a W-9 McCormick Deering. From what I have read, zinc electroplating seems to be a good option. But if I'm inexperienced, how can I be sure to get a good plate on cast iron? What steps should I take to make sure the surface is well prepared? Also I understand that the carbon in the cast iron complicates the plating. How do I deal with that properly as a hobbyist?
Eric Minnaert
- Savage Minnesota
---
December 2016
A. Hi Eric. I'm not confident that a hobbyist will be able to plate zinc onto a cast-iron surface, but acid zinc plating is the way to go.
Cast iron presents a number of problems, but one of them is that the presence of carbon particles can kill off the hydrogen overvoltage, such that only hydrogen evolves, and no zinc will deposit. You may find that you can't get any zinc to deposit at all on the low current density areas. The two articles at right might be helpful though =>
Good luck.
Regards,
Ted Mooney, P.E. RET
finishing.com - Pine Beach, New Jersey
Striving to live Aloha
---
---
Zinc Phosphate / Gold Iridite?
March 19, 2019
Q. Now, here is the question. I have read that Rochester Carburetor would Zinc Phosphate / Gold Irridite their carburetor bodies. Now understand these Rochester Carburetors are made of junk metal. It is basically the dross of the tops of the big smelting pots, very similar to pewter. Of course Pewter is a much better choice.

When done properly this Junk Metal would shine like an a Abalone shell. It would have a real Gold appearing shine to it.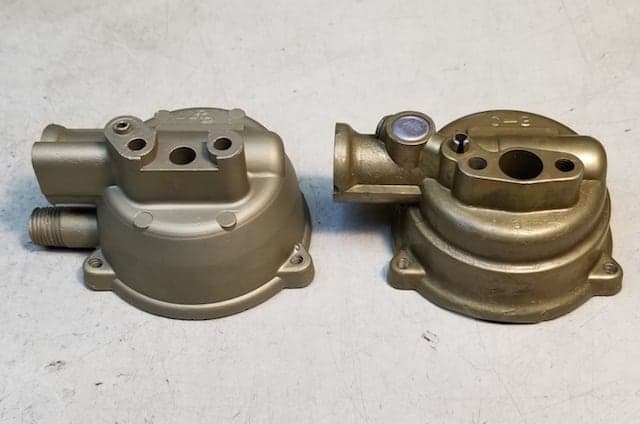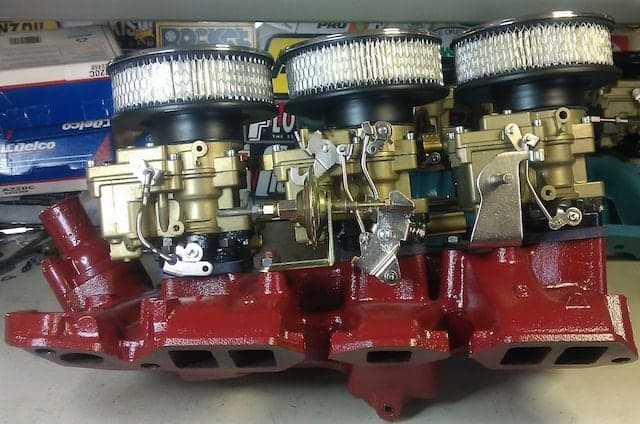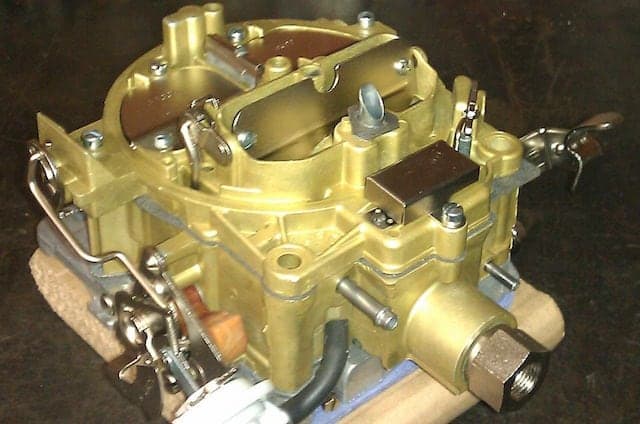 Now, I have been trying to find a coater that can replicate this plating. Next to impossible!
Daniel Andersen
Absolute Precision - Kapowsin, Washington United States
---
March 2019
A. Hi Daniel. "Junk" and "Dross" are perhaps a bit exaggerated, although zinc diecasting metal is relatively inexpensive. Zinc diecast metal can be difficult to refinish for several reasons...

The nature of hot diecasting is that the interior of the component is porous or cheesy, while the surface skin that touches the steel mold cools first is hard and smooth. Once you penetrate that skin, the porous interior is difficult to reliably treat. But even the skin is not always perfect, if the surface at one spot freezes before all of the metal has joined together as a molten mass, you have a 'cold shut' -- where you've ended up pushing frozen metal together so there will be pits and gaps.

When you want to refinish these carburetors years later, you can't do much polishing without risking exposing the porous interior. And then too there may be some grain separation as the different metals in the composition have begun to agglomerate together over the years.

As I understand it, the rule of thumb for Iriditing these old parts is that you must zinc plate them first before Iriditing. It would seem to me, although I have no evidence, that it should be possible to zinc plate the parts, then lightly beadblast the plating for a matte appearance, then Iridite to a smooth consistent color.

But recently there is yet another monkey wrench in the works. Iridite chromate conversion chemistry of old used hexavalent chromium, which the world is moving away from.
Regards,
Ted Mooney, P.E. RET
finishing.com - Pine Beach, New Jersey
Striving to live Aloha
---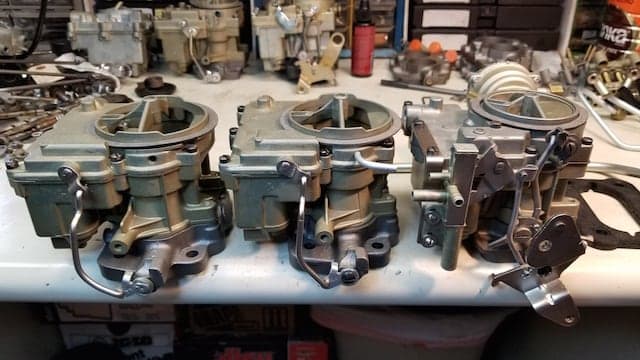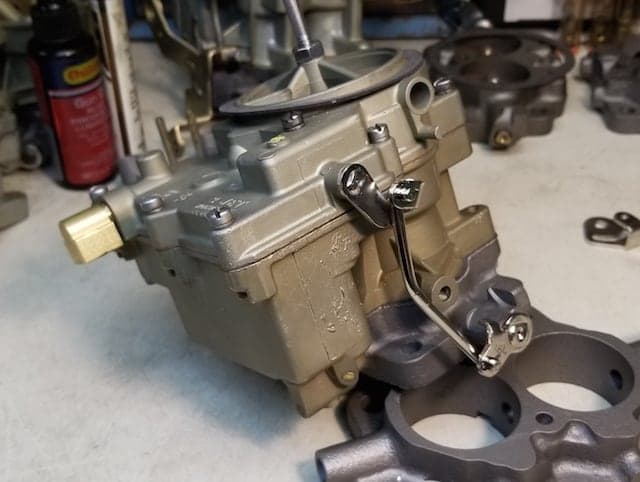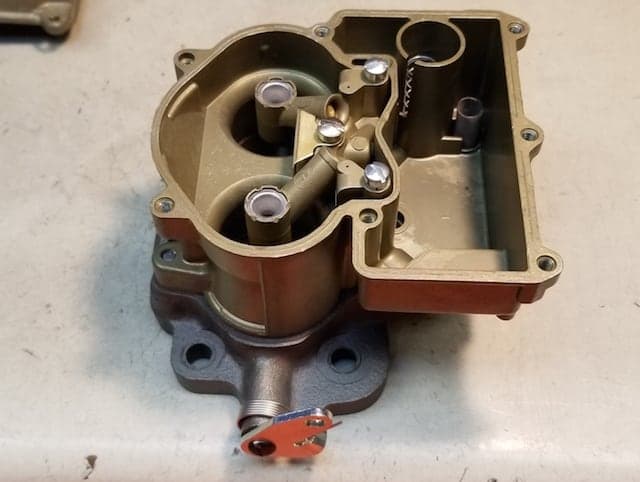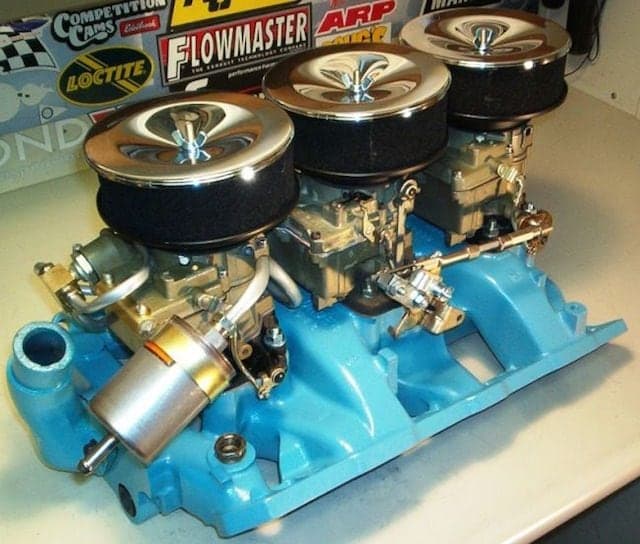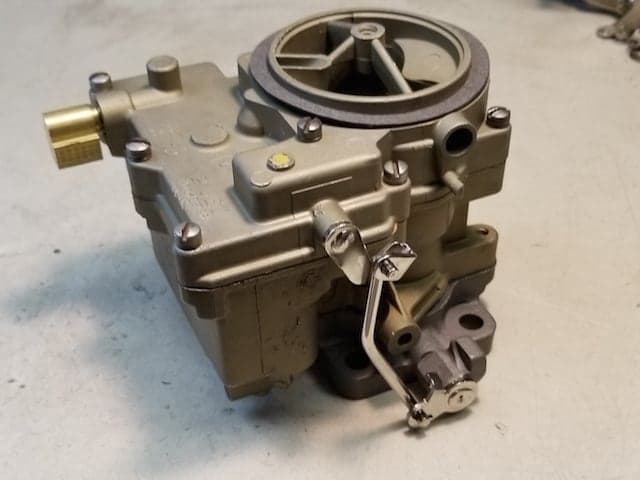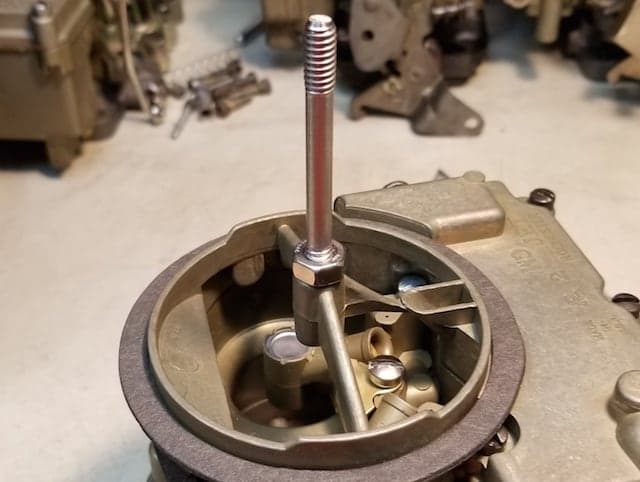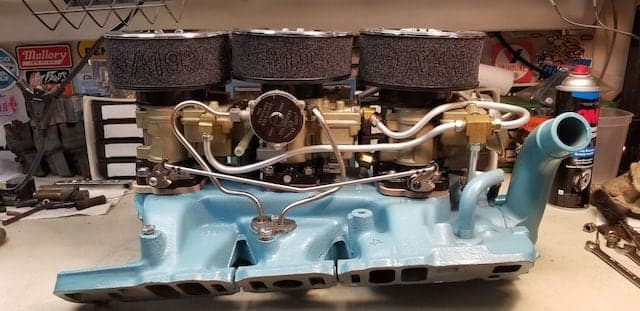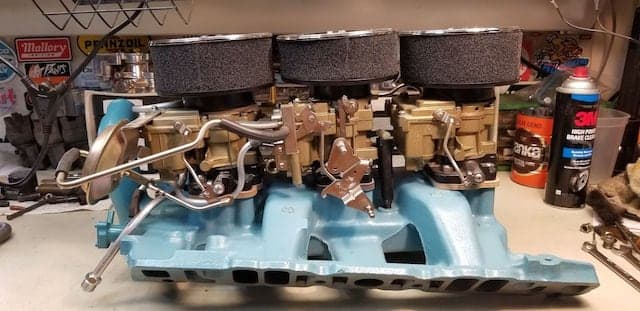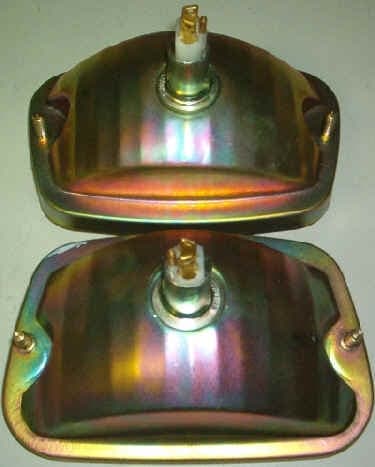 March 24, 2019

Love your answer! Hate the Rochester base Junk (metal). It is very nice of you to compare it in nicer terminology. I have been doing these restores for quite some time. It is Fricking Rocket Science.

The method used in cleaning, the time in a neutralizing bath, the rinse, then the time in the solution will all result in very different finishes.

I do not drink coffee or smoke a cigarette before I plate my perfectly, hospital clean parts. I use an evaporative cleaner specifically for my last step in petroleum removal. Usually, I have good luck. Sometimes I end up with G.I Joe looking garbage!1

I am at wits end! I am considering just Gold Plating the Dross Garbage Substrate and calling it good. My plated carbs almost look gold all the time anyway!
Ok, now since I am O.C.D, a Frustrated Artist and Functional Mechanical Contraptions are how I get my FREAK ON, I am interested in Perfection! Now do not get me wrong, my customers love me! I plate the raw metal with nickel or silver to stop rusting. No one has ever complained. I realize that the parts look far better than Rochester ever produced. They stay looking "Fresh off the Assembly line". This is important for me because your Muscle Car needs enough "Detailing" before shows.

The Zinc Metal used as a base for their carburetors gives me fits at times. I always do the same thing during the cleaning phase. Here is my method.

DO NOT EVER USE AUTO PARTS CARB CLEANING BUCKETS! I believe they pickle the metal and will ruin it in short time if left immersed in the cleaner!

I use Zep Dyna Blue in my carburetor parts cleaner. I feel it is kind to the base metal. I do not use wire brushes etc to cleam off the junk. Just fiber type acid brushes. Once clean I let the drip dry in the closed top of my washer. Then I give them a through cleaning with 3-M Evaporative Brake Cleaner. I believe / hope it truthfully evaporates 98% of itself and other petroleum chemicals off the castings. I also do this not to contaminate my Glass Bead Booth Media.

After the 3-M evaporative clean into the Glass Bead Booth. I pay close attention to my blasting and spray paint my glass media blue so I can see it working and not penetrate the Hard Surface imparted on the exterior of the metal during cooling in the mold. Once I have complete coverage I blow them off with air.

Out of the glass booth they come. I inspect them with doctor's rubber gloves on. No bare skin handling. I even try not to breath on them. Once I am sure no grease, paint, stains, discoloration is present I place them into an Automotive Painter's Degreasing Solution. Purchased from any Auto Body Shop. Once again, they are agitated in this solvent, drip dried. Then my HOLY GRAIL STEP. I soak them in Alcohol. It seems to really have a Magical effect on the uniformity of the color retention. One out of the alcohol solution they get baked in a scientific oven at low heat for 6 to 8 hours.

Then it is time for the Rocket Science. The heating process is also a prerequisite, but done at to great a heat, the JUNK METAL gets measles and warps, discolors and gets thrown into a trash can.

What else could I do? My colors look great. See pics. They even some times have the iridescence of old. I have been doing this for years and I am at wits end. There used to be other people that did this for me years ago, mortality due to chemical exposure has taken them away early.
Daniel Andersen
[returning]
- Kapowsin, Washington USA