Live! From Pine Beach NJ: The world's most popular metal finishing website, and the internet's friendliest corner
topic 23536 p2
Spray finish of silver nitrate, especially on styrene / polystyrene
---
---
A discussion started in 2006 but continuing through 2019
March 4, 2017
Q. I have few questions to ask regarding silvering:-
1. How long I can leave the item after silvering without spraying top coat?
2. How long I need to wait to spray top coat after silvering (best results)?
3. Now I'm using Brashear Process preparation solution. On this formulation, there is a (Reverse solution) wrote there. And this is the only step I didn't use it. Is this important for the whole formula? Why and for?

Thanks

Andy Tan
[returning]
- Malaysia, Penang
---
March 7, 2017
!! Hi,
Anyone please help me. URGENT.
What can I do when too much ammonia added into silvering solution?
Now when I spray out the solution it's completely smelling of ammonia.
Help please.

Thanks

Andy Tan
[returning]
- Malaysia, Penang
---
March 8, 2017
A. The most you can wait is two hours, but if you can force dry the piece and then allow for about 15 minutes to cool down, that will be best or one hour air dry.
As for too much ammonia, I am afraid that you just need to use what you have, that is why when experimenting I always try to use the least silver nitrate as I can because its quite expensive, the only steps I know are, Mix 3 grams of Silver Nitrate on about 500 ml of Di water, then add about 3 grams of sodium hydroxide, then just enough ammonia to completely dissolve the silver hydroxide complex, some book references advise to leave a very small amount of the hydroxide at the bottom, just enough to see it, that will guarantee that you are not using too much ammonia.
Marvin Sevilla
- Managua Nicaragua
---
March 9, 2017
Q. Hi Marvin,
Thanks for the top coat information.

Regarding to what you say on my mistake, I don't really understand what you mean on this ("As for too much ammonia, I am afraid that you just need to use what you have").
As what I mean on my question is, I already made a mistake when mixing the solution. What do I need to do to save/undo my failure solution? It'ss really wasting money if I pour the solution away and this solution is 4L not 1L.

Thanks.
Andy Tan
[returning]
- Malaysia, Penang
---
March 9, 2017
A. I am afraid that you would need to work with what you have now (should be able to silver without any issues, just need to use breathing protection). So far there is no way to remedy this without using more silver nitrate to compensate for the extra Ammonia.
Marvin Sevilla
- Managua Nicaragua
---
March 10, 2017

Hi Marvin,
I already understand what you mean. I will try it later.
Thanks a lot.
Andy Tan
[returning]
- Penang, Malaysia
---
---
March 12, 2017
Q. Hi sir,

Need help. We want to know activator name (applied before silver solution) or how to make it.
sameer haque
handicraft - delhi india
---














March 2017

Hi Sameer. Apologies, but you tried to post stuff with 3 variations of your name, on several different threads, and I didn't know they were from the same person, Further, taken on their own, and posted on threads about lacquer for gold plating, etc., I didn't always comprehend them. I now understand your situation, so we're posting all of it together now. Sorry for the delay!

Regards,




Ted Mooney, P.E. RET




finishing.com




Pine Beach, New Jersey




Striving to live "Aloha"





---

Q. Dear sir,

Greeting of the day!

Need your help to remove the mist or water bubble from resin item while doing metallic silver surface.

We are unable to spray properly and it is being expended.

Kindly help.

-----

Q. Hi team,

My name is haque; looking for best lacquer for silver plating.
As we are using PU for base coat, but there is problem of bubbles; suggest us the right base coat for silver plating on resin and wood.

Please revert asap. I will be thankful.

-----

Q. Hi team,
Creating of the day.

My name is iftekhar. Want to start a business of plating on resin statue and wood.
I have being using UP gloss lacquer as a base coat but there is a problem of bubbles and DI water is not staying at object. Please help me. And suggest the right base coat lacquer for same use. ( UV_CURED) As silver mirror plating. Attached is the picture for ready reference.

sameer haque




handicraft - delhi india




---
March 12, 2017
A. To understand the nature of your current issues (water not staying on item and water beading/bubble) we must understand the nature and history of the type of metal coating that you are trying to attempt. The basis of what we call today "Spray On Chrome" dates back to 1835 German chemist Justus von Liebig, the reduction of Silver Nitrate to elemental Silver and deposited into a glass sheet; that was the start of the Silvering Mirrors history, and that is exactly what this process (spray on chrome) really is, creating a front surface mirror; and we do that by re-creating a glass like surface (PU gloss coating) on other dielectric surfaces (non conductive articles like plastic, wood, resin).
The issue is that glass is a very unique surface and it has a very low surface tension, and when properly cleaned the water (and chemicals in it) will completely cover the surface ... but Automotive/Industrial coatings like PU have a very high water surface tension, and no matter how much you clean the surface the water will just bead and will not stay on.
So how do most people get around that constraint? I personally use a proprietary wetting agent that lowers the surface tension and makes the surface behave like glass; others use Flame/plasma treatment to lower the surface tension (I personally don't use it because I don't like to play with fire while working with expensive articles).

Please watch this instructional videos I made on the subject.

Pre wetting agent high water tension:
Post wetting agent low water tension:
When you see videos of pros using just the sensitizer and it appears to flow it is because they use expensive proprietary silvering chemicals and the sensitizer already comes with wetting agent. Another interesting thing is that right after they silver the piece, they use a chemical to counter the wetting agent effect; they do this so the water beads and is extracted much faster and better using forced air. I personally don't use this and just force dry the piece the best I can.
Marvin Sevilla
- Managua, Nicaragua
---
---
March 13, 2017
Q. Hi sir,

Thanks for reply, I am really thankful to you.

I have 2 other problem as well.
a) Suggest name of activator to do silver plating (what is to be added into water to make activator)?
b) Suggest us the name of how can make good reducer from glucose (composition)?
sameer haque
[returning]
- delhi india
---
March 16, 2017
A. Sameer haque, for your question of "Need help. We want to know activator name (applied before silver solution) or how to make it." :-

1. Tin II Chloride in this process or any Spray Silvering process is to seed the non conductive surface with an active metal that will make the reduced silver stick to it and form the silver mirror; it's prepared by mixing about 5 grams of Tin II Chloride with 25 ml of HCl then adding about 1 L of deionized Water (DI Water); after the piece has been degreased, and its surface tension has been lowered (wetting agent) the sensitizer will be sprayed and allowed to seed the surface for at least one minute but no more than 3 minutes.
(This solution formula is from Marvin. You can just follow this formula to use or if you think you want to try to make it better, it's all on your own. Good Luck.)

2. Any super high gloss base coat will do. Just need to keep the pieces after spray base coat for 12 hours then only can spray on silver (p/s: make sure the place to store it is clean and oil free in Air.)

GOOD LUCK

Thanks a lot to all people that are giving away information. This forum is perfect for all :)
Andy Tan
- Malaysia, Penang
---
March 18, 2017
Q. HI,
NEED ADVICE FROM YOU GUYS. I FEEL TO CHANGE ONE OF THE CHEMICALS FOR SILVERING SOLUTION AND I DON'T KNOW CAN IT WORK OR NOT?
NOW I'M USING THIS CHEMICAL:-
AGNO3 + NH3 + KOH.
CAN I CHANGE IT TO THIS:-
AGNO3 + NH4Cl + KOH =??

NH3 IS REALLY TOO SMELLY AND QUITE HARMFUL IF ACCIDENTALLY DRINK IT. FOR NH4CI NOT SO HARMFUL. AND IT WORKS IF I USE NH4Cl?

THANKS
Andy Tan
[returning]
- Malaysia, Penang
---
March 18, 2017

A. Many if not all of the chemicals in the Silvering process are quite dangerous if swallowed. I do not suggest changing Ammonium hydroxide with Ammonium chloride, it will not work at all, you will most likely be precipitating insoluble Silver Chloride instead of creating Silver hydroxide, the basic process has not changed in nearly 200 years, there has been many improvements, but most of them made towards the reducer and sensitizer, but the base of the process is the silver ammonia complex, and there is no changing that.

Marvin Sevilla




- Managua Nicaragua





---

March 18, 2017

A. I am not sure why posts have not been posted yet, I gave an extended reply, but this time I will just go ahead and say that no, you cannot use Ammonium Chloride instead of Ammonium Hydroxide, the reaction between Ammonium Chloride and Silver Nitrate is insoluble Silver Chloride and Ammonium Nitrate, the process have been the same for nearly 200 years and while Ammonia can be toxic, most of the other chemicals can be quite harmful if swallowed.

Marvin Sevilla




- Managua Nicaragua




----
Ed. note: Sorry for the delay, cousin Marvin. Postings are done manually so the site doesn't drown in spam or suffer the unpleasantry of ad hominem postings.
Even though precedence goes to replies from our most helpful responders like yourself, still I take an occasional morning or weekend off :-)
---
March 20, 2017
Q. Hi Marvin,
Oops... I already bought ammonium chloride. Anyway, to make 1 L high grade ammonium hydroxide by using ammonium chloride?

And thanks a lot for the information.
Andy Tan
[returning]
- Malaysia, Penang
---
March 20, 2017
A. I am afraid you will need to get Ammonium Hydroxide, I suggest you use reagent grade chemicals and don't even try to make your own if are serious about this as a business, otherwise you will be plagued by inconsistent results. This process is very complex as it is and by trying to make your own chemicals you will just bring more Variables to it; that is why big business just purchase the chemicals from vendors that can guarantee consistent results and give tech support ... but I understand where you're coming from because I tried that myself with okay results.
Marvin Sevilla
- Managua, Nicaragua
---
March 21, 2017
Q. Hi Marvin,
But I already brought ammonium chloride (1kg) bottle. Nothing I can do on it? Is wasting money if I just throw into bin. I try to refer in youtube (How to make ammonia hydroxide from ammonium chloride). It's just seen very simple to make ammonia solution. But I need to diluted into 1 L and dilute again into 500 mL.
Anyways to know how many grams of ammonium chloride and KOH needed to use to process 1 L

Thanks for the earlier answer.
Andy Tan
[returning]
- Malaysia, Penang
---
March 2017
A. Hi Andy. I don't think Marvin will want to spend his time detailing & quantifying a procedure for doing what he just told you not to do :-)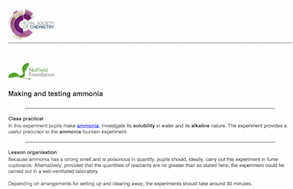 I suggest that you follow those youtube instructions or the many student pages available about how to make ammonia gas from ammonium chloride =>
If students can do it, you can do it without Marvin holding your hand as you try to drag him where he already told us he doesn't want to go :-)
But I don't understand how making your own ammonia from ammonia chloride lessens the issue of ammonia being smelly and dangerous to drink. Best of luck. Regards,
Ted Mooney, P.E. RET
finishing.com
Pine Beach, New Jersey
Striving to live "Aloha"
---
March 22, 2017
A. Mr. Ted, I've been there and done that, believing I could make every component of the system myself, only to hit a brick wall. It's time consuming, results are never guaranteed and inconsistent. It was a learning experience because I am not a chemist, but I got to learn many things; I am very grateful for the learned experience, but it's not for everyone to take upon themselves.
Now I order the most complex chemicals like silvering/reducing solution/wetting agent from the least expensive provider in the USA; I pay to bring them to Nicaragua, and while the profit margins are not as large as home made chemicals with 95% quality and accuracy, you can't put a price on dependability, quality assurance and tech support from a trusted vendor.
Marvin Sevilla
- Managua Nicaragua
---
---


If you have a question in mind which seems off topic, please Search the Site