topic 8007
What Part Does Voltage Play in Electroplating?
A discussion started in 2001 but continuing through 2018
(2001)
Q. I am doing a science project about electroplating and the effects of using different voltages in the process. I have tried to research what exactly voltage does in the process but the only results I've found is that the voltage determines the ions travel.
Can someone expand on this or if it is wrong explain what part voltage plays in electroplating?
Scott Ross
- Los Osos, California
---
(2001)
A. Electricity cannot be seen, so it can be rather abstract. Therefore, for ease of visualization, terms and units that relate to the flow and quantity of electricity are often compared to terms used to describe the flow of water.
The corresponding term to voltage is water pressure.
If you lived in a high-rise apartment alongside a lake and decided to hang a hose out your window to draw up some lake water for your flowers & plants, you would recognize that the water is not going to run up that hose by itself, rather that you'll need a pump, and that how much pressure that pump has to put out will depend on what floor of the high rise you live on.
You need voltage in order to overcome all of the resistances involved in plating, which include the resistance of the copper wires that the electrons flow through, the electrical resistance of the plating solution which the ions flow through, and other resistances. I can answer more deeply what those other resistances are, but that may be beyond the scope of your project.
Ted Mooney, P.E.
finishing.com
Pine Beach, New Jersey
---
(2001)
Q. I guess I should restate my question, I am testing different voltages 1.5 volts, 3 volts and 20 volts. What relationship does the voltage have to the amount of copper plated onto a zinc plate? Is there a way to have too much voltage to where it would cause a weaker bond? or is there a limit to where there wouldn't be any better results after a certain voltage is reached? If you could explain those resistances in depth that would be great.
Thanks for your help!
Scott Ross
[returning]
- Los Osos, California
---
(2001)
A. Hi Scott. Faraday's Law says you will ideally deposit one gram equivalent weight of metal for every 96,487 ampere-seconds (coulombs) you apply.
When you double the voltage from 1.5 volts to 3 volts you'll probably more or less double the current because of Ohm's Law, I = E / R, so you more or less plate twice as fast.
But at 20 volts you will deplete the solution of copper ions in the area of the cathode almost instantly. But the electrons you are making available have to go somewhere--with the result that the electrons will reduce the hydrogen in the water to nascent hydrogen gas instead of depositing copper which isn't there. This formation of copious hydrogen gas, plus atoms of metal being yanked out of solution instantly instead of slowly growing as crystals, is called "burning".
Ted Mooney, P.E.
finishing.com
Pine Beach, New Jersey
---
---
April 8, 2009
Q. So then what is the difference when you change the voltage (1.5, 3 or 20 volts previously mentioned) but can keep the current constant the same by adding an additional resistance to the circuit?
Philip Bradford
- Raleigh, North Carolina
---
April 8, 2009
A. Hi, Philip. You can't do what you are thinking of. If you keep the current that is going through the solution constant, you are also keeping the voltage drop across the solution constant, again because of Ohm's Law.
You can set the voltage at 20 volts and add a big external resistor to eat up a big voltage drop there, but if the current through the solution is constant, the voltage across the solution is constant, and the rest of the voltage drop is across the resistor.
Regards,
Ted Mooney, P.E.
finishing.com
Pine Beach, New Jersey
---
April 9, 2009
Q. Ted,

Thank you for your answer, although maybe I did not ask my question clearly enough. When I meant extra resistance, I meant between the cathode and anode (with no other resistors in the plating system). It is clear to me that the resistance between the anode and cathode are dependent on the conductivity of the solution, the shape and surface area of the anode and cathode and the distance between them.

Please consider the hypothetical situation. The solution conductivity is constant. The shape and surface area of the anode and cathode are constant. The resistance between them can be changed by changing the distance between them. If the source has a voltage of 1V and the resistance between the anode and the cathode is 1 ohms then the current is 1 amp. If the voltage is increased to 4V and the resistance is changed to 4 ohms by changing the distance between the electrodes the current is still 1 amp. In this situation you should have equal plating rates since the current is the same and thus shouldn't have the effect of depleting the metal ions near the electrode like you mentioned, but your driving force is four times is great. This is the effect of voltage that I am looking for. I know it may not make sense to have your parts meters away from each other in the plating bath just to increase the voltage but I just was hoping to gain insight into the effect.

From the books I have it seems that if you apply too much voltage then you get larger over potential which causes your current density to go up exponentially. At what voltage does this start to occur for acid copper plating? In the linear regime what effect does an increase in voltage (assuming a constant current) have? Are there any effects on density, morphology, macro and micro throwing power, etc.?

Thanks for your help.
Philip Bradford
[returning]
- Raleigh, North Carolina
---
April 10, 2009
A. Hi, Philip. I think you're still not quite accepting all of the implications of Ohm's Law :-)
If you put the anode and cathode further apart to keep the current constant as you increase the voltage, you're still just looking at a voltage drop across an "external resistor", although in this case the "external resistor" is the extra plating solution between the anode and cathode rather than an actual external resistor. And in fact, practical experience shows the qualities of the electroplated metal to be the same whether the anode to cathode distance is a couple of inches or several feet.
There is a diffusion reaction in the boundary layer around the cathode as the plating proceeds. If you plate very slowly you tend to get large crystals because there is copper available when the electron touches it. If you plate faster, but still in conventional plating range, you get more adatoms and smaller crystals. If you try to plate still faster, you get burning. Good solution agitation keeps plenty of copper available just outside of the boundary layer, and extreme agitation (directing a high pressure stream of fluid at the cathode) reduces the thickness of the diffusion layer and allows faster plating. Pulse plating produces some changes in plated layer properties, but some people feel that the only real mechanism behind that is that the pulses cause agitation in the boundary layer -- but maybe not; maybe if you had pulses of microsecond duration instead of millisecond duration you could engineer the plating at a nano level.
Regards,
Ted Mooney, P.E.
finishing.com
Pine Beach, New Jersey
---
April 13, 2009
Q. Ted,

What you have said makes sense. Now I have more followup questions for you!

Is there some minimum voltage/current level that you need to be able to reduce the metal ions to make the pure metal at the cathode? I know the standard value for the reaction is positive, +0.34 V, so I am assuming that there is no minimum voltage required but electrochemistry is not my strongest subject so I won't feel bad if you tell me I am wrong. The reason I ask is that I am trying to plate copper at an extremely low rate to be able to fill voids on the order or tens and hundreds of nanometers wide and my thickness only needs to be on the order of hundreds of nanometers so deposition rate is not a concern. I will use ultrasonic vibration to agitate the solution. I know that using pulsed plating techniques researchers have avoided bottlenecking to fill deep nano-voids but I am hoping to get around buying a $5k pulsing power supply by slowing the plating to the slowest possible rate and providing good agitation.

Do you have any more tips or starting points for the bath copper and sulfuric acid concentrations that might give me the best results for plating in small voids, considering the fact that I want to plate very slowly? Thanks!

Philip
Philip Bradford
[returning]
- Raleigh, North Carolina
---
April 14, 2009
A. I believe you have the half cell potential for Copper correct at +0.34 V. If you were plating copper onto silver, which has a half cell potential of +0.80 V, you would need a minimum of 0.46 V to get it to deposit. If you were plating onto iron, which has a half cell potential of -0.41, the copper will spontaneously immersion deposit onto the iron while generating 0.75 V.
These potentials are for standard conditions, and I believe that the Nernst equation can get you more realistic numbers for your actual situation.
Sorry, but I have no experience in the area that you are exploring (trying to fill nano voids). But "brighteners" have long been used in the plating industry to try to get more uniform plating. They work by (at least partially) blocking a surface so that the electricity is steered towards causing the metal to deposit elsewhere, resulting in smaller grain, brighter deposits, and more even distribution.
The following is from an engineer, not an electrochemist, and it is a simplification -- but here's the way I understand it: In order to copper plate thru-holes in thick multilayer circuit boards, where the current is very low in the hole but relatively high on the surface, they have developed developed special brighteners. These brighteners have molecules so large that they can't get into the hole to block deposition there, but cover everything else. The result is copper is deposited deeply into the thru-hole. Please talk to one of the major suppliers about their acid copper process for thru-hole plating. In may be what you need.
Also, please see our library article "A Review Of Copper Plating High Aspect Ratio Plated Through Hole Papers" contributed by Paul Stransky.
Regards,
Ted Mooney, P.E.
finishing.com
Pine Beach, New Jersey
---
---
December 2, 2011
Q. Hi, if let's say I am depositing my cathode (1 cm2) and my anode is (1 cm2) as well, with a distance between them set to be 1 cm apart from each other, what does the voltage supply encourage to perform? As my current vs. time graph did not increase after capacitive charging effect.
Bryan Pang
- Malaysia
---
December 2, 2011
A. Hi, Bryan. I'm not quite following your question. And in view of the previous rather long discussion, I am therefore not sure if you followed it and are asking a follow-up question, or you blew it off and are starting over :-)
Regardless, think of it this way. Each atom of a metal has electrons. If you use a battery or power supply to pull electrons away from a metal anode, pump them through the wiring, and over to the cathode, what will happen in electroplating is those metal atoms which are now short on electrons will dissolve into the solution as positively charged ions, and migrate through the solution over to the cathode -- at which point they will reacquire those electrons and the metal will deposit on the cathode. In brief, if you move the electrons, the positively charged ions will follow.
But this is not only qualitative, it is quantitative. In an acid copper plating solution, where copper ionizes to the +2 state, if you move 2 electrons from the anode to the cathode, one copper ion will follow. Faraday's Law is the mathematical expression of this.
This situation will persist over a fairly broad voltage range, i.e., the higher the voltage, the more electrons will flow, and the more metal will plate out. However, if the applied voltage is too low (in the neighborhood of less than 1-1/2 volts depending on the position of the metals in the EMF series) then no current will flow. That is simply because those two metals in solution are comprising a battery themselves, which you must first overcome. And if the voltage is too high, the electrons start piling up at the cathode and can't "wait" for the metal ions to get there, and will instead start pulling hydrogen out of the water, "depositing" hydrogen gas on the cathode.
Regards,
Ted Mooney, P.E.
finishing.com
Pine Beach, New Jersey
---
---
May 24, 2012
Q. I want to know if anyone knows what formula I can use to calculate how I can electroplate tin onto a part at the fastest time possible without causing any problems with coverage, peeling, roughness, etc. Any thoughts on this issue?
Spencer Shaffer
- Wonder Lake, Illinois US
---
May 25, 2012
A. Hi, Spencer.
Electroplating is a science to a very good degree, but some aspects of it are still limited to the empirical level. We can tell you qualitatively what happens if you try to plate too fast (as we did above), and we can offer the Nernst Equation, Faraday's Law of Electrolysis, and Ohm's Law -- but we can't yet explain in terms of formula what the limiting current density for sound plating is based on concentration, temperature, pH, additive levels, and degree of agitation. The supplier of the plating solution has tech service people with a great deal of this empirical knowledge; and I can also say that pumping a vigorous stream of plating solution at the cathode will thin the boundary layer and allow the highest possible current density and fastest plating.
Defects like incomplete coverage, and peeling are more often related to pretreatment than the plating step per se. And burning is probably not the principal cause of roughness -- inadequate filtration can be the culprit there. We are still at the point where hands-on experience in tin plating easily trumps math skills :-)
Good luck.
Regards,
Ted Mooney, P.E.
finishing.com
Pine Beach, New Jersey
---
May 25, 2012
Q. Mr. Mooney, Thank you for your answer to my last post. So if I keep a constant vigorous stream of tin solution flowing over the cathode then I should be able to plate the parts at a much faster rate? I guess what I am trying to say is how can I plate parts with tin plating which will be on top of nickel plating and/or copper, at a faster rate with decreasing the plating time and still not have any issues as far as pitting, roughness, coverage, burning, etc....That is my main point. I do understand what you mean from your last response to me as well.
Is it possible to barrel plate in a matte tin and bright tin solution at the fastest possible plating rate without having issues with the parts? is there a formula for that? what needs to be done to achieve this?
Spencer Shaffer
[returning]
- Wonder Lake, Illinois, US
---
May 31, 2012
A. Your vendor for the solution can provide guide lines. After that it is trial and error as the barrels tend to have the holes peen shut with use and that reduces the refreshment of solution.

I would invest in a good book from the list of reviewed books at this site for a lot more information. Plating has a lot of black art as well as science that goes with it.
James Watts
- Navarre, Florida
---
June 15, 2012
A. Hi Spencer. I see from your follow-up posting that you are talking about barrel plating rather than a hypothetical specialized strip plating. So directing a high pressure stream of plating solution at the surface may not be practical.
The way to get the highest possible plating rate and freedom from defects in commercial plating is to carefully follow the tech data sheets and supplier's advice. There are thousands of barrel tin plating lines in operation and the supplier's instructions are already optimized from decades of experience with them. It's not like there are shops out there saying "we don't need maximum production, we can just coast along making 1/3 what other shops make". So you are not going to find, for example, that raising the temperature or concentration beyond the supplier's recommendations will improve the operation.
Jim is of course right that the holes on polypropylene plating barrels peen shut or at least smaller from operation, and it may be possible to re-drill them or buy plating barrels with larger perforations for slightly better plating speed. Good luck.
Regards,
Ted Mooney, P.E.
finishing.com
Pine Beach, New Jersey
---
---
July 12, 2012
Q. Hi,

I have a somewhat related question. From doing some other reading the optimum voltage was somewhere around 4.5v DC. Does amperage come into play at all or is it dictated by the environmental factors?
I am trying to develop a low cost Copper coating system for Lead of small articles. It is my understanding that you also want to be somewhere near 100° F. My thought is to use a vibratory tumbler, set up the cathode and anode in the tumbler and circulate the solution using a peristaltic pump. I would use a temperature controller to maintain the desired solution temperature. My question is will the small articles plate out even if they are not directly to the cathode?

Thanks
David
David Bolliger
plastics consulting - Broomfield, Colorado
---
July 13, 2012
A. Hi David.
Yes, the parts will plate without directly touching the cathode contact, as long as they are touching parts that are touching parts that are touching the cathode (like "electricity" from "home base" in a child's game of tag). But I think you may be re-inventing the wheel and are only up to 16 sides :-)
Please be aware that electroplating is a well-developed industrial science, and you don't need to start from what you may have seen in chemistry class; rather, you can start from catalog equipment. Polypropylene plating barrels are available in every size, and they will be a better starting point than a vibratory tumbler. Please see our library article on Barrel Plating. There are also catalog items called "vibratory barrels" for very small and delicate parts.
One problem I foresee with a vibratory tumbler as a plating cell is insufficient solution volume for the area of the parts you are plating. If you quickly deplete the solution of its metal content, you won't plate properly.
Amperage rather than voltage is the salient variable in electroplating because the amount of plating that occurs is directly proportional to the ampere-hours of current (within the operational limits). Voltage should be whatever is necessary to support the amperage you are trying to draw in the particular configuration you have -- but yes, 4.5 V is probably in the ball park.
Likewise, plating solutions are catalog items rather than something you mix up from commodity chemicals, and the optimum operational temperature will be a function of the type of plating solution. Best of luck.
Regards,
Ted Mooney, P.E.
finishing.com
Pine Beach, New Jersey
---
July 13, 2012
A. Hello Ted,

Thanks for the quick response, your feedback was very helpful. I opted to go with a small scale barrel plating setup. By the time I spec'ed out all the components to accomplish this I had easily matched the more professional options price. Now looking for a copper solution supplier.

Regards
David
David Bolliger
[returning]
plastics consulting - Broomfield
---
---
August 30, 2012
Q. Hi,

Do you know how to do a calculation to be able to figure out exactly how many amps that are needed in order to have a certain thickness depending on the dimensions of the reel part. The plating is reel to reel plating. I know there is a calculation for it, I just don't know where to find it. I wanted to know if you know what it is or where online I may be able to find it myself. I am plating tin.
Spencer Shaffer
[returning]
- Wonder Lake, Illinois
---
August , 2012
A. Hi Spencer. There are actually two rather different components to your question. The first element is that, yes, there is a very clear scientific basis for how many ampere-hours must be applied to get a particular thickness, and it's already been mentioned twice on this page. It's Faraday's Law, which says that 96,487 ampere-seconds will deposit one gram equivalent weight of metal. It you want to do the longhand math, this will evaluate to thickness after you take atomic weight, valence, density, and the dimensions and speed of your strip into account in your calculation.
Digital version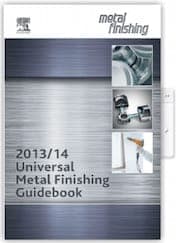 (No longer published, but Elsevier hasn't yet de-commissioned the online version of the Guidebook)
Download it before it disappears.
If you want to shorten the calculation, there is a chart entitled "Electrochemical Equivalents" in the back of the Metal Finishing Guidebook (all years), which integrates those constants for the atomic weight, valence, and density, so that you can directly read ampere-hours per square foot required to deposit 0.001" of the given metal. Get the book if you don't have it; you should not be plating without it.
But the second element is that the science has not yet advanced to the point where we can calculate from first principles the limiting current density (i.e., amperes per square foot, or ASF) that will still yield acceptable and burn-free plating. For that we still rely on experience and empirical data. In rack plating, it's probably in the ballpark of 20 ASF, and the supplier of your plating solution can probably give you a better estimate. In the case of reel-to-reel plating it is not uncommon to spray the plating solution onto the strip. If it is sprayed hard, this thins the "boundary layer" and makes plenty of full strength plating solution available right at the interface, and thus enables much higher current density. It wouldn't surprise me if you could plate at 100 ASF or more with a modern high-speed reel-to-reel plating machine, but it depends on how much agitation your machine applies. Good luck.
Regards,
Ted Mooney, P.E.
finishing.com
Pine Beach, New Jersey
---
---
September 18, 2014
Q. I want to do nickel electroplating on a small object; please guide me what is relationship between area, voltage, amperes, so that the plating may not be spoiled.
sudhir benara
- delhi india
---
September 2014
A. Hi Sudhir. Bright nickel plating is usually done at approximately 40 amperes per square foot of surface area with vigorous air agitation; probably somewhat less with mechanical agitation. As previously explained, you use whatever voltage is necessary to obtain the 40 ASF -- it will probably be somewhere between 3 and 12 volts.
Have fun playing with it and learning from your experiments on scrap material! But nickel plating is a very complex subject, with many people spending decades at it, so if you need to secure functional plating on that small object to not "spoil" it, please send it to a plating shop for professional plating. The chance of good plating on your first attempt and with amateur equipment is nearly zero :-(
Luck & Regards,
Ted Mooney, P.E.
finishing.com
Pine Beach, New Jersey
---
---
February 5, 2015
Q. I wanted to know whether electroplating of copper has a specific volts or whether 9 volts will be too much?
Electrolysis of NaCl: can it be carried out at 18 volts for a faster reaction? It's for my Science Exhibit.
Stefan Joseph
- Colombo,Sri Lanka
---
February 2015
A. Hi Stefan. You should not be attempting an experiment on electrolysis of NaCl except under close supervision by your science teacher. The chlorine gas you would generate is highly toxic to the point of even being lethal.
Your copper plating experiment should probably be done at 1-1/2 to 3 volts -- certainly not 9 volts. Severe burning instead of copper plating would be the sure result. Good luck.
Regards,
Ted Mooney, P.E.
finishing.com
Pine Beach, New Jersey
---
February 9, 2015
Q. Oh thank you, what do you mean by severe burning? Does copper plating have a specific temperature? Should it be highly concentrated?
Plus will a thin electrode affect the speed of Electrolysis?
Stefan Joseph
[returning]
- Colombo, Sri Lanka
---
February 2015
A. Hi again Stefan. This page already describes what burning is, and what causes it, twice. If it's not clear, please try to express your ongoing question in terms of what has already been said about burning. Thanks!
What is your science exhibit about? Is it about the development of ideal industrial plating parameters as a graduate student thesis, or demonstrating Faraday's Law as a high school/college project, or just demonstrating that you can develop a copper color on silver or nickel as a grade school project?
See, the thing is, temperature matters, concentration matters, pH matters, impurities matter, agitation matters, current density matters -- just about everything matters -- and there are whole textbooks just on copper plating, so I can't condense books down to a paragraph if you're actually trying to do robust plating to ideal conditions; but I can certainly point you to simplified presentations if that's all you need.
So what is the hypothesis that your experiment is attempting to verify or disprove?
Luck and Regards,
Ted Mooney, P.E.
finishing.com
Pine Beach, New Jersey
---
February 10, 2015
Q. My Exhibit is on electrolysis so my Teacher wants me to describe electrolysis and Electroplating using CuSO4 because it comes under this topic. I am in Grade 9. so I have to make three exhibits regarding inert electrode carbon, purifying copper from impure form and lastly Electrolysis of sodium chloride.
Stefan Joseph
[returning]
- Colombo, Srilanka
---
February 2015
A. Hi again Stefen. Thanks for the clarification. CuSO4 is an acceptable plating solution for copper plating, but it is only one of 4 or 5 potential ones, so your response helps.
Typical concentrations are 195-248 g/l of copper sulphate, 30-75 g/l of H2SO4, operated between room temperature and 50 °C, with small amounts of generic or proprietary addition agents. Purifying copper from impure form is usually called "electrowinning" rather than "electroplating", so you may find some web info using the term "copper electrowinning". Letter 14472, "Electro-refining of Copper" should be a good intro.
Electrolysis of NaCl into caustic soda and toxic chlorine gas is an industrial process, but probably one you want to show descriptions of, or pictures of, rather than trying to actually demonstrate at the high school level.
I don't know quite what you mean by a thin electrode, but the size of all current-carrying conductors must be large enough to carry the current in question with minimal to acceptable resistance. Good luck.
Regards,
Ted Mooney, P.E.
finishing.com
Pine Beach, New Jersey
---
February 10, 2015

Okay THANK YOU sir TED for your opinions!
Stefan Joseph
[returning]
- Colombo, Sri Lanka
---
---
July 7, 2015
Q. Hi, what amount of volts should I use to get a good layer of copper?
vladamire von hung
- london uk
---
July 2015

Hi, Vladamire. I am a very old friend of the Von Hung family of London; please give my regards to your father and have him fax me a photo of your new plating tank and I will be happy to calculate it for him.
Regards,
Ted Mooney, P.E.
finishing.com
Pine Beach, New Jersey
---
---
What compensatory changes to make if I have very low anode to cathode ratio?
August 5, 2015
Q. It is usually recommended to have the anode to cathode ratio be 1:1 or >1 : 1. If I am trying to use about a 0.2:1 ratio, what else should I try to change? Lower current density? Higher copper concentration?
Cameron Hill
- Provo, Utah, USA
---
August 2015
A. Hi Cameron. Lower current density should minimize anode polarization, but it's difficult to answer abstract questions which don't mention substrate material, type of copper plating solution, ID vs. OD plating, rack vs. barrel vs. continuous strip, single part for lab work vs. mass production, etc.
I'd predict no solution depletion problem plating a single part in a laboratory, but substantial difficulty in maintaining equilibrium copper concentration and pH in a high production environment. And whether you can get relatively even plate distribution would be an unknown for me since I have no concept of the anode-cathode arrangement. Good luck.
Regards,
Ted Mooney, P.E. RET
finishing.com
Pine Beach, New Jersey
Striving to live "Aloha"
---
---
February 1, 2017
Q. How are the different voltage levels used in electroplating? I mean from an inverter point of view, asymmetrical output voltage of inverter can be used for electroplating. How? As we can't measure asymmetrical output voltage of inverter like there is rms term for ac output voltage and average for dc output voltage.
Punit Kumar
- New Delhi, India
---
February 2017
A. Hi Punit. Inverters have no place that I know of in electroplating. It is the direct current that moves ions from the anode to the cathode, and ripple is often very problematical. No abstract questions please; they are usually, as in this case, impossible to answer. Please tell us who you are and your situation which motivates the question. Thanks!
Regards,
Ted Mooney, P.E. RET
finishing.com
Pine Beach, New Jersey
Striving to live "Aloha"
---
---
February 25, 2017
Q. I've seen several posts regarding optimal voltages. Note: I do understand Ohm's Law. Additionally, I saw one of your responses related to optimal Copper Sulfate concentrations, H2SO4 and other materials.

I think some people (and I am) asking:

What would be the maximum voltage before burning occurs?
I'm asking this a little differently. If I have a tank that's being mixed and with the solution with the concentrations that you previously described, what are the typical voltage setting and what amps/inch2 are observed?

What are the "other materials" added to the solution?

Thanks, Joe

Joe Luntz
- Davenport, Iowa
---
February 2017
Hi Joe. How fast can a vehicle safely travel?
It's not that 16 years and 40 posts later I am trying to avoid answering your question. It's that people seem to not understand that parts may be pin-head size copper "bumps" or they may be a rack of 50 aluminum alloy wheels. You may be copper plating nickel wire reel-to-reel, or 100 pounds of washers in a polypropylene barrel. And people keep asking what voltage is needed but not responding to my requests that they carefully describe their own situation :-)
So I'll assume you are a hobbyist plating one sheet 6" x 6", with a spacing of 2" between the object and the anodes: the maximum amperage will probably be about 20 amps per square foot, and the voltage probably about 4 volts. The object you are plating can't be steel, raw aluminum, or raw zinc because they can't be successfully plated in copper sulphate. What is the object you are plating?
Regards,
Ted Mooney, P.E. RET
finishing.com
Pine Beach, New Jersey
Striving to live "Aloha"
---
February 26, 2017
Q. Ted,

Thanks for responding. I'm a hobbyist who's just starting out with copper and nickel plating... I'm trying to observe some of the dynamics and understand what's going on.

So far, I'm "testing the water"... making observations using a constant amperage or constant voltage, but I didn't want to be doing this while outside acceptable operating parameters.

My observations so far when I raise the amperage, there's a resistance spike which settles down (maybe after a steady ion flow is established between the nodes). So far, resistance appears that it could be used as an indicator of poor operating conditions.

That's why I'm asked the burning voltage question. Maybe an example of your choice could help me understand what you've been trying to say.

Joe Luntz
[returning]
- Davenport, Iowa
---
February 2017
A. Hello again. Okay, I guess the main point I've been making is that amperage is the key/central parameter in electroplating. Ideally, when your power supply moves 2 electrons from the anode to the cathode, you have raised the oxidation state of one atom of copper (or nickel) on the anode from the metallic state to the ionic state and it will dissolve and migrate to the cathode, where it will regain those two electrons and be reduced back to an atom of copper (or nickel). This is the simple background behind Faraday's Law, which says that 96,487 ampere-seconds of current will cause one gram molecular weight of metal to deposit if things are running at 100% efficiency.
Most everything else about plating -- from pH to temperature to solution concentration to agitation to voltage -- revolves around facilitating this operation. If the voltage is too low, the current won't flow, or the amperage will be too low to produce practical plating thickness in a practical amount of time. And here's what happens if the voltage is too high: too much current flows and you get "burning". What happens in that case is copper ions cannot migrate quickly enough through the bulk of solution and the boundary layer to keep up with all the electrons you are pumping to the cathode. So those excess electrons, which must be satisfied, pull the hydrogen out of the water in the plating solution, turning the water into hydrogen gas which evolves at the cathode, and 0H- ions. If you're only depositing half as much metal as Faraday's Law says you should, you're operating at 50% cathode efficiency. Too much current also forces the metal ions to instantly slap down as a somewhat non-adherent powder instead of permitting a better metal crystal structure.
It's relatively easy to operate in hobbyist mode; it gets harder to operate in production mode because you must maintain an equilibrium condition where the pH and solution concentration are not changing on you and contaminants are not building up, in addition to being sure that you can warranty that the copper plating will not peel or blister or cause problems in the next layer of plating, etc.
One reason the required voltage for plating is so variable is that the biggest resistance is the resistance of the plating solution, so if small parts allow a 1" anode-to-cathode spacing and large parts require 18", you'll see much different voltages required.
Regards,
Ted Mooney, P.E. RET
finishing.com
Pine Beach, New Jersey
Striving to live "Aloha"
---
---
July 24, 2017
Q. Hello, I plan to design the experiment about "the factor that affect the quality of electroplating" and I plan to use the current density as variable. But I'm not sure if this variable is worth to write about 12 pages reports. Can you give me some suggestions about the experiment design and the type of metal I should use? Thank you!
Olivia Xiong
- Chengdu, China
---
Digital version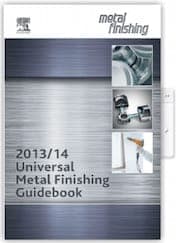 (No longer published, but Elsevier hasn't yet de-commissioned the online version of the Guidebook)
Download it before it disappears.
August 2017
A. Hi. Of course you can write a 12 page report about current density in plating. Just using some of the central terms of this page you can google "Faraday's Law of Electrolysis", "Cathode Efficiency", "Boundary Layer" and go way beyond 12 pages if you wish.
I think you should browse through the Metal Finishing Guidebook to acquire a general feel what electroplating is about, and what interests you, rather than having someone else design your experiment for you. Good luck.
Regards,
Ted Mooney, P.E. RET
finishing.com
Pine Beach, New Jersey
Striving to live "Aloha"
---
---
What voltage is required for tabletop electroplating console
December 26, 2017
Q. I want to build a small laboratory (table) electroplating machine.
For nickel plating, chrome plating, iron plating, gilding and silvering.
Cathode area to 2dm2 (31 sq in), min cathode area 1/100 max.

My question is, what source should I get?

If I run out of max current density 15A/dm2 have current 30A. Because I do not know at what voltage I reach 30A current I do not even know how much power I need.
I need
a). 0 - 5V 30A (150W)
b). 0 - 10V 30A (300W)
c). 0 - 15V 30A (450W)
Hans Berger
- Dressden, Germany
---
December 2017
A. Hi Hans. I don't think 5V will be enough, and don't feel that 15V will be necessary. My choice is "b)."
I hope you know what you're getting into with chrome plating. Good luck.
Regards,
Ted Mooney, P.E. RET
finishing.com
Pine Beach, New Jersey
Striving to live "Aloha"
---
---
February 18, 2018
Q. Hello, I have a question and it would be very helpful if someone could explain me this:

If I am performing an electroplating experiment, should I conduct it with constant voltage or constant current density?

I usually conduct it with constant current density but need to understand the relationship between constant current density, overpotential, and constant potential.

Thank you.
Abbas Kazi
University of Massachusetts Lowell - Lowell, Massachusetts, USA
---
February 2018
A. Hi cousin Abbas. I think you may be making things hard on yourself when the question is posed in abstract fashion. If you tell us what the substrate is, what metal you are electrodepositing onto it, the general nature of the experiment, and why you are doing it, things will be easier.
But keeping it general, are you familiar with Faraday's Law of Electrodeposition yet? If you are, great; if you're not, that is the first thing we have to talk about.
In production electroplating, constant voltage is usually used rather than constant current density because the area of the load might vary, and it's constant current density we are aiming for. Some rectifiers (power supplies) may have an adjustment or bias to account for overpotential and other static potentials ... such that beyond that offset or tare point the current density is proportional to the voltage and you can set the rectifier to plate by calculated current density (it's actually controlling the voltage).
Although we clearly understand some scientific rules like Faraday's Law, some other relationships are too complex to fully understand based on theoretical ideas and first principles. For example, we know that nickel plating can come out fully bright at about 40 Amps/sq.ft., and that very substantially below that point it may not be bright, whereas at 50% above that point it will probably "burn" ... but we don't have useful theoretical formulas to arrive at this number, we only have empirical knowledge.
Regards,
Ted Mooney, P.E. RET
finishing.com
Pine Beach, New Jersey
Striving to live "Aloha"
---
February 19, 2018
Q. Hello Mr. Mooney,

Thank you for your prompt reply. I am electroplating a copper substrate with soft gold solution. The gold solution is acid based cyanide solution.

I appreciate your response but still a little confused. It would be great if you could tell me more about the above mentioned substrate and precursor.

As per your response, you suggest constant potential over constant current density?

Thank you.
Abbas Kazi
[returning]
University of Massachusetts Lowell - Lowell, Massachusetts, USA
---
February 2018
A. Hello again Abbas. Sorry for the confusion, I suggest constant current density but I would be surprised if the current density and potential don't remain very closely proportional.
If you can get access to a Hull Cell you can probably make quicker progress than with more random experimenting because the Hull Cell is designed to let you see the results of plating across a broad range of current densities from a single experiment. Good luck.
Regards,
Ted Mooney, P.E. RET
finishing.com
Pine Beach, New Jersey
Striving to live "Aloha"
P.S.: Please call me 'Ted', readers. In many cases I don't know a poster's sex, age, or situation, so English forces me to use their first name, and it seems disrespectful for me to call some people by their first name and others by their last. If you sign as "Mr.", "Mrs." or "Dr." I'm happy to address you that way.
---
February 20, 2018

Thank you so much Ted.

I shall get back to you in case of any more doubt. Once again, thank you much.
Abbas Kazi
[returning]
University of Massachusetts Lowell - Lowell, Massachusetts, USA


This public forum has 60,000 threads. If you have a question in mind which seems off topic to this thread, you might prefer to Search the Site