60,000 Q&A topics -- Education, Aloha, & Fun
topic 7846
PVD coatings: color control
A discussion started in 2001 but continuing through 2020
2001
Q. I would like to know a PVD process for depositing coatings in different colors (red, blue...). Which is the best PVD process to make it? Which materials could provide the different colors?
Charo Fernandez
- Valladolid, Spain
---
2001
A. Gold and brass colors are usually formed from zirconium nitride with small admixture of carbon. Chromium nitride yields silver. I don't know of any commercial work in red and blue, but would assume one can get blue by depositing titanium oxide. Erbium oxide yields a pinkish gray. The most common deposition process is by cathodic arc. Coatings are very thin -- around 200 nm.
Jim Treglio

PVD Consultant - San Diego, California
---
2001
A. I've some PVD plated steel samples that are in blue, black, grey and bronze colours, but I'm not sure the composition of the layer. Some French and Taiwanese platers can achieve those colours.
I've also read on the web that purplish red can be achieved by plating TiAlCN. You can surf the web for details. The plating is applied on tooling for wear resistance and high temp properties.
WY Wong
- Hong Kong
---
2004
A. Silicon nitride is bright blue. Also oxides can be deposited (or metals such as niobium can be anodized) that give a red or blue appearance. You just have to ensure the oxide thickness is uniform to give a homogeneous colour.
Best regards,
Mark Jarratt
PVD - Worcester, UK
---
June 3, 2008
A. We can get violet to red colors in TiCN by varying the Methane to Nitrogen gas ratio. Ratios are preferable like Methane:Nitrogen = 1:5 Red-ish yellow, like 1:4, 1:3, 1: 2, 1:1(gray color).
YV Sambasiva Rao
- Chennai, India
---
---
PVD in Tungsten Rings - How to get the right gold color
November 29, 2015
Q. Hi dears. I've been importing tungsten rings from China for a year. I know that in China they make a kind of PVD; the color is good but the plating is a kind of "flash", and fades within 1 year. I'm trying to make the PVD with many companies here in Brazil, but they are not finding a good color for jewelry (gold color). Although they are international companies, they specialize in tools, car parts, etc., so, its been very difficult to get the exact color. How can I get this color? Is there someone who has a kind of % of TiN or other elements to get this color? Someone can help me? Thank you so much.
ANDRE L
[last name deleted for privacy by Editor]
- SAO PAULO, BRAZIL
---
November 30, 2015
A. Andre,
As you might have already figured out, there are companies that specialize in functional PVD coatings and those that specialize in decorative PVD coatings. Decorative PVD coatings are very commonly deposited on faucets and door hardware. As gold PVD is pretty common in the faucet business, replacing gold plating, look for a company in Brazil that makes high end faucets. They either do the PVD coating themselves, or can lead you to their PVD coating supplier.
Jim Treglio

PVD Consultant - San Diego, California
---
---
December 28, 2016
Q. This was also my question and I could not find any answer. I have read on the web that coated layer color depends on some factors such as target material, substrate material, layer thickness and .... I am interested in knowing about controlling these factors to make different colors. Is there any resource which provides details on how these factors can be controlled to make different colors?
Sara Qazvini
- Tehran, Iran
---
January 4, 2017
A. PVD color depends primarily on the target material and the reactive gas mix. For example, you get yellow gold with a titanium target and nitrogen gas. Adding methane or acetylene darkens the finish, going to reddish gold to gray to black. There is no general recipe, just recipes that work for a specific PVD system design.
Jim Treglio

PVD Consultant - San Diego, California
---
---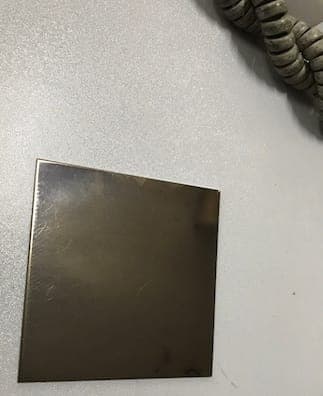 (pic added 7/31/17)
July 20, 2017
Q. I'm from VietNam. We are very new in PVD industry. My customer ordered polished stainless steel PVD champagne rose color (not gold base); it looks like "coffee color". What kind of target, gas, could we do to get this color?
TRAN TRUC
T&D International. - Ho Chi Minh, Viet Nam
---
July 28, 2017
A. Specifying a coating only by colour is risky not least because colour perception is rather subjective. Coffee (is it with or without milk ?!) comes in different tastes and colours. Apart from colour the user would be having other expectations from the coating. Some form of TiCN or TiAlN may serve the purpose. It would be best to have a joint discussion with the machine supplier and your client.
H.R. Prabhkara
Bangalore Plasmatek - Bangalore, Karnataka, India
---
---
August 17, 2017
Q. I am having trouble with a couple of my PVD finishers who say we must lacquer or clear coat "to prevent oxidization".

Done properly, would a PVD finish done on SS require a lacquer or a clear coat?
Allen Jubin
- Morganton, North Carolina, USA
---
August 2017

Hi Allen. Are we talking architectural building panels, or plumbing faucets, or wristwatch dials? My belief is that gold colored PVD coatings are generally a final finish, but unfortunately, I think people would need to know a lot more about what you are doing before they would say whether your finishing shops are doing something wrong and are trying to talk you into putting a bandaid on it.
Regards,
Ted Mooney, P.E. RET
finishing.com - Pine Beach, New Jersey
Aloha -- an idea worth spreading
---
September 7, 2017
Allen,

PVD is a somewhat generic term, and includes deposition of hard coatings as well as metals. If your PVD finish is a hard metal nitride, oxide, or carbide, or some combination thereof, it should not require a top coat, assuming that you are using a 300 series stainless steel. If it is just a metal coating -- say nickel -- it probably needs a top coat.

Jim
Jim Treglio

PVD Consultant - San Diego, California
---
---
Exact way to get Rose Gold pantone color 10155C with PVD
December 8, 2017
Q. Hello and Greetings. I am getting a bit frustrated with trying to achieve a Pantone shade of 10155C with PVD. I have spent thousands of dollars trying to achieve this and coming up empty-handed. Does anyone know the secret? Please help! Material used is a 420-j2 stainless steel.
Brint Fanizza
tool maker - Gainesville, Georgia USA
---
December 2017

Hi Brint. You're certainly welcome to ask. But people who have achieved success at it are also welcome to retain that know-how to further their own business interests. So I don't know whether any answer will be forthcoming :-(
Regards,
Ted Mooney, P.E. RET
finishing.com - Pine Beach, New Jersey
Aloha -- an idea worth spreading
---
---
May 27, 2018
Q. Hello and Greetings,
I deposit TiN thin film on faucets and steel dishes.
TiN color is golden, but when titanium target was finished, I mounted new titanium targets … all parameters were the same, but color was very pale. Does anyone know why the TiN is colorless?
z vahedi
- tehran, iran
---
---
Copper colour PVD
July 25, 2018
Q. My situation: I have done several tries to get copper colour in PVD, though I succeeded in getting that colour through copper targets, but it gets tarnished after some time is there any other way I could achieve copper colour or a colour near to that of copper
Gagandeep Singh
- Delhi,India
---
July 30, 2018
A. I don't know of anyone who has had success producing a copper finish by PVD other than depositing copper. Many have tried.
Jim Treglio

PVD Consultant - San Diego, California
---
November 9, 2018
A. Hi guys

I work for a Mexican factory and we make Gold PVD using TiZr targets with Nitrogen gas, the key to get a good color is proportion of gas and adjust bias control to get very stable coating.
Jesus Uc Gonzalez
- Merida, Yucatan, Mexico
---
---
January 1, 2019
Q. How to Make Pink Color in a Physical Vapor Deposition?
Rakesh Kaushik
Student - Bhiwani, haryana, INDIA
---
---
January 8, 2019
Q. I want to know the process to get golden color plastic beads by using PVD and other colors like blue, green, pink, red please help!
Tej singh rathod
Karni mata plastic - India,maharashtra
---
January 2019
A. Hi Tej. The easy way is to just vacuum metallize with aluminum and tint your top coat instead of leaving it clear. Cracker Jack toys and children's toy finger rings sold for 5¢ in gumball machine have been made this way for decades. Good luck.
Regards,
Ted Mooney, P.E. RET
finishing.com - Pine Beach, New Jersey
Aloha -- an idea worth spreading
---
---
PVD deposit is perfect bronze red, but just gold in deep holes
February 27, 2019
Q. Hi,

Anyone know how to solve pvd deposition with Ti targets and bronze red colour TiCN. Problem I have is that colour not getting deep enough . In deep holes about 4 cm and 8 in diameter I get just gold colour, while outside it's perfect bronze red.
Thanks for answer.
Alan Kos
- Italy
---
March 5, 2019
A. Hi Alan,
you can try to increase your deposition time; also you can try to modify your fixture for a better deposition rate.
Saul Sanchez
R&D Helvex - CDMX, Mexico
---
---
August 13, 2019
Q. Hello,

I brought a machine for PVD coating when doing golden color on glass bracelets the color sometime come black sometime rainbow and rose gold and gold all mixed.

I have been doing TIN coating on glass substrate the problem it that it looks very good the time it is completed but after a day the same coating becomes very dull and dark. What are the possible reasons and how to solve?
Kushal Tayal
- India firozabad Uttar pradesh
---
August 16, 2019
A. As for the color change with time, TiN has a greater coefficient of thermal expansion than glass. As the component cools after coating, the TiN will try to shrink, adding tensile stress to the coating, opening up the structure and darkening the coating. I would look at going to a pulsed bias power supply on your substrate to increase ion bombardment during deposition, improving coating adhesion, providing better coating consistency, and, hopefully, adding enough compressive stress in the coating to overcome the tensile stress associated with the mismatch in thermal expansion.
Jim Treglio

PVD Consultant - San Diego, California
---
August 23, 2019
Q. Thanks For Your reply.
However, the biggest issue I am facing is that I am doing TIN at temperature of 220 degrees.
The glass bracelet looks very good after coating is done and The coating does not fade away the time it is done.
But overnight the whole coating fades away, and peels off like powder.

I have been cleaning them very properly; still they fades away overnight.

Regards
Kushal tayal
[returning]
- Firozabad uttarpradesh india
---
September 14, 2019
A. Kushal,
220 °C will give you pretty high compressive stress in TiN. Suggest you look into ZrN coating instead. A lot less stress at low temperatures. To get the deep gold color add a bit of acetylene to the gas mix. If you stay with TiN, reduce the coating thickness. Might also try coating with a pulsed bias.
Jim Treglio

PVD Consultant - San Diego, California
---
---
September 13, 2019
Q. Is it possible to Know Standard Color Codes For Ion Plating (PVD process) for Watch Cases? Especially Black, Gun-Metal & Rose Gold and their Variants?
Narasimha Narasimha
Conzumex - India, Karnataka & Bengaluru
---
September 2019
affil. link
"Gold Plating Technology"
by Reid & Goldie
from Abe Books
or

A. Hi Narasimha. According to Reid & Goldie there are color codes for gold plating in the watchcase industry, namely NIHS 03 SO, DIN 8-322, and CETEHOR 07 70 (that book was published in 1974, so ISO standards may supersede these). Whether these color codes also apply to PVD processes, or whether there are different color standards for PVD I don't know.
Regards,
Ted Mooney, P.E. RET
finishing.com - Pine Beach, New Jersey
Aloha -- an idea worth spreading
---
Rainbow problem in black PVD coating
January 20, 2020
Q. We have a problem when we want to coating by AlTiN target(black color). The substrate color becomes rainbow (multicolor) near the substrate holder. Does anyone know the cause of this problem? Thank you
araz az
- Tehran-Iran
---
January 2020
A. Hi Araz. I know very little about PVD, so someone else will have to take it further, but "rainbows", whether desired or undesired, and regardless of what substrate or what coating method, are invariably caused by a partial wavelength transparent/translucent coating ...

... Some of the light bounces off the surface of the coating and some of it -- after traveling very slightly further -- bounces off the surface of the article. As the light reflects back, the two halves interfere with each other canceling some wavelengths and augmenting others. The coating causing the rainbow can be due to oil, as in the rainbows we may see on a mud puddle, or your PVD coating being translucent and thin.
Regards,
Ted Mooney, P.E. RET
finishing.com - Pine Beach, New Jersey
Aloha -- an idea worth spreading
---
January 24, 2020
A. Ted has explained it well. This effect is called interference of light waves. The situation is further complicated by variation in film thickness and the viewing angle as they determine the optical path difference travelled by rays of light reflected from the top and bottom surfaces. In the present case, depending on the type of fixture, coating thickness can decrease close to the substrate holder due to shadowing effect causing rainbow effect.
I may add that in an actual rainbow origin of colours is due to a different effect namely refraction of light (through tiny water droplets in the sky) and not interference.
H.R. Prabhakara
Bangalore Plasmatek - Bangalore, Karnataka, India
---
---
January 20, 2020
Q. Why does the color of the samples on top of the vacuum chamber sometimes vary with the bottom of the vacuum chamber after PVD process?
Mehran Ghadirzadeh
- Tehran, Iran
---
January 30, 2020
A. Hi Mehran,

The top and bottom part of the chamber may not be fully inside the plasma plume, so you will get less coating there.

Sometimes for intrinsic colours (TiN gold) placement within the chamber does not matter so much, but for interference colours (TiO2 blue) the coating thickness is very closely tied to the coating colour (in which case you should use the middle of the chamber only for consistent colours).
Ben OShea
- Katikati, New Zealand
---
---
February 22, 2020
Q. Who does blue PVD processes for pistol slides? I know Kimber sells their pistols with a blue PVD slide. But, who actually does this process?
Bruce Ramos
End User - Stockton, California USA
---
February 2020
A. Hi Bruce. Can you please tell us what you are actually trying to do? ... maybe find someone to re-coat one single slide for you? I think you're unlikely to find anyone to do one piece because of the setup time involved, the possibility of contaminating their chamber, etc. -- even if they don't have an exclusive with Kimber, and they may well. Most companies like Kimber will not publicize their sourcing arrangements, or even whether they do a process in house or outsource it.
Please post the details of your situation. Thanks.
Regards,
Ted Mooney, P.E. RET
finishing.com - Pine Beach, New Jersey
Aloha -- an idea worth spreading
---
---
TiAl targets for purple PVD coating
February 27, 2020
Q. Hello, I've been in a loop about the TiAl targets (Ti70Al30); I was told that these targets would get me the reddish and purple color in PVD machine by using nitrogen gas,
I've tried a lot now, all I can get is light copper or copper-ish gold color.
I tried using TiAlCN as well, it got black.
I want to achieve the purple color could you please suggest a better idea?
Thank you.
mohammed omear
- saudi arabia, riyadh
---
---
How to get dark cold color with cathodic arc PVD?
June 9, 2020
Q. Hello everyone.
I work with cathodic arc PVD and will be so grateful if someone answers my question.
I want to obtain a dark gold color on a rough surface, but I could not reach this aim even by changing parameters such as gas pressure and mass fellow. Could you please help me with the problem?
saba khoram
- shiraz, iran
---
---
June 24, 2020
Q. Hi, we use TiC to apply dark gray on stainless steel sheets. sometimes color changes to blue after some days. What should we do?
majid mahmoudi
- tehran, iran