60,000 Q&A topics -- Education, Aloha, & Fun
topic 56947
Choosing Plating Rectifier Voltage & Current
An ongoing discussion from 2000 through 2019
2000
Q. I am looking to purchase a rectifier for the purpose of chrome plating, I have discovered that there are different methods of control, but I don't know the pro's and con's of each. Could somebody please explain the differences between variable transformer, tap switch, and SCR control? Also, I assume I'll need up to 1500 Amps output to handle auto bumpers, if this is incorrect please let me know. Thank you.
Brian C
[last name deleted for privacy by Editor]
- Surrey, BC Canada
---
2000
A. Hi Brian. The required amperage will depend on how many bumpers you plate at a time and how big they are. You should figure that you will probably not be able to chrome plate at all at less than 100 ASF, and 150 ASF is pretty typical, but 200 ASF is probably not excessive as a rectifier sizing specification.
SCR control means 'silicon controlled rectifier' control and is a solid state control method, the most modern style, and probably the least expensive and simplest of the automatic control methods. The incoming waveform is 'chopped' to control the outgoing current. However, this means that when the rectifier is operated at substantially below its rated current, the incoming sine waves are chopped into 'shark fin' shape, with the result that there can be substantial ripple (AC component) in the outgoing current, which can interfere with proper plating.
Variable transformer rectifiers achieve control by varying the number of turns in the primary vs. secondary coil, so they are better at achieving reduced ripple at low output. However, they are not solid state, but use a motor to adjust the transformer, so they have moving parts. They are probably more expensive and less reliable than SCRs.
Tap switch rectifiers are manual. As the name implies, there are taps in each of the three windings, and you manually turn a handle attached to brushes to vary the primary to secondary voltage. Nothing wrong with them as long as you don't need automatic control. Good luck.
Ted Mooney, P.E.
finishing.com - Pine Beach, New Jersey
Striving to live Aloha
---
2000
A. Ripple is normally controlled by chokes or capacitors. Both are effective for a given percentage of the load that they are designed for. They all work fine at that point or at 100% output which is hard on the unit.
Solutions, buy a three phase unit. It will be a full wave unit, so you will be using 6 "phases" which have a significant overlap making ripple of no consequence unless you try running a 1500 amp unit at 50 amps.
The true state of the art is a supply that runs at mega HZ or giga HZ and uses a true chopper, not the one that Ted mentioned. These are tiny units vs a normal power supply. They generate very little heat, so are more efficient at all power settings. The electronics portion is a sealed unit with heat sinks so none of the lousy atmosphere gets to the critical components. Draw back-- They cost more. I am not sure how big they are now. 5 years ago, they were only available in the 300 amp area, but that has been steadily going up.
James Watts
- Navarre, Florida
---

James is right that the state of the art is to use solid-state "chopper" circuits to generate high frequency rather that operating at 50/60 Hz because this greatly reduces the size of the components. In the plating industry, this technology is called "switchmode" rectifiers.
Regards,
Ted Mooney, P.E.
finishing.com - Pine Beach, New Jersey
Striving to live Aloha
---
---
2000
Q. What would be a correct choice for voltage whilst selecting a Decorative Chrome plating Rectifier?
At many job shops Chrome burning is a regular feature, despite other parameters being in control. I doubt if this is on account of using a higher voltage rectifier such as 16 or 24 Volt, when in actual use the required Voltage will be only 4-6 Volts.
Does burning occur if a higher Voltage is used to obtain the required amperage? Is using an 8 or 12 Volt Rectifier a better choice for obtaining higher amperage at a lower voltage or vice versa?
Thanks in advance.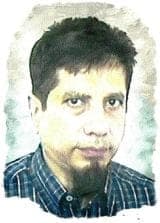 Khozem Vahaanwala
Saify Ind

Bangalore, Karnataka, India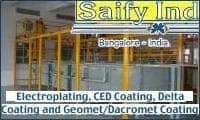 ---
2000
A. Hi Khozem. As you know, Ohm's Law demands that voltage and current are directly proportional; so, for a fixed resistance, you can't raise or lower the current or voltage without proportionately raising or lowering the other. So the only way to vary the required voltage is by varying the anode to cathode distance.
But a rectifier should never be grossly oversized because it leads to extreme ripple, inefficiency and other problems. So, if you know that you never need more than 12 volts, get a 12 volt rectifier, not a 16 or 24 volt one.
The same things that cause burning in other plating solutions cause burning in chrome . . . the difference is that the operating window for chrome plating is very small because burning will occur at too high a voltage/amperage whereas no plating at all will occur at low voltage/amperage (say, less than 100 Amps/ft2).
Ted Mooney, P.E.
finishing.com - Pine Beach, New Jersey
Striving to live Aloha
---
2000
A. I will carry Ted's reply one further step. If you currently never exceed 6.0 volts, buy a 6 volt supply. If you occasionally get any higher, buy a 9 volt unit. If you use a 3 phase unit rather than a single phase unit, you will virtually eliminate ripple without a choke or huge capacitors. Ripple is extremely bad for chrome.
James Watts
- Navarre, Florida
---
2000
Q. In India the general rule is to use only 3 phase Rectifiers on account of incoming line voltage problems hence I'm reasonably certain that ripple is not a major concern. However people tend to use higher Voltage rectifiers on account of versatility .
I wish to add a sequel to my above question :
When general parameters are normal, then what should be the correct distance of the component from the anode at say 150 amps /ft2 to avoid burning without compromising coverage?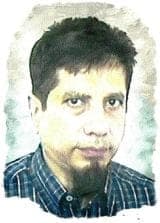 Khozem Vahaanwala
Saify Ind

Bangalore, Karnataka, India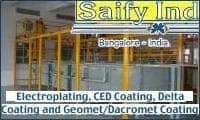 ---
2000
A. I have seen anodes as far away from the cathodes as about 18" to 21" when plating bumpers or plating shafting vertically, but the rule in any plating is to get the anodes as close as practical, and 1-1/2 to 2 inches is common in hard chrome plating--so I don't think that there is a distance that is too close for decorative chrome plating as long as you can assure that they never touch.
But chrome has horrendously poor throwing power / covering power; so if one area of the part is significantly recessed you may need greater anode to cathode distance so that the relative distances from the closest and furthest anode to cathode distance don't vary excessively. For example, if the part has a 2" deep recess, it probably won't work for the nearer points of the part to be 2" from the anodes and the recess to be 4" from the anodes (twice as far away). In that case you might need to go to, say, 10" nominal anode to cathode spacing, so the ratio of closest to furthest anode to cathode is 10" vs. 12" instead of 2" vs. 4".
Ted Mooney, P.E.
finishing.com - Pine Beach, New Jersey
Striving to live Aloha
---
---
2006
Q. Can I do hard chromium electroplating with a 1000 A / 6 V rectifier ?
NAOUI KADOUR
SARL SODEC - Algeria
---
2006
A. Yes, Naoui
Although 12 volts is more typical for rack plating, if you have anodes very close to the part (maybe an inch or two), it is possible to plate with 6 volts. Please explain your situation in more detail.
Ted Mooney, P.E.
finishing.com - Pine Beach, New Jersey
Striving to live Aloha
---
---
2007
Q. Sir,

In chrome plating rectifier how much ripple is allowed? in 250 kw rectifier how much ripple will generate in 10,000 Amps current rating. Transformer primary wave is pure sine wave form.
Natarajan.G
Maintenance incharge - B'lore, karnataka,india
---
2007
A. Hi Natarajan. The ripple will depend on a number of things including what percentage of the rectifier's capacity you are using and what rectification technology is used, G., but the mathematical ripple in rectifying a 3-phase sine wave to DC is 5 percent. You can read a lot of detail about this, and a number of opinions in letter 1424.
One of the readers in the referenced letter offers his opinion that the shape of the disturbance is as important or more important than the actual amount of ripple. Further, opinions differ on how much ripple is allowable. But for the briefest answer, it is usually said that ripple should be held to 5 percent or less for chrome plating. Good luck.
Ted Mooney, P.E.
finishing.com - Pine Beach, New Jersey
Striving to live Aloha
---
---
November 23, 2009
RFQ: Looking for chrome rectifier min 5k 3 phase/220 north Jersey
Andrew M
[last name deleted for privacy by Editor]
broker - Newark, New Jersey, USA
---
---
March 17, 2011
Q. I'm currently hard chrome plating with a 5000 amp, 6 volt, water cooled, tap switch rectifier. I have trouble getting past 2100 amps max. My busing, cabling, fixturing, etc. all seem to properly sized and there is less than 4 inches between my anodes and cathodes (parts). My parts are small diameter (1/4 to 5/8"), long length (4' to 12' long) and I suspect that they are a source of significant resistance. So, I think I need higher voltage to overcome the resistance. Two other plating shops I've spoken to say they do hard chrome plating with 12 volt rectifiers. Does anyone else out there use a 6 volt rectifier for hard chrome? If not, what voltage do you recommend?
Peter Krasucki
Plating shop - Webster, New York, USA
---
March 18, 2011

A. Hi Peter,

6V rectifier may not be enough to support 5000A working current, unless resistance is very small. For your case, better to switch to a higher voltage capacity rectifier or lower down working ampere by reducing total plating area.

Regards,
David






David Shiu




- Singapore





---

March 20, 2011

A. Hi Peter,
I think you don't need a 5000 amp rectifier to plate a 5/8" dia X 12' long job. You have an oversized rectifier. 6 volts is enough for a 4" gap, however for hard chrome application you need at least 8-12 V rectifier capacity if you plate at 1" or more anode/cathode gap just in case you get a job where area to be plated is more. Your job will not require more than 1500 amps, so if you are able to give it that much current and still stay below 6 volts you don't need to change your rectifier. If this is a production job try conforming anode(3/4" gap)- you might just plate it at 4.5-5 volts and not require more than 800-1000 amps... you save a lot on the electricity plus the part resistance will not trouble you much. Other plater as you say might be using 12 volts rectifier as they might be plating at say 6" gap or having jobs with more surface area..ALL THE BEST




Vikram Dogra




Irusha India - Chandigarh, India




---
March 21, 2011
Q. Vikram - I forgot to mention that I'm plating 5 to 10 parts per load. So the total surface area for 5 bars at 1/2" x 12' is 1131 square inches. At 3 amps per square inch I would need 3393 amps. With the rectifier turned all the way up I only get about 2100 amps.
Peter Krasucki
- Webster, New York, USA
---
March 22, 2011

A. 3 options: Decrease the anode to cathode spacing or use a more conductive solution or use a larger power supply.
Temperature adjustment might help, but I do not like the lower temp for hard chrome as it adversely affects the distribution.

The quickest and cheapest thing is to try decreasing the spacing by 1 inch and see what happens.

James Watts




- Navarre, Florida





---

March 22, 2011

A. Peter in that case you would def need a 12 V rectifier ORRRR...take my idea go for a conforming anode. 1/2 inch spacing would be too much to ask for for a 12' long anode so try a 5/8" or 3/4" spacing , you might just be able to plate it at 6 V with desired results.. (i mean faster plating rate / energy saving and above all cost towards a new rectifier.. go for it..)




Vikram Dogra




Irusha India - Chandigarh, India




---
April 10, 2011
A. 1. 6V is too small for hard chromium plating.
2. The solution plays an important role in the conductivity of this process. A properly operating solution should have a conductivity of 450-500 mS/m. Metallic impurities decrease rapidly the conductivity which means that you need more V for the same Amp.
3. Try to reduce Cr3 and iron.
4. If you are not able to get rid of the impurities then the remedy is increasing the CrO3 concentration.
Sara Michaeli
chemical process supplier
Tel-Aviv, Israel
---
(you are on the 1st page of the thread) Next page >
---
adv.