Live! From beautiful Pine Beach New Jersey: Welcome to the world's most popular metal finishing website
topic 54121
Refinishing antique "rubbed" solid brass bathroom sinks
January 18, 2010
After removing the finish, what will the sink look like and how and what finish can I use to not only restore the rubbed, antique look but what epoxy can I use to protect the finish?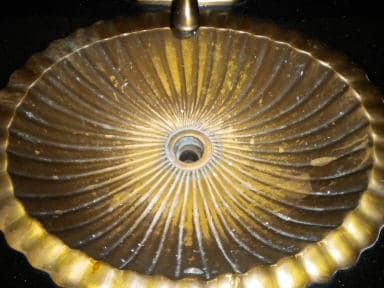 Ricardo Lugo
home owner - Stockton, California
---
2005
January 19, 2010
-- this entry appended to this thread by editor in lieu of spawning a duplicative thread
I have a copper sink from Mexico which I love. It is hammered as an "aged copper finish". The hammer dents are darker that the surrounding areas. I also have hard water and the neutralizer was low when the sink was installed. I have some hard water formations and some of the darker spots have come off the sink bottom. How can I get that darkness back into the dents and how can I preserve the finish especially since I have now had the water neutralized and the hard water spots are no longer happening.
Kathy Gant
home owner - Flanders, New Jersey
---
January 25, 2010
How is this duplicating the question?
Ricardo Lugo
home owner - Stockton, California
---
January 25, 2010
Hi, Ricardo. Actually it will be up to the responders to decide how similar the two questions are; i.e., whether their response applies to both inquiries or not.
The most accessible antiquing/darkening agent for brass and copper is probably liver of sulfur. The usual way to do antiquing is to darken the whole item and then relieve the high spots.
These sinks may (or may not) have had UV-cured or radiation cured topcoats, which are probably not practical for home owners to apply. I say that as preface to saying that the replacement topcoat may not be as hard and durable. You can try a do-it-once coating like an epoxy or polyurethane but these may discolor. Maybe a thinner top coat like Everbrite, repeated fairly frequently like every few months, might leave a more natural look. Good luck.
Regards,
Ted Mooney, P.E.
finishing.com
Pine Beach, New Jersey
Striving to live "Aloha"


If you have a question in mind which seems off topic, please Search the Site