Where the world has
gathered for finishing Q&As since 1989
How to remove white rings from tables
(
-----
)
Heating a white towel or t-shirt with an iron proved remarkable at removing rings and white water stains, even very old ones, from furniture! Read on...


before & after photos courtesy of Vikki K., Valley Village, California
Current question and answers:
October 17, 2017
Q. Can someone post the exact directions for the iron method and also for polish remover.
I have read all and some say hot iron CMC steam iron which that doesn't make any sense using steam and some say circular motion some say just leave the iron on and check every 30 seconds; so can someone post the exact directions please. Thank you
Mary henry
- Front Royal, Virginia Usa
---
October 2017
A. Hi Mary. Sorry but that might be asking too much :-)
Many used a towel, many used an old t-shirt, some a napkin. Almost everyone, including me, said a dry iron; I don't think anyone suggested steam; but some used a hair dryer or heat gun instead of an iron, and I think that's worth trying first if you have one. I can't imagine it making any difference whether you iron with a circular motion or stroke back and forth; but you wouldn't just lay an iron on your clothes and check back later, and I don't think you should do that to your furniture either.
The principal, as I've said several times, seems to be that water has emulsified with the oil of the finish, and you're trying to apply enough heat to evaporate and drive out that water without applying so much that you burn the finish or cause a veneer to loosen. So start only mildly warm and increase the heat only if it's not working. It worked well for most, didn't work for some, caused worse damage for a very few. Good luck.
Regards,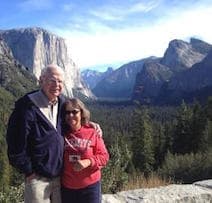 Ted Mooney
, P.E. RET
Striving to live Aloha
finishing.com - Pine Beach, New Jersey
---
December 6, 2018

Yes indeed it cleared an old water stain from a large casserole off my kitchen table. Took several short applications but it is gone!
Pam wayman
- Sterling, Massachusetts
---
---
---
Previous closely related Q&A's, oldest first:
2004
Q. Oops! Our kid left a cold drink on our dining room table overnight and now there's a nice, new water ring. What's the best of the ten million ways to fix it? Need a little help.
Gary M
[last name deleted for privacy by Editor]
- Marietta, Georgia
---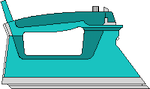 2005
A. One way to remove white water stains from wood is to use a hot iron on a smoothly-textured, lint-free cloth placed over the stain, iron very briefly (seconds), lift the cloth, and repeat until stain is gone. It really works!
Heather G
[last name deleted for privacy by Editor]
- San Antonio, Texas
----
Ed. note: As you will read if you have the patience, hundreds of people followed Heather's advice with incredible success . . .
---
2005

I was considering refinishing a desk I had bought from Bombay Co. when I put a hot TV diner down on the surface. Ironing out the water rings and heat stains works! I tried all of the other tips, such as Armor-all, salt and olive oil, peanut butter and mayonnaise. I tried for a week and finally got it out with just my iron on medium heat and a dry cloth.
Jenay R
[last name deleted for privacy by Editor]
- West Monroe, Louisiana
---
2005

The ironing worked... used an old t'shirt... low setting on my iron and voila... the fresh water mark created this morning is now gone... an old water stain didn't come completely off... but is greatly diminished

thanks so much
Gil C
[last name deleted for privacy by Editor]
- Washington DC
---
2006

Was horrified to discover very large stain from coffee pot on dining room table after Christmas dinner. Used warm iron and table napkin on stain. Hey, presto, stain totally removed. Had another small stain that had been on table for two years, guess what, warm iron and napkin removed that also.

Frances H

[last name deleted for privacy by Editor]




- Perth, Scotland






---

2006

Erase white wood stains with a Hair dryer in about five minutes. I put a paper plate down on the table it was too hot and made the stain. I didn't find it until the next day. I couldn't find the iron so I improvised, and grabbed the Hair dryer instead. I held the dryer about 4 inches from the stain for about 5 minutes and at the same time buffed it with a dry cloth. It came right out!

Shellie B

[last name deleted for privacy by Editor]




- Medina, Ohio






---

2006

Wow. Unbelievable. After FIVE YEARS of living with two cloudy white heat stains on my good dining table, and covering them up with a tablecloth....I finally found this website and used the heat/iron method. It works brilliantly, and the table is as new. Thank you to who ever posted this tip.

Lesley Coull




- Aberdeen, Scotland





---
2007

I just tried the method that uses a cotton piece of fabric (no lint!) and an iron to get out cloudy white water stains.
It worked beautifully on a 12 by 15 inch solid water stain.
Simply amazing! You simply iron the piece of cotton on top of the stain. I started with a warm iron and then used a higher setting as I felt comfortable.
Janis Ireland
- Appleton, Wisconsin
---
2006

I have a wooden table finished with black paint, I had put a cold bowl on the table and to my horror it left a white cloud.... I tried the iron method that was suggested on your website...and it worked actually worked-- Thanks for the advise!

Abi Jacob




- Toronto, Ontario, Canada






---

October 11, 2006

Brilliant. A KFC bucket had created a few damp heat stains on a table in my parents' house. Using a medium-heat iron on a small cloth I discovered it all disappeared. Thank you to whoever first mentioned this! I'm saved from a lot of trouble from my parents!

Tim Caines




- Torquay, United Kingdom





---
2006

We used the t-shirt and medium heat iron on our fresh water ring (left from a hot cup of tea). The ring is gone! But, I do caution about the heat of the iron. The temperature got a bit too hot and it ended up permanently leaving some lint from the t-shirt behind. The lint looks much better than the ring, so we're happy. Make sure you're patient and take your time with a cooler iron.
Julie Dandliker
- Oakland, California
---
2006
I too got material stuck to where I was trying to remove an old water stain. Now I have two awful areas on my wood surface. Any suggestions for getting rid of the new disaster?
Judy MacAulay
- Mission, BC, Canada
---
2006

I am absolutely amazed at the brilliant person who suggested using heat on water marks. I bought mahogany furniture (expensive) I loved and was being so careful. I put a cloth on the table to protect it. The heat from a hot tea went thought he cloth and left a mark mark the size of a Loonie. I have asked and asked and no one could help until I finally found this site. I used a blowdryer and wiped as I heated. It took about 10 min. but it worked, amazing the spot is totally gone. I am thrilled. Thank you so much.....I can't wait to tell everyone who had no answers for me except to refinish the whole table. Thank you again.....
Diane Cantin
Administration - Windsor, Ontario, Canada
---
May 5, 2013
All that is great, but now I am left with the nagging question, "What the heck is a Loonie?"
Gonqulin Redder
- Alberta, Canada



---
May 6, 2013
Hi Gonqulin. We Americans surely wouldn't know, but it apparently is approximately the diameter of the base of a tea cup if that helps? Regards,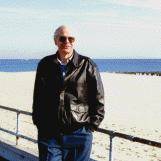 Ted Mooney, P.E.
Striving to live Aloha
finishing.com - Pine Beach, New Jersey



---
2007

I tried the iron and cloth on a white heat stain on my teak dining room table - it worked! That stain had been there for 2 years! Then I used the toothpaste solution on a more recent dye stain from a colored piece of paper (paper stained the wood) and it took it out. Thanks!
Russell Cooper
- Norwalk, Connecticut
---
2007

I am one happy girl right now! Whoever said about using an iron on a water mark left on wood is a superstar! I tried a few things already that I found on the internet AND they didn't work! I was about to give up ~~ thanks so much!
Heather K
[last name deleted for privacy by Editor]
- Lancaster, Pennsylvania
---
2007

Hooray,UNBELIEVABLE!

My friend found this website and emailed it to me after I ruined my friend's table with a hot coffee cup. We thought we were gonna have to have the whole thing sanded and refinished but in 2 minutes the table was like new again!

It's really hard to believe! Where would we be without google!

Just a few additional remarks:

I think it's a good idea to make sure the steam is off.

Also, I think the cloth doesn't necessarily have to be white, especially if the furniture is not white. (for example, I used a brown t-shirt on my brown table, that way if you leave it on for too long, you'd get the same color lint at least :))

Also, make sure the surface is clean so that you don't iron the dirt in.

Good luck!
Deniz
[last name deleted for privacy by Editor]
- Brooklyn, New York
---
2007

Awesome tip with the iron! My wife and I just got a beautiful antique table from her boss and I thought I had ruined it when I forgot and sat a box of hot chicken wings on it, leaving nasty white heat marks. A white lint free cloth, a hot iron and 5 minutes of ironing fixed it! AWESOME TIP!

Thanks!
Josh Richardson
- Centreville, Virginia
---
2007

Thank you so much for the advice on removing white heat marks from wood. We used my Mom's dining room table for Easter Dinner and when I removed the tablecloth discovered a hot dish had made white marks. I used the linen table napkin with an iron and the marks are gone! I'm sure my Mom is looking down from heaven and is pleased too!
Judy DeCaire
- Clio, Michigan
---
2007

My nephew and a friend put a hot pizza on our antique cherry wood table and left 9 or 10 circular 2" marks on it. I thought it was ruined permanently but I tried the soft flannel cloth and a medium iron (steam off!) and after 10 minutes only one nickel sized stain remains and that is where the wooden nail is on that end of the table and I'm guessing it sunk in deeper there because of the opening.

In any case, it's much better and I wanted to let folks know and say thank you for the wonderful tips!
Vandra Morgan
- Searcy, Arkansas
---
2007

Fantastic tip about the iron and white cloth! It really works, I have just literally removed the damage that I did to my teak dining table 2 days ago when trying to steam iron linen curtains that were far too big for my ironing board. Who would have thought that I could fix the damage with the culprit! Thanks very much for the tip.
Shirley Phillips
- Lydney, Glos, UK
---
2007
-- this entry appended to this thread by editor in lieu of spawning a duplicative thread
Q. I had company & placed hot plates on my brand new mahogany dining table, for the coffee & tea pots. When I was cleaning up, they left rings through the protection. Remembering my grandmother using polish to repair a similar problem, I tried it. Have been applying many applications of polish and buffing. Most of the problem is gone, but I still have an obvious shadow. Am I headed in the right direction and just have to keep at it or should I start crying?
Michelle Sherwood
consumer - Spring Hill, Florida
---
2007

It worked! I was skeptical, since heat made the mark in the first place. I used a hair dryer first. Didn't work for me. Then I used the iron. No more white marks :-) Make sure you use the iron on medium heat with NO STEAM! I used a t-shirt cloth. Worked great. My husband swore it wouldn't work, but it did. I used lemon oil to polish and the table looks like new. Thanks for the advise.
Steph Pribula
- York, Pennsylvania
---
2007

Wow! I had a white cloudy water stain from a flower pot on my solid birch table, I thought my table was ruined. The stain had been there for several months. Today I tried the medium heat iron and a t-shirt and the stain is gone. I then rubbed it with lemon oil and unless you knew there had been a spot there you really can't see it. Thank you so much! My husband & I are very impressed.
Debra Martens
- Smyrna, Tennessee
---
2007

I had great results today with the iron method on my 60 year old cherry dining table which recently had received three water marks. Two disappeared and the 3rd is much fainter. I followed the iron (no steam and only about 6 seconds)up with another home remedy of equal parts apple cider vinegar and olive oil and rubbed in the grain and buffed out with a dry soft cloth. It looks gorgeous and 90% better.
Rose Anderson
- Helena, Montana
---
-- this entry appended to this thread by editor in lieu of spawning a duplicative thread
Q. How do I remove a white heat mark from a mahogany coffee table. The table was protected by a coaster but obviously something has gone wrong. The coffee cup was not particularly hot and it could be some other type of stain but it is the same shape as the coaster. Will I need to have the table stripped professionally.
Shirley Mason
- Wakefield, Yorkshire, England, GB
---
A. Rub area with cloth dipped in mixture of cigarette ashes lemon juice or salad oil, Or rub with a cloth dipped in lighter fluid followed by a mixture of Rottenstone [affil. link to info/product at Rockler] and salad oil wipe dry and wax or polish.
Jenna Marie
- Elgin, Illinois
---
2006
-- this entry appended to this thread by editor in lieu of spawning a duplicative thread
Q. Bought brand new sideboard, had baby, got lovely flowers, sat flowers on new sideboard, now got nasty dark brown ring mark. Please help.
VICTORIA MORRISON
JERSEY - UK
---
2006
-- this entry appended to this thread by editor in lieu of spawning a duplicative thread
Q. I am in the process of completely redoing an old dresser that I think is cherry or mahogany. I took all the old finish off with a sander and had lined the drawers up on a table in my garage. One of the kids put the cat's water dish on one of the drawers and of course it was spilled. Now there is a dark stain on it. Is there any way of getting it out? Please be very specific. I read something about using Oxalic Acid [affil. link to info/product at Rockler] but am not sure how to go about it. Any help would be greatly appreciated.
Laura Velasquez
consumer - Reading, Kansas
---
(you are on the 1st page of the thread) Next page >
---