World's #1 finishing resource since 1989
No login needed: Chime right in
topic 10275p2
How to remove water stains / white rings from wood tables & furniture
Heating a white towel with an iron proved remarkable for removing rings & white water stains, even very old ones, from furniture!


before & after photos courtesy of Vikki K., Valley Village, California
---
---
2007
Q. Going to kill husband! Hi, we just bought a fairly polished dining table and had to transport it 3 hours. Apparently my husband did not know the blanket he used was damp and therefore we got it home and it has several water stains all over it. Will the iron method work for this please help me!
ELICIA RADIN
CONSUMER - STANTHORPE QUEENSLAND AUSTRALIA
---
2007
A. A lot of wood stains will come out with a product called Mr. Clean magic eraser. It has taken out white heat stains on a coffee table of mine, and dark spots on a end table.
Also those white rings will come out the old way with any kind of ashes, mayo, and a lot of rubbing.
Jennifer Beety
- Washington DC
---
2007
Q. Had a vase of white lilies on my new highly polished mahogany dining table and the pollen has fallen onto my table. I immediately wiped with water and cloth but this has caused an unsightly stain. I beg for your help to my dilemma.
Jacqueline Mcdonald
- England
---
2007

Unbelievable! Thank goodness I stumbled across this website while looking for tips on how to remove white water mark stains from wood. I have a beautiful 1943 Lane cedar chest that belonged to my parents...unfortunately about 10 years I sat a pail of water down on it, sprang to answer the phone, got distracted thereafter for several hours ....forgetting totally about the pail quietly obliterating my family piece. I could have cried. For the past 10 years I have had to cover it with a quilt. Needless to say I was quite dubious about the ironing tip so I tried a few of the others here first-- the stain barely budged, if at all. As a last resort I went and got the iron and a t-shirt. I started out on a very low setting with a dry iron...slowly advancing the heat setting and monitoring what was happening about every 5-10 seconds in hopes to catch it quickly if it was making things worse. After raising the heat level slightly higher than medium...VOILA----that 10 year old HUGE pail water mark is gone...and I mean GONE! I am just thrilled to bits...THANK YOU..THANK YOU...THANK YOU...to all who have shared their success with this tip....so I came back to add one of my own since my stain was HUGE and 10 years...but it is only a memory now:)
Sarah Jesse Owens
- Sacramento, California
---
2007

A word of warning.

My wife left a ice cream bowl on a coaster on the coffee table overnight. The humidity caused it to go right through the coaster. I dried the area with a paper towel when I discovered it this morning...oops mistake. I scratched the finish. Then I did the iron and used an old white t-shirt. The water spot came right out except for were I scratched the varnish. Don't try to rub the spot out, just use an iron (haven't had to try the blow dryer).
Jonathan Lefor
- Columbus, Ohio
---
2007

LEFT A HOT TEAPOT ON MY WIFES PRIDE AND JOY A HIGHLY POLISHED CHERRY DINING TABLE LEAVING A WHITE MARK ABOUT THE SIZE OF A SAUCER. TRIED THE WARM IRON AND LINEN CLOTH HAY PRESTO AFTER ABOUT THREE MINUTES THE MARK DISAPPEARED BEFORE MY VERY EYES MAGIC! THANK YOU WHOEVER POSTED THIS SOLUTION YOU SAVED MY BACON
D. NEWINS
- DUNDEE, SCOTLAND, U.K.
---
2007
Q. We left a solid wood entertainment center outdoors temporarily and covered as best as we could with a tarp but rain still leaked in, now some of the edges and seams have dark (almost black) water stains. Any suggestions?
Donna Alston
hobbyist - Bethesda, Maryland
---
2007

I placed a warm cardboard pizza box on my coffee table, and about an hour later discovers a huge white, heat stain. Shot hot air at the stain for about 10 minutes using my hair dryer on hot and am so relieved to tell you the stain in gone! Thanks for the great advise!
Maria Palis
- Halifax, Nova Scotia, Canada
---
2007

I too want to report success with the ironing method of removing water marks (or, clouds in this case). BUT be forewarned to keep the not-too-hot iron moving, and don't stay on it too long, and do not apply heavy pressure. Keep checking every 30 seconds as someone above suggested, or you may damage the wood surface!
I followed up with lemon oil and it is 95% perfect.
Aurora Lee
- New York, New York
---
2007
Q. My daughter thought she would iron on my dining table with a towel under it.
Now I have this massive white smudge and white iron indents on my beautiful table
Please I'm desperate to get it off.
Juanita White
mother - nsw, Australia
---
2007
Q. Juanita - any luck? I wasn't thinking and made some t-shirts with iron on transfers on top of the wood table. Well - it left a nice white mark on my espresso table. Anyone know how to remove this?

Thanks!
David O
[last name deleted for privacy by Editor]
- Arlington, Virginia
---
2007

After daughter placed KFC box on polished furniture, was horrified to find white cloudy stain this morning

Having used the hairdryer for only a few seconds the stain has gone. Just want to say great big thank You for this help. I was already to pay french polisher to do his stuff. SAVED!
Wayne F
[last name deleted for privacy by Editor]
- Nottingham. United Kingdom
---

THAT WAS AMAZING! I'm living with a surrogate mother right now. Her grandson was over and left a burrito on her cherry wood table. It left a mark. The ironing thing WORKED! I was so amazed and as she said, she was so "geeked!" lol. Thanks guys!
ashley doute
- flat rock, Michigan
---
2007

WOW! After delegating a beautiful drop leaf cherry side table to plant holding duty following the unfortunate setting of a hot cup of soup on it. I am pleased to report that the white ring is GONE after following the directions of this thread with an iron and t-shirt. The table has been returned to it's former duty in the living room and I feel like I have saved a thing of beauty. Thanks for the information.
Sherri McKenzie
- Las Vegas, Nevada
---
2007
I had a white ring on a table at work (and didn't have an iron handy), but I had read that you could rub the broken edge of a walnut on a stain to remove the white ring. Not having a walnut handy either, I broke open a brazil nut and it worked! The white ring disappeared in a matter of seconds.
Mandy Rogers
- Starkville, Mississippi
---
2007

The iron and cloth actually works! I thought I would have to refinish my coffee table, but this took out two white water stains with no problem. One of them disappeared right away, but the older stain took a good 15 minutes of going over until it blended back into the wood grain. It seems to help if you move the cloth around in broad circles. My guess would be that the wood oils are being distributed across the bleached area. Great tip...THANKS!
Holly Jay
- Phoenix, Arizona
---
2007
WOW - I had three water rings left from a plant on a brand new pine box - less than a minute with a hair dryer and they disappeared......Thanks for the tips on this site.
Amy R
[last name deleted for privacy by Editor]
- Colorado, USA
---
2007
Q. Trying to protect the dining room table's surface, I also used a foam-backed pad under the table cloth. However, I may have left the pad on the table too long. When I removed the cloth and pad, the foam backing on the pad stuck to the finish of the Cherry table and has left not only marks but also rough areas were the foam seems to have embedded itself into the finish.
Short of refinishing the table, is there a way to safely remove the marks and rough areas?
Harry Wilson
- New Philadelphia , Ohio
---
---
2007
Q. We recently purchased a very expensive dining room table for our new home. At first, I was so nervous about it, that I kept it covered with a tablecloth, but realizing I was covering up the reason we bought it in the first place, its beauty, I removed the cloth only to have my son set a glass of juice outside the placemat. It caused a pretty bad water ring and I am afraid of using anything on it, for fear of making it worse. Will the iron method work on water rings? Does anyone have any suggestions?
Sheila K
[last name deleted for privacy by Editor]
- Airdrie, Alberta, Canada
---
2007
Q. Should I follow the advice for removing water marks from my G Plan table with an iron? I am very sad to see the water mark but would be even sadder to see a burn. Please help?
Inga Salter
hobbyist - London England
---
2007
A. If you are cautious and want to hire a furniture refinishing expert to come in and fix these stains, no one will fault you, Sheila & Inga -- it's your expensive tables! And if it makes things worse, the only one hurt will be you.
But, c'mon now, cousins :-)
-- we've printed testimonials from dozens & dozens of people who have have said the iron method worked on water marks and rings. If that isn't enough to help you decide, hundreds & hundreds won't be enough either. Sorry, but no one can guarantee that you won't burn your table or otherwise make the problem worse.
Good luck whichever way you decide to go! -- Cousin Ted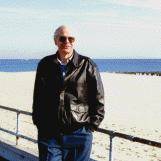 Ted Mooney, P.E.
Striving to live Aloha
finishing.com - Pine Beach, New Jersey
---
---
2007
Q. Before I make a fool of myself, will the Ironing Method work on removing a NAIL POLISH ring (it is white, if that matters) on a Cherry Wood Table? It is my mother-in-law's table (she made the stain), but before I try to look like a hero, I want to know I won't look like a fool.
Jeffrey Redelman
consumer - Melville, New York
---
January 13, 2008
Q. I have a beautiful wood dining room table. Stupidly I used the iron to iron the table cloth on the table and it left marks from the bottom of the iron. I have never used a polish on the table not wanting wax build up. I have always used old english or some type of oil.Please some one help me. I tried to use the iron technique but it didn't work.

Kellie on Long Island
Kellie
[last name deleted for privacy by Editor]
buyer - East Meadow, New York
---
January 18, 2008

Had a 4 year old white cloud like stain from a pie that I thought was cooled enough with a hot pad beneath it, to set on my beautiful Burl wood dinning table. I was very hesitant to try the iron method as I felt it may damage it further. So I tried many other methods suggested through the years to get it out without success. What a waste of time. Finally I put the iron on low, put a pillow sheet cover over the stain and rubbed lightly for about one minute and the old pie plate size stain is 100% gone.

Sherry
Sherry
[last name deleted for privacy by Editor]
- San Diego, California
---
January 21, 2008

My boyfriend's grandmother gave us a beautiful antique coffee table for Christmas, and not one month later did we have 2 white rings (either from coffee cups, cold drinks, or both). I was armed with both toothpaste and mayonnaise, but before I went to it I decided to Google "remove rings from wood" and stumbled upon this page. 10 minutes later, thanks to all of you and my trusty hair dryer, both rings are gone and the table looks brand new.

Thank you so much!
Mary Beth Hurst
- Murfreesboro, Tennessee
---
February 1, 2008

Wow, all I have to say is the Iron and t-shirt method to get water stains out of wood is UNBELIEVABLE!
I have had my table for 5 years and tonight after dinner I somehow got a 3rd water stain on it. It was so awful, I wanted to toss my table out the window!
I thought I'd surf online to see if there is any solutions to this problem and THANK GOODNESS for this website!
The 5 year old stains came out and the most recent stain (after dinner tonight) is also out!
You have made my evening!
I would love to know who came up with this brilliant solution!
THANK YOU!
Marisa P
[last name deleted for privacy by Editor]
- Toronto, Ontario, Canada
----
Ed. note: Heather G of San Antonio was the first to suggest it here, back in 2005. Where she first heard it she didn't say :-)
---
February 10, 2008

My partner put a bowl of hot vegetables on pine table, with a protective cloth underneath but when we cleared up we had a severe white heat stain 12" x 4". She was distraught. Checked on web for solutions and found this site. Followed numerous posters instructions on the medium hot iron through cotton tee shirt slowly moving back/forwards over stain and hey presto within a few minutes the mark had completely disappeared. Just wanted to record our heartfelt thanks to the many contributors to this site for the advice which cured our disaster.

John, England
John B
[last name deleted for privacy by Editor]
- Peterborough, UK
---
February 13, 2008
Well, I just tried the medium hot iron and napkin trick and it burned my table. Now not only do I have the white watermark but all around it is very dark so it is worse than ever. Tried the hair dryer on another area with a water mark and no luck there either but at least it did not burn the wood. Tried this for over 15 minutes with no results.
Sherri Underwood
- Greenville, South Carolina
---
February 13, 2008
Sorry that it didn't work for you, Sherri, but thanks for letting us know. When about 40 people in a row say that something is a miracle, it's nice to have it put back in perspective as an excellent tip in most cases, but not a foolproof miracle :-)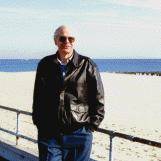 Ted Mooney, P.E.
Striving to live Aloha
finishing.com - Pine Beach, New Jersey
---
February 26, 2008

Another success story for using an iron on lower heat with a clean cloth to remove white water marks on wood. Astounding. Fabulous. Thanks much.

I suspect that the furniture of the person who didn't have success might have had a lacquer finish rather than an oil or varnish. Just a thought.

A related question: some years back I put a container holding water and flowers on a soft maple bookshelf. The container, I believe, was a tin can. The finish on the bookshelf is Tung Oil [affil. link to info/product on Amazon]. The ring left behind is black. I'm wondering if the iron trick might be worth trying?

What is it about the iron that removes the white water marks? Does it simply dry embedded dampness?
Helen Court
hobbyist - Silver Spring, Maryland
---
March 5, 2008
Q. ONE DAY I PLACED A BOTTLE OF NAIL POLISH REMOVER ON MY CHERRY WOOD TABLE NOT KNOWING THE BOTTOM OF THE BOTTLE WAS WET WITH REMOVER. IT STARTED TO EAT THROUGH THE FINISH. I CLEANED IT UP QUICKLY, HOWEVER IT LEFT A MARK. HELP!
LISA MENAGO
HOME OWNER - KING OF PRUSSIA, Pennsylvania
---
March 5, 2008
Nail polish remover is Acetone [affil. link to info/product on Amazon], a very strong solvent. I'm afraid it has dissolved the lacquer/varnish and you'll have to re-do the table.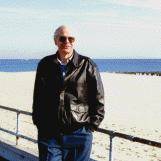 Ted Mooney, P.E.
Striving to live Aloha
finishing.com - Pine Beach, New Jersey
---
March 25, 2008

After moving into a new house- space was at a minimum- but I had to work on the draperies in order to have privacy. I covered an expensive cherry wood table with cardboard and two- three layers of sheets to steam iron the draperies as I installed them. 2-3 weeks later as the most of the furniture and books etc was now in place I uncovered the central table to my horror to find LARGE Large areas of white water stains from were I had ironed the draperies on the table. I thought I was going to have to get rid of the table. I am glad I did an internet search first. The Iron trick worked. It removed very large areas of white steamed in water marks that had sat for weeks on the dark finished cheery wood. 10 min is all it took. I used an old Egyptian cotton sheet.
Denise Woods
- Florida, USA
---
April 7, 2008
A. I live with a HITLER roommate and I put a flower vase full of water on his antique cabinet, After at least a week after vase sitting up there I took it down flowers have died...OH MY GOD the vase leaked and left a huge black ring plus black inside ring size of a grapefruit. My roommate is tall and he looks at this spot every night because he goes for a walk and grabs his hat and walkman he sets right next to the stain. Tonight I put a pamphlet he had up there on cabinet on top of stain. He went for a walk I mixed ashes and mayonnaise rubbed it on and began hair drying it. That failed but it looked a little better then I put a glob of mayonnaise on it and used the iron and by the way I had 1 hour to do this. The stain was kinda going away and HITLER walked in I told him I was ironing clothes for work, he took his shower and I grabbed more mayonnaise and MR. CLEAN SPONGE. BOOM ITS GONE. Rub the stain with mayonnaise and Mr Clean sponge it will go away.
Mary Aube
- Orange, California
---
Can't put my finger on it, but for some reason I don't see your relationship with your roommate flowering into romance, Mary :-)

Regards,

Ted Mooney, P.E.

Striving to live Aloha




finishing.com - Pine Beach, New Jersey
---
May 21, 2008
Q. Hi there

I had some carpet cleaner in a bottle and left it on the coffee table, when I removed it there was a white ring where the varnish has gone, if I use the iron technique that everyone is talking about would that get rid of it or make it worse and deepen the chemicals into the wood.?
Koren Taylor
TEACHER - New Zealand
---
July 16, 2008

My husband left a bottle of rubbing alcohol on the kitchen table and my son dumped it on the table, ruining the finish and leaving ugly white marks which were much worse than any water ring. I tried everything I could think of and nothing worked. I found two solutions on this site that worked. First I tried Baking Soda and non-gel toothpaste and had marginal success. Then I tried the Iron and it worked best where I had done the toothpaste mix and only marginally where I hadn't. So I went back and did the whole section with the toothpaste and baking soda again, washed it off with water and dried it immediately and when it was dry I used the iron. I finished off with regular furniture polish. Wow!

It's not an expensive table, but I certainly didn't want to replace it yet. Plus we are having company and a birthday party so I didn't want it to look awful. Thanks to everyone who posted and to this site.
Lynne Tighe-Boland
- Richmond, Virginia
---
September 5, 2008
I tried your iron on a tea towel to get out the white water mark on my dining room table, and, obviously used too high a heat (or too long). The varnish bubbled up. Now what do I do? Help!
Julia Woolley
consumer - Watsonville, California
---
October 24, 2008

The iron and linen towel method was as miraculous a cure for my old, old water mark as everyone has said. If it doesn't work for you at first, don't give up - just turn up your iron in small increments and keep on ironing and checking. In one last pass, the stain completely disappeared - it wasn't a gradual fading. I thank everyone who wrote and convinced me to try it!
Rebecca Brazeal
- Ft. Lauderdale, Florida
---
October 24, 2008

I just cried, you saved my job. I'm a caregiver for a man at night. He got a cramp in his foot really bad, so I made him a foot soak. The water wasn't hot enough so I got water from the instant hot faucet. I poured it in the basin and it leaked onto my foot. In pain and not thinking I put the measuring cup down on the end table. When I lift the cup to my horror a huge 5" white ring. Fearing losing my job, I went on Internet from my cell phone and found your web site. It worked; in less than 1 min my job was saved. The white ring was gone! I can't thank you enough, if his wife would have seen it she would have fired me!
[name & town deleted by editor]
Oklahoma


---
November 1, 2008

I went on line after we put a hot lasagna pan on the table - even with cloth underneath, we got the water stain mark. It is a brand new dining room table. I took the advise of many and used an iron and white t-shirt - like magic I can barely see the mark now. I am so happy, since I found the thing that worked best. The day before my husband tried tooth paste which obviously didn't work. thanks again
Lisa Tomasino
- Orange Park, Florida
---
November 3, 2008
Q. I had bought a table, dark wood antique, and it has two water marks (white, dusty looking marks). I used the iron on wool setting with a white t-shirt and they disappeared. I was thrilled as could be. BUT...I went back an hour later and there were two white, dusty looking full size iron marks to replace them. What now?
Rachael Compton
- Troy, New York
---
November 28, 2008

The iron/blow dryer trick works! In my case and I suspect many others who responded favorably, the "Finish" is actually polyurethane or a urethane based coating(plastic). These coatings are very common even the best of furniture these days. Antique furniture that has been refinished, many times has a urethane topcoat.
The cloudy "stain" is probably due to heat or chemical interaction with the plastic, softening it and then leaving a residue behind to dry. What's happening to the disappearing cloud in the iron trick is the heat from the iron is remelting the plastic. That's why it is important to go easy at first and let the lint-free (very important) cloth cool down before removing it. If it feels sticky as you pull the cloth back, stop and wait a few seconds for the coating to set/dry again. Medium heat, no pressure, and 5-10 seconds, cool down, lift, examine, try again if necessary. Feathering out the edges may be necessary, remember...your melting plastic...go easy! If the finish is wax, varnish, tung oil, or one of the myriad of other "natural" finishes, this trick may have varying degrees of success or none at all. It has always amazed me at the amount of time and money that my wife sinks into polishing the urethane plastic finishes on our expensive Ethan Allen furniture. Plastic can look shinier with a wax coating, but a damp cloth will do the same thing if the urethane hasn't faded in the sun.
Kevin Sharpe
- New Berlin, Illinois
---
January 13, 2009

Hot Iron and Lint free Material worked a Treat .

Wife may stop nagging me now !

Thank you.
Michael Woodall
- Penkridge, UK
---
January 16, 2009

This was great information to find and it solved my problem. I have a great honey oak finished dining table we used for lunching one day using chili mugs. When we finished I noticed a significant white "heat" stain about 3" in dia. wherever a mug had been placed. I used a flour sack towel folded over once and a medium hot iron on each stain for about 10 minutes. This worked perfectly without any damage. Thanks so much!
Mark R
[last name deleted for privacy by Editor]
- Elk River, Minnesota
---
January 20, 2009
Q. I have a pickled oak dining table. I had a black fabric table runner and put three candle holders on it. The black runner transferred the outline of the candle holders onto my table. Now I have three huge black rings on the middle of my table. Please help!"
Leslie Gleason
consumer - Coral Springs, Florida
---
January 26, 2009

I CANNOT BELIEVE THIS....my aunt had a cherry table and her grandson left watermarks on it. She was upset so I went online and googled the question as to how to get the stain out and just left her house with my iron and t-shirt in tow and alas no stain left whatsoever. Thank you all!
Cindy-Marie Smith
- East Lyme, Connecticut
---
July 11, 2009

Holy Wow!
My piano had a HUGE water stain from a plant that was leaking. I am not kidding, I have covered it for 3 years with books or anything to not show the hideous stain. I read about steam ironing it, tried it and it is all but disappeared! Took a good 15-20 minutes, but I just can't believe this worked so well. It is my husband's late Mother's piano, so you can imagine how awful I felt when we found the water mark. Thank you all soooo much for this tip!
Vikki Kelleher
- Valley Village, California
----
Ed. note: And thank you, Vikki, for the before & after pictures which now lead off this topic!
---
July 28, 2009

I've just bought a Georgian/Regency flame mahogany night stand at auction. I knew it had a couple of very obvious watermarks,and so it was obviously cheaper than if it was perfect. Had a quick look on the internet - on the off-chance of finding a remedy - and found this site. I was in two minds about sticking an iron on a 200-year old piece of furniture, but I gave it a go with a cotton shirt. Set the heat about halfway and left it on for increasingly long periods. And it works! Amazing! Don't be put off by the steam which you'll start to see when you lift the iron & cloth - just wipe it off. That's simply the moisture escaping from the wood. Marvelous!
Neil Murray
- Suffolk, UK
---
August 3, 2009

New babysitter tonight - apparently he didn't know *not* to put the hot pizza box directly on the kitchen table. HUGE white spot... I turned on the iron per these recommendations, held my breath and began ironing an old t-shirt over the stain. IT WORKED! The stain is completely gone! FYI: I started with a low setting (4) and slowly went up (6-ish)... Thanks so much!
Esse Kimball
- Austin, Texas
---
August 2009

I had a beautiful Dark Red/Burgundy Color Wood Desk with a soft shine.... I left for vacation for a couple weeks and while I was out someone had used my office/desk. They left me a beautiful Water Ring-(Quite Large) as a present when I got back.

I tried letting it soak in Mayonnaise for the night as instructed by several sites on the internet...This just softened the look of the ring, Also, I tried hot iron on white cloth...No change,

Then I found a site that said to try a non-gel toothpaste, to gently scrub into wood water stain in a circular motion. This did the trick. You can barely see the circle...Its virtually gone.
Catalina Thompson
- Caldwell, Idaho
---
August 13, 2009

I have been married for 42 years and looking at my mother in law's table stains for all of that time. The table is 66 years old and my wife has never seen the table without the stains. I tried the hot iron and cloth technique and it did eventually work. I had to be persistent and spend several hours on some of the stains, but it sure did work.
fj cas
- York, Pennsylvania
---
August 13, 2009

FANtastic - great trick. my dad used it & has been suitably impressed. worked on our wood table where plant had been overwatered & 'leaked' over several weeks without us realizing - GREAT TIP. THANKS
Steven Smith
- London, UK
---
November 8, 2009

WOW! I just tried using the t-shirt and Iron method and it completely removed the water rings on my wood table. Thank so much for the tip : )
C. Brown
- Seattle,Washington
---
December 8, 2009
The iron and cloth didn't work for me. Still have white heat/water rings on teak veneer table. I also noticed that after the treatment the grain in the stain seemed coarser and raised a bit. Now it looks like time to refinish.
Sam Reeves
- Albuquerque, New Mexico
---
December 18, 2009

WOW! All I have to say is THANK YOU, EVERYONE! My fiance brought home an armful of magnificent roses. It was only when their time was up that I realized the damage wrought to my wonderful old oak dresser. You all saved the day.. and my peace of mind! I can not be more thankful ...
Cat Paredi
- West Palm Beach, Florida,
---
December 29, 2009
A. After a festive Christmas celebration with a flaming Christmas pudding, I discovered a round white ring on my Bombay Co dining table. I tried many of the products recommended here: Restor-A-Finish, Mr Clean Magic Eraser, mayo, all to no avail.
I've had too many disasters with irons to try that, so I used the hair dryer. It was taking a long time to get any results (over 20 minutes) by holding it several inches away so I tried it right up close to the wood and it worked! The most effective was almost like using the hair dryer as an eraser - even touching the wood - and the ring which had been thick and very white disappeared! Miraculous. I rubbed it down with Restor-A-Finish [affil. link to info/product at Rockler] to minimize any damage I did, but am very grateful. Thank you!
Rebecca Chute
- West Linn, Oregon
---
January 17, 2010

There was several white stains on our dining room table from hot food in heavy paper plates being placed on the table. I thought my table was destroyed but after finding this site and using the iron with a tee shirt it is like new again. I just could not believe that all of the stains were completely gone. It was magic!
Thank you for the great advice.
Linda Burkett
- St. Charles, Missouri USA
---
January 26, 2010
Q. I can't tell from the responses if the iron method works on Dark water stains. Lots of success with white, cloudy and rings. Please let me know if it worked on dark water stains. ( I would greatly appreciate this information before my mother kills me or disowns me).
Pat Fabian
- Coon Rapids, Minnesota
---
February 6, 2010
Yes, I was wondering that too, about the dark stains I mean. We've got new beautiful cherry wood kitchen work tops which I lovingly oil however I seem to have acquired a horrible black water mark the size of a side plate and would love some advice about how to remove it.
Moyra Cumming
- Edinburgh, Midlothian, UK
---
February 21, 2010

You are superstars! Hot iron worked on a huge water stain on a pine table - thank you so much! Took less than a minute too, brilliant!
Dawn Marsh
- Bucks, England
---
February 23, 2010

I could not believe it - IT WORKS like magic. The white baseball size spot is gone.
Phyllis Wenzel
- Midland, Michigan, USA
---
February 28, 2010

I bought a cherry table about a year ago from a friend that was moving. After I got it home I noticed several white water rings. I tried everything (or thought I did)short of having it refinished. Tried the iron and white cotton cloth today and I am thrilled w/the results. This REALLY works. No more unsightly white rings. Thanks for all the posts.
Sharon Nixdorf
- Louisville Ohio
---
March 3, 2010
A. I tried all of the above and nothing worked so I got fine sandpaper and sanded out the white mark. THIS WORKED. I almost didn't even need the Old English scratch cover but I put it on anyway. Hey I even went over other flaws with the sandpaper and the furniture looks like new. This did not cause any damage whatsoever. It was quick and easy.!
Gail Herrell
- Royal Palm Beach Florida, USA
---
March 12, 2010

Wow Wow Wow the steam iron method really does work! My beautiful Ercol dining table had a hot place put on it and I was devastated to see the white mark left behind. Too afraid to use an iron I began using a hair dryer. This didn't do anything so I very slowly began to use a dry iron over a tee shirt. Nothing happened. I then plucked up the courage to use the steam. I couldn't believe my eyes. The mark disappeared. I am in a state of shock. I really didn't think this could possibly work. To anyone with a similar problem, I say go ahead and do it. IT WORKS.
Sandra Bolton
- London England
---
April 3, 2010

My room mate left 2 large white stains on oak urethane covered sofa arms, and also left a damp and hot plate on the love seat, leaving another white stain.....

Worried about having either needing to refinish both arms, or finding some other way to do this, till I found this.

Worked perfectly, used a "COTTON" tee shirt and the iron on medium. No more stains. Wish I'd remembered this, used it years ago, to raise the wood grain and lightly sand out a cup ring.

Thanks!

John
John Williams
- Gresham, Oregon
---
April 6, 2010
So I must have got nail polish remover on my nice finished desk. I woke up and there was a small white cloud mark. I knew I would be annoyed by this for the rest of my life so first I tried Some rubbing alcohol because at first I didn't think the alcohol in the Remover made the stain even though now I'm sure of. When that made the stain worse I panicked and tried basic soap and water which did nothing. I immediately looked it up on google and was told to try toothpaste and that did nothing either. I found this site and used the Iron and Fabric combo but if anything in my situation it made it worse! So I kept thinking and by now this small mark became a huge stain. I then went to my cabinet and pulled out some Olive Oil. I put a little on a cloth and sprinkled salt over the oil. I then rubbed the cloth on the desk and wiped off the remains and voila! It's 90% gone. It actually made the entire desk smoother. I don't know what gave me that impulse but it worked and I'm so happy with the results!
Kelly Abel
- New York, New York
---
April 10, 2010
Was nervous about the warm iron technique, so I tried the Magic Eraser suggestion: worked perfectly! Just don't rub too hard.
Sigrid Groves
- Baltimore, Maryland
---
---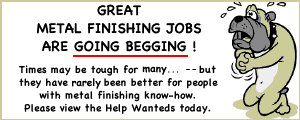 Junior Quality Engineer [Santa Clara, CA]
Plating Process Engineer [Wenatchee, WA]
Plating Supervisor [Chicago]
Plating Quality Inspector [Chicago]