topic 10275 page 3
How to remove water stains / white rings from wood tables & furniture
Heating a white towel with an iron proved remarkable for removing rings & white water stains, even very old ones, from furniture!


before & after photos courtesy of Vikki K., Valley Village, California
---
---
April 21, 2010

I never leave the house with any windows open.....last week I did and a small table near the window got wet with rain spots...I just got done ironing the table
with a soft white cloth and it looks so much better.....thank you so much....I will pass this tip along to my friends. Amazing how that worked....happy now! :)
Thanks again!
Darlene P
[last name deleted for privacy by Editor]
- Pittsburgh Pennsylvania
---
April 26, 2010

This doesn't work. Tried it on a piece of brown-black stained IKEA furniture that had a cold drink left on it overnight. Absolutely nothing happened. If your furniture doesn't have a clear or lacquer top coat don't bother trying this.
owen hill
- Toronto, Ontario
---
April 2010
Hi, Owen. None of my IKEA furniture is real wood. It's all just particle board with a thermofoil skin (very thin wood-toned laminated plastic) on it.
If yours is like mine, sorry, this wood furniture tip would not work. But as you can see on this thread, the tip has worked on hundreds of pieces of wood furniture.
Regards,
Ted Mooney, P.E.
finishing.com
Pine Beach, New Jersey
---
May 3, 2010
Q. HELP... water left overnight on my end table!

I guess my son spilled water on my end table last night before going to bed. I woke up this morning to a pool of water and when I wiped it away...I found the wood to be bucking or bubbling...like...

What can I do?

Thank you in advance...
Diane Skurat
- Tinton, Falls, New Jersey
---
July 5, 2010

Thanks to everyone who posted tips. When my husband put a pizza box directly on our brand new Eames table, I woke up to a large, white stain. I was horrified. I called the manufacturer and they recommended the vaseline method. Didn't work. I went on this site and saw everyone posting about using a hot iron on a white t-shirt. I was nervous to try it, but it worked wonders! It only took 15 minutes to have my table looking good as new. I followed with some citrus oil and it looks perfect again. Thank you posters!
Lauren Bruce
- Milwaukee, Wisconsin
---
July 20, 2010
A. Works a treat but I used clean white kitchen paper towel instead, 2 layers and use a fresh piece each attempt.

If the furniture has small chips and marks wipe with a cloth moistened with a similar color wood dye and polish.

Larger chips can be filled with children's wax crayon, available in so many colors you are certain of the right one.

quite badly scratched wood furniture can be restored by polishing with similar color boot polish, i.e., light tan for pine or beech, ox blood for cherry and mahogany and dark tan for brown furniture.
John Whalley
- Wigan, Lancashire, England
---
August 13, 2010

We had a 4" circular water stain on on a lacquer finished maple wood table which was caused by a wet cloth. The stain was not deep but had caused a circular area of whiteness on the surface. With the use of an iron set for rayon/polyester temperature and a kitchen cotton dish towel we gently applied a small amount of heat to the affected area. We monitored it frequently and found that the stain was very quickly removed. When the cloth was lifted in the monitoring process there appeared to be a misty film the beneath the cloth; which we did not understand. The result was that the stain was completely removed and it was impossible to see where it had been. Rationally we were not able to understand the process that had taken place, but it was clearly very successful.
Ron Williams
- Ottawa, Ontario, Canada
---
September 2, 2010

WOW IS RIGHT! Thank you so much for this advice. I was afraid to try it at first so I tried it on a hidden spot to make sure it would not damage. After that I went ahead and did it. I am so pleased with the results. It's gone.
Thanks Again !
Judy Ward
- Herkimer, New York
---
September 12, 2010

I am so excited. I had earlier in the day tried the vinegar and oil. It did not work. To my amazement,I tried the iron and cloth, It worked. Not only did it work on the white patches on my table, my daughter had spilled oil from an fragrant oil diffuser it made marks on the table. It is great. WOW, IT LOOKS PERFECT:) THANKS. I oiled my table after to get the glow back. Love it....
Michelle Rippy
Homemaker - Bakersfield, California USA
---
October 25, 2010

I discovered a very large, cloudy stain on my great-grandmother's dining room table when I removed my tablecloth - it made me sick! I viewed this site - looking for a way to remove it and decided to try the t-shirt and iron procedure that many readers had responded to with good results. I was so nervous - but it removed the entire stain on the first attempt! - Keep the iron at a lower temp until you feel comfortable to increase the heat and buff with the t-shirt immediately afterwards. Thank you so much !
Julie W
[last name deleted for privacy by Editor]
- Augusta Georgia USA
---
November 7, 2010

I got a water stain on the piano my husband inherited from his grandmother. Yeah, yikes!
I tried the ironing trick with the t-shirt and it worked! The stain didn't come out completely, but it looks worlds better. All I know is that it's going to take a long time for my husband to notice it.
Thank you!
Diana Leland
- Arlington, Texas, USA
---
November 8, 2010
Q. Hey guys!

So I may be in some strife! I've borrowed a tall boy off a friend... and had (I think it was) perfume or it could have been an essence sitting on the top of it. Anyway, it's come to me giving it back now... and I fear I have ruined her tall boy, to which she will be sooo angry! Any ideas what I can do? it's a white ring, but its not a dent, it looks like the paint has just lifted off..., with like this sticky stuff on it, so I scratched some of that off cos it looked horrible, and you guessed it, underneath the sticky stuff is even whiter ring.. what to do!? HELP
Cassie Smith
student, exercise physiologist - melbourne
---
November 29, 2010

I'm so very pleased. Yesterday, I set a lot dish on my dining room table, and to my great dismay found it left a white ring. I looked on line for help, and found this site with all the positive responses, and decided to try the hair dryer and napkin first. It worked wonderfully, thanks for this site, such a blessing!
Ann Duval
- Wilmington, Delaware
---
November 30, 2010
Q. When re-arranging furniture, I temporarily sat a burgundy candle on my (very) antique, French Provential bedside table, was called away & forgot to move it for several days. Now I have a burgundy stain that has soaked into the wood! I'm just sick about it! Will the iron trick work on this?
Dee Diehl
- Norfolk, Nebraska, USA
---
November 30, 2010
Hi, Dee

My suspicion is that an absorbent towel or t-shirt well heated by the iron would do a lot towards pulling a wax based stain out of the table. But if I had a very antique table I might call an expert instead of going by trial and error.
Regards,
Ted Mooney, P.E.
finishing.com
Pine Beach, New Jersey
---
December 8, 2010

I had lined my wood kitchen table with several layers of wax paper and then put hot cookies on to cool. I didn't feel like I left them on the table very long, as I was actually concerned about getting the white marks.........but I guess it was still too long because I had about 20 little white circles where the cookies were. I used the hot iron on a cotton cloth and at first got discouraged, but I kept at it and after about 4-5 minutes in each area..........the spots are GONE! My table is only a couple of years old so I was really upset thinking I had ruined it. Thanks for the tip!
Julie Provost
- Minneapolis, Minnesota USA
---
December 21, 2010
Q. I live in a zoo! :) A bottle of rubbing alcohol dripped onto our dining room table. Now there's an ugly white ring. Is there a way to remove it? I welcome ring removal suggestions. Thanks!
Lita Flood
Home Worker Superstar (wannabe) - Chicago, Illinois, USA
---
January 12, 2011

While cleaning my hardwood dining room table and chairs, I had my small bucket of water sitting on the table. When I removed it...there was a huge white water ring on the table. Immediately, I Googled the problem and the iron technique was the first in the list. I tried it and was thrilled that it worked completely. No sign of a water ring now. Just an FYI, this technique also works with candle wax. My grandmother taught me years ago to use a thick towel and an iron to pick up any wax that may hit your carpet or furniture and dry.
Margie Skidmore
- Weirton, West Virginia
---
January 28, 2011

I was VERY skeptical when trying the iron and lint-free cloth method, as I had made the stain while ironing the table-cloth while it was on the table! (Will not attempt that again!) However, the white stain was very large and ugly, so things couldn't be worse so....... To my delight and amazement, the stain has now completely disappeared. It took some time, but it was large and VERY WHITE! Thanks a million for the tip!
Barbara Blunkell
- Kent. United Kingdom
---
February 2, 2011

BRILLIANT!!! So glad I came across this site.
My teenage Grandson and his friends had put their drinks down on a polished mahogany cabinet, and left unsightly white ring marks.
The cabinet houses a television, and I was going to give them both away as I no longer need them, but when I discovered the cabinet was marked I decided just to bin them . I tried the Iron and cloth this evening( I used men's handkerchiefs) and hey presto, the marks are gone.
Now I can give them to someone who can make use of them rather than just bin them.
Thank you.
mary marriott
- Leeds, England, United Kingdom
---
March 20, 2011

My boyfriend had inherited a beautiful antique, Cherrywood "occasional" table. I sat it near a window with a potted plant on it. Of course, I watered the plant, only to discover I had apparently over watered and had a saucer size horrendously white water ring on it. So for the better part of a year, I kept a DRIED flower arrangement over the spot.
Today I googled fixing water rings, found this site, and used the ironing method. Someone else had suggested using a dark T-shirt to avoid white lint residue. YAY! It worked perfect! Ironed 10 minutes, on medium high, always moving the iron and checking frequently. The mark is 99% gone. Gave the table a good shine with lemon oil and its barely noticeable.
Thank goodness for people that share their knowledge on the internet!
Mini Offield
- Independence, Missouri, USA
---
April 6, 2011

We have a pricey wood kitchen table/counter with beautiful mahogany wood veneers, but a suspect varnish. Several weeks ago I placed a hot pie on a folded cotton towel, resting on the tabletop. OOOPS. When I removed the towel there was this 3 in diameter cloudy spot. Nothing appeared to help UNTIL I used the IRON at medium heat. In just a few minutes the spot vanished! I wish I had taken pictures. I can't wait for my hubby to sit down at the table and notice it's fixed. He will be amazed and happy we don't need to get the table refinished.

Thanks for the suggestion- PS The spot resembled a whitish cloudy area; not rings.
g. trail
- Oxon Hill, Maryland, USA
---
April 19, 2011

Unbelievable. It really works! I got a free desk off of Craig's list yesterday. It is really beautiful, an old fashioned office desk. Only thing it, it had tons of water stains on it. I found this site and tried the ole iron and t-shirt technique and wouldn't you know it??

I wish I took pictures of it before I started, but the ones I took after the first round of ironing then after a third round are amazing.
Radha Kindler
- SF, California
---
May 24, 2011

Just the answer I was looking for! Using the iron (low setting over a thin cloth) on my dining room table took out a large water mark in only a couple of minutes. After polishing, there is no trace of the spot! Thank you so much!
Dawn Jensen
- Valle Crucis, North Carolina, USA
---
June 14, 2011

Fantastic - have lived with a water mark on the table for years before finding this website. 5 seconds with a hot iron and white t-shirt and it's gone completely. Thank you so much. Now for getting nail varnish and sudocrem out of the carpet courtesy of my 2 year old!
Trudi Whittington
- Canterbury, Kent, England
---
June 18, 2011
Q. I left a water glass with condensation on a wood desk, I tried this solution but now the ring is gone but now its kinda blotchy (definitely lighter colored where I did it) and it looks and feels like the finish has come off a little. Any clues as to how to fix that?
Margaret Dreyer
- California, USA
---
June 24, 2011

OMG! I have a relatively new black wooden table. Had some kids over and they ate mac n cheese off of white paper plates that were sitting directly on the table top. When the plates were lifted I had 4 very visible heavy white rings left on my new black table. Needless to say, I was not happy. I tried a furniture scratch cover polish but the stains would not budge. Well, I googled the problem and found a bunch of home remedies. Yours seemed the simplest, so I tried it first. Very happy to say it worked like a dream and the stains are completely gone!!!

FYI - I used a thick white towel and a very hot iron. It did take about a 1/2 hour or so in total for them to be completely removed. All it took was your remedy and a little patience. Thank you!
Ileen F
- Littleton, Colorado
---
June 26, 2011

My granddaughter spilled water on a tablecloth while filling water glasses and then sat her hot plate of food on the spot. When I removed the tablecloth after dinner the outline and plus of her plate was on the table. I thought it would be there forever and decided to look at it as a memory....but it was large and I had just bought the table. It is a solid wooden table and far out of my budget at full price but this had been in a model home display and had maybe five other marks of water I'd guess..so using a linen napkin and my iron, I tried the ironing suggestion...being very skeptical I might add..thinking I would probably end up with the iron outline on it to go along with everything else!! Well, it worked!!! Last night's stain is gone so are all the other stains from quite awhile ago!! I could not believe it..I suppose the whitish stain is moisture trapped under the finish on the wood and the iron draws it out with it's heat. That's just a layperson's reasoning!! Anyway, I highly recommend the napkin and iron trick!!
Bernita Stairs
- Fredericton NB Canada
---
July 5, 2011

I cannot thank you enough. My dearest husband put his pizza box on the coffee table and when he picked it up a great big white cloudy mark on the table:( I found this website and tried the iron with a piece of muslin. IT WORKS !! :) It even got the can ring mark off that has been there forever. THANK YOU THANK YOU :)
Olivia
[last name deleted for privacy by Editor]
- Watford, UK
---
July 11, 2011

I can recommend this method of water stain removal.
My parents' 40 year old teak veneer table had several old water marks from vases & goodness knows what. (Have a cup of tea while doing this - just don't spill it!) I used an old cotton cloth & medium - hot iron & after 10 minutes the marks were gone. I polished the entire table with a spray on bees wax/lemon oil furniture polish & it looks like new, along with the matching side cabinets & coffee table. Fabulous. Cheers from Down Under.
Meredith Schulz
- Maitland, South Australia
---
July 25, 2011

I used a warm/hot dry iron and a white t-shirt. I could hardly believe my eyes as a 5 x 5" water stain disappeared from my dining room table!!! Its like a miracle! I really thought I had ruined our beautiful oak table. Thanks sooo much for the amazing tip!
Donna williams
- New Tripoli Pennsylvania
---
July 26, 2011

Hair dryer and cotton t-shirt. Oh what a relief!

Staying at the "mother-in-law" house. She is out of town and not sure if I left a hot coffee cup or if it was leakage from a coaster but noticed a round circle of slightly different color (lighter) on the coffee table. To be honest I'm not even sure if I did it! lol - but better safe than sorry.

They are hard core here about using the coasters. Even though the wood is really beat up and old (insert bad joke here about how that may be a bit like the owners of the house) ahem.

Anyway, was lounging on the couch, noticed the round mark glaring at me and hopped on a search here. Found you all first.

Got out the blowdryer and actually tested a very white mark on another table which has been there for all eternity. That one magically began fading and I knew I had a chance!

Round mark is gone (which I may or may not have created, and I will neither confirm nor deny any accusations) - even though I had tried cleaning it first with some Murphys oil soap. I was afraid the preliminary cleaning job might have dulled my chances but all is well with the world.

What is up with all these pizza box tragedies?

And you ladies asking about nail polish remover - come on! That is like paint remover - it takes off nail polish!

Suddenly I began to notice all kinds of marks I could attempt to fix - but this might bring about some questions upon the return of the lady of the house so we'll just keep that idea in the "don't think I should do that" bin.

A big thanks to you, Conair, and Hanes for letting me sleep well tonight.
Jill
[last name deleted for privacy by Editor]
- Connecticut, USA
---
July 26, 2011
Hi, Jill.
Although this thread is getting long, I'm enjoying reading the stories, and believe others are too, so keep it up! We deleted your last name and town for plausible deniability if mom-in-law stumbles across the thread :-)
Regards,
Ted Mooney, P.E.
finishing.com
Pine Beach, New Jersey
---
July 29, 2011

This was amazing! Other sites said to use toothpaste which did nothing. The iron worked and I'm so happy!
A Pierce
- Portland, Oregon, USA
---
August 1, 2011

Wow. You saved me. I'm staying with my step father who would have a cow if he came home from work to see the ring on his beautiful wood table. Your trick worked like a charm!
Danielle Steele
- Miami, Florida, USA
---
August 10, 2011

This really works!...1920'-1930's Cherry Wood drop-leaf table, purchased at auction with heavy water stains for 10 dollars completely restored with this method, no ghosts/shadows on table of any sort...I highly recommend this method...the heavier water stains, just needed a little more elbow grease, but worth it...had I thought of a before and after pic, it would be posted...
Mike Bounds
- Newark, Ohio USA
---
August 20, 2011
I just tried this iron/shirt method immediately after reading the posts. Yes indeed, it worked for me. I had a coffee table that was special to me. It got stained with water last week after my cat spilled a glass. The water had seeped under some papers and magazine and stayed wet overnight. Thanks for the idea. The part I couldn't get off was the ink from the printed pages of the wet magazine. Scrubbing with the shirt helped but I didn't get it all.
Mrs. G. Bair
- Columbus Ohio USA
---
September 25, 2011

I soo didn't think this wood work I messed my table up ironing on it with a wet towel two years ago and this fixed it. I don't know who put this on here but thank you soooooo much -- my table looks nice again!!
amber z
- grand prairie Texas
---
October 9, 2011

Just tried a new floor steamer on my hardwood floors this morning and it left a white spot on the floor when I left it standing for a few minutes. I tried the iron method of removing the white mark and it worked like a charm! I love the steamer but now know not to leave it standing on the hardwood floor!
Theresa Runager
- Niceville, Florida
---
October 10, 2011
My name is Gloria, from Mississippi.

I read the comments about water stains on furniture etc. but I did not get complete instructions on how to do this on hardwood floor, my floor are Bruce hardwood, not the very expensive kind. The floors are 6 years old. I need to know what is the first thing that you do, how long to keep the iron on the area, etc.

Thank you for being there for the public.

Gloria Durham
Gloria Durham
traveling, gardening, family - Ridgeland, Mississippi, USA
---
October 24, 2011

This mostly worked for me, but I stopped after a 15-second press with the iron raised a blister on the finish. (Several before this had been OK, so I don't know what happened on this one.) No steam on. The setting was fairly high, but well below max. Oh well. It was an old stain.
Bruce Higgins
- Flagstaff, Arizona, USA
---
October 28, 2011
Q. Is this treatment for watermarks only recommended for stained furniture? I have a watermark on a dining table with a black finish (factory paint, I guess). Would the iron trick work on this type of wood finish? Thank you.
Martha Kuyek
- Abbotsford, BC Canada
---
November 13, 2011
I had white stains across the front of a bathroom vanity cabinet (caused by a massive overflow of hot water from the sink). The surface was too uneven to iron, but the hair drier idea sounded possible.

I used a heat gun (sold as a "paint stripper") and it worked great. Fast and easy. As the finish got hot, the white disappeared. It does pay to be careful; if the heat gun is too close the finish will burn off. I had one small bubble from getting too close.
Chuck Stull
- Kalamazoo, Michigan
---
November 13, 2011

WOW! I am amazed at the iron method! I had tried mayo, olive oil...even toothpaste with no luck! I had a two month old milky white ring....three seconds of a medium iron and a clean white cloth and it was GONE!
Natalie Cornejo
- Las Vegas, Nevada
---
November 15, 2011

I couldn't believe that this could really work. I've agonized for days how to remove a mark on my mum's dining room table that she gave us until we bought our own. The table is as old as me and is in great condition. I was horrified when my sister said she would take the suite when our new one is delivered as that meant owning up to the fact I'd ruined said suite all because of a hot coffee cup left lying on it! Frantically Googled for a solution. The mark disappeared like magic!
Anne H
[last name deleted for privacy by Editor]
- Kilmarnock, Scotland
---
November 26, 2011

My wife has been sour about a water ring that was made on our barn board dining room table about 5 months. Top add to it, we got the white cloud on the table this thanksgiving from a hot mashed potato plate. We honestly thought we would be scrapping the table when I found this line of posts. Anyway.....yesterday, I pulled out the iron, put it on medium, and basically ironed a white linen napkin over the water ring and white cloud heat damage. The water ring was literally gone in seconds!! The white cloud from them heat damage took a bit longer, but after after a few minutes of ironing in a circular pattern, it too was gone!!

Couldn't believe it!! Looks brand new and the wife is happy too!!
Walt Baker
- Kenilworth, Illinois
---
November 27, 2011

I came across this after looking for a way to remove a very very white 20 yr old solid stain about 12 inches in diameter. Using the iron on silk setting and wrapping a t-shirt around the iron and making steady circular motions you can watch the stain disappear. Took about a half hour so be patient. Worked great Thanks
John Korlin
- Phoenix, Arizona, US
---
November 27, 2011

I was very skeptical - I had horrible white spots possibly from acetone/nail polish remover? or something else.

IT WORKED -- I took my time and used a medium-high setting on the iron and two thin lint free cloths and touched up each spot over and over and was amazed. You can still see the spots if the lighting is right and you look at it from the side but the EYE SORE IS GONE~

SO HAPPY as this was an antique dresser!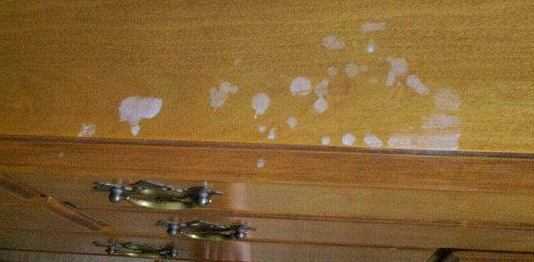 Angella Willprecht
- Greensboro, North Carolina, USA
---
November 29, 2011

Thank you so much for posting this, I have tried many ways of trying to get the white stains out of my table.. and today "Hey Presto" they have gone!! - My dining room table looks like new! - Who would have thought an Iron and a napkin could make me so happy??!
Sam Pengilly
- Singapore
---
December 12, 2011

Heather is a genius.
Heather - if you are ever in New Jersey please stop by and get a huge hug!
Mark Kenny
- Mahwah, New Jersey, USA
---
December 13, 2011

I found this site and tried the iron on my water/heat stains on my cherry dining room table. It did not seem to work. I am wondering if I am doing the procedure correctly (or what the exact procedure is). Am I supposed to use steam or not, set the iron on the cloth and stain or actually iron the stain, and do I rub the stain at all or not. Any help would be appreciated!

Brandy Wilson
- Greenville, South Carolina, USA
---
Hi Brandy. If you shake a bottle of oil and water or oil and vinegar, you see how the oil and water emulsify and get cloudy and opaque. My theory is that moisture gets into the waxes and oils of the finish and creates a whitish, opaque emulsion ... and that heating it enough to drive off the water is what restores the clarity.
This tells me to not use steam, only a dry iron; and to keep the temperature low and the time long, rather than getting too hot and possibly burning the finish. So I'd say try low heat, ironing, and patience -- and raise the temperature only if you are seeing no improvement at all after a few minutes. Good luck.
Regards,
Ted Mooney, P.E. RET
finishing.com
Pine Beach, New Jersey
Striving to live "Aloha"
---
December 27, 2011

It works! Rubbed with lemon juice (which lightened stain) then hot iron with cloth. No mark at all. Cuk Tasakuler (Turkish for thank you)
David Jackson
David Jackson
- Fethiye, Mugla, Turkey
---
January 11, 2012

My boyfriend placed his hot tea on our gorgeous redwood side table and it left a large white ring stain. He was so upset but I knew google would come through! I used our blow-dryer over the area, while wiping, for approximately 10 mins, and it almost looks brand new again. Thank you everyone!!
Jess Foster
- Toronto, Ontario, Canada
---
February 11, 2012

I have used the hot iron method with great success. I am very happy with the results. However it comes back after a week, only in small amounts. Is there something I can put on it after I apply the dry hot iron on cloth? Do I just have to keep on applying the iron?
Bernard Piercey
- Chapel Arm, NL, Canada
,
---
February 13, 2012

All I can say is...WOW!!!
We have tried many ways in an attempt to remove 3 nasty water rings from a huge 2 ft x 3 ft wooden tray. Your hint worked like magic. THANK YOU!! THANK YOU! THANK YOU!
I followed everyone's advice by moving a medium heated iron over a lint free t-shirt. It was easy and took me all of 5 minutes to remove all horrible stains that have annoyed me for 3 years. EXCELLENT!!
Margo Elliot
- Surrey, BC, Canada
---
February 14, 2012

The thing about getting rid of white water marks with an iron and cotton rag is just about the best thing I have ever done, thank you so much for posting, you helped me restore my oak fire surround.
John Green
- Birmingham West Midlands, England
---
February 21, 2012

Hello. This tip really works!!! At first I thought it was crap but after I actually tried it I was like WOW!!! Thanks again. The stain is gone that was on my radiator covers after my husband rested a cold glass of water on my wooden covers...go figure.
Khaliah C.
- Phila, Pennsylvania
---
February 29, 2012

Absolutely amazing!!! My ruined dining table is just like new. Used the iron and an old worn pillowcase. Oh so happy!
K. Foley
- Boulder, Colorado
---
March 22, 2012

This is fantastic and a "life saver"! Just put a bucket down a minute to wipe a window blind - and I put it down on an end table. The end table was my husband's Grandparents antique! Ugh! I was heartbroken! But this steam and towel trick worked! I was hesitant to try - but thought I already ruined it anyway! The water ring is every so slight - some liquid gold to follow up and it is noticeable to me or someone looking for it! Not thinking it is a good idea to do some more because finish starting to come off a little - But WORKS GREAT EVEN ON THIS ANTIQUE!! THANK YOU SOOOO MUCH~!
C Perrino
- Willowbrook, Illinois, USA
---
March 26, 2012

My son put his leg up on my coffee table which has a high gloss finish to the wood. This made a white mark as it is Summer and he was obviously a bit hot. I tried the hot t-shirt method which unfortunately did nothing for it! I was in an absolute PANIC and then I remembered how people always compliment me on how nice and clean and shiny my motor car always looks ... so I tried the car shampoo which has wax in it and VOILA! After applying this twice a week and giving it a good polishing my table is now as GOOD AS NEW! I am SURE that everyone with antiques will appreciate this -- otherwise it costs a fortune to have the furniture refinished!
Fiona Dorse
- South Africa
---
March 27, 2012
In our house in Hawaii, someone watered an orchid on our large teak coffee table and walked away. The container overflowed, and much later several large water stains were discovered. I tried the recommendation here of ironing the table with a cloth. It helped after hours of ironing, but the stains were so large, I got impatient. Scott's Liquid Gold [linked by editor to product info at Amazon] came to mind. Tried it in a small spot and EUREKA!! The stains are completely gone and the table looks better than when new! It probably wouldn't work on a varnished table or on a raw teak, but I think my table had perhaps an oiled or other finish. Good luck.
Marilyn Dougery
- San Francisco, California USA
---
March 30, 2012

The iron and cloth method absolutely does work! I don't ever write testimonials, but this was amazing. The marks had been there for a while and I tried everything to get rid of them. I did follow up with a little lemon oil on my table.
Robin Harvey
- Aldie, Virginia
---
April 9, 2012

Well, after googling how to remove water stains from coffee table, I stumbled upon this and just reading about 10 responses had me convinced. I had up to 4 water stains on my coffee table and I tried the iron on a t-shirt method and sure enough, within 5 mins, it disappeared right before my eyes.

Hint: apply iron on medium high for the first 30 seconds, check, then 15 second intervals and check each time. In one of the intervals, it will be like a magic trick. Presto! it's gone!! Buff clean with lemon pledge afterwards.
tony c
[last name deleted for privacy by Editor]
- vancouver, canada
----
Ed. note: What?! You only read 10 entries, Tony, not all 197,324?
---
April 13, 2012

Hi I have been wondering for a long time how to remove water stains from my dining table, very old stains ... tried a few things but this morning I found your site and tried the iron over a cotton t-shirt...I have no words to describe it its amazing! multiple stains all sizes...all gone, most of them 100%. I THANK YOU so much for posting this!
Ana Arredondo
- Cambridge, Ontario Canada
---
April 14, 2012

Just used used the steam iron and white cloth to remove a white water marks from our handmade Indonesian dining table.
Wow...like magic. Was a bit skeptical of my wife's remedy she looked up. Beat the mayonnaise one I found.
All marks gone even ones from months ago I was kind of resigned to.
Shame I couldn't get the marks out of our white leather sofa like this!
Andrew Buttle
- Auckland, New Zealand
---
June 18, 2012

I tried the iron and T-shirt trick on my 1920s mahogany dining table which had acquired a 6 inch diameter white mark. (A guest had laid down the steaming hot lid of a vegetable dish - straight onto the wood!) The mark was 3 years old and I thought it would never come out without a complete resurfacing. After about 25 minutes (I very cautiously and gradually increased the heat from cool to warm to medium) all that's left is a faint dark ring round the edge. It can only be seen from certain angles, and only when you know what to look for. My husband couldn't believe his eyes!
Thank you very much to the original poster, and also to everyone else who provided details of the different ways they had used the tip. I would never have tried had it not been for all the encouraging posts. Thanks again everyone!
Anne Murphy
- Strathaven, Scotland, UK
---
July 1, 2012

I had a large water spot on my dinning table that was 3+ days set. Low heat iron method works! I tried salt, mayo, olive oil and nothing touched it. Thanks so much, this saved my table. We were looking at either refinishing or buying a new table. So glad to know about this method as I'm sure I will be using it again in the future.
MEG STOCH
- TEXAS
---
July 13, 2012

Unfortunately, this tip did not work for the spot on my desk. When I read it had worked on someone's Bombay table I was delighted - got out the iron and a white linen napkin and went to work on the spot. Guess I shall just have to live with it.
Leon Lord
- New York, New York
---
July 14, 2012

Got a beautiful reclaimed table that someone spilt hot gravy on! Tried the remedy with hot iron and tea towel and it WORKS beautifully.
Thank you so much.
shal howard
- Surrey England UK
---
July 16, 2012

I don't know what I am doing wrong, but it did NOT work for me. I have a wooden top on an antique desk made into a cupboard for the bathroom - sink and taps installed. Water marks from the toothbrush and toothpaste holders did not come off with sanding, so I tried this method - no luck whatsoever.
Linda White
- Neustadt, Ontario, Canada
---
July 16, 2012

BE CAREFUL!!! This warm iron trick DID NOT WORK for me! It actually ruined the finish and raised the finish so it's now rough to the touch. Now I'm looking at refinishing the whole dining table.
John World
- Orange, California
---
July 26, 2012

I tried the warm iron with steam setting off and used a cloth napkin... I am amazed with the results... Thank you so much for this post :)
Susan Bovio
- Conway, New Hampshire
---
August 26, 2012
Q. I spilled a bottle of water on my bedside table. It sat all night. The iron method got most of the white out, but there are still "holes" where the water sat under a book. Can I stain, or do I have to sand first?? Help!!!
Shannon donald
- Little Rock, Arkansas, United States
---
September 1, 2012

Oh my, thank you soooo much. I tried mayo and everything else for weeks. Had given up when I saw this post. It worked on my lovely cherry dining room table. Thanks for posting!
Daria Blackwell
- Mahwah, New Jersey
---
December 10, 2012

Worked great for me! I had a cloudy spot due to a hot pizza box...no other tips/tricks worked for me (mayo, ashes etc) and there was no way I was going to use a Magic Clean Eraser on my table! The iron trick worked great! THANK YOU!
Natalia Baricelli
- Boston, Massachusetts, USA
---
January 6, 2013
Q. I have successfully used the medium iron and cloth to remove the white stain but the ring can still be seen from certain angles and in certain lights. What is the best way to get the polish back as per the rest of the table please. Can anyone help or suggest a really good way of repolishing.
Bernard Kane
- Stamford, Licolnshire, England
---
February 17, 2013

I was horrified after using a coffee percolator on my very nice sideboard, to find that it left a white watermark. I had no idea how to be rid of it, a week later I decided to look on the net to find an answer to this, so I tried the mayonnaise trick, I left it all night and the water mark was still there in the morning so it is safe to say that idea did not work. I looked on the net again for another solution and I saw the iron idea, so I gave it a go thinking that would not work either . . . within 5 minutes using an iron and a t-shirt I was amazed that it worked. I tried the same trick on a stain on my coffee table that had been there for nearly a year and in a matter of minutes that stain was also gone. Definitely a thumbs up to that: you only need your iron on a number 2 mark, to all you people out there who do not know.
chris hill
- hampshire, U.K.
---
May 26, 2013

Thank you so much!

A bowl with the bottom ring apparently still wet was left overnight on my new, solid oak dining table. The next day a 3" diameter filled ring was clearly impressed into the varnish. It was dreadful!

Like magic, your iron and cotton rag method removed the entire ring in a matter of seconds.

Thanks again.
Steve Paul
- Montreal, Quebec, Canada
---
June 6, 2013
Q. Would anyone know how to remove Bostik glue from an expensive cherry wood dining table? I was gluing a creativity picture with my daughter and stupidly didn't put anything down on the table beforehand. I am now left with about eight marks in the shape of a heart which have stripped the wood and varnish off the table. Think the whole table will have to be stripped down and retreated. Would anyone have any ideas at all - very much appreciated. Many thanks.
Rachel Brennan
- Dublin Ireland
---
January 9, 2014

Just tried the hot iron and white t-shirt trick on a couple of white ring marks made by vases of flowers being but on the piano, it worked a treat, thank you so much you have saved my piano and it now looks as good as new.
Helen Clements
- London, UK
---
February 2, 2014
Q. I read all these remove stain with iron and everyone stated how wonderful it worked, I'm still trying and doesn't work for me. Just a warm iron and cloth? No steam or anything? HELP, my mark is still there.
Lynda Bernard
- grayslake, Illinois
---
April 2014
A. Hi Lynda. I believe that what actually happens with most of these white stains is that the varnish/shellac/stain/wax or whatever on the finish (which is oil-based) absorbs too much water (often hot water), from something left on them ... resulting in this white or milky emulsion of oil & water. Heating the surface drives off the water while (hopefully) not burning the oil in the finish. Whether you use a dry cloth and an iron, or a hair dryer, the principal is to try to drive out that tiny quantity of water without harming the finish.
You can try a little hotter a little longer but, beyond that, sorry, perhaps it just won't work on your particular stain and finish.
Regards,
Ted Mooney, P.E.
finishing.com
Pine Beach, New Jersey
---
March 31, 2014
Q. I accidentally left a "shark steamer" on my antique mahogany secretary desk. Though it was not plugged in, it must have been warm enough to cause a "white" mark where it rested on the wood. Now I have an awful mark on my heirloom piece of furniture. If anyone has suggestions how I might try to get this mark removed safely, please respond.
Cheryl Luther
- Granger, Indiana
---
April 2014
A. Hi Cheryl. Please see my reply to Lynda immediately above. There are no guarantees of stain removal or that you won't burn your furniture, but so many people have reported amazing success that it's probably worth trying. Good luck.
Regards,
Ted Mooney, P.E.
finishing.com
Pine Beach, New Jersey
---
June 16, 2014

Tried the iron tonight, after reading this thread, on an old cedar chest with a varnished top. PERFECT! Thanks so much. (Mayo did not work as all my old cookbooks/homemaker tips books rather stated. The iron did) Still amazed. 6-16-2014
Dave Burken
- Atlanta, Georgia USA
---
June 25, 2014
Q. I have a water mark on my coffee table so I decided to try the hot iron on cloth ... however, as I did it I realised that my iron was still on the steam setting. Although it was on low steam it let out a large amount of steam (water) onto the wood ... guess what ... I now have an even bigger area of wood that looks damaged. I have used the furniture wax (rubbed in, polish off) to see if I can get rid of the light coloured stain and although it looks good (from the ceiling) as you walk into the room you can clearly see a large area of wood that looks different. What can I do, this isn't my table!
nik stearma
- West Midlands united kingdom
---
June 2014
A. Hi Nik. My own theory on why people get white stains, and why the hot iron removes them, is that the wax/lacquer/clear coat absorbs water that sits on it and forms a relatively stable suspension that is discolored because of the water content in the mix. While room temperature is enough to evaporate standing water, it's not enough to drive water out of the suspension. When you heat it enough to drive off the water it tends to return to the original clear color. So it doesn't surprise me at all that injecting steam into the lacquer increased the discoloration.
Although nobody guarantees success with this approach, I think there is still a chance of removing some of the white stain with dry heat.
Regards,
Ted Mooney, P.E.
finishing.com
Pine Beach, New Jersey
---
July 29, 2014

I rented out my house complete with furniture and was horrified at the marks on my beautiful mahogany table when the tenants moved out.

I read about this heat solution and couldn't wait to get started. Although I have still a lot of marks to work on, the first that I tried has completely gone with a hairdryer and white cloth.

Thank you so much whoever shared this with us all.
Joan Irvine
- Ballycastle, Northern Ireland
---
August 23, 2014
A hot iron with a white towel DOES NOT WORK. It makes the wood whiter around it. DO NOT DO THIS.

Helen Varga
- Houston, Texas, USA
---
September 2014
Hi Helen. Are you positive that the iron was not steaming and that the white towel was dead dry? The principle is to heat the lacquer just enough to drive out the water that has been absorbed into the lacquer. If the heat is not dry you won't drive the water out.
Regards,
Ted Mooney, P.E.
finishing.com
Pine Beach, New Jersey
---
September 23, 2014

While looking on line for ways to remove heat spots from my wooden kitchen table, God willing I came across this site and immediately tried the white t-shirt and hot iron trick ... It not only removed the new, very large spot, but 3 of the very old ones as well. I then applied lemon pledge and my table and now looks completely new. I am so very happy and have already shared this fantastic news with many family members. YES THIS DOES WORK!! Thank you so very much!
Roxie Dillon
- Painted Post, New York U.S.A.
---
November 17, 2014
Q. I have read three pages of comments and I had seen a few comments about lacquer finishes so I would like to pose this question please. I have several (what i believe to be white water marks) on a solid walnut table from EA Clore & Sons (Madison VA) and they have informed me that it would be a lacquer finish. Would this ironing technique work on a lacquer finish?
Thank you in advance.
Chris Coffey
- Lynchburg, Virginia USA
---
November 2014
A. Hi Chris. Nobody is going to guarantee anything, but my belief is that the white discoloration is caused by the lacquer absorbing water into the suspension (creating an emulsion) and that, as in countless cases described here, you can drive the water out with the right amount of heat, and thereby reasonably hope for the lacquer to turn transparent again.
Regards,
Ted Mooney, P.E.
finishing.com
Pine Beach, New Jersey
---
December 21, 2014

I was installing 3M window kits and cleaning the window frames with rubbing alcohol and I had set the bottle down on my wife's dresser and then I noticed it had left a white ring which of coarse my wife discovered.

I googled and found your solution with the iron and white cloth, I tried it and it worked amazing!! Then I sprayed with pledge orange oil and it was good as new and it will be a very Merry Christmas. Thank You!!
JIM HILGERT
Thanks - BLOOMINGTON Minnesota USA
---
January 18, 2015

Thank You, Thank You, Thank you! Our beautiful antique Hitchcock Dining Room table had big white water stains which were hidden under the tablecloth-the white t-shirt and moderate iron(no steam)worked liked a charm and it looks great.
Rick Spencer
- Cranston, Rhode Island USA
---
February 13, 2015

I tried the cloth and iron on white marks and candle drops and they are all gone. Now I don't have to get a new item of furniture or hide the marks with mats. Thanks and thanks again.
Jennie jarvis
- Northampton, Northamptonshire, uk
---
April 6, 2015
Tried the white cloth w/iron and did not work. Seeing how that's how the white stain got there (using an iron), didn't think it would.
Jackie Haley
- Lynn Massachusetts USA
---
May 22, 2015

Have a beautiful 1930s Fancher Bachelor's Chest that I believe had a hot mug placed on the top and left white marks. I tried buffing with Amish Milk, which reduced the white mark by about 50%. I decided to try the iron method and IT WORKED!! Started with iron at medium and a white linen napkin. Went up a little on the iron heat. At first it didn't do anything but then it suddenly began to fade the stain!! Took about 8" total. Wish I had taken a before photo.
Linda Schirack Sowell
- San Leandro, California USA
---
May 27, 2015

Oh my gosh!!! The iron and the white cloth works like magic. To my utter despair, I discovered a large white puffy cloud stain on my oak dresser. It was covered up by a cloth where the water was originally
spilled. It sat for seven months until I discovered it. Almost immediately it disappeared after I applied my iron on top of a white cloth. Thanks for rescuing my furniture.
Marla Sisti
- South Bend, Indiana, USA
---
June 17, 2015

I have been so sad about the ugly rings on my beautiful inlaid walnut piano for years and it was on my mind this evening so I googled and found this thread ... Oh my goodness ... I am so happy ... medium iron slowly over a t-shirt and each stain disappeared. I finished off with my beeswax wood polish
Good as new
Marianne Dias
- Fife Scotland
---
June 4, 2015

I just spilled the remnants of an iced coffee on my Lane cedar chest my girlfriend and I purchased at an antique show 4 days ago. I was so upset, but the internet is amazing. The blow dryer method worked perfectly for me. I just held the blow dryer over the cloudy stain, and after several minutes, it literally vanished before my eyes. It even cleaned up a couple tiny water spots on the back of it that had been there before we bought it. Amazing!
Adam Pelletier
- Orlando, Florida
---
November 23, 2015
Q. I used this method on a table I bought off of craigslist. It worked like a charm, but then it came back! I had a table runner over the white mark and replaced it after I used the iron method. I took the runner off about a month later and the white mark had reappeared. Any ideas or advise welcome. Thanks!!

Amy Gregory
- Fuquay Varina, North Carolina
---
December 30, 2015
! I think I will try the ironing method myself. I accidentally got rubbing alcohol on my wooden desk.
Emmett Anderson
- Mystic, Connecticut United States
---
December 2015
Hi Emmett. I have no idea whether it will work on a rubbing alcohol stain, so please get back to us.
Regards,
Ted Mooney, P.E.
finishing.com
Pine Beach, New Jersey
---
January 28, 2016

Fantastic!!! Used kitchen towel x2 sheets and ironed for a few mins, all the marks are gone, completely! So happy. Thanks for the tip! (Water marks from leaving wet bowl on table)
Karen Hembrow
- Hertfordshire England
---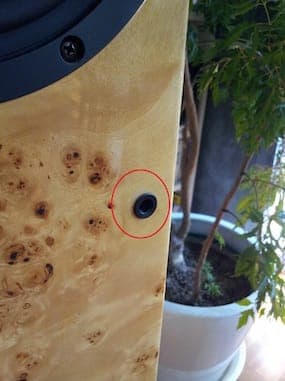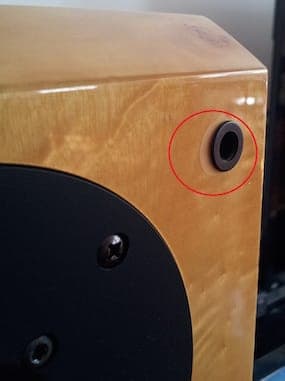 February 9, 2016
Q. I've got several cloudy white stains on my focus audio FA 788 speakers which is made of very nice veneered maple wood. Do you think the iron technique will work?

Ringo
Ringo LAM
- Hong Kong
---
March 2016
Hi Ringo. The iron technique drives out entrapped moisture and can help to restore the original finish, but your situation looks like you are unhappy with the original finish -- so I don't think it will help.
Regards,
Ted Mooney, P.E. RET
finishing.com
Pine Beach, New Jersey
Striving to live "Aloha"
---
March 22, 2016

I found two pale rings on our Honduras mahogany, 150 year old dining table after a party. Tried the iron and towel and-- MAGIC! they had gone completely! Thanks, whoever is the genius who suggested this.
Christopher wood
- Camberley UK
---
June 25, 2016
A. I had left my kitchen window open and was away from my apartment for the night and it decided to downpour directly through my window onto my brother-in-law's grandparent's table. It was covered with a tablecloth to protect it, and I wasn't expecting to lift the table cloth to find what looked like bleached wood.
First I freaked out a little bit, then I decided to check the web for solutions. I had tried the oil once on a different piece and let's just say that it didn't work, so I wasn't expecting it to work either. Big problems arose when I went digging for my iron and couldn't find it... So I thought maybe, dry heat was the solution and decided to try the hair dryer. It worked! On high heat, held about three inches above the wood, move it around in medium sized circles... Depending on the area of damage, I had an entire table top done in ten minutes.
Renee Mercier
- Thunder Bay, ON, CA
---
---
December 30, 2016
Q. Hi, I am about to buy a Victorian veneered and inlaid chest of drawers. There is a grapefruit sized white water bloom mark on the top. Would the hairdryer or iron methods be suitable for veneer, or will heat make it lift and or bubble?

Also, there are several mottled looking areas to the front. I don't know what they are or what's caused them, because the seller is being very sniffy about not accepting the character of this unit so I daren't even ask! From the photos, it looks like blotchy paler flat areas, so no major damage to veneer (am assuming the whole thing is veneered because it has an inlaid cartouche, is shiny, and I can see v tiny veneer chips on the edges of one of the drawers. So, is it possible to fix these (possibly) light or water affected areas and restore an even colour to these beautiful drawers, please?

All advice appreciated :)

Many thanks,
Nikki
Agnes Smythe
- Huntingdon, Cambridgeshire, UK
---
December 2016
A. Hi Agnes. You can see dozens and dozens of people reporting successful repair here, and you can read of a few failures. Although I don't think "veneer" changes anything, since we believe these white water stains are probably water emulsifying the lacquer coating rather than the wood, no reader can guarantee that the stain will be removed, or that the heat won't loosen some unspecified old glue holding the veneer in place, or really anything else for you. Further, we're fellow furniture owners, not experts. Sorry, the risk is yours.
A furniture expert retained to examine the piece might be able to offer a professional opinion though, and might carry insurance. Best of luck.
Regards,
Ted Mooney, P.E. RET
finishing.com
Pine Beach, New Jersey
Striving to live "Aloha"
---
---
October 17, 2017
Q. Can someone post the exact directions for the iron method and also for polish remover.
I have read all and some say hot iron CMC steam iron which that doesn't make any sense using steam and some say circular motion some say just leave the iron on and check every 30 seconds; so can someone post the exact directions please. Thank you
Mary henry
- Front Royal, Virginia Usa
---
October 2017
A. Hi Mary. Sorry but that might be asking too much :-)
Many used a towel, many used an old t-shirt, some a napkin. Almost everyone, including me, said a dry iron; I'm not sure if anyone suggested steam; but some used a hair dryer or heat gun instead of an iron. I can't imagine it making any difference whether you iron with a circular motion or stroke back and forth; but you wouldn't just lay an iron on your clothes and check back later, and I don't think you should do that to your furniture either.
The principal, as I've said several times, seems to be that water has emulsified with the oil of the finish, and you're trying to apply enough heat to evaporate and drive out the water without applying so much that you burn the finish or cause a veneer to loosen. So start only mildly warm and increase the heat only if it's not working. It worked for most, didn't work for some, caused worse damage for a few. Good luck.
Regards,
Ted Mooney, P.E. RET
finishing.com
Pine Beach, New Jersey
Striving to live "Aloha"
---


This public forum has 60,000 threads. If you have a question in mind which seems off topic to this thread, you might prefer to Search the Site