topic 23034
Looking for solution to darken copper (patina copper)
(2003)
Q. I've been trying to figure out how to patina copper to a dark color -- the problem is that all the formulas out there are for green/blue patinas. You mentioned pool chlorine overnight to accomplish a green patina. Would I use the same thing to accomplish a dark patina except I would spray and wipe it off instead?
Kendall Turner
- Upland, California
---
(2003)
Q. I am trying to darken new copper tubing to match a Dark Patina Copper Sink. How do I darken the tubing to match?
Wendy Dunn
- Fairport, New York
---
(2004)
A. Liver of sulfur will darken copper to black =>

Basically, mix liver of sulfur and half a cup of warm water. Mix enough liver of sulfur into the water to turn the solution dark brown (not much liver of sulfur will be needed). Below is a link to a site that has to many different patina formulas:
www.sciencecompany.com/-W157.aspx
B Slaker
- Dallas, Texas
---
(2004)
Q. Does anyone know a good home solution I can make to turn copper to a blue/black color?
Garry Basinger
sheet metal - Katy, Texas
---
(2006)
Q. I need to know how to do a dark patina on standard red flat finish copper. I am not looking for a green or blue patina, but more of an aged look with the dark bronze color. Is there some kind of chemical we can use to achieve this? This is for a backsplash and countertop area.

Thanks!
Jessica Lammers
Interior Design - Blue Ridge, Georgia
---
A. Hi, Jessica.
You can get bottles of patina solution in brown and other colors [linked by editor to product info at Amazon]. Good luck
Regards,
Ted Mooney, P.E. RET
finishing.com
Pine Beach, New Jersey
---
(2006)
A. FYI folks: "Liver of Sulphur" is also known as "Sulfurated Potash," and is more readily found using that name instead.

"Liver of Sulphur" / "Sulfurated Potash" may be used for a brown to blackish-brown to nearly black patina. (More/longer exposure gets blacker.)

I found a wide range of DIY copper patinas at
www.sciencecompany.com/patina-formulas-for-brass-bronze-and-copper-W160.aspx

(I have no affiliation with the referenced company, nor have I done business with them. I simply found their list of copper patina formulae in addition to this forum while searching for such info and saw benefit in spreading their info)
Joseph Maryland
- Southfield, Michigan
---
November 5, 2008
A. I think the best product to use is Birchwood Casey antique black finishing gel.
It can be used at room temperature. Being a gel, you can use it on a flat surface or 3 dimensional shape,(no drips), and easy wash-off.
Nim
Nimunter Jehman
conceptual art media - Vancouver, BC, Canada
---
November 15, 2008
A. I find that Jax patina solutions =>
work very well. They are available at many art stores as well. Liver of Sulphur works very well, you may want to use a fine scotch-brite pad to even out the surface. I use liver of sulphur daily and the method of application is mixing the solution, a thumbnail size to a pint of warm water. Let it dissolve and sit for about 30 minutes. Use the scotch-brite pad and rob the patina in in circular motions, blending the solution onto the copper panel. It will be easier to work with the pieces flat on a table. Liver of sulphur has a short reaction time and once it has reacted, the effects tend to die off quickly.
Shane Jost
- Calgary, Alberta, Canada
---
December 2, 2010
Q. Hello. Using liver of sulfur to change the copper to black which works if the water is hot and metal is hot. I had to clean fingerprints off the copper first with Muriatic acid then wash with water and fine steel wool. Is this the best way to make vertical copper black or is there another way? I have dipped sheets of copper in a bin with the liver of sulfur solution and spreads out evenly and nice. But I noticed maybe need to clean the Muriatic acid off better. Not getting even looks with the acid?
Mark Phan
Owner Painting - Monterey, California US
---
August 10, 2011
Q. I am a hobbyist that is pressing copper by hand. I am eager to try this "liver of sulfur" but I am finding it difficult to find here in southern Ontario. Can anybody help me with vendor details, or at least where I can order some?
Tim Little
hobbyist - Burlington, Ontario, Canada
---
August 10, 2011
A. Hi, Tim. Probably the easiest source is Amazon =>

Regards,
Ted Mooney, P.E. RET
finishing.com
Pine Beach, New Jersey
---
August 12, 2011

Hi, Ted. Thanx for your help. I was successful in my quest and found "liver of sulfur" in liquid form at "LacyTool.ca," They have several different products.
Tim Little
[returning]
- Burlington, Ontario, Canada
---
August 7, 2011
A. Hi, on a number of occasions I have had to turn large copper sculpture black and varying shades of brown as well. I use Birchwood Casey M-24 liquid solution. I will usually strip the original patina with Muriatic Acid or Soda blast it off. Both do a good job of etching the metal and providing a superior surface to reapply an even, adherent patina. I mix the solution with distilled water, 50/50 for browns, 100% for blacks. I spray it on with a HVLP sprayer at 20 psi and a 1.4-1.7 nozzle on the gun.
Heat the surface to an even temperature if possible using a patina torch 200 degrees TOPS! the more evenly heated the piece is the better patina you will get, trust me, take your time on this one it has been my experience that if you don't get the results you are looking for on the first 3-4 tries you will start to see areas of the finish peeling off. with a good even heat, spray, and proper prep work the finish will be a tough one to beat. If you get it too hot or reapply more than 4 times you will start to see a steely blue gray. That means its time to strip it and start over, it only gets worse from there. Let each application stay on for 20 min or until the metal cools then rinse with plenty of water, if the metal is still hot the water will streak the finish.
Rinsing from the bottom up helps eliminate any chance of streaking. While rinsing I GENTLY run my hand over the surface to remove any powdery residue the water doesn't. If I like it, I thoroughly spray it with acetone and top coat it with Permalac (outdoor) or Butchers/Renaissance wax (indoor); if not, I dry it with compressed air and reheat/reapply. Hope this helps!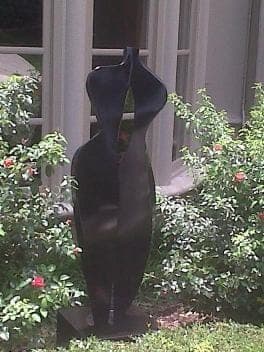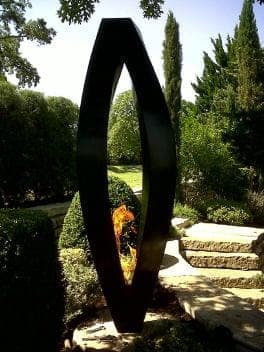 Brian Fredella
Inner Metal Works - Bedford, Texas
---
---
How to darken / re-darken a copper roof
June 24, 2012
Q. I have a diluted/bleach(wood re-newer) run off on a copper roof.
What would be the most effective material/process to restore to surrounding black patina? Approx. 600 sq. ft.
Thank you,
Gerry

Gerry Michael
- Woodstock, New York, USA
---
September 26, 2013
Q. I recently cleaned a copper roof over a bay window with a solution of vinegar lemon juice and salt. The copper has now started to re-oxidize but in a uneven streaky way that looks horrible (hues from rust to light green). Is this normal and will the patina eventually even out in color? If not, any recommendations on products that will darken the patina to a dark uniform brown color.
Thank you
David E.
[last name deleted for privacy by Editor]
- Chicago, Illinois
---
March 12, 2014
Q. I am looking for the same response. I have been searching online trying to find either a service or product to help bring life to my bay window copper roof! I am looking to have the color after 25 years and dark oil rub bronze color. I am not sure which way to turn. Help PLEASE!

Thanks.
Marla Ally
Homeowner - MADISON, Alabama US
---
March 16, 2014
A. Hi guys!
Now everyone on this thread seems to be asking a similar question about getting copper to a darker patina. There are two that seem to be in vogue here, and while you can make something that approximates what you want with a patina, nothing really is going to look as good as time will give you. If you want it now, here are two methods to do green and brown patinas on copper.

1. Green patina.
Mix darkening solution of 2 parts white vinegar, 0.50 part non-iodized salt, and 1.5 parts of clear, detergent-free ammonia. Spray on the area you want to patina and reapply every 1-2 hours until you get the color you want. The patina will look powdery, leave it alone, it will eventually work in the copper and get to that more 'glazed' look. 72 hours or so from when you apply it you should have a better idea of what the final look is.


2. Brown patina.
You need to dissolve baking soda in boiling water until it won't dissolve any more. Spray on to the area to be patinated after the solution has cooled, and reapply every 2 hours or so. This one will reach more towards the color of an old penny.
Marc Banks
Blacksmith - Lenoir, North Carolina USA
---
---
March 28, 2014
Q. Hi:

I am new and just discovered this site when I went looking for copper patina info. I need to know if I need to clean the copper after handling it when playing or if I can put patina over the fingerprints and not worry! Is there a site everyone prefers to learn, or is this the hobby one of those that you just try different things and learn? <grin> I want to make tiles 4"-6" and wonder which backing would work the best to use under the soft copper 36 gauge or even if I need it. I know, lots of questions and this may be the wrong place so gently tell me to get lost...<grin>
Terrie Kaufman
Interior Designer - Vancouver Washington - USA
---
March 28, 2014
A. Terrie,
You do need to have your surface clean of fingerprints. If you don't you'll end up with an irregular patina, I usually use disposable nitrile or latex gloves when I'm doing patina or finishing work. Heavier gloves if I'm dealing with anything highly caustic/corrosive.
At 36 gauge you're dealing with something that is more akin to foil or leaf. I'd highly suggest some sort of backing, but it really depends upon where these tiles are going to be used and if they are going to experience any wear. Ceramic will probably be the goto for doing it though.
For learning more about patinas and processes associated with such I highly suggest a couple of afternoons at your local public library or university. There is a wealth of information on patinas and finishes, you just need to put the time in.
Marc Banks
Blacksmith - Lenoir, North Carolina USA
---
March 22, 2017
Q. To Marc Banks Blacksmith - Lenoir, North Carolina
How much baking soda in water would be adequate? I have a small 12" hammered copper accent table. Ratio? Thanks for your time!
Judy Vogeler
- Esmond, Illinois USA
---
March 2017

Sodium Bicarbonate
A. Hi Judy. Marc's posting was from 3 years ago so I'm not sure how soon he'll see your followup question. But he's telling you that instead of measuring the baking soda, just keep adding it to the boiling water until no more will dissolve. For an estimate, Wikipedia suggests that that will be about 236 grams per liter, i.e., about 20% by weight.
Regards,
Ted Mooney, P.E. RET
finishing.com
Pine Beach, New Jersey
Striving to live "Aloha"


This public forum has 60,000 threads. If you have a question in mind which seems off topic to this thread, you might prefer to Search the Site