topic 51293
Can't get Zinc electroplating and chromate into threaded hole
February 17, 2009
Q. Hi ! I am designing a special nut which technically termed as "Insert". This material is used for sling support when lifting heavy equipments or parts.

The material is a deformed bar with Diameter 19 mm and an inside thread at M12. The depth of the thread is 30 mm. Customer requirement is to penetrate yellow zinc chromate inside the thread, and I mean all over until the bottom of the thread.

The problem is, during the basic barrel plating, the output does not satisfy the plating requirement. The M12 thread has not been fully covered with zinc chromate. The bottom side has no plating at all.

What possible solution must I apply in order to make electroplating penetrate the whole thread depth ?
Jason Florida
Product designer - Subic Bay, Olongapo City, The Philippines
---
February 18, 2009
A. If this is a blind hole, You will never get plating to the bottom of the hole. Typical plating will only go the depth of the hole that is equal to the width of the hole-Aspect ratio, and this does not hold for tiny holes.
If they insist, graciously tell them that it is an absolute impossibility, and pass on the job. You can help your cause if you can find a couple of specifications that have the coverage measurement in the QC section. The mill spec says something like coverage if it can be touched by a 3/4" ball.
James Watts
- Navarre, Florida
---
February 24, 2009
A. Sometimes it can be impossible to cover inside holes.

In general... I recommend the following to get maximum coverage...

1) use alkaline zinc process

2) keep the load size of the barrel as small as possible

3) apply the highest current densities that are possible without burning

4) pretreatment and activation can be critical as well to ensure that you have a clean and active surface that readily accepts the initial electroplating deposit.
Thomas E. Kidd
- Budapest, Hungary
---
March 25, 2009
A. Dear Jason,

In order to get Chromate on the zinc layer, you should have certain micron of Zinc layer then you will have chromate layer on it.

In your case your should find a good throw zinc plating (alkaline non cyanide zinc) and in this case I agreed with Thomas.

Just try Thomas recommendation (see above)

Good luck.

Best regards,
Tony Chandra
electroplating chemicals supplier- Jakarta, Indonesia
---
March 28, 2009
A. YES ALKALINE NON CYANIDE IS BEST ANSWER.
ASK THE CHEMICAL SUPPLIER TO PLATE FEW PIECES FIRST .
THEN THINK OF STARTING THE PROCESS.
REGARDS,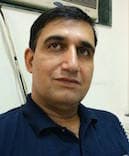 Ajay Raina
Ludhiana, Punjab, India
---
March 30, 2009
A. Again, if I read the post correctly, he is trying to plate a blind hole about 1" deep and 1/2" in diameter. Barring using an internal anode, I seriously doubt if any plating process will put enough metal on the bottom to allow the chromate to show color.
James Watts
- Navarre, Florida
---
---
November 4, 2016
-- this entry appended to this thread by editor in lieu of spawning a duplicative thread
Q. Hi Guys,

I have a problem with low carbon steel block size 50 x 8 x 16 mm, this block has two blind holes (dia M3) of depth 8 mm. Block is zinc plated as per ASTM B633 [link by ed. to spec at TechStreet] , Fe/Zn 8, TYPE III.

This block assembled to a plate made of CRS, with help of hinge. We found rust on threads and mating surface of hole.

Supplier is telling "The blind holes cannot be cleared out effectively after zinc plating. The Zinc plating process leaves residual chemicals that cannot be completely rinsed out. As a result, internal corrosion on the threads occurs and over time leaches to the hinges."

Is that right or any reason for this rust formation?

Now we are making blind holes to through hole is it correct solution to this problem?

Kindly advise me with proper solution.
M santhosekumar
- bangalore , karnataka and india
---
November 2016
A. Hi santhosekumar. It is true that you cannot expect plating in these holes, but you can expect carryover of plating solutions.
You gave us the size of the block as 50 x 8 x 16 mm, and the depth of the blind holes as 8 mm. This means that if you moved to through-holes they would be dia M3 by 16 mm. That would reduce the carryover of zinc plating solution, but you would still not have plating inside the full length of the holes -- so it would offer an improvement, but not really a full solution.
If this is low volume production, it may be possible to plug those blind holes before plating to retain any rust-proofing solution in them rather than plating them, while also keeping the plating solutions out of them. If it is high production barrel plating where plugging won't prove practical, then through holes are probably you best bet.
Regards,
Ted Mooney, P.E. RET
finishing.com
Pine Beach, New Jersey
Striving to live "Aloha"


This public forum has 60,000 threads. If you have a question in mind which seems off topic to this thread, you might prefer to Search the Site