Where the world gathers for
plating, anodizing, & finishing Q&As since 1989

Jump to this related thread:
• Topic 22409 "Zinc Plating Thickness and Tolerance on Fasteners"
• Topic 51293 "Zinc plating blind holes / threaded holes"
• Topic 57493 "Zinc Plating Internal Threads: dimensional changes & coverage issues"
• or continue with -----
Dimensional effects of Plating external threads
Q. I have a plating problem. I need to plate clear zinc chromate on a 12L14 steel nut with a .563-24 unef- 2A external thread. The plating to be .0001" - .0003" thick. What is the preplate pitch diameter? Also what is the formula for calculating preplate pitch diameters?
Kemp Weekes
- Mansfield, OHIO
1999
A. We plate cadmium on threaded parts every day and usually to a thickness of .0003"/.0006". The ratio is four to one on threads, so you can anticipate a .0004" to .0012" change in the pitch diameter of the thread. The functional element of the thread is going to grow with plating since the 30 degree angle of the thread is plated non-uniformly. (Major diameter builds faster than the minor diameter), therefore you should look for a thread which is at least .002" under the maximum after plate dimension. We typically plate class three threads and NS with only .0015" tolerance, so with a class 2 your customer should have no problem holding size to the low side. Remember,The slower the plating rate, the more uniform the deposition. Good luck..
Tim Martin
plating shop - Springfield, Massachusetts
---
---
Q. Need a math calculation for measuring the final Pitch Diameter of a Unified Vee form thread configuration when a Cadmium Plating thickness is called out to be applied to each surface of the flank thread configuration.

Example: if .0005 inch Cadmium is applied to each surface of the thread of the bolt thread how do I calculate the final Pitch Diameter of the bolt after plating and when different thickness call outs are required?

I need this information as a training reference and inspection aid for Quality and Manufacturing Engineers.

Thank you for your kind help.
Andrew A. Bemak, Jr.
Machine Shop - Cleveland, Ohio, United States
2005
A. Andrew, See the Machinery's Handbook. I have edition 24 and it is on page 1576. Listed under "Dimensional Effect of Coating" in the section dealing with threads.
Kevin Davis
Automotive OEM - Versailles, Kentucky, USA
---
---
Q. We supply cadmium plated parts to the Aerospace Sector. Our customer requirement is 0.0005" of plating thickness per side. When we plate threaded parts, when measured there appears to be preferential plating deposited on the threads. Is there a preferred method or an industrial standard for measuring the coating thickness on plated threads.Would you expect preferential plating deposited on the threads. The parts are barrel plated.
Nigel Bell
Process Technician - Belfast, Northern Ireland
October 22, 2012
A. Plated threads will increase in pitch diameter by 4X the plating thickness.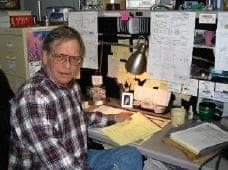 Jeffrey Holmes, CEF
Spartanburg, South Carolina
---

Thanks for your helpful replies. Have ordered the Machinery's Handbook. We also apply a coating called Xylan 1088 on splined components where we apply the same principle as Mr. Holmes answered with the increase in pitch diameter by 4. Thanks again for useful comments.
Nigel Bell
[returning]
- Belfast. Northern Ireland.
---
---
-- this entry appended to this thread by editor in lieu of spawning a duplicative thread
Q. Flash chrome plating on 1/2 hard free cutting brass threads. What is the thickness of the plating since it builds up on both sides of the threaded surface?
Fred Sels
- South El Monte, California
June 29, 2015