topic 43386
Chrome on plastic: spray on chrome process
A discussion started in 2006 but continuing through 2018
2006
Q. Just recently, I purchased a machine from a Florida based manufacturer that sprays on chrome. It also is a 3 step process, however, the similarities end there. Instead of baths of copper and nickel, the first step here is an epoxy-type spray-on base coat. The second step requires a special gun with dual nozzles that sprays two chemicals which intersect into one spraying the part to be metallized. The last process is a clear coat which has been tinted to give the bluish hue of real chrome. This is done with a standard spray gun.
I've had numerous problems with this process from the base coat developing goose bumps to the silver coming out cloudy. Even when the first two processes came out fine, upon spraying on the clear, there would be a reaction that would cause small bubbles to form underneath the clear or simply would cloud or yellow, days after the final coat. Do you have any insight on this process and machine?
Because of above issues, I have been curious to learn about the process of plastic chroming? I just opened up a shop in Puerto Rico where the demand is vast and have been hampered with the results that I've have so far. Please advise.
Manny Saavedra
body works - Luquillo, Puerto Rico
---
2006
A. Maybe I am wrong, but your process seems to be a silver mirror technique; if so, you should control the contact time of your dual nozzle, distance, and time between coatings. Wish you good luck and happy new year.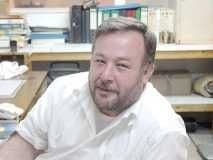 Cair Shishani
aircraft maintenance
- Al Ain, UAE
---
2006
A. Hi, Manny. When someone mentions a two-part spray gun, they are probably talking about what is known as "two-part silvering". Silver nitrate is sprayed from one nozzle, and a reducing agent from the other. This technology has also been used for silvering of mirrors, for putting a conductive coating on phonograph and CD masters in preparation for electroforming stampers, etc. I think you can learn more by googling "brashear process" or "two-part silvering".
But in trying to adapt two-part silvering for use as a chrome-look paint, it's probably worth working with the manufacturer and other users to try to solve these problems, as starting to do the research yourself from scratch will surely leave you many years behind the point that proprietary technology has advanced them to.
Certainly, real copper-nickel-chrome plating =>
would be a big step up from chrome-look paint, but the capital cost is at least an order of magnitude higher, maybe more, and that technology has its own steep learning curve too. Good luck.
Ted Mooney, P.E.
finishing.com
Pine Beach, New Jersey
---
November 30, 2012

The website is wonderful!
A. Manny Saavedra
1. The base coat is developing goose bumps?
Do you spray the base coat by gun, or dip your products into tank? Sometimes spraying the base coat it is very easy to get many bumps.
2. The silver becomes yellow?
Have you used stability chemical S, and how long you put the chrome layer in the air?
Above is very important.

Jocy Liu
chrome - Chengdu, Sichuang province, China
---
---
April 13, 2009
Q. I am interested about spray chrome for plastic. Can you share with me the composition of the chemicals for chrome for plastic?
Thanks a lot.
Oscar Septimedio
- Batam, Indonesia
---
April , 2009
A. Hi, Oscar. The basic routine for chrome-look spray paint includes a base coat, a bright coat with either small aluminum flakes or the two-part silvering previously discussed, and a clear coat. A number of brands are shown in the banner ad at the top of the page. As mentioned, googling for "Brashear process" will get you started, but the manufacturers have put in years of research optimizing this process for use as chrome-look paint, and the product of that effort is trade secret, not public domain knowledge.
You may be able to get more info by following the links to their websites. Good luck.
Regards,
Ted Mooney, P.E.
finishing.com
Pine Beach, New Jersey
---
November 26, 2010
Q. I attended the Spray-on Chrome school in Fla. I too have the guns but no chemical and need help getting the process down in the shop. Silver Nitrate is the name of the shiny process. It was a little pricy to buy the good stainless setup. 14,000.00 USD. I need to know what will work for the base coat a (white epoxy). Will be doing lots of Pot metal in our restoration shop.
Joseph Geisler
- Branson, Missouri, USA
---
July 19, 2014
Hello everyone -- hearing about the chroming process problems took me back in time to the exact day that I put all my money in a trash can. The spray on chrome is so sensitive and full of hidden tricks that as far as I know 8 of every 10 buyers quit in the process. Every single spot, tarnish or yellowing puts you back another 1,000 dollars, buying kits hoping that the next one is the good one. Sorry but it is true, and there are at least 6 persons in PR that can prove it.
Carlos Martinez
- Puerto Rico
---
February 17, 2015
Q. Hi dears,

Thanks in advance for cooperation by advice which needed condition or chemical to got bright and shiny chrome coat as I killed myself at lab daily over 10 hours daily and got final formula but it still needs improvements to be more bright and shiny and I am stuck on this and hope to find answer from professionals in this major.
Zain Hammad
initiator and owner for new chrome coat chemical plant - Saudi Arabia
---
February 2015
Hello Zain. The basics are common knowledge and have been explained on this page. But the fine details for optimum chrome-look paint are still proprietary. I would be surprised if you would tell us your final formula, or if anyone else would tell us theirs. We can ask but I don't think it will happen. Good luck.
Regards,
Ted Mooney, P.E.
finishing.com
Pine Beach, New Jersey
---
---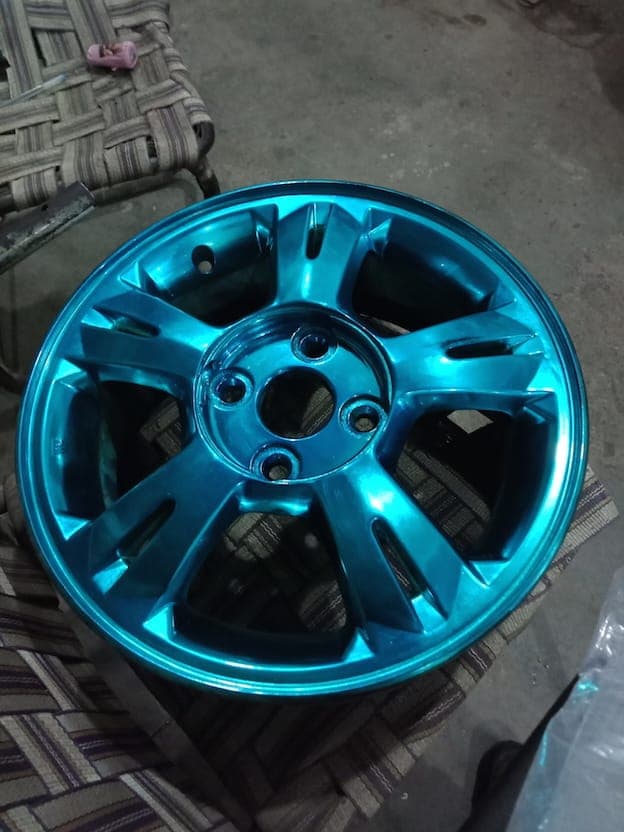 Achieved this 3/24. A gift on my birthday, from the almighty
March 23, 2018
Q. Hello everyone,
I am trying to do spray chrome silvering in India, new Delhi. Have attended a 2-day training also, with no problem of chemicals. But the process needs practical workshop experience and trained persons (like a trained painter). Still the teething problems like whitening, haziness in chrome spray, yellowing, blackening are the initial experimental problems.
I am passing through that phase, but googling is helping me find solutions from here and there. Now I am streamlining the whole process by keeping control right from DM Water to chemical measurements. Trying to find out how the chemicals are made and what AgNO3 percentages would be perfect. If anybody has developed a formula and can share for the benefit of other like-minded it would be appreciated.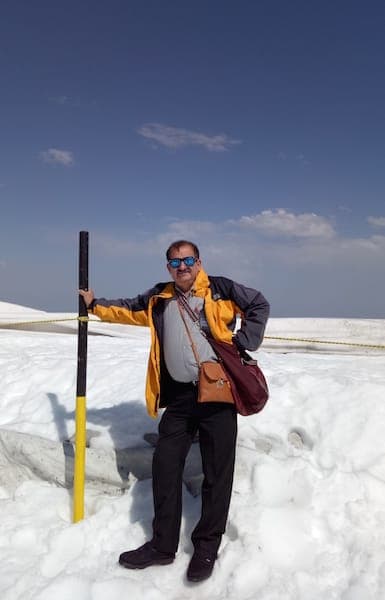 Balbir thukral
Tyre Machines - New Delhi, India
---
March 2018

Hi Balbir. I think that one of the issues here is that a number of companies have put a substantial amount of costly development effort into their chemistry, and they sell the chemistry plus technology as a proprietary package. We can't expect those companies to simply give us the fruits of that effort for free; so we'll probably see their licensees enjoy more success than we can achieve initially from lesser efforts.
Still, most technologies gradually evolve from proprietary to generic, and people are achieving ever increasing success with home-brew. We have many threads on this site about chrome-look paint. Marvin Sevilla has been exceptionally generous in sharing what he knows about it, so please search the site for "chrome-look paint Marvin Sevilla".
But if you have learned a bit in that 2-day course, and want to encourage info exchange, it's always best to start by volunteering something important that you've learned, even if you've enjoyed only partial success. "My formula is thus & so, but it is giving me the following problem ..." is much more effective in attracting responses than "Please tell me your formula". We have dozens of open questions on the subject, some of which you might be able to help with :-)
Luck & Regards,
Ted Mooney, P.E. RET
finishing.com
Pine Beach, New Jersey
Striving to live "Aloha"
---
---
December 2, 2018
I'm Don.
I have been researching this (spray chrome system) for about 2 years! The best silver nitrate systems use a (silver seal rinse) for the final spray while the part is still wet with DI water. Then spray rinse one more time before blowing dry! My question is, what is that (silver seal rinse) and where can I get it?
Because it doesn't come with any of the kits on the market!
Don Patton
Mold making - titusville, Florida
^- Privately contact this inquirer -^


If you have a question in mind which seems off topic, please Search the Site