topic 32830
Crazing problem in anodizing
A discussion started in 2001 & continuing through 2017
(2001)
Q. Anyone care to give me their thoughts regarding the effect known as "CRAZING" of anodic surfaces?-Any experiences? Thanks, Bill.
Bill Grayson
- Santa Cruz, California, USA
---
(2001)
A. Safranek's "The Properties of Electrodeposited Metals and Alloys" =>
covers the topic a bit. Anodic coatings have both very little elasticity and a lower coefficient of thermal expansion than the aluminum article they are formed on.
Result: either mechanical working or elevated temperatures can crack (craze) the coating.
Ted Mooney, P.E. RET
finishing.com
Pine Beach, New Jersey
---
(2001)
A. Crazing of the anodize coating usually occurs when too much anodize coating thickness is deposited on part or when the temperature of the anodize tank is too hot. Hot temperature in the anodize tank will cause a soft anodize coating. Soft coating will craze.
Raymond Hendrix
Troy, Tennessee
---
---
To minimize searching and offer multiple viewpoints, we've combined multiple threads into the dialog you're viewing. Please forgive any resultant repetition or failures of chronological order.
---
---
Crazing in hard anodic coating
(2001)
Q. We have one more problem in hard anodized cooking pans. Our customer is facing "crazing" problem. i.e., cracking of hard anodic film. We would like know the preventive actions feasible to the industry to avoid this problem.
With Regards,
Shankar Nayak K M
- Mumbai, India
---
(2001)
A. I have had experience with the very some problem. One of the most common causes of crazing is thermal shock to the part and coating. This usually occurs when you are moving the part from a cold anodizing bath to a hot rinse or seal. The coating and substrate expand at different rate causing the crazing. One solution to this problem is to ramp your seal temperature after the part has entered the solution. Another solution would be to slowly increase the temperatures of your rinse as your parts progress to the hot tanks.
Ira Donovan, M.S.F.
Kansas City, Missouri
---
(2001)

Thank you very much for your suggestions sir. For your information, under optical microscope we have seen straight cracks (Cross sectional view - as polished condition) in the hard anodic coating & are perpendicular to the thickness of coating.
Shankar Nayak K M
[returning]
- Mumbai, India
---
---
Crazing and cracks in hardcoat on internal diameter surfaces
(2002)
Q. We are hardcoating 6262-T6511 extruded aluminum bar. The part is a cylindrical cartridge for a master cylinder. It has a .420 in. dia. by 3.5 in. deep bore on one side. The other side has .68 in. dia by 2.7 in. deep bore.
The hardcoat thickness is .0005 - .0008 in. per side.
Here are my questions: Why do the ID's surfaces appear to be cracked or crazed? Is it non-build up of hardcoat or stress cracks in the hardcoat? Additionally, how can this be eliminated? The OD's do not have these micro cracks, why not?
Thanks for the input.
Jeff Gohr
- Mequon, Wisconsin
---
(2002)

A. Jeff,

All hardcoat has "micro cracks" although they can be minimized, I do not believe they can be completely eliminated. If you were to put your part under a optical microscope, you would also see microcracks on the outside of your part. Some alloys are more susceptible to this than others, and it also seems that extruded alloys tend to show this more than others.. I would look and see if you have any other options to your alloy.

Marc Green




anodizer - Boise, Idaho





---

(2002)

A. The Aluminum Oxide Molecule is larger than the Aluminum metal molecule.

Draw a perfect circle on a piece of paper. Then draw and infinity number of lines from the inside of the circle to the center. Then imagine these lines are wider than you drew. Then understand that as the lines crash into each other then cracks must happen.

Some of the literature in our industry show what happens in the inside right angle corner of a machined part where the coatings grow perpendicular to each plane and then each side crashes into the other side and something has to give, so crack ! Contact me direct, no charge, no commercial, and I'll FAX you a picture of hard coat growth in a corner.




Robert H Probert




Robert H Probert Technical Services





Garner, North Carolina





---
---
(2004)
Q. I manufacture aluminum medical cases. Anodize process is to specification AMS A8625 [withdrawn / link is to spec at TechStreet], Material is 5052. After anodizing parts are silkscreened and baked at a temperature of 275-300 °F for 30 minutes. The result I am getting is what my supplier calls "crazing" and he does not know how to eliminate this problem can anyone help? Also, is the anodize seal intact or has the anodize process been compromised?
Thanks,
Richard Mayle
sheetmetal fabrication - Louisville, Ohio, US
---
(2004)
A. 300 °F for 30 minutes can cause the anodize to craze or crack.
The anodize coating is a ceramic, thus has the high temperature resistance of most ceramics. The problem is the large differences in thermal expansion between the aluminum base metal (expands a lot) and the thermal expansion of the ceramic anodic layer (expands a little). This can put substantial mechanical stress on the anodize. The problem is worse when the anodize layer is thicker.
Paul Yursis
industrial electronics
- Columbia, Maryland, USA

Ed. note: it is our sad duty to advise of the
passing of Paul Yursis in August 2005.
Here is a brief

by Mike Caswell.
---
(2004)
A. Dear Richard
Crazing is due to the thermal expansion and elasticity of aluminium is much greater that that of the anodic coating.
You could do the following thing to minimize the problem:
1. use higher anodising temperature
2. lower current density
3. a final short rinse in warm water (approx. 40 °C)
Anne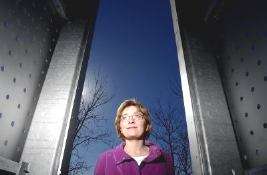 Anne Deacon Juhl
- San Diego, California, USA
---
(2004)
A. Another option would be to silk screen it with dyes made for anodizing prior to sealing the part. You can find a method or two describing how to do this in "The Surface Treatment of Aluminum and Its Alloys" by Wernick, Pinner and Sheasby, or you can contact anodizers that specialize in this practice and have them put on whatever design it is you are silk screening.
Jim Gorsich
Accurate Anodizing Inc.
Compton, California, USA
---
March 6, 2015
A. The best practice for high temperature painting is insure the anodic layer is around 5 µm to 8 µm - this allows painting up to 200 °C with no issues. Standard practice at most exterior trim anodize aluminum suppliers.
Art Delusky
automotive - Ningbo China
---
---
Anodize Crazing - Stress vs Chemical Causes
(2006)
Q. Is it possible to tell if the crazing or cracking of anodized 2024 part is the result of stress (high loads) or the result of chemical attack from a fluid by the crack pattern? In other words, does linear crack lines indicated stress induced crazing compared to curved or irregular crack lines which would be the result of fluid attack? Anodize thickness .0004" .
Les Scott
Aerospace - Dayton, Ohio
---
(2006)
A. Crazing or cracking of anodic coatings is commonly due to mechanical stress, either applied load or differential thermal expansion. Bending causes linear, parallel cracks transverse to the bending, with cracks sometimes visible to the naked eye on the convex side of the bending. Point loading, as from a hardness indenter, creates radial cracking. Non-anodizing inclusions can also create anodize blisters and radial cracking. Crazing from thermal stresses can be 'dried lakebed' (except flat) or wavy lines (like wrinkled paint, but flat).

I have never seen nor read of cracks in anodize due solely to fluid attack. Fluids may possibly wick into crazing and, via etching or corrosion, create visible cracks. What is the fluid? 2024-T6? Cold worked and/or machined surface? Are inside or outside corners involved? Conventional, sealed sulfuric anodize ( Mil-A-8625 [link is to free spec at Defense Logistics Agency, dla.mil]F, Type II? Dyed? Thermal history, beginning with anodize bath? Please post a photo, maybe at 200x magnification.

See letters 062, 27462, 27990 et al.
Ken Vlach
- Goleta, California
Finishing.com honored Ken for his countless carefully
researched responses. He passed away May 14, 2015.
Rest in peace, Ken. Thank you for your hard work
which the finishing world continues to benefit from.
---
---
March 31, 2014
Q. My name is Nigel Bell and I am the Process Technician for Protective Finishing at RLC UK Ltd. We process parts for aerospace. We have had a reject on an anodised component. The fault I have never seen before. On the anodised coating there appears to be a crazed/ cracking like finish evident on the finished anodised surface. This is purely visible and has no depth. There is no catching for example with a thumb nail in the indication as would be expected in a scratch or real life crack. Prior to anodise the marks are not visible.
Photo of part formed - plus 3 photos of lines visible after anodizing; not visible prior to anodise; no depth.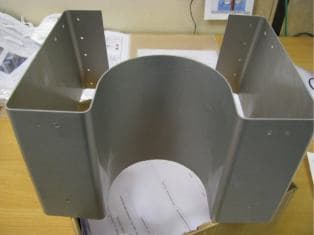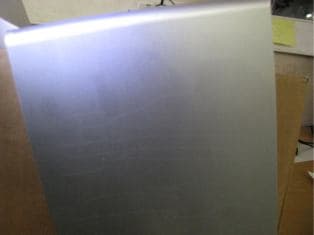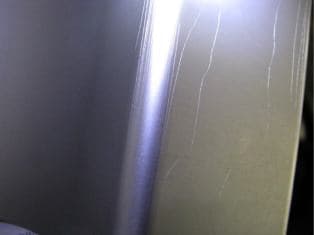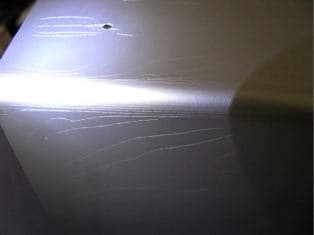 (Click on thumbnail views for higher resolution photos)
History:

Material L164 T4. Gauge 1.2 mil. Solution Treated, Formed and Naturally Aged up to
L164 T42.

Anodise Process as follows:
Degrease, Alkaline Clean, De-oxidise, Anodise giving a film thickness of 0.0003" - 0.0007"
and Sealed in Sealing Salts at 96 degrees minimum.
Nigel Bell
Process Engineer - Crumlin, County Antrim, Northern Ireland
---
April 2, 2014
A. Nigel

In a past life, we hard anodized 3003 aluminum IC carriers that had comparable wall thickness. Our crazing was much more pronounced, and caused by the difference in co-efficient of expansion (search this site). The crazing occurred when we placed the parts in the rinse tank from the hard anodize tank. The crazing was audible as the part was introduced to the rinse. Adjustments in rinsing technique reduced the amount of crazing, but entirely.

Visually, the crazing might be objectionable, but you might test to see if the coating meets performance specifications.
Willie Alexander
- Colorado Springs, Colorado
---
April 3, 2014

Willie, Thanks for your response. We did feel that rinsing or sealing was a contributing factor in the 'crazing' on the anodised surface. We did in fact have a coating thickness of 40 microns on the component which was more than double the maximum specification requirement for this part. We have since stripped the part and the 'crazing' has gone. We are going to re-anodise to the required film thickness of 7.62 - 17.78 microns and seal in boiling water. It has also been suggested that the excessive anodise coating and the subsequent hot water sealing may have contributed to the 'crazing'. Any more comments would certainly help.Thanks again.
Nigel Bell
[returning]
Process Engineer - Crumlin, County Antrim, Northern Ireland
---
---
February 20, 2017
Q. Anodizing crazing is making me crazy :-)
We produce various aluminium parts and anodize some of them. Last month we anodized "towel radiators". Customer had ordered: "bright anodized, 10 micron".
We anodized it but 1 week later customer complained about "crazing". He said that it was crazed after hot water circulation. We had inspected profiles; we have seen all defects with crazing appearance like cobweb.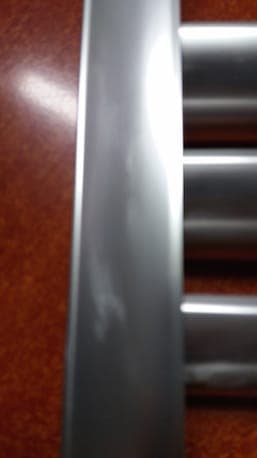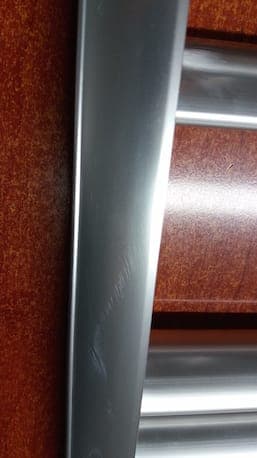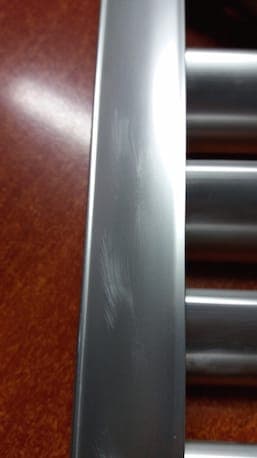 (click thumbnails for hi-rez photos)
What's the source of this defect? Any comments?

alaattin tuna
- turkey
---
February 21, 2017
A. I see "scratches" but do not see "crazing". Come back with the alloy, coating thickness, and temp of the hot water. Be aware that cracking starts at 80 °C and gets worse with higher temp.

Robert H Probert
Robert H Probert Technical Services
Garner, North Carolina
---
February 22, 2017
Q. Dear Robert,
I don't agree with you. That appearance as you can see is not "scratches". In my opinion,"crazing" appearance is quite obvious like cobweb. I don't think it relates with alloy. We use hot rinsing (70 ° C) after cold sealing. Also I measured coating thickness with Fischer Dualscope -- we found out between 15-20 microns.
Also,there is hot water (maybe 70-80 °C) circulation inside of this product (towel radiator). So,does hot water circulation cause "crazing" although product's coating thickness is 15-20 micron?
Alaattin TUNA
[returning]
- TURKEY,sakarya
---
February 24, 2017

A. It does look like crazing, because scratches would be parallel to each other, and the lines in photos are not.

I've done some small scale typeIII anodizing with thicknesses of around ~20 micron, and after hot nickel acetate seal I could see some crazing aswell.

My guess would be that inner stresses in the coating (and probably the substrate aswell) are causing the issue when hot water is circulated in the radiator. One thing you could try is to raise the temperature of your anodizing bath to make the anodized layer a bit softer, that may fix the crazing issue but the downside is some reduction in corrosion and abrasive resistance, may be there are some additives that would help to achieve this result without raising the acid temperature, but I've not heard of any (nor looked for).

Janis Ziemelis




- Riga, Latvia





---

February 25, 2017

A. I think Alaattin is correct, I've seen similar crazing on type 2 after being exposed to higher temperatures. I would also agree that the temperature of the water being circulated through the anodized part would cause the part to craze as seen in the pictures.

As to a solution? That's a little tougher. You could try imparting a rougher finish (glass bead) to the parts prior to anodizing, that should help hide the appearance of any crazing that can occur. Or perhaps seek out a different finish other than anodizing, perhaps Ni plating would be appropriate choice.




Marc Green




anodizer - Boise, Idaho




---
March 1, 2017
Q. I have only two questions at this point;

1- if we make between 5-10 micron coating thickness, then can we say: "crazing will never occur"?

2- can we say: "polished anodized (natural, like attached pic) profiles every time are a high risk group for crazing problems? If we make matte anodizing instead of polished ones, will we get the same crazing results? In short, if we compare polished (bright)/matte anodize for crazing aspect, will same results occur?
alaattin tuna
[returning]
- TURKEY,sakarya
---
March 7, 2017
A. Alaatin

I think if you only change the coating thickness, the crazing will still occur, but due to the thinner coating, it will not be as noticeable. I suspect the alloy choice is a factor, although I can't guide you as to which would be better.

One way to determine if an alloy would craze under similar circumstances would be to seal the anodize in a boiling solution. Hard to believe the parts are crazing in the field if they were hot sealed in your shop.

Willie Alexander
- Green Mountain Falls, Colorado


This public forum has 60,000 threads. If you have a question in mind which seems off topic to this thread, you might prefer to Search the Site