60,000 Q&A topics -- Education, Aloha, & Fun
topic 55760
Aluminum Anodizing flakes off when heated to 125 °C
A discussion started in 2010 but continuing through 2019
September 15, 2010
Q. Does heating up anodized aluminum (2024) damage the anodize? I have Mil-A-8625 [link is to free spec at Defense Logistics Agency, dla.mil] Type II 2024 aluminum parts that get heated to 125 °C. Would this cause the material to flake or crack? I am not an expert but I would think heating aluminum would make it expand which could cause the anodize to crack?

Any answers or comments would be greatly appreciated.
Chris Ogaz
CNC Machinist - Ontario, California USA
---
September 17, 2010

A. Yes, cracks start at 85 °C and up. This is because the coefficient of thermal expansion of aluminum oxide is 0.2 that of the underlying aluminum metal. Expressed differently, the aluminum metal expands 5 times as much as the aluminum oxide, something has to give, it cracks. Alloy and sealing has a wide effect on the degree of cracking.




Robert H Probert




Robert H Probert Technical Services





Garner, North Carolina





---

September 19, 2010

A. Chris

Hard anodize cookware sees temperatures well in excess of 125 °C and the anodize does not flake although it does crack. Does the anodize flake randomly or is it selective? Is it one particular part or all?

Willie Alexander




- Colorado Springs, Colorado




---
September 21, 2010
Q. It seems when we get the parts back from the anodizer and do a tape test on the part no anodizing comes off at all. The parts seem clean and they are certified to MIL-A-8625. They are correctly sealed since we took one back to the platers to have them test it.

After baking the parts at 125 °C for one hour we do another tape test and the anodizing comes off. It looks like the anodized surface is all cracked and flaky.

I know plating these parts to Mil-A-8625 [link is to free spec at Defense Logistics Agency, dla.mil] doesn't call for a high temp dye, but I am wondering if a high temp dye might solve this problem?
Chris Ogaz
[returning]
- Ontario, California USA
---
October 9, 2010
A. Are you sure that the anodizing is flaking or peeling? It may be that just the dye is being removed, while the anodized layer is still present.

I suggest that you test the electrical conductivity of the "flaked" area (two areas a few inches apart is better). If the anodized film is truly gone, it will conduct; if only the dye has migrated and been removed, then it should still be electrically non-conductive.
Mike Burnson
- Chicago, Illinois, USA
---
---
November 24, 2011
Q. I have a similar problem with anodize parts (2024) baked at 250 °F for an hour and all have conductivity can it be that 2024 has this problem only or do we need to use a different type of anodize?
Fel Mar
Aerospace - San Diego, California, USA
---
November 28, 2011
A. Fel

Consider a IIB coating, or the thinnest coating that will still meet the design requirements.
Willie Alexander
- Colorado Springs, Colorado
---
---
Black anodized finish rubs off of aluminum castings
November 15, 2011
A. After part has been anodized, dyed and dual sealed (dichromate) per Mil-A-8625 [link is to free spec at Defense Logistics Agency, dla.mil], just rubbing the part with a soft cloth the black finish is coming off. I am suspecting the parts were not cleaned properly prior to the dyeing and sealing process but the vendor is justifying that because it is a casting the black finish will bleed no matter what process is applied.
Can someone provide advice?
Ali Soto
product designer - Orlando, Florida
---
November 17, 2011
A. Come on back with more data. Sulfuric or Chromic? Die Cast or Sand Cast? What is the surface preparation? Is fluoride involved? Free Acid, dissolved aluminum, current density, temperature?

Robert H Probert
Robert H Probert Technical Services

Garner, North Carolina
---
---
August 28, 2013
Q. Hi all.

First time posting.
I have been informed by my customer that parts we make for the aerospace industry are failing an adhesion tape test. Parts are anodized per Mil-A-8625 [link is to free spec at Defense Logistics Agency, dla.mil] type II, class 2 black. The customer is heating the parts to 200 °F in an oven and performing the tape test after parts are cooled. They are witnessing a spotty peel off on the tape. It is readily seen on the parts as well. Tape test is good before heating.

Any suggestions?
Rick S
[last name deleted for privacy by Editor]
Job Shop Owner - Connecticut
---
September 9, 2013
A. Rick,
I would work on the sealing details to improve the situation. Be sure it's a hot seal with proper rinsing and long enough hot d.i. dwell times. Cold sealing is not recommended but with good rinsing prior to sealing and a 20 minute hot d.i. rinse dwell/soak after sealing you'll be on the right track.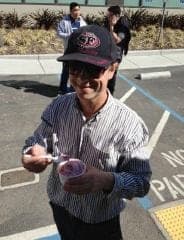 Blake Kneedler
Feather Hollow Eng. - Stockton, California
---
September 10, 2013
A. Come back and tell us (1) the alloy, (2) whether heat treated, (3) whether forged or other "work hardened". Be aware that all anodizing starts to crack at 80 °C, and if the oxide coating penetrates just through the area of heat treatment or work hardening, then it will flake off. As the above man said, also, proper sealing is very important on oxides that will be heated.

Robert H Probert
Robert H Probert Technical Services

Garner, North Carolina
---
---
Pin prick sized flaking of black dyed anodizing
May 29, 2014
Q. At our aerospace plating shop we are soft anodizing 3-5 tenths L168 Aluminium alloy components. Some we then put in black dye and hot water seal.
We tape test them once dried and cooled and the anodic layer stays on. However, some components after heating to 125 °C for 2 hrs as part of an Araldite curing process, and others not heated but about 2 weeks after anodising fail the tape test by spalling. This shows as pin prick sized flakes being removed from the surface.

We have looked at the etches pre plating, and changed them, six months ago. And the problem went away. The effect is intermittent and does not show up on all components. The sulphuric acid tanks are less than 3 months old with regular changing.

We are getting quite frustrated by this issue, as we think we have sorted it out and then it returns again a couple of months later.
Any idea, please?
Mark Lees
Plating Chemist - Isle of Man, Great Britain
---
June 4, 2014
A. I am not going to look up the UK designation for that alloy to get it into my terms but here are a couple thoughts. The anodic coating coefficient of expansion is only 20% that of the underlying aluminum metal, it starts to crack at 80 °C
(Sheasby and Pinner, UK authors) =>

Also, depending on the heat of machining,forging, or forming you get a work hardened area, which if the anodic film goes all the way thru, then the opponent stresses causes flaking.

If it is a high zinc alloy, like what we call the 7000 series, or if it is a high copper alloy like what we call 2000 series, then upon heating the zinc/copper migrates out of alloy, then if it lays just under the coating, it will come off, due to stress, in tiny flakes.

Robert H Probert
Robert H Probert Technical Services

Garner, North Carolina
---
June 5, 2014
A. Hi Mark,

My company recently had a similar problem with anodised and black dyed coatings, where the flaking was occurring when ultrasonic cleaning after bond with a high temperature curing adhesive (minimum cure temperature 100 deg. C). This was on a similar alloy (4.4% nominal copper content).

My contention was that we were overheating the anodising, causing the coating to crack due to the difference in coefficient of thermal expansion between the aluminium base and the oxide coating (aluminium expands at about 5 times the rate of aluminium oxide). When the coating was exposed to ultrasonic tiny pieces of the anodise coating were being knocked out (for want of a better term).

We changed to a room temperature curing adhesive and after a number of ultrasonic clean operations the anodise remained undamaged.

I think you may be suffering a similar problem with overheating of the anodise coating. Try if possible to keep the temperature under 100 °C and preferably below 80 °C.

If you are not using L168 for its strength you could consider changing the alloy to a material less sensitive to temperature variation (6061 or 6082 immediately come to mind).
Brian Terry
Aerospace - Yeovil, Somerset, UK
---
June 9, 2014

Thanks Guys, I have been thinking that the problem related to expansion when heated, but I have had varying results when testing the hypothesis. Including flaking after 2 weeks at room temp in some cases. I think a combination of the copper migration and thermal expansion rates could be behind the issue in my case. Also I have been given a suggestion to plate at 250 g/l H2SO4, 20volts, 15 °C as a way of helping prevent the problem as well. We had been anodising at 20 °C and 260 g/l H2SO4 up until now. I am going to do a trial along these lines in conjunction with your suggestions.
mark Lees
[returning]
- industrial chemist Isle of Man GB
---
---
Green Dyed Aluminum Anodizing Rubs Off at 170 °C
October 8, 2019
-- this entry appended to this thread by editor in lieu of spawning a duplicative thread
Q. We have a small Sulphuric Anodise Line which is 5 years old and has run smoothly during that time.
However we are now experiencing issues with green dyed end caps.
When heated to 170 °C during assembly the anodise coating is breaking down on the sides and base of the end cap (the top is fine)?
Process solutions are all in spec, parts are anodised on titanium jigs and sealed in a nickel acetate solution at 96 °C.
End Cap material is 2024-T351.
After heating to 170 °C the sides and base of the end cap the anodise finish can be rubbed off and the area is rough to the touch.
Any advice would appreciated?
Julian Rees
Treatments Line Leader - Reduth, Cornwall UK
---
October 9, 2019

A. Sheasby/Pinner under Thermal state that anodizing begins to crack at 80 °C. 160 °C would blow it away and surely ruin the organic dye. Also, at that heat the 2024 copper will start coming out to the top




Robert H Probert




Robert H Probert Technical Services





Garner, North Carolina





---

October 9, 2019

Hi Julian,

You are witnessing a common problem with dyed anodising when taken above certain temperatures. The problem is that the aluminium base material expands at a rate roughly 5 times faster than the coating. You are alright up to around 100-105 °C, anything above that and you are likely to run into problems and at 170 °C I'm not surprised you have a problem. The anodising will have cracked and become brittle, the edges are particularly vulnerable.

I'm guessing you are using a heat-freeze fit during assembly. So, consider taking the mating part down even lower than you are now and don't heat the caps above 100 °C and see how you get on.

Brian Terry




Aerospace - Yeovil, Somerset, UK




---
October 28, 2019
Q. Thanks for the previous comments.
We are almost there with this problem.
We ran our anodise bath at 140 g/l sulphuric acid. We've upped to 270 g/l to give a softener coating.
We've also played around with dye times and sealing. We now seal for 5 minutes in nickel acetate at 96 °C and 35 minutes in RO water at 96 °C.
This has solved the flaking problem :-)
However we are finding inconsistent finishes, first few runs through were a matte finish and we had to rub off the excess dye. However, the next day the first 2 runs gave a shiny finish with no excess dye?
Then runs 3 & 4 gave shiny end caps at the top of the jig and matte end caps at the bottom?
Any suggestions as to what is happening would be greatly appreciated.
Julian Rees
[returning]
Areospace - Redruth, Cornwall UK
finishing.com is possible thanks to our supporting advertisers, including this shop: