World's most popular finishing site / Internet's friendliest corner
topic 44929
High temperature black anodize
A discussion started in 2007 but continuing through 2018
2007
Q. We are working with a 6063 extruded aluminum housing that requires we heat it to a temp of 500 °F (260 °C) so we can shrink it over another part. This housing is anodized black by the extruder. During heating in an oven, over some time the parts change color to a purplish-bronze hue. If we heat them quickly we can avoid significant color shift, unfortunately this is hard to control using the oven. We are trying to avoid the capital expenditure of an induction heater (which does work well as the parts are heated so quickly).

We oven tested samples of another aluminum 6061 part and found some that change color much less readily (but still do change slowly). We don't know and can't find out how these parts were anodized. So we know it's possible to improve this but not how. I doubt it's the difference between the 6063 and 6061 alloy as their composition is very similar.

Is getting this high temperature colorfastness simply a matter of specifying the correct MIL-8265 Type (i.e., I, IB, IC, II, IIB, III)? Or should a special sealing or dying method or compound be specified?

Any help would be greatly appreciated.
Tom Bucella
Engineering Manager - Rochester, New York
---
2007
A. You have 2 options: Specify either 1) a heat resistant dye or 2) electrolytic (two-step) coloring. Dyes are organometallic molecules subject to degradation; electrolytic colors are inorganic, so more stable.

Heat resistance data are scarce but correspond fairly well with light (fade) resistance. MIL-A-8625F allows the customer to specify light fastness testing of Class 2 (dyed) coatings, although this is typically only done for initial qualification of a process. A Type II anodize coating thickness of at least 0.001" improves fade resistance. All dyed anodize is required by spec. to be properly sealed.

Probably, best to correlate actual past results with dye data from the anodizer(s). Your anodizer(s) has records on dyes used for at least the past year per MIL-A-8625F, maybe even 10 years if using a modern quality system. My opinion of the fade resistance of some common black dyes: Black CRO < BK < BK Super < MLW < HBL. A dye supplier such as U.S. Specialty Color Corporation will have more information.

The Aluminum Association has a "Designation System for Aluminum Finishes," publication DAF-45. Some designations for electrolytically dyed anodize are A-34 for Architectural Class 2 (10-18 microns) and A-44 for Architectural Class 1 ( >18 microns). Not all anodizing jobshops use these designations, however.
Ken Vlach
- Goleta, California
Finishing.com honored Ken for his countless carefully
researched responses. He passed away May 14, 2015.
Rest in peace, Ken. Thank you for your hard work
which the finishing world continues to benefit from.
---
2007
A. We do black anodize here. Some of the items I do are for photographic lighting which gets very hot - near 500 deg f & our black dye has no problem with that temp.

There are many black dyes available for anodizers to purchase - each one has a lightfast & heat-fast rating - your anodizer may be buying a dye that is not heat-fast.

Also, even with a good dye it is important that you have a thick enough coating to get a good black color & a good seal.

If your anodize is being done by the extruder, they may be using 2 step electro coloring - that should definitely not be fading.

Hope this helps.
David A. Kraft
- Long Island City, New York
---
2007
A. The dye is covered above. Here are two more problems. At the temperature you bake the waters of hydration in the seal are driven off. Secondly, at your baking temperatures the coefficient of expansion of the underlying aluminum is 5 times that of the oxide coating - ,so it cracks!

Robert H Probert
Robert H Probert Technical Services
Garner, North Carolina
---
---
February 8, 2013
Q. I have scoured the internet, this site and the anodizing books available to me including those by Arthur Brace and Robert Probert but I have found precious little information on inorganic black dye using cobalt acetate that is beyond the basics.

I did find a specification that listed temperatures and concentrations but I'm still looking for more. Such as pH values, control and titration methods for bath analysis. I wonder if it is identical to the titration I do for nickel acetate?

Can anyone point me in the right direction to find the information I need.
Tim Hamlett
Process Quality/Laboratory Supervisor - Ft. Lauderdale, Florida, USA
---
February 13, 2013
A. Tim

Try searching "effects of a simulated space environment on thermal radiation characteristics..."

Table 1 has some parameters, but not specs. I'm not sure if the sulfide will cause interference, but you might be able to test with a colorimeter typically used to analyze (waste) waters.
Willie Alexander
- Colorado Springs, Colorado
---
---
High temperature color anodizing
September 24, 2018
-- this entry appended to this thread by editor in lieu of spawning a duplicative thread
Q. Can I know if color anodize can stand temperature of 200 degrees for 4 hours without fading? Or any recommended solution on temperature and time ?
Alan Ang Der Chyuan
Machining House - BM,Pulau Pinang, Malaysia
---
September 27, 2018

A. In my opinion anodization layers with the adsorptive colouration procedure (e.g., black) are not stable at 200 °C. They are bleached after a short time. It depends on the temperature and time. Temperatures of over app. 100 °C (150 °C only a short time) can be critical.

Anodization coatings are more resistant with the electrolytic colouration procedure (e.g. Colinal). The color is electrolytically deposited in the base of the layer. But only a few colors are possible (bronze, brown to black)
More colors are possible with a combined electrolytic-adsorptive process.

Which color should be anodized?
Which basic material?
Otherwise, a test of a prototype.

Joerg Beerli




AluSolutions - Hallau, SH, Switzerland





---

September 27, 2018

A. Alan, yes, it's possible that it can. That being said, not all anodizing dyes, and for that matter, not anodizing processes are equal. Company A may have a process that works well for your application, Company B may not. It would seem to me that this is something that you could test yourself. Take your anodized part and stick it in a preheated oven for 4 hours and observe results. I would repeat the process numerous times to insure numerous heat cycles does not have an effect.

Another thing that can cause fading is exposure to intense UV lighting.




Marc Green




anodizer - Boise, Idaho





---

September 2018

A. Hi. Alan has not specified whether it's 200 °F or 200 °C. Most of the world uses C, so that would be my assumption, but many posters use F in deference to this being a USA-based site where F is still the commonly understood temperature scale. Please get back to us with your situation, Alan.

Regards,




Ted Mooney, P.E. RET




finishing.com - Pine Beach, New Jersey




Striving to live Aloha




---
September 28, 2018
Excellent catch Ted! My response was under the assumption of 200 °F. If it's 200 °C, then dyed anodizing should not be the coating used.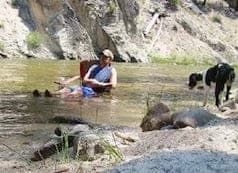 Marc Green
anodizer - Boise, Idaho
---
March 7, 2019
Q. Hi all,
thanks for the feedback and advice.
Below I share some sample of my testing:

**Preheated oven for 4 hours under temperature 200 °C.
**Color Anodize : Green
**Each cycle = 4 hours
**Material : Alu 6061 ( extrusion material )

Result : After a few cycles the material surface color is fading. Green color changes to silver color.
My customer comment/concern why the color can fading easily during their operation. The green anodize color unable to sustain.

Question & need help :
1. Is this normal behaviors for color anodize?
2. Any suggestion or specification I can convince my end customer.
3. Any solution to avoid the finishing color fading? I have tried with my finishing supplier to increase the sealing process time but it doesn't help much, color still can fade.

Hope that I can get all your suggestion and help on that.
Really appreciate it!

Thanks
Alan
Alan Ang Der Chyuan
[returning]
Machining House - BM,Pulau Pinang, Malaysia
---
March 8, 2019
A. Hi Alan,

200 °C is a lot to ask of any dyed system. You could try asking one of the dye manufacturers whether they have anything rated to that temperature (possibly might have an inorganic dye that might withstand the temperature).

As an aside, taking anodizing to 200 °C isn't the greatest idea. The coefficient of linear thermal expansion of the base aluminum is around five times that of the anodic layer, essentially meaning that any soak at temperature is likely to cause cracking. This is not a problem if the finish is aesthetic, but if you are expecting corrosion resistance then you are likely to have compromised the coating, such that you will significantly shorten the life of the part.
Brian Terry
Aerospace - Yeovil, Somerset, UK