World's #1 finishing resource since 1989
The Surface Treatment and Finishing of Aluminum and its Alloys
| | | | | |
| --- | --- | --- | --- | --- |
| ISBN | Edition | Pub. year | Authors | Publisher |
| ‍0904477231 | 6th | 2001 | Sheasby & Pinner | Finishing Publications / ASM |
| ‍0904477096 | 5th | 1987 | Wernick, Pinner, & Sheasby | Finishing Publications / ASM |
| ‍0852180411 | 4th | 1972 | Wernick & Pinner | Robert Draper Ltd. |
Illustrated are the 4th Edition, 5th Edition, and vol. 1 of the 6th edition.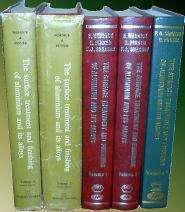 A Review by Ted Mooney:
The most exhaustive treatment of anodizing and other aluminum surface treatments that most of us know of. The "bible" of anodizing. The 661 pages of Vol. 1 cover the properties of aluminum & its oxide films and its corrosion & protection; mechanical prep, cleaning, bright dipping and electropolishing, etching, conversion coatings, and anodizing for decorative, protective, and architectural uses. Includes more than 300 references.
The 612 pages of Vol. 2 address hard anodizing, dyeing, sealing, and the properties and testing of anodized aluminum, as well as four chapters on plating on aluminum, and extensive coverage of organic finishing and vitreous enameling. (5th edition reviewed).


These links attempt to go directly to the book in question:
"Available" or "Sorry!" note is based on a recent finishing.com search and is not an official position of the bookstore.
Inventory at book dealers varies, and these links might redirect if the volume is out of stock, so please check that the offered book/edition is what we illustrate/discuss here and that you want. If a link doesn't work or points to the wrong book, the dealer may be out of stock; please try another source. Disclosure: finishing.com may receive a commission if you buy after following these links. As an Amazon Associate I earn from qualifying purchases.