World's #1 finishing resource since 1989
No login needed: Chime right in
topic 30522
Clear coating to seal a rust patina finish on metal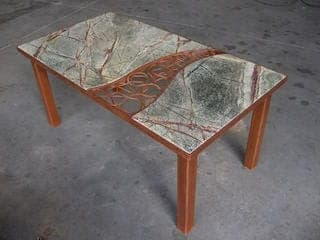 courtesy of John Dupree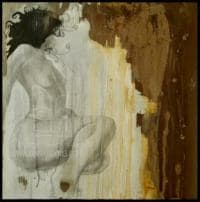 courtesy of Olivier de Géa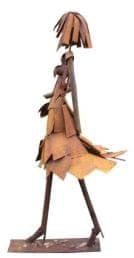 courtesy of
Willemine van Laarhoven
Current posting:
December 13, 2020
Great thread. I have used this information to create my finish on both bare metal (hot rolled) and rusted train track. Prepare surface. Brush on one coat of Penetrol [affil. link to info/product on Amazon], thinned a bit with varsol and a bit of added Japan drier [affil. link to product/info at Rockler]. After that, I spray with a oil based clear satin. This is a great indoor finish.

Q. I'm wondering if anyone has tried a water based poly as a second coat instead of the oil based clear? My fear is that it won't adhere to the Penetrol.

Any help would be welcomed. Thanks!
Steve Meschino
- Schomberg, Ontario
---
---
---
Previous closely related Q&A's starting in 2001:
2001
Q. We are a small custom metal shop that has a rust finish on some of our items. The problem is that we are having a difficult time sealing the rust finish, typically on the towel bars and towel rings where they are exposed to moisture. Is there an affordable product that can stop the rusting and seal it? Or, is there a paint finish other than powder coating that is available? Have tried everything from poly to Tung Oil [affil. link to info/product on Amazon] and cannot contain the rust. Please help!
Please help!
Mark D. Lyon
Wish Craft - Rock Springs, Wyoming
---
2001
A. Dear Mark,
A good polyurethane should do the trick. I would usually recommend an acrylic base coat followed by a urethane. This makes the urethane much easier to strip, when it comes time to repair/maintain the patina and substrate.
adv.
Contact me if you would like more information.
Regards,
Jake Koch
G. J. Nikolas &Co.,Inc.

Bellwood, Illinois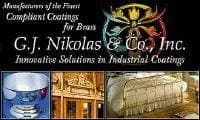 ---
2004
Q. I am a PM and have project with a situation and was looking for any information I could find on clear coat. I have a 20 gauge cold rolled steel that has been cleaned (w/soap & water) and then we applied a solution of water/acid to speed up the rusting process. We then applied a semi-gloss lacquer (3 coats / interior application) using a "Deft" product. Now that the metal is in place some of the finish is coming off and taking the rust with it (rusted look was the desire) Is there a product that we can put over the lacquer that will stand up to abuse (prefer clear coat) or do we have to take off the lacquer before we can put anything else on it.
Thank you for any assistance you can offer.
Ed Smith
sheet metal subcontractor - Blue Springs, Missouri
---
2004

Q. I have the same interest as Ed in clear coating over a rusted surface. In my case it is for steel sculpture, as I do fairly large pieces for indoor and outdoor use. Many times I want to keep the rusty look. Any suggestions?

Thanks,

Ken MacDonald




- N. Kingstown, Rhode Island





---

2004

Q. Like Ken and Ed I am interested in an exterior clear coat that will work on rusted metal. We are expanding our signage to include etched and distressed metals and need a durable clear for exterior use.

Thanks,

Steve Halmhofer

, shop manager




- REDDING, California




---
2004
A. I think that you can use proprietary polyurethane paint or spray. Some of them contains rust inhibitors (Krylon spray). Good luck!
Goran Budija
- Zagreb , Croatia
---
2004
A. I have been using the same approach to accelerate rust and have been experiencing the rust peel you describe. It is my belief that the acid causes the rust to happen too fast. I suggest you experiment a little with vinegar. That seems to work fairly well and quickly. Also be aware that the texture is different than with the acid.
Allan Polinsky
- Lodi, California
---
2006
Q. If any one knows of a clear surface film finish that could be used over rusted metal I'd really like some feed back on this. I know that you could use Linseed Oil [affil. link to info/product at Rockler] and maintain it every year. the project that I'm working on is Rusted Iron Gates and handrails and its all exposed outside to the weather. Thanks,
Jim Popp
custom painting - Post Falls, Idaho
---
2006
Q. I am trying to find a way to clear coat artificial patina without creating bubbles in the clear coat. I am guessing that the chemicals are gassing beneath the surface. Is there a way to neutralize the acids and prevent the gassing?
Olivier M. Odom
metal work - Asheville, North Carolina
---
2006
A. In Response to neutralizing.... Baking Soda will neutralize acid. Wipe the surface with water/baking soda mix and drying it fully, quickly. it will stop the patina process.
Kristina Kozak
- Brooklyn, New York
---
---
2007
Q. Furnishing a very rustic cabin. I have 1/4" thick steel plate I am using as a countertop and an old steel plow disc I am using as a wash basin. Both are rusted to perfection. How can I seal the rust and maintain it's current appearance and water proof?
Ray skinner
Hobbyist - koosheram, utah, usa
---
2007
Q. I've been through all the threads, and I didn't manage to find any definitive answers on a clearcoat finish on rusted steel.

I have an old steel welding bench from the 60's, it's rusted to a perfectly natural (almost uniform) rust pattern, and I am using it as a counter in my kitchen. I want to protect the rusted finish with a clearcoat that can withstand plates and dishes and such abrasive surfaces & wet/oily substances.

Is there a product out there that I can use to simply seal the surface the way it is now thus clearcoating it?

Thanks for your help, and for all the info in the threads - very useful indeed

Cheers
Rich
Richard Belliveau
- Fernie, BC, Canada
---
2007
A. Hi, Richard. I suspect the reason you couldn't find a great answer is that there may not be one :-(
It's said that a chain is only as strong as its weakest link. Here we have a link of steel (your welding bench); then a link of loose, powdery, non-adherent rust. Then a link of clear coat. And people report that as stress is put on the clear coat, the clear coat pulls off, "taking rust with it".
But I suspect that if the rust is quite thin, such that the clearcoat can "wet" it all the way through to where the clear coat can actually grab some sound steel, you may get acceptable adhesion. Good luck.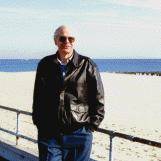 Ted Mooney, P.E.
Striving to live Aloha
finishing.com - Pine Beach, New Jersey
---
2007
Q. I have the same problem as the other people. Have a rebar viewing fence with stucco wall at the bottom. It's supposed to be rusty. But the clear coating the fence people used is washing off allowing it to further rust on the stucco, my flagstone patio and the front sidewalk. Need something to seal it with. Hope you can help. Deborah
Deborah Dillon
- Gold Canyon , Arizona
---
February 27, 2009
A. Automotive clearcoat. Seals the rust without inhibiting the appearance, and the thicker you lay it on, the more protected you are. If it gets severely scratched, just buff with a little clear coat polish and a buffing cloth.
Rob Lawson
- St. Louis, Missouri
---
May 13, 2009
Q. Wow, this is great. I have a set of 1950's metal garden chairs and had them sand blasted and let them rust to a wonderful color. You just can't sit on them without getting orange stripes on your clothes. Will try the automotive clear coat.

Question? Multiple thin coats, or one heavy coat? Should I wipe them down first and if so, use what product?

Thanks for the great information.
Rose Middleton
interior designer - Kansas City, Missouri
---
May 15, 2009
A. Hi, Rose. A couple of thin coats is probably best, but you must brush any loose rust off first. A chain is as strong as it's weakest link. If the rust doesn't adhere to the substrate, it does no good to have the clearcoat adhere to the rust -- it just comes off as a package deal. Clearcoat is not shrink wrap; it has to adhere to the base steel or to rust that itself has some adhesion :-)
Regards,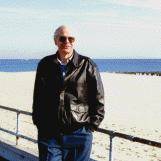 Ted Mooney, P.E.
Striving to live Aloha
finishing.com - Pine Beach, New Jersey
---
May 15, 2009
A. For my restaurant in Portland, we formed sheet steel panels to fit our back bar, laid them in the parking lot and sprayed them with Muriatic Acid [affil. link to info/product on Amazon] (diluted a lot) and salt water and let the rain finish the job. When finished it looked like marble and burled wood--nobody guessed it was rusted steel.

We burnished it with fine 0000 steel wool [affil. link to info/product at Rockler] to remove any powdered rust, leaving a smooth and intact finish and polyurethaned everything. We put a few coats on, as I recall.

It was inside and not exposed, but in the 8 years I had the restaurant (before I sold it) it showed no signs of additional corrosion or breakdown of the poly finish.

Looking at clear powder coated finish for my next project.

Michael
Michael Teahan
- Glendale, California
---
---
October 8, 2009
Q. Regarding using automotive clearcoat to protect a rusted surface and keep the rusty look: I just installed a steel railing around my deck and it is awesome and starting to rust. I want to protect the rust from coming off, especially onto my guests. Can I apply automotive clearcoat with a brush? Or do I have to take the panels off and spray them somewhere? And what brand is economical and works well?
Marion Johnson
- laketown, Utah
---
May 2014
A. Hi Marion. Let me first clarify what automotive clearcoat is, in case any readers are confused. It's a "2-component" or "two-part" or "2K" coating material. It is usually polyurethane but it hardens the way epoxy hardens -- in other words it doesn't "dry", it "cures" as the two components react with each other. You have to mix the two components in the right ratio, and must complete the project before it hardens.
There is no reason you can't brush it if you can work quick enough, or do it in several batches. Use cheap disposable brushes as there is no way to clean them. We don't like to recommend one brand over another, but I'm sure a local automotive store will have it -- just don't talk yourself into a single component clearcoat if you want "automotive clearcoat". Good luck.
Regards,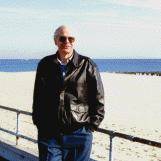 Ted Mooney, P.E.
Striving to live Aloha
finishing.com - Pine Beach, New Jersey
---
January 17, 2010
Q. I have just completed a coffee table out of mild steel. The top is a sheet of found steel with great textured rust and corrosion. I want to keep this color and texture intact yet be able to have a smooth wipe-able surface. Is there anything I can treat the steel with to achieve this functionality without losing its appearance?

Thanks
Zoe
Zoe Dadian
artist - Asheville, North Carolina
---
May 6, 2010
Q. I am an artist who is beginning to work with rusted iron plates. The rust has beautiful shades of orange and yellow that I'd like to keep giving them a finish. I've tried some products, but they darken the original color of rust. Can you help me find anything that protects the plate of my artwork but that does not interfere in the colors of rust?
Evenilde Picardi Faria
Plastic artist - Nova Lima, Minas Gerais, Brazil
---
May 2014
A. Hi Evenilde. Some colors are pigments, and a clearcoat won't effect them; but some "colors" (like the rainbow sheen of a drop of oil on a puddle, or from a CD/DVD, or the colors of titanium jewelry, or the changing colors of some oncoming headlights) are just diffraction effects. These effects happen because the oil, or plastic, or metal coating is transparent and so thin (partial wavelength) that light waves bouncing off the inside of the clearcoat and the outside "interfere" and cancel out some of the colors of white light, leaving only the remaining.
The bad news is that any clearcoating will always destroys these diffraction colors because the clearcoating is too thick for partial wavelength effects. I can't say for sure, but I believe this is what is happening to your "yellows" and "oranges", leaving only a brown rust color. Sorry it's not good news, but at least if you know what you're fighting you may be able to figure out what you want to do.
Regards,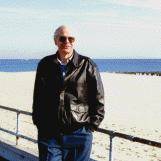 Ted Mooney, P.E.
Striving to live Aloha
finishing.com - Pine Beach, New Jersey
---
July 11, 2010
A. A great clearcoat I have found for sealing this rusted effect is Motostorms Glamour clear. Its a polyurethane so more flexible than urethane clears, which has been a life saver on some of the thinner metal projects I've done. It adheres amazingly well to rust. Of course, as pointed out, the large rust flakes can be a problem. Your best bet if you want to preserve the large rust flakes, is to either, scrape them off, put a light coat of clear on, then sprinkle them back on..., or hammer the part with LOTS of clear over the course of a few days. This will form a 'bridge' of strength over the looser flakes.
The small powdery rust can be a problem. But if you can lay your project flat, using the Glamour clear or a good quality automotive clear, add some retarder to it and hammer on one or two hard coats to the project and leave it be for 24 hrs. This will saturate the rust and the slow retarder is just added insurance for more saturation. A good quality clear must be used though. So many out there are loaded with cheap flash solvents.

Yes, you can apply automotive clear with a brush. Mix small amounts at a time. Brush on one light coat, clean your brush while you wait 30 min for first coat to tack up, then repeat until you have the build you want.
You CANNOT use those foam brushes. Automotive clear will melt them. A natural hair brush should work. I'm not sure about others. Also, don't put the brush all the way into your mixed clearcoat. The clear solvents may eat any glue that is holding your bristles in. Then you will have hairs in your project. :(

Try to avoid using Baking Soda. If you MUST use baking soda to neutralize your project, neutralize the project with vinegar after the baking soda. Baking soda will keep your clear coat (or even primer) from adhering to the project at all. Later down the road, especially when exposed to the elements, your clear coat can start to turn cloudy. This is air pockets forming behind the clear as it is trying to delaminate.

What I have done for my rusted effects is hang part vertically, spray with muriatic acid. Wire brush in downward strokes. Blow dry with 100 psi air. Spray part with plain water (deionized water if your water is not neutral). Blow dry again with lots of air pressure. Then I spray it with a good quality solvent based wax and grease remover. Then blow dry again. At this point I like to let it sit in the hot sun for about 30 min while I mix up my clear. I then bring it in, let it get down close to room temp, and hammer with Glamour Clear with a few drops of retarder added. I let sit over night. Then I sand it with 320p Grit paper, and then apply a few more coats of clear until I get the smooth finish I want.
Adam Bond
- Indiana
Ed. note: Please see letter 17478 for a beautiful rust-finished table & an incredible pencil sketch on rusted steel, and letter 16945 for a hot woman made of cold steel.
---
September 9, 2010
-- this entry appended to this thread by editor in lieu of spawning a duplicative thread
Q. We are building a building that we sand blasted all I-beams, channels and square tube. We then sprayed it with Peroxide and some acid to get it to rust. What kind of clear coat can I put on this to protect it. (It is exterior steel)

Robert Mcinnes
employee - Durango, Colorado
---
December 18, 2010
A. KBS RustSeal clear, neutralizes as well =>
david thibert
tech - hayward California
----
Ed. note: We're not sure if David is precisely right because we've found that product in lots of colors, but not "Clear". We have, however, found "KBS DiamondClear" and are not sure if it's really the same stuff as "KBS RustSeal"
---
January 16, 2011
Q. Hello all, I have been reading about rusting metal and clearcoats, but I am having one problem and wondering if there is a step in between that I should be doing? I make"rustic" metal art, I want a light coat of rust, not cancerous, then clearcoated so it doesn't rub off. I have tried various sealers, clear coats like Krylon, water seal, others....but what I am noticing is that if the metal doesn't stay at room temp, then it looks like it continues to "perspire" or rust under all of the clear coatings. I am a member of another forum, and they say you can't stop the rust....I am not sure of that, I have a friend that is doing what I want to do, hers does not "perspire" once coated, but I have no idea what she coats it with, won't tell me, but I would think once the O2 supply is cut off, there would be no more rusting due to oxidation, so where is the "perspiration" coming from and how do I stop it? Is there something I should be doing after I get the piece rusted and BEFORE I apply the clearcoat? Right now, I rust my piece, get it warm and let it cool off, then clear coat it. But, then sure enough, after a day or two, it starts to "perspire"...any suggestions or HELP? appreciated! There has to be something small I am doing wrong!
I have one more question on automotive clear coats. I went to the store to get some, and they told me that it won't do any good to clear coat something unless I follow it with hardener. I know they do not know the context of what I am doing (trying to keep rust from continuing, and sealing w/ natural look), but do I really have to use a hardener after clearcoat? Or just use the clear coat?
Charlene Stovin
- Independence, Oregon
---
January 24, 2011
A. Hi, Charlene

It's risky to guess what a 3rd party meant without hearing their actual words, but I'll guess. Some clear coats are single component, but some, like epoxies and automotive clear coats, are two component. You can't use just one part of the two part system: epoxy for example will never dry, but will just remain a sticky syrup unless mixed with the required catalyst or "hardener". I guessing that you went to buy a clear coat system and tried to buy just one component of the two-component system. Good luck.
Regards,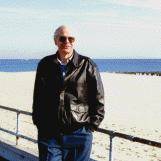 Ted Mooney, P.E.
Striving to live Aloha
finishing.com - Pine Beach, New Jersey
---
January 24, 2011
Q. Thank you but then what I am trying to find out, in the previous posts people are suggesting using automotive clear coat....so I am trying to figure out what it is I need to buy. I went to Nappa, and of course they are used to dealing with people painting cars, not what I am trying to do - I know there are a few "clear coats" suggested like Sharkhide at the start of this post...but I guess what I am trying to find out is what I should be looking for. I don't know what to ask for other than "automotive clearcoat"...so when they start asking other questions, I am lost. I just need to know what kind of automotive clear coat I should be after for the rusting projects. Does that make any more sense? We have Sharkhide for our aluminum boat, but that is very expensive....I just don't know enough about the product to know what I should be asking for. Thank you
Charlene Stovin
[returning]
- Independence Oregon
---
January 25, 2011
A. Hello again Charlene

Okay, I'm finally catching on. The "automotive clear coats" that people are talking about are not coatings like Krylon where a solvent evaporates and allows them to dry. Rather they are two-component coatings like epoxy where mixing two components causes a chemical reaction that makes the mixture harden, as opposed to drying. You don't sell the two components in a single can because it would quickly be just a solid hard mass rather than a liquid. The way it is done is the automotive painter takes a can of component A and a can of component B, mixes them together, then rather quickly pours the mixture into his spray equipment such that they are sprayed on within a very limited time after mixing them.
Adding to the confusion, people sometimes call component A "clear coat" and component B "hardener", although component A by itself is not really a useable clear coat, just a sticky syrup. So buy the can labelled "clear coat" (component A) as you were doing, but also buy the hardener (component B).
If you don't have professional spraying equipment, you can't spray two-component automotive clear coat*.

However, you may be able to successfully brush it on after mixing the two components. Although I have no experience in that, Adam B. describes it above. This may be what your friend is doing. Use a very cheap brush and a cheap mixing cup because once the mixture starts hardening, they become garbage -- there is no washing them. And practice on a piece of your scrapped art; don't go directly to an important piece.
Regards,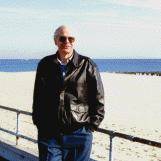 Ted Mooney, P.E.
Striving to live Aloha
finishing.com - Pine Beach, New Jersey
*
: I was half wrong because you can now buy "2-part clearcoat" spray in a single can
=>
The two parts are apparently kept separated until use, then sprayed together. I don't know how well it works myself , but many reviewers on Amazon seemed happy with it
=>
---
February 1, 2011
A. I've been force rusting steel projects for many years and have found a successful process. I wash the steel object with water and dish soap and then spray it with a vinegar and salt solution. This step accelerates the oxidation process.

Once the piece has rusted to the correct patina I wash it in a warm water and baking soda solution. This step stops the accelerated oxidation. Note, it only stops the accelerated oxidation.

Next I burnish the piece by rubbing it with an old leather welding glove that smooths the rusted surface and adds yet another interest dimension to the patina.

Lastly I coat the piece with clear coat. My best results have come from a matte finish polyurethane, but have also used an automotive clear coating system as well. I usually use several thin coats. This final step seals the surface and essentially stops the oxidation process. The oxygen can no longer cause any problems.

I haven't had problems with my pieces chipping clear coat or peeling rust. I think the key is a light coating of rust, neutralizing the forced oxidation, and completely sealing the surface.
Tom DeBoer
- Crookston, Minnesota
---
March 17, 2011
Q. Dear finishers and creators:
I have a project similar to those discussed. It is a large gate with two 4' x 8' panels of 1/4" steel with leaf and decorative cutouts by a noted designer sculptor in California, since deceased. The gate is located less than a block from the Pacific ocean in Mexico. The rate of corrosion in the area is high. The gate has been in place for two years. I have noted the preparation recommendations wire brush scale and powder down to a thin rust coloration with the object of allowing coating wetting contact with underlying sound steel substrate.

Neutralization with baking soda followed by thorough water wash cleaning sounds good . ?

The products available locally are a recommended 2-part epoxy coating often used over cement flooring. (smelly no VOC regulation formulations there). This coating is somewhat shiny which I'd like to avoid. There are polyurethanes available also.

Have to leave soon to work on this. Any thoughts/suggestions would be greatly appreciated ( working for ticket, food and board wish I was could be working 30-40 hrs/wk here again.)
Peter Whittlesey
exterior architectural consultant/ construction jack of all trades - Sausalito, California US
---
March 17, 2011
A. Hi, Peter. If you have the ability to mix and spray, I think a 2-component automotive clearcoat might be best. They are relatively thin and durable, and they are probably pretty readily available around the world. But it sounds like Tom D of Minnesota has good advice born of actual experience.
Regards,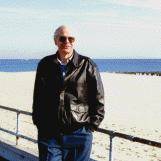 Ted Mooney, P.E.
Striving to live Aloha
finishing.com - Pine Beach, New Jersey
---
(You're on the 1st page of this topic) Next page >
---

Q, A, or Comment on THIS thread
SEARCH for Threads about ...
My Topic Not Found: Start NEW Thread