Where the world gathers for
plating, anodizing, & finishing Q&As since 1989
How to Rust Steel On Purpose
(
-----
)
---
---
An ongoing discussion beginning back in 2002 ...
2006
Q. I am a student at the University of Minnesota and I am currently doing a steel sculpture that I would like to have a consistent and smooth (maybe a little gritty) rusty finish. This page has been a huge help so far, and I'm going to try a bunch of the cheaper and easier options you have suggested. Does anyone know if one of these methods is most what I'm looking for? Thanks for your help,
Hank
Henry B
[last name deleted for privacy by Editor]
- Minneapolis, Minnesota
---
2006
Q. Looking for process to etch and rust metal.
Paul R
[last name deleted for privacy by Editor]
cabinet maker - Phoenix, Arizona
---
2006
A. SO YOU want RUST! Cheap Rust, FAST Rust on steel/iron products. I'm about to divulge a family secret. but here goes.....

Simple - Pool CHLORINE. Cheap @ $2.50 a Gallon.

Pour Chlorine in a "clean" spray bottle and use away from concrete or anything you don't want to destroy! I shouldn't have to tell you but please don't mix anything with this and BE CAREFUL wear Rubber Gloves [affil. link to info/product on Amazon] do not breathe in fumes while spraying on product. Read the handling instructions. this stuff is a nasty product. be sure to remove any oils or greased.
Depending on the vintage-ness or amount of rust you desire. this will produce quick rust with in hour. reply let dry & repeat.

I then seal with a simple Minwax Helmsman Spar Urethane [affil. link to info/product on Amazon]spray can or something like that depending if this is indoor or outdoor to seal it and sustain the rusty finish you created. this way you can handle your product and the rust will not come off on your customers hands when handling your finished product.
Have fun & be safe.
PHIL K
[last name deleted for privacy by Editor]
- Phoenix, Arizona
---
2006

I am building 3 automatic mild steel gates for a state park and they are required to have an actual rust finish. I am grateful for all the postings on this subject. I am under a deadline to perform so can't wait too long for results. The sea salt and vinegar sounds too long. I would like to try the electrolysis method but the gates are 24 feet long and they won't fit in my bathtub! Therefore I will opt out for the pool chlorine method and hope it works as fast as reported. I am having the gates and gate posts sand blasted tomorrow after which I will try and rust them fast. It is true by the way that passing electricity from electrodes through a brine solution (called cracking) produces chloride gas which is lethal to humans; don't try it in your bath tub!
Peter L
[last name deleted for privacy by Editor]
- Washington, Utah
---
2006
Q. Hey Guys,
I'm making a three side fireplace wrap from cor-ten steel and have the rust level where I want it. I'm looking for ideas for protecting the rust finish while installing it and that is safe to use around a fireplace. I've heard to use wax but it seems to me it would break down over time. Any ideas?
Thanks in advance.
Adam B
[last name deleted for privacy by Editor]
- Milwaukee, Wisconsin
---
2006
A. This is a recipe us crafters use to make safety pins, and bells rust for our dolls and things

This concoction will nicely rust all those safety pins, jingle bells, or anything else you want to 'age' for your primitive creations. Do this outside in a safe place (away from children or pets, of course).
In an old mayo jar, combine:
1/2 cup of cider vinegar
1/2 cup of Clorox bleach
1 teasp. of salt

Add your pins or bells and cover loosely. Place in a safe spot and let it sit for about 2 days. Some ladies get desired results in about 2 hours, but I like them super rusty, so I've always left them for about 2 days.

When they are ready, take an old plate (one that you only use for this project from now on) and line it with a couple layers of paper towel. Remove pins or bells with an old fork - again, one you will never use at the dinner table again, and place them on the paper-lined plate. Put the plate in a safe & sunny place. The rusting will occur as they dry. You can swirl the plate periodically to reposition bells so they dry underneath also. It will take a few hours.

So there you have it... beautiful rusty stuff!

~Nanny's Cottage

IMPORTANT NOTES:

*When ANY acid (such as vinegar in this recipe) is mixed with household Bleach (of any brand name) there is a rapid production of Chlorine Gas, an EXTREMELY TOXIC, even DEADLY gas. If using this recipe, please do so outside on a breezy day and do NOT breathe the air downwind of the mix. Wear safety glasses, as this can be an explosively fast reaction that creates some splashing. Repeated exposure to Chlorine Gas will do serious damage to your lung tissue.

*DO NOT throw this solution down the sink when you are done. I dispose of mine out in the woods away from pets or children.

Here's another way to do it

1 pint hydrogen peroxide
1/4 C. vinegar
2 Tbs table salt

Mix together in a large plastic bowl, and then add your metal items to rust. They should start turning the solution brown in an hour or so, but you can leave it overnight if you wish. Take your items out of the mixture, and then lay them on a newspaper or stack of paper towels to dry out in the sun. They will continue rusting as they dry. Feel free to cut the recipe in half or double it according to your needs.

Hope this helps someone it came from the great gals over at createaprim.com
Kim C
[last name deleted for privacy by Editor]
- Harrison Michigan
---
2007
A. I've been rusting many things for a clients house and I've found that Eastwood has a spray clear .
for restoring cars that works great. There are gloss and satin clears for painted and bare metals. One they have is supposed to stop rust, but be careful I think this one can get milky if put on uneven.
Bruce R
[last name deleted for privacy by Editor]
- Rochester, Michigan
---
---
2007
Q. We are fabricating steel frames in Cor-Ten B steel. Our client wants the frames to have the naturally aged aspect/color which requires a long period to reach.
Please advise whether there is any process or chemical treatment that will expedite the natural aging of Cor-Ten steel to look very old.
Thank you for your support and early response.
Toni F
[last name deleted for privacy by Editor]
buyer - Beirut, Lebanon
---
2007
Q. From what I have read, the pool chlorine looks like it is the quickest solution for obtaining a rust finish. My question is that I am trying to rust a Garage door that has been covered with some kind of metal(it seems like it is metal that is used for automobiles). The surface is painted so I do not know if the chlorine will work. Please help! I need to acquire this procedure in a somewhat quick manner.
Chris C
[last name deleted for privacy by Editor]
- Oklahoma City, Oklahoma
---
2007
A. If you have any paint (or primer) on the metal surface you'll need to completely strip it off and get your object back to the original condition. You can proceed from there.
Mitchell K
[last name deleted for privacy by Editor]
- South Pasadena, California
---
2007

What a great load of information and ideas!

Thank you all for your help. Here's a tip I haven't seen posted here. I got rusted and pitted steel in just a few minutes by mixing bleach with brake/carb cleaner.

Dangerous and too fast. After reading this site, I am now going with a salt/vinegar blend.
Matt Dennis
- San Diego, California
---
February 29, 2008
Q. Hi, I'm an artist and am looking to rust a large sheet of galvanized steel, roughly 4 x 5 feet (of which I will paint on, leaving some parts of the steel exposed). The goal is to rust the edges of the steel sheet.

I envision using Paul K's Pool Chlorine method.

The only problem I foresee is applying a polyurethane/sealer in the final stage. I don't want the steel to look treated- I want it to retain its industrial feel. What will happen if I don't seal it? Will it continue to rust (undesired)? Does anyone suggest a different method?
Thanks!
Wilson Parry
artist - Boston, Massachusetts
---
March 10, 2008
A. I found this information while searching for a safe way to speed up rusting. I used something something I bought in a craft store years ago on brass and came out with the most amazing and beautiful results. I painted it on in layers. If I find the bottle I will return with the product name if it isn't the one below.

Modern Options Patina Finishes makes a product. You brush or spray it on metal and it creates a beautiful rusted patina. It is sold at Home Depot and Michaels Craft stores." [Ed. note: Sophisticated Finishes Rust Antiquing Kit is available online by following the link].
The question still remains how to prevent the rust from "eating" the metal after a few years - also so it won't rub off when touched. I create art using rusted items (usually found in odd places) and all I've been able to use is a spray coating of flat or satin polyurethane. I'm going to try Diamond Glaze - found in craft stores [Ed. note: Diamond Glaze is available online by following the link]. This was a great site with so many great ideas. Thanks to all ! Leetta
Leetta Yarlot
- Jacksonville, Florida
---
March 27, 2008
Q. My name is Rick Howard from Ypsilanti MI. I am an artist and an Automotive designer by day. I have used naturally rusted steel in many pieces throughout my current home. I love the natural deterioration of things. I have just bought an in-progress home and really would like to cover/side it in a (rusted) steel. I cannot afford Cor-ten, so I have found a good source for raw steel, cold rolled 4x8 sheets. I don't mind letting the stuff rust in it's own time, the process will be photographed and enjoyed. My questions are these: What gauge is suggested? (I am looking at 20 ga or thicker). Is 30 lb. felt paper over OSB a good stackup? and how many years might it last? Thank you ,Rick.
Rick Howard
Artist - Ypsilanti, Michigan
---
June 12, 2008
A. Hi,
I have a technique to make a metal looks rusty.
You will need a rust look paint and industrial (talc - talcum powder)
1 - Give one hand of paint to the metal
2 - While its not dry, apply the talc powder to the zone you painted. That will give you a rust texture.
3 - Apply other hand of paint.

Repeat this process to make the rusty texture as you like.

I know maybe this will not help you, but I hope this will help someone.

Sorry about my English.
Federico Scoppa
- Palma de Mallorca. Balearic Islands, SPAIN
---
August 29, 2008
A. Hello,

I used the muriatic acid solution to eat off mill scale (didn't have a sand blaster). I then used the Hydrogen Peroxide and salt.... periodically re-applying. Worked great and in two days I was done. Hopefully the picture appears below: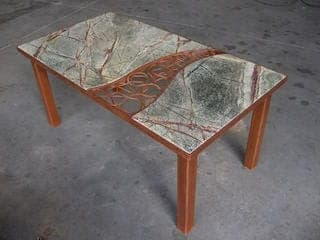 John Dupree
Steel fabrication - San Diego, California
---
August 31, 2008

Thanks for being there for me. I was checking out different way's to rust pieces for my Folk Art dolls and ran across your site. Thanks so much for being there. Can't wait to try the vinegar and salt bath. Sounds real easy for me. Oh yeah, there is always one in a crowd. Don't let ignorant people bother you, life isn't worth it. You are helping more people than hurting. Keep up the good work!
mom sewer
- Michigan
---
December 29, 2008
A. I have a small business (with big business dreams) that makes metal art, we're new, I just tried my very first time to rust mild steel, I bought a bottle of vinegar at the grocery store, a spray bottle at depot, sprayed the steel, waited ONE HOUR and then heated it from a distance with a rose bud - oh, I used a 24 grit sanding disk first to create a pattern - worked awesome - then sprayed a clear finish over that - very pleased - will try additional methods posted here - Thanks all
David Moerman
- Glendale, Arizona
---
January 4, 2009
A. Hello thanks for all of the great advice on this page. I am a Sculpture major that mostly works with steel and 80% of the time I rust it. I thought that I should let you all know that for achieving a rusted look over night I use a mixture of salt and hydrogen peroxide sprayed on with any spray bottle and then use a blow torch to heat it. Repeat these steps until you are satisfied, make sure to wear a respirator but so far I have always loved the results that I get with this technique.
Kate Schroeder
University of Central Missouri, Studio Art Major - Warrensburg, Missouri
---
February 4, 2009
A. Hello. I am not an expert at this, but you can stop metal from rusting if you run a very small electrical current through it. To be more precise, if a Negative DC Voltage is applied to a metal surface, it will not rust. I have tested the theory using steel wool in a salt water solution, one rusts, the one with 10 mA of Minus 33 vDC applied to it doesn't. There are commercial anti rust units for cars available on the web - they should work fine for large steel objects. The electrical current will stop new rust, but will leave the old rust alone. Do not be put off by the voltage - there is enough power to run an LED dimly.. The commercial car anti rust unit is called Rust Guard and runs on 12 volts dc. Hope that helps.
Some more info - the voltage MUST be Negative. A battery has a +positive terminal, and a Zero terminal(often called the negative terminal). The voltage you need to stop rust is Negative, i.e., BELOW Zero. This is easily done by switching 12 vdc through a small coil of wire - an inductor. The negative voltage is collected in a small capacitor, which is then connected via a resistor to the metal to be protected from rusting. Then you return the negative voltage to the zero terminal of the battery.
Try to have the negative supply wire and zero return wire as far apart from each other as possible. The concept requires that the metal surface acts as a wire, and the presence of electrons with a Negative potential in that 'wire' is what stops it from rusting. I can supply a circuit diagram if required. Total electrical power used is 25 mA@12 vDC. An electronics enthusiast should be able to make this quite easily. Or you could use the Rust Guard car device I mentioned before.. The end :-)
Colin Visser
Electronics - Adelaide, South Australia, Australia
---
February 11, 2009
A. I'm a sculptor working primarily in mild steel. I rust much of my work and use a fairly simple solution that's comprised of relatively easily obtained parts.
I first sandblast the work thoroughly - ideally with an abrasive medium to really tear at the surface as opposed to a bead shot which actually closes up the surface of the steel making it more difficult for the rust to adhere (either one will work).

supplies:
Vinegar
Distilled Water
copper sulfate [affil. link to info/product on Amazon]

I heat the water in a pot - add copper sulfate until the water is bright blue (maybe about a 1/2 - 1 cup per gallon? - I'm sure my mixes vary and it always works). Once the water has dissolved the copper sulfate I pour it into a pump sprayer and add vinegar. I usually add about 1/2 as much vinegar as I have water. I'm sorry that I'm not more scientific but it's never really mattered.

Once the piece is sprayed with the solution you will notice a change immediately. First the piece will look like copper (within a couple seconds) and then it will begin to darken and rust. It really doesn't take long to get a nice dark rust. You can reapply again and again to continue the process. It's definitely best to allow it to dry in between each spray down as that is when the oxygen can get to it best and do its job. When the desired rust is achieved (and it's not just powdery surface rust) I rinse it well with water and allow to dry.

It's great. It's fast and it's cheap!
Peter Gard
- Philadelphia, Pennsylvania
---
December 28, 2010
Q. To Peter Gard:

I am going to try your method for creating rust, I'm wondering if the outdoor temp is an issue. I will be doing this inside an old barn. I figure that the cold weather will make the process slower, and take longer for it to evaporate. I want to rust a 5'x9' sheet of milled steel (24 gage). How much of the solution do you need to for an area that size? Also, will the solution be alright in a container over a number of days? I figure this will take a while.

Thanks
Louis Johnson
- Ithaca, New York, USA
---
March 11, 2009
Q. Please advise how to impart an acid wash stain on cold rolled steel for a rust colored look.
I'm a homeowner wanting to use as a wall treatment.
THANKS
Jerry Gray
homeowner - Charleston, South Carolina
---
May 12, 2012
A. Liz D.,
For a wood finish and not wanting any discoloring, try mixing up a very weak solution of shellac and lightly coating the wood, it will seal and not ad any color. I aways use super blond shellac flakes in denatured alcohol. works well on woods that become blotchy like cherry or maple when stained to keep the color even throughout
tim heesz
- Hanford California USA
---
---