topic 16945
CORTEN RUSTED STEEL
A discussion started in 2002 & continuing through 2017.
Will corten windows & doors survive salty sea air of Mauritius?
(2002)
Q. I WOULD LIKE TO KNOW HOW TO TREAT CORTEN RUSTED STEEL. I ORDERED TO HAVE MY WINDOWS & DOORS WITH A LOCAL SUPPLIER, UNFORTUNATELY AFTER DELIVERY I REALISED THAT THE METAL USED IS SUPPOSED TO BECOME RUSTY IN SHORT PERIOD OF TIME AND IS NOT AESTHETIC. I WOULD BE GRATEFUL IF SOMEONE COULD HELP ME KNOW MORE ABOUT THIS METAL AND ITS INCONVENIENCE AND HOW TO TREAT IT. THANKING YOU IN ADVANCE FOR YOUR COLLABORATION.
BECHE BRUNO
- MAURITIUS (Indian Ocean)
---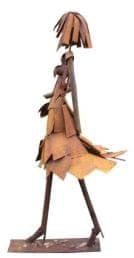 Corten Woman by sculptor Willemine van Laarhoven
(see entry of March 28, 2009)

(2002)
A. Corten steel is a special steel used in architecture to give a pleasing (to some!) patina. The steel is designed to "weather" or "age" to give a coppery colour that will improve with time. It is resilient to many corrosive atmospheres. If you do not like it, I suggest you remove the patina and paint it with suitable paints.

Trevor Crichton
R&D practical scientist
Chesham, Bucks, UK
---
(2002)
A. I stumbled upon this website and found this question. Leave the Cor-ten steel alone. Let it patina. It is beautiful.
Dan O'Mara
- Minneapolis, Minnesota
---
(2003)
A. It is a beautiful finish aesthetically. And I agree that it should be left alone. Does anyone know the life cycle of this finish and do companies warranty it?
Joeey Poitevin
- Jackson, Mississippi
---
(2005)
A. Sir;

1. The Corten steel in your case should not be used for windows or doors. Corten Steel in primary used for bridge frame and structure usage.

2. if you must use Corten Steel, you need to get a prepaint or coated type, check with US Steel Construction manufacture. If you leave your Corten steel window and door as it is, it is unsightly and the value of your property will be affected because appearance is important for property value. Also in addition, over a long period, it will just become a pack rust looking, some may find it okay but I can ensure that majority of regular folks will not agree with it.

3. Corten Steel has a very good tensile strength but is not recommended for any residential usage. Anyhow, no one say you have to.

4. You should treat the Corten steel with a VOC corrosion inhibitor. Select the one that will give you the finishing that you want. Normally, a good VOC corrosion inhibitor should give me a long term protection as well as a smooth finishing.
Danis P
[last name deleted for privacy by Editor]
engineering service - Ontario, Canada
---
(2005)
A. I am a student at FSU and have been working with Corten material during class. We have a Corten sculpture here on campus and it has a nice dark purple color. It looks black from a distance. the oxide layer will not degrade, our sculpture has been up since 1980 and it still looks great.
Kenneth C
[last name deleted for privacy by Editor]
Ferris State University - Big Rapids, Michigan
---
April 21, 2008
A. In a previous life I have priced work for an award winning architect named Sean Godsell, who regularly specifies Corten as an exterior cladding on the houses he designs (often in coastal environments). To accelerate the corrosion process he requests that "Penetrol" be applied (commonly used as a paint thinner). It proves to be very successful. I also believe that the Corten can be later sealed for internal use, however I'm not certain of the appropriate paint to use.
David Down
construction - Melbourne, Australia
---
July 9, 2009
A. We are a window manufacturer that produces windows in Cor Ten steel among other materials. The engineer that says it should not be used for windows should know that it is very common in Europe where our system comes from. It is quite expensive about three time the cost of galvanized steel. Beauty is in the eyes of the beholder, I myself do not like the look but some do. It requires no maintenance.
Richard Sussman
- Port Washington, New York
---
July 16, 2009
A. We are a distributor of high end architectural windows. One of our products is available in Corten steel. The way we treat the finish is after fabrication it's allowed to weather for 2-3 weeks to develop the desired patina. The loose "dust" is then removed and a coat of wax sealer is hand applied giving it a very unique leather-like look. This finish lasts indefinitely. Corten if left alone will take 2-4 years to reach it's peak patina and then should remain in that state with very little change.
Bill Polinsky
steel window supplier - Bridgeport, Connecticut
---
A. Hi. "Corten" is a trademark of US Steel for "weathering steel", but US Steel only makes it in limited shapes anymore. When people speak of Corten, they usually just mean "weathering steel", which is described in ASTM A242 [link by ed. to spec at TechStreet] (Cor-ten A) and ASTM A588 [link by ed. to spec at TechStreet] (Cor-ten B).
I don't claim experience with weathering steels, but based on my reading I disagree a bit with some of the responses. Weathering steels are not resistant to salt air, both because the salt causes pitting, and because it is hygroscopic and the steel tends to stay wet, which prevents the proper patina from forming. What is beautiful and stable in Minneapolis, Jackson, and Big Rapids might be nothing but a rusty mess on an island in the Indian Ocean. Along with the many Corten successes, there have been spectacular failures; for example, Aloha Stadium in Honolulu has never stopped rusting and has required millions of dollars in rust treatments.
But Corten's composition differs only slightly from standard hot or cold rolled steel; so from my reading I would agree with Trevor and others and not anticipate any problem in waxing it or pretreating & painting it. Good luck!
Regards,
Ted Mooney, P.E. RET
finishing.com
Pine Beach, New Jersey
---
---
To minimize searching and offer multiple viewpoints, we combined multiple threads into the dialog you're viewing. Please forgive any resultant repetition.
---
---
Corten for Ship Repair
(2006)
Q. I work in ship repair. We need to weld double patch on corroded area of gas air heater water washing drain hood and basket casing. Can anybody help how economical if we use Corten steel? Roughly how much is Corten steel in USD per kg? Thanks
James Jimenez
- Singapore
---
October 9, 2010
A. COR-TEN IS GOOD.

While reading, I noticed that someone wanted information on price of Corten.

It is around 1350 USD/MT.
VIMAL JAIN
-
INDIA
---
March 5, 2008
Q. Is Corten Steel good for manufacturing boats? Is it good in water environment if painted?
Norman Parmley
student - New Bern, North Carolina
---
May 19, 2011
Q. Someone asked if it was OK for making boats. No answers yet. Has anyone any thoughts on this?
Stamford Stoddard
buying a 16 metre boat -
Chichester West Sussex UK
---
---
Use on interiors: does it rub off?
(2006)
Q. Hello, I am a builder and my architect has specified Corten steel for use above an interior fireplace and on the face of the hearth. Once installed the steel will not be subject to any moisture. I assume I should pre-rust the steel before installation to get the corroded look that is so attractive with Corten.
My questions are:
1. Will it corrode in a dry environment?
2. If I am to pre-rust it is there any treatment I should use on the steel to remove oils or other contaminants.
3. Should I use sea water to hasten the corrosion? I have actually tried a few samples using sea water and have had varying success, some with pretty good results, others that the corrosion is very spotty, as if something present on the surface was preventing the corrosion.
4. If I achieve the desired level of corrosion before installing the pieces, can I seal it to prevent people in the house from getting the rust on them or their clothes?
Mr. Courtney G
[last name deleted for privacy by Editor]
construction - Santa Cruz, California
---
January 31, 2008
Q. Looking for the follow up on Mr. Courtney G's interior Corten questions. I too am building and we are using Corten to clad fireplace, hearth and surrounding wall. We are looking for help in areas of thickness used, mounting, and sealing so customer won't get it on themselves.
F Heathen
- Madison, Wisconsin
---
February 12, 2008
Q. Should Corten steel panels rust to the point that you can rub the color off easily?
Robert Vtinreo
installer - Watertown, Minnesota
---
June 17, 2013
A. Hi. The rust will brush off, and the customers will get it on themselves. I think it is may be more practical to paint the steel a nice rusty color if people will be touching it. Companies which supply Corten roofing also offer painted steel in very closely matching colors. Good luck.
Regards,
Ted Mooney, P.E. RET
finishing.com
Pine Beach, New Jersey
---
(2007)
A. If you have to paint it and want it to last, wire brush off the worst till you have reached an acceptable finish level, it does not need cleaning back to perfect, then paint with Hammerite [linked by editor to product info at Amazon], this is a bonding paint available in many colours.

it will last for years and should prevent further rusting.

Friends and I have used it for over 30 years and never found any problems, we have even used it to cover the bottoms of cars to delay salt corrosion, as our local authorities believe in very liberal applications of salt on our roads.
Peter Nixon
- Middlesbrough, UK
----
Ed. note: Rustgrip was engaged to repair Aloha Stadium in a similar manner in 2003. You can google the terms and get an update from them.
---
December 16, 2011
-- this entry appended to this thread by editor in lieu of spawning a duplicative thread
Q. Is it possible to stop weathered Corten from ending up on the clothes of the general public. Can it be sealed after weathering?
Tim Farrow
landscape architect -
England
---
June 2013
A. Hi Tim. The rust will rub off. Clear coating or painting Corten should not be difficult, but a chain is only as strong as its weakest link; so, with the rust not tightly adherent to the substrate, the clear coat adhering to the rust may not be much help. I'd try a clearcoat that is really watery, and really "wets", and hope for some bite through the rust and onto the steel.
Regards,
Ted Mooney, P.E. RET
finishing.com
Pine Beach, New Jersey
---
January 30, 2009
A. The Corten steel finish can be coated using a water based coating Perma Coat then finished coated with Master Clear from Modern Masters. I have seen this effect extensively used in Spain and Portugal.
neil cody
design - Vancouver, BC, Canada
----
Ed. note: Thanks much, Peter &Neil -- but this metal finishing site focuses on educating people in how various finishing technologies work, rather than in testimonials to brand names & the hocus-pocus of secret ingredients. As far as possible, let's try your best to talk about the technologies employed, rather than about brands (it helps us avoid drowning under spam -- no salesperson can stomach their competition being publicly praised and will always try to top it, sometimes posing as a satisfied customer). Thanks!
---
April 16, 2010
-- this entry appended to this thread by editor in lieu of spawning a duplicative thread
Q. Want to use container to build a house project in Thailand Bangkok.
Like to know the was brand to protect corten steel from rusting after I sandblast.
Jean Ferron
- Thailand
---
---
Does that come in Black?
(2006)
Q. I am using Corten steel (6 mm thick), but would like to achieve a almost uniform black color for a special application. Does anyone knows any 'tricks' or procedures ?
thanks for any reply.
Michael P
[last name deleted for privacy by Editor]
- Adelaide, South Australia
---
(2007)
A. I work as a contractor and we have had rust stain problems with the Corten steel. I am not sure this helps with the original question, but we have used a "blued" metal with a clear powder coat finish to achieve a nice mottled, but rust free look. The "bluing" is done by hand, I believe it is the same chemical used to maintain gun barrels. (at least, that is where I first heard of it).
Colin Thompson
- Los Angeles, California
---
---
Graffiti issues
(2006)
Q. Can anyone assist in what material should be used to clean spray paint (probably cellulose) graffiti off the face of CorTen steel cladding without damaging the surface.
Michael W
[last name deleted for privacy by Editor]
architects - London, England
---
(2007)
Q. All of my impressions of Corten is that once up it doesn't need to be maintained. I am using this material as part of entry sign for the community of San Pedro, California.

I am concerned with graffiti and general wear as it will be in a maritime climate.

Thanks

I am a Landscape Architect with the City of Los Angeles, Recreation and Parks, Advance Planning.
Craig R
[last name deleted for privacy by Editor]
- Los Angeles, California
---
---
Achieving even rusting
April 3, 2008
Q. Even rusting of weathered steel? I am creating an outdoor sculpture (about 2.2 m high x 2.5 m wide) of 6 mm thick weathered steel and need the surface to rust uniformly and quickly. I have only a couple of months to get it to a reasonably even surface, and there are laser cut outs in the steel. The sculpture will be installed outside. Any suggestions?
Chris Cathie
sculptor - New Zealand
---
(2007)
A. I AM BUILDING CUSTOM HOMES MADE OF CORTEN. WHAT WE HAVE FOUND TO GET THE WHOLE HOUSE TO RUST EQUALLY IS TO HAVE IT SODA BLASTED. IT IS LIKE SAND BLASTING, BUT USE A BAKING SODA TYPE MEDIUM. AS FOR THE INTERIOR WALL PANELS THERE IS A PRODUCT THAT DOES SEAL THE MATERIAL, BUT IT IS AN OIL BASED PRODUCT AND DOES TAKE A LONG TIME DRYING. IF YOU ARE IN NEED OF REMOVING PAINT OR GRAFFITI IS TO SODA BLAST IT. THE BLASTING WILL NOT ROUGHEN UP THE SURFACE.
CHRIS MILLER
STRUCTURAL STEEL FABRICATOR AND INSTALLER - PHOENIX, ARIZONA
---
June 25, 2010
A. Abrasive blasting is the way to go for an even rust finish.

I have found that the original rusting stage does produce staining but once this has been achieved the run off is minimal. The nature of corten, as I understand it, is that the oxidation layer becomes very dense and this protects the underlying material. There is not a continuation of oxidation into the material so there is no more oxides running off!

I love the dry dusty appearance of the corten and have never sealed it because I don't want to loose this. Is there any processes or materials that can seal the surface but leave the dry finish.

From my reading of any material about corten I understand that a coastal situation is not recommended but as David Brown has stated above he has done this.
I am trying to convince a client at the moment that corten will be suitable for a balcony balustrading on a house right on the beach here in WA.

can any body help me?
Rob McCulloch
- Perth,W.A. Australia
---
March 10, 2010
Q. After blasting the Corten steel surface is within no time black.
Is this copper, chrome or phosphor oxide which is left behind the surface and can we paint over this surface?
Erwin Nijman
inspector - Holland
---
---
Corten staining its surroundings
May 28, 2008
Q. I want to follow up on the discussion of Corten steel in signs. I'm interested in using Corten as dimensional letters/graphics on a monument sign. As the material oxidizes to its stable state should I anticipate streaking on the face of the sign?
Gary Fedota
- Atlanta, Georgia
---
A. Hi Gary. The runoff continues, and is a definite problem when buildings are put on concrete with no allowances for it. But whether it's enough to be a staining issue on the balance of your sign is harder to know. I suspect that if the sign is not absorbent, it's not going to be a problem.
Regards,
Ted Mooney, P.E. RET
finishing.com
Pine Beach, New Jersey
---
---
Speed up Cor-Ten weathering process
(2003)
Q. Can you please advise how a person can speed up the weathering process on Cor Ten steel to get the uniform rusted look. I have a customer fabricating a sculpture and would like the total surface rusted before placement. Can any chemical be used?
Thanks,
Don Rau
steel supply - Manistee, Michigan
---
(2003)
A. A slightly acidic, iron chloride solution should work. Take a 5-gallon plastic pail, add some rusty steel scrap, 3 gallons of tapwater, some salt and a gallon of hydrochloric (muriatic) acid. Let it react until the fizzing slows down, then apply to the sculpture with a paintbrush, polypropylene bristle broom, or similar. If dripping would be a problem in the location, use a polyethylene dropcloth. Let dry overnight, then hose off.
Ken Vlach
- Goleta, California
Finishing.com honored Ken for his countless carefully
researched responses. He passed away May 14, 2015.
Rest in peace, Ken. Thank you for your hard work
which the finishing world continues to benefit from.
---
---
August 5, 2008
Q. I wondering if I could get the same results as Corten with any other metal? I am looking for some other product which give me the rusty look but no stain or at least not too much.

Thanks,
mario gonzalez
architect - NYC, New York
---
June 2013
A. Hi Maria. I think a low grade of stainless steel, perhaps a 4xx, will work. Try soda blasting it for evenness and to remove any passivation, then maybe wiping with diluted vinegar a few times over the course of a few days, then neutralizing with baking soda and a hard rinse.
Corten / weathering steel is only "better" in that it has very little expensive ingredients in it so it's very affordable. If the project can afford stainless steel, my bet is there will be far less staining.
Regards,
Ted Mooney, P.E. RET
finishing.com
Pine Beach, New Jersey
---
May 13, 2009
-- this entry appended to this thread by editor in lieu of spawning a duplicative thread
Q. MY ISSUE IS A SIMPLE ONE. I HAVE USED CORTEN SQUARE TUBING, SQUARE BAR, AND FLAT BAR TO BUILD A BEAUTIFUL GAZEBO AND RAILING IN MY BACKYARD. IT HAS RUSTED TO A BEAUTIFUL DEEP REDDISH RUSTY COLOR THAT ONLY CORTEN CAN DO.
BUT IT CONTINUES TO DRIP RUST ONTO MY GRAY GRANITE PATIO, DISCOLORING AND STAINING IT. I DON'T KNOW IF I SHOULD NOW SEAL IT TO STOP FURTHER RUST DRIPS, WHETHER ANY TYPE OF SEALER SHOULD BE USED THAT WILL NOT DISCOLOR MY EFFORTS AND HOLD UP OVER THE YEARS, OR ANY OTHER SOLUTION TO MY PLIGHT. I WOULD APPRECIATE ANY AND ALL HELP.
LOUIS HOWARD
- WESTPORT, Massachusetts
---
July 9, 2009
Q. Hi I saw a person rolling on what he called an Oil based smelly coat coat to seal that sexy rusty metal artwork.

What is it called? Please name a brand or two.
Max Golem
artist - Australia, Melbourne
---
October 1, 2009
-- this entry appended to this thread by editor in lieu of spawning a duplicative thread
Q. Has anything conclusive been offered in terms of stopping the rusting process of Corten?

I have a client who now likes the dark gray of the initial Corten state (and I do in this instance as well) and would like to know if there is some proven or tested method of removing what little rust that has formed and then seal it to remain as a raw, deep gray metal.

Thank you!

Mario
Mario C
[last name deleted for privacy by Editor]
- Los Angeles, California
---
June 2013
A. Hi Max. If it was smelly, it was probably linseed oil.
Hi Mario. We appended your inquiry to a thread which, if not offering a universal silver bullet, at least tells you what other people have been doing. Good luck.
Regards,
Ted Mooney, P.E. RET
finishing.com
Pine Beach, New Jersey
---
---
(2008)

Q. I am looking for some Cor-Ten samples; including corrugated, and perforated.
Can anyone recommend a reputable company that will provide specs with the sample?
Any ideas for other interesting metals for exterior uses?
Tim Koelle
artist - NYC, New York



---

Hi, Tim. Major national roofing companies will do this. But we don't offer opportunity to commercially profit from postings because it's like raw meat to hyenas: it attracts shills posing as satisfied customers, and precipitates a race to the bottom as each sales manager posts 5 reasons his company is better than the previously mentioned one :-)
Our postings are restricted to technical issues; we don't print any recommendations of suppliers. Sorry.
Regards,





Ted Mooney, P.E. RET




finishing.com




Pine Beach, New Jersey




---
---
Sculpture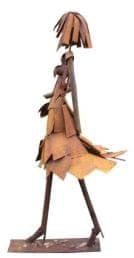 March 28, 2009
I love Corten steel for its color and turn it into women.
You get a kind of black color if you leave 2 pieces on top of each in a wet environment.
This is one of my women. Height 1.60 m.

Willemine van Laarhoven
sculptor
Willemine van Laarhoven
- Holland
---
March 28, 2009

For cold steel, she's quite "hot", Willemine :-)
Regards,
Ted Mooney, P.E. RET
finishing.com
Pine Beach, New Jersey
---
December 8, 2010
Q. We have a metal sculpture fabricated in Core Ten that was graffitied. The only way we could remove the graffiti was with a wire brush which took us back to the bare metal. I know that eventually the patina will weather out but as this sculpture is "high visibility" and I know will get "hit": again, is there any way the bare surfaces can be treated to promote quicker oxidation.
Fred West
Marble West -
South San Francisco, California USA
---
February 3, 2011
A. To obtain a quick patina on Cor-ten you can try to use some sulphuric acid or hydrochloric acid. You will have a rusty surface within a day :-)
Careful when applying!
Endre Kalmar
-
Budapest, Hungary
---
---
Cor-tens in a Fountain . . .
May 28, 2009
Q. Has anyone tried - or know of - using Corten Steel as a planter in a fountain? Wondering if it will completely corrode, or it will retain its structural integrity. The architect is using Corten and we'd like to stick with the same material.
Barry Miller
Design Studio - Miami, Florida
---
. . . which one will the fountain bless
May 31, 2009
Q. Greetings,

I am a licensed contractor specializing in water feature design and construction. Currently I am writing an article about one of the three projects we have worked on using Cor-Ten.
Please be so kind to answer the following questions I have not been able to answer.
1. I have Cor-Ten as a metal alloy, is there a better way of describing it?
2. Is it a type or cousin of Stainless? is it welded like stainless?
3. We made a 40'x60' perimeter of 3/4" Cor-Ten and I want to include the weight in the article. What is the approximate weight of a Cubic foot of Cor-ten?

In cooperation,
Jim Wilder
pond and fountains - Santa Rosa, California
---
A. Hi Jim. You seem to be the absolute perfect person to answer the question immediately above yours.
1. Cor-ten is "almost" plain steel, just a little bit extra of some standard ingredients in steel making, totaling under 3%. The best description may be "weathering steel".
2. It's welded like steel, although there are warnings that the weld zone may not patina like the rest unless some special things are done. Stainless has much much more alloying ingredients; for example, 3xx series stainless steel is 18% chrome and 8% nickel -- at least 10x as much non-iron ingredients.
3. Like other steels, the approximate weight is .284 pounds per cubic inch.
Good luck with the article.
Regards,
Ted Mooney, P.E. RET
finishing.com
Pine Beach, New Jersey
---
May 20, 2010
-- this entry appended to this thread by editor in lieu of spawning a duplicative thread
Q. I am an architect and have designed a fountain that has a rusted panel. We like the level of the rust in terms of a patina and want to keep at this level. If I apply oil to the surface should this suffice? If so, what type of oil should I use?
Edwin Folk
archtiect - Osaka, Japan
---
---
February 16, 2010
Q. I assume Corten has no fire rating? We want to use it as a facing on an external boundary wall situation which requires 30 minutes rating. Can it be mounted over a suitable rated board behind?
Dave Varney
architects - St Austell, Cornwall, England
---
June 2013
A. Hi Dave. Corten is steel -- whatever that means in terms of fire rating :-)
Regards,
Ted Mooney, P.E. RET
finishing.com
Pine Beach, New Jersey
---
---
July 30, 2011
Q. I have leased a building that has a large Corten fascia. The previous owner had large letters on the fascia. After removing the letters and wire brushing the surface, you can still see the out line of the letters. Is there a product to remove all the rust before applying new sign?
James DeGroff
-
Palm Desert, California USA
---
---
Bonding stuff to Corten
June 10, 2013
Q. If I want to construct a sign of Corten and have some acrylic plastic mounted inside of the steel, what bonding agent would be correct and what preparation to the steel would be correct?
larry glickman
- Portland Oregon
---
June 17, 2013
A. Hi Larry. Corten is just basically steel. There is very little difference in composition. So soda or bead blasting is probably fine; you don't want to try to glue to rust.The right solvent for cleaning the plastic probably depends upon the type of plastic, but I think acetone would work if you don't overdo it (the acrylic may be soluble in acetone). There are lots of adhesives but I don't like to say one is better since any of them should be fine.
Regards,
Ted Mooney, P.E. RET
finishing.com
Pine Beach, New Jersey
---
August 19, 2013
Q. Can you drill CorTen plates and I beams? What is the best bit? I know go slow and use oil but any other tips would be appreciated. Thank you.
Lee Ann Pantalone
- Bloomfield Hills, Michigan, USA
---
August 22, 2013
A. Hi Lee Ann. Corten is very similar to plain old mild steel, so any advice about machining mild steel probably applies to Corten. Yes, it's easily drilled and doesn't require exotic drill bits.
Regards,
Ted Mooney, P.E. RET
finishing.com
Pine Beach, New Jersey
---
October 7, 2013
Q. I have Corten fencing around my home which is rusted and the look we want to keep. Have noticed we are getting marks on it..from bird droppings and cats paws, as well as oily markings from people who push the gate to open it.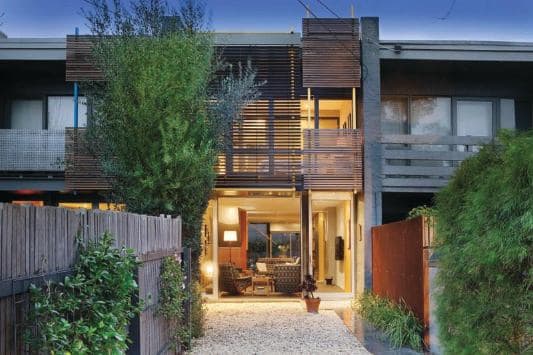 How can I get it to return to the rust in these areas?
Any advice would be greatly appreciated :)
Deborah Johns
- Melbourne, Australia
---
---
November 26, 2013
Q. Hi, I was wondering if it's possible to purchase corten rivets or screws for fixing corten?!
Cheers Grant.
Grant Jamieson
Owner Builder - Rye Victoria, Australia
---
---
April 17, 2014
A. For the person whose outside Corten sculpture is staining the concrete below...I would suggest that you go with the flow (of rust off the Corten)...and stain the concrete to a color as close to the Corten color as you can find...and then let the Corten be...as to sealing Corten...IMHO it defeats the purpose of the material...to create an oxidized layer that, supposedly, prevents further oxidation...speaking of which...how can it really prevent that if that rusty junk keeps flowing off? Isn't it, slowly, but continually oxidizing?...if you have to seal the Corten you are better off just painting "regular" steel
William McNally
- Madison, Wisconsin USA
---
---
April 11, 2014
-- this entry appended to this thread by editor in lieu of spawning a duplicative thread
Q. Hi, My name is Deanne and I am a Community Strategies Coordinator involved in heritage programs and projects for the region. One such project is the installation of heritage plaques throughout our community. we have installed 14 plaques in 2013 and noticed that many of them are not oxidizing uniformly. There appears to be rust stains along the bottom as well as rust 'runs' down the front of the steel.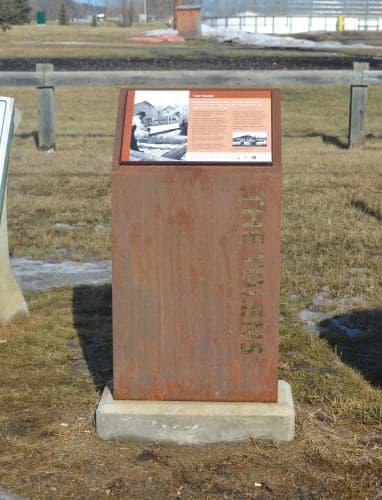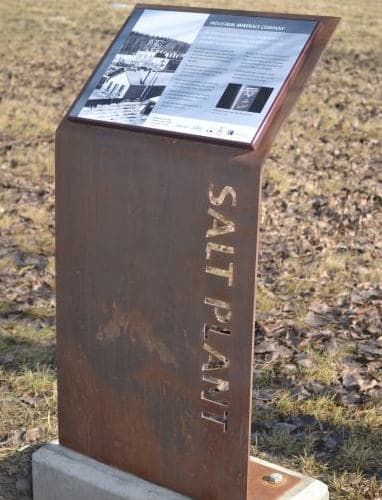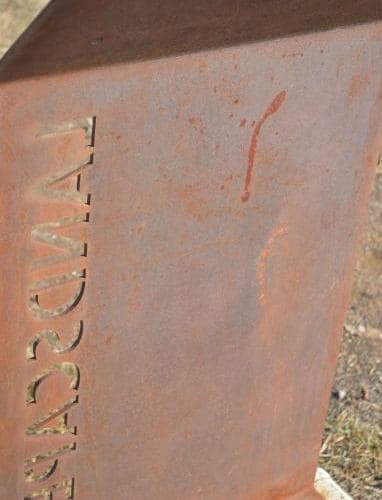 Is this a natural part of the transformation of the patina or is something else occurring that we need to take action on? I thank you in advance for any information or advice you may offer.
Deanne Lawrence
Regional Municipality of Wood Buffalo - Fort McMurray, Alberta, Canada
---
April 2014
A. Hi Deanne. We appended your question to a thread which may answer it for you. Please see the 'Achieving even rusting' subheading; it suggests abrasive blasting. If you were to use soda blasting or dry ice blasting, it should be safe with little or no cleanup. Good luck.
Regards,
Ted Mooney, P.E. RET
finishing.com
Pine Beach, New Jersey
---
April 22, 2014
A. The "pattern" of rusting is highly subject to environmental conditions. Blotches can come from spills of various sorts, vertical streaks from dripping water, etc. It's also generally not a totally uniform process.

If those are steel plates supporting those plaques, then what is shown in the photos is about what I'd expect after a year or two of sitting outside. You can take action if you don't like the way it looks, but if the question is just between "is this normal?" and "is something goofy happening?" I would go with "normal".

If those are stainless steel plates, you have a major problem and they should be cleaned up and passivated immediately.

Ray Kremer
Stellar Solutions, Inc.
McHenry, Illinois
---
May 5, 2014
Q. I am considering using Corten as a garden wall between a hedge and an herbaceous border. Does anyone know if any of its properties can damage plants? Thank you.
Annie Rhodes
- Borders, Sotland
---
May 2014
A. Hi Annie. As an aside, to help people understand what Corten is about: although stainless steel would rust much less than plain steel, it is far more expensive, and it looks very different ... so it's impractical for a lot of applications.
But people have known for a long time that the rust on plain steel is hygroscopic, fluffy, and poorly adherent, which leads to continuing rust and corrosion. So the researchers at US Steel asked themselves whether it was possible to make some fairly small adjustments to the formulation which would be quite inexpensive and which would have little effect on the properties of the steel itself, but which would improve the adhesion of the surface rust and reduce its porosity in order to substantially slow down the rusting ... Corten or "weathering steel" is the tweak that they came up with.
Regards,
Ted Mooney, P.E. RET
finishing.com
Pine Beach, New Jersey
---
May 5, 2014

Thank you very much indeed Ted.
Annie Rhodes
- Borders Scotland
---
---
June 2, 2014
Q. I am looking to put up a small privacy wall 17' x 24"- what thickness of corten do I need to use? also can I just dig some footings and pour concrete with metal poles to weld to the back of the corten sheet or do I need to bury any of the metal.
Donna Castle
- Dallas, Texas USA
---
June 2014
A. Hi Donna. Your questions require an engineering design and are not easily dispatched -- which is not to say that experienced tradepersons can't play it by ear to a workable answer.
Although corrugated roofing panels of the thinnest gauge commercially available will be quite strong against bending, a moderate wind will exert a good force on something 17 foot long x 24 inches high. But if you put in 5 support posts, so the span is 4' 3", it will probably prove practical. The steel posts will last longer if set in concrete than if driven directly into the ground.
Regards,
Ted Mooney, P.E. RET
finishing.com
Pine Beach, New Jersey
---
July 8, 2014
Q. Does Corten Steel or the rusting produce any OFF GASES?

Can the rust be toxic? I'm concerned about using it in a Sauna.

I considering using Corten for my outdoor Sauna as a protective Heat shield to protect the walls beside my Wood burning stove. I like the simple look just want to ensure Corten does not produce any harmful gases or toxins.

Please kindly advise if you have any advice.

Sincerely,
Christian Waddell
- North Vancouver, BC, Canada
---
July 2014
A. Hi Christian. Corten weathering steel is almost identical to regular steel. Tiny variations in the small amount of alloying metals help the rust be more adherent. There are no toxic off-gasses or corrosion products.
Regards,
Ted Mooney, P.E. RET
finishing.com
Pine Beach, New Jersey
---
---
September 15, 2014
Q. I heard that if you Sandblast Corten Steel it encourages and speeds up the aging effects?

Where I live they have a "UBlast" facility and I've been considering Sandblasting to help encourage the orange to brown effect. Its only $35.00 to blast, I was considering this approach rather that using acids etc.

Do you believe this is a logical/good approach in terms of helping the Steel age faster. The Steel will be in a steamy Sauna the rest of its life.

Cheers,

Christian

Christian Waddell
- North Vancouver, British Columbia, Canada
---
September 20, 2014
Q. I have an angled 2 story window that is 12 inches deep on the right side and 18 inches deep on the left side
I would like to have this window trimmed on both the front face and the sides in Corten steel.

What is the recommended thickness to maintain a flat plane while still being manageable for on-site bending and cutting?

Lastly, what is the recommended means for attaching the Corten to the structure - does it need baffles?
AMY ROSENFELD
- Carlisle, Massachusetts USA
---
---
October 20, 2014
Q. Great thread, really enjoy the information. I recently installed a Corten fireplace surround and one of the work crews leaned up against the steel and left hand prints. A strong muriatic acid solution had already been applied and the surface was brushed with a wire brush to remove the flaking and hopefully the hand prints however, they are still very visible.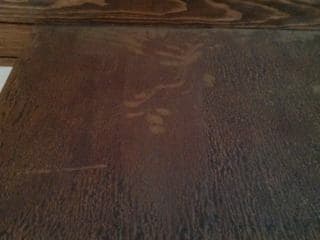 How do I remove the hand prints? Thanks!
Roger Andrews
- Dallas, Texas USA
---
October 25, 2014
Q. I was wondering if anyone knows if Corten steel can be extruded? I know it is possible to Hot extrude some steels - is this possible with Corten? - the profile looking to be extruded is large, flat, thick and simple. Unlike a detailed thin aluminium extrusion.
Stefan Posthuma
- Narrabundah, ACT, Australia
---
November 4, 2014
Q. We're looking at a "Corten" type weathering steel for a landscape edging application. Any advice on finishing to the top so it is not sharp? My guess is that most commercial products that might powdercoat a color will have a naturally "dull" edge through the powdercoating. How do we create a safe edge without rolling the edge and lose that minimal look? I'm concerned if it is bordering a walkway that someone might step on it without shoes.

Thanks
Scott Green
Landscaping - Los Angeles, California USA
---
November 17, 2014
-- this entry appended to this thread by editor in lieu of spawning a duplicative thread
Q. I'm a steel fabricator in Los Angeles, interested in creating a raised garden bed. I've seen 1/2" Cor Ten plate used for this, to build a box filled with soil.
What is a cost effective method to cut the 1/2" plate to preserve the weathering qualities of the steel?
Will flame cutting (laser, plasma, flame) require the cut edge to be ground to 'clean' steel?
PATRICK SWEEN
SPECIALTY STEEL CONTRACTOR - COMPTON, California, USA
----
Ed. note: Uh-oh. We're back up to six unanswered questions in a row :-(
If readers don't take the time to try to help the folks standing in line ahead of them, and just post their own questions, this page will degenerate from helpful to just an endless string of unanswered questions :-)
---
---
Sealant Bond to Corten Steel
February 11, 2015
Q. We need to apply a continuous sealant fillet along the top of a roof membrane termination bar on the side of a large roof top Corten steel planter. What preparation to the steel surface is necessary if any prior to applying a building silicone sealant to the steel to achieve long term adhesion?
Robert Trahan
Architect - Seattle Washington
---
March 20, 2015
Q. I have had very good luck sealing rusty surfaces - both Corten and ordinary mild steel with POR-15 clear. It leaves a slight gloss and touch of Amber, but is extremely durable and shows the natural iron oxide color very well.

It is quite pricey, however, and I'd love to hear about a more economical option.
Berkeley Choate
- Berkeley, California, USA
---
April 4, 2015
Q. Hi. Will the corten steel run-off contaminate the surrounding vegetation and waterbody if I used it as the material of a bridge?
Limay Foo
- Johor Bahru, Johor, Malaysia
---
April 2015
A. Hi Limay. Corten lasts longer than other steel because the rust is more stable and less prone to powdering off. Iron makes up 32% of the earth's crust, so a little of it washing off sounds pretty harmless to me.
Regards,
Ted Mooney, P.E. RET
finishing.com
Pine Beach, New Jersey
Striving to live "Aloha"
---
---
Effect of plasma cutting on Cor-ten
December 7, 2015
Q. Hi
I want to cut letters out of Cor-Ten steel sheet using a plasma cutter. What effect if any, will that have on the "decorative rust" finish on the steel?

Nella Stranieri
Forest Iron Works - Locust Valley, New York USA
---
---
June 29, 2016
Q. I had corten steel panels installed on my patio to serve as a privacy fence and a backdrop to a firepit. Our climate is 4 Seasons hot in the summer, cold in the winter. My contractor has left me on my own now to figure how to solve the problem.
The panels were sprayed with some sort of rust accelerant then sealed with penetrol. The surface has bubbled and blistered and have popped and now show a rusted finish underneath in small spots all over the panels, the finish is very erratic and not nice. Would like to know how to take it back to original and
finish it with some paint or some other finish.

Thank you, Karen
Karen Dickeson
- Wenatchee, Washington USA
---
---
August 30, 2016
Q. Good day,

I am currently a masters student at the University of Stellenbosch. I am working on a project and would like to know whether it would be possible to use corten steel in a stamping process? I would like to form shells for a tube.

Robert Laurie
- Stellenbosch, Western Cape, South Africa
---
August 2016
A. Hi Robert. Because weathering steel is similar to other steels (about 1/2% of chrome and copper added though), I don't see any reason it shouldn't be stampable.
By this point in your education, you probably realize that the best way to learn is by trying to teach! So, as a Masters' student working with Corten, please try to answer one of the many unanswered questions on this thread. Thanks!
Regards,
Ted Mooney, P.E. RET
finishing.com
Pine Beach, New Jersey
Striving to live "Aloha"
---
---
Remove rub marks & handprints from Corten steel
September 18, 2016
Q. Hi - I saw a question asked on how to remove hand prints on rusted corten. I have a similar situation of rub marks that I want to remove. It looks "cloudy" with these rub marks next to the normal rusted steel patina affect. So what is the best way to remove rub marks / handprints so you get the nice rusted steel patina again?

Any suggestions would be great.

Not sure if oxalic acid might help as a way to remove marks, then rust again?
Andrew Robertson
- Melbourne, Victoria, Australia
---
---
November 8, 2016
Q. My question relates to the removal of fingerprints from corten steel, without starting the patination process. I have installed a corten sculpture in an art gallery in its unrusted state, not knowing if a potential buyer will want to display it indoors or outdoors. The fingerprints are unsightly, and spoil the clean effect of the work. How can I remove them? I have seen similar questions on this thread, but no answers.
Lizzie Horne
Sculptor - New south Wales, Australia
---
---
December 2, 2016
Q. Does anyone know where I can get Corten round head rivets or threaded bolt. There not a structural component just need for aesthetics, thanks
Mary Barrett
- Limerick Ireland
---
December 6, 2016
A. I am also looking at using bolts to join Corten and I don't think you can get these made of corten. So I am going to either paint the heads or get some that will rust. They won't last as long as corten but I think they will do the job. By the way I only live up the road from Limerick. What a coincidence!
Joe Griffin
- Mountshannon, Clare, Ireland
---
---
December 19, 2016
Q. I'm gathering information for welding Corten with a mig machine. There seems to be a split from standard welding wire to high alloy fillers. My sculptures are 3 feet more or less. I'm mostly concerned with color match. 14 gauge with one pass in what I`ll be doing, some 12 gauge.I`ld appreciate some input. Thank you, Ken
Ken Engelhard
metalsculpt - Pacifica, California, USA
---
March 30, 2017
Q. I have provided a number of Corten steel bollards to a public area. I got them from Spain. The rust is actually chipping / flaking off? Is this normal? I thought the idea was to get a patina finish rather than chipping?
rachel cowgill
lighting - manchester england
---
May 14, 2017
Q. Hi!

I am a student of architecture in Croatia and my current project in class is an art gallery which is lined with Corten. I was wondering if anybody would know something about using Corten as a walkable surface and if there is a way of protecting the material and the people who would walk over it?

Thank you in advance! :)
Kristina Gotvald
University of architecture, Split - Split, Croatia
---
May 2017

Weathering Steel
A. Hi Kristina. I'm certainly no expert on weathering steel, but it seems to be 97%+ iron, with about 2.5 to 3% combined manganese, copper, chrome, and nickel. In other words, it's not terribly different from hot rolled low carbon steel, just better at producing a stable corrosion product to slow the continued rusting.
Sheets of steel would not seem to me to be a good public walking surface, as they might be slick, although probably fine as some sort of perforated or expanded metal grating. But if you do a Google image search for "Corten as walking surface", I think you'll find many examples that you can further investigate. Good luck.
Regards,
Ted Mooney, P.E. RET
finishing.com
Pine Beach, New Jersey
Striving to live "Aloha"
---
---
Will Corten near roofline stain our siding?
August 21, 2017
Q. Hello All,

Can anyone tell me if corten, once it is rusted will bleed onto surfaces next to it? We built a house that has a band or strip of corten along the entire length of the house just under the roof. It's beautiful and I really like it. I did have some concern that it might get wet and then bleed down the painted siding of the house. The house is built under a canopy so it is largely protected, but we do get that terrible sideways rain here in east Texas and it can get wet. The builder assured me it will not run, but I am not sure I believe him. I do not believe this metal was pretreated with anything either.

Thank you for you help and advice.
Carran Manning
- Cayuga, Texas, USA
---
August 2017
A. Hi Carran. Life is complicated, and oftentimes we must take our best guess. I doubt that the many people on this page who are complaining of Corten staining are lying, but I'll bet also that your builder has some local and relevant experience with it.
Your town is well away from the ocean, thus minimizing the problem. Your painted siding is a relatively slick surface compared to porous concrete, and it will be exposed to that same "terrible sideways rain", helping to wash down any rust. My guess is that your builder is not talking through his hat, but has found that it is unlikely to be a serious staining problem for you in this particular aplication.
Regards,
Ted Mooney, P.E. RET
finishing.com
Pine Beach, New Jersey
Striving to live "Aloha"
---
---
September 1, 2017
-- this entry appended to this thread by editor in lieu of spawning a duplicative thread
Q. Hello!

I am working on creating a new sign for my business. It is Corten steel back with stainless steel letters. I had a fabricator create everything for me, but I have to put it all together myself. The idea was for the stainless letters to sit atop the rusty steel back. (The letters will sit 1" out so as to look more 3D.) When I picked up the steel back it was not rusted and they wanted to charge me an extra $425 to do it, but told me it would rust up over time, but could 6 months or more. They then told me I could just give it a spray with muriatic acid and then come back a few hours later and it would be all rusted. Well I did this and it turned out very blotchy with large areas that are really dark brown, rather than a beautiful orangey rusted patina. I did wash it down the next day with water.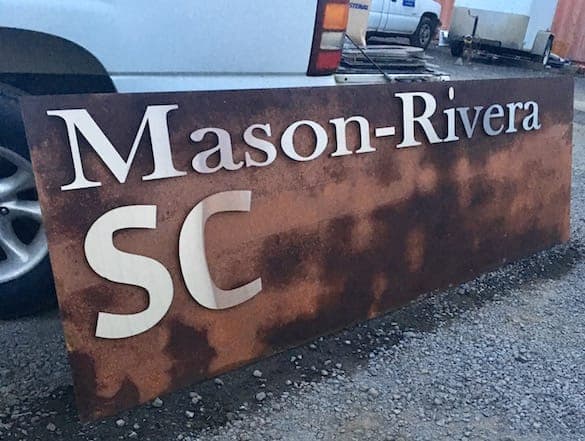 My question is if I just leave it at this point will the patina continue over time and maybe become a little more uniform and maybe get a lighter rust over these dark spots or will these dark brown areas stay like this forever unless I grind it all back down again and start fresh? The sign is 16' long and 32" tall, (It is in two pieces) so that would be a lot of grinding!
Cristi Mason-Rivera
- Mcminnville, Oregon
---
September 2017
A. Hi Cristi. The actual intent of Corten steel was simply to formulate a relatively inexpensive steel that is somewhat more resistant to deterioration than regular steel. Corten is a structural material, not a decorative finish, and it can be optimistic to expect stain-free appearance.
But the stains on your sign will probably not go away, and the most consistent results will probably be had by sandblasting the surface and then simply allowing it to rust. Good luck.
Regards,
Ted Mooney, P.E. RET
finishing.com
Pine Beach, New Jersey
Striving to live "Aloha"
---
---
September 12, 2017
Q. I would like to know if using Corten steel in a firepit design will negate the rust arresting properties of the metal.
I.e., is the price worth it to use Corten vs normal steel plate for firepit construction.

Construction:
3mm plate (stamped into a bowl shape)
max heat zone ~800 °C (around the water drainage hole in the center of the firepit bowl)
Alex Lototzky
- Balgach, SG, Switzerland
---
September 14, 2017
Q. We are in the process of building a contemporary style home using cement board for exterior and corten at the front entrance and around the back view windows. After reading these posts I am very concerned about the idea of corten. I love the look of it, any suggestions that will work in place of corten and still give the "look"? Thank you.
Kimberli Byrne
- Auburn, Washington, USA


This public forum has 60,000 threads. If your question seems off topic to this thread, you might prefer to Search the Site