Live! From Pine Beach NJ: The world's most popular metal finishing website, and the internet's friendliest corner
topic 16945 p2
CORTEN RUSTED STEEL
---
---
A discussion started in 2002 but continuing through 2019
2006
Q. Can anyone assist in what material should be used to clean spray paint (probably cellulose) graffiti off the face of CorTen steel cladding without damaging the surface.
Michael W
[last name deleted for privacy by Editor]
architects - London, England
---
2007
Q. All of my impressions of Corten is that once up it doesn't need to be maintained. I am using this material as part of entry sign for the community of San Pedro, California.

I am concerned with graffiti and general wear as it will be in a maritime climate.

Thanks

I am a Landscape Architect with the City of Los Angeles, Recreation and Parks, Advance Planning.
Craig R
[last name deleted for privacy by Editor]
- Los Angeles, California
---
---
Achieving even rusting
April 3, 2008
Q. Even rusting of weathered steel? I am creating an outdoor sculpture (about 2.2 m high x 2.5 m wide) of 6 mm thick weathered steel and need the surface to rust uniformly and quickly. I have only a couple of months to get it to a reasonably even surface, and there are laser cut outs in the steel. The sculpture will be installed outside. Any suggestions?
Chris Cathie
sculptor - New Zealand
---
2007
A. I AM BUILDING CUSTOM HOMES MADE OF CORTEN. WHAT WE HAVE FOUND TO GET THE WHOLE HOUSE TO RUST EQUALLY IS TO HAVE IT SODA BLASTED. IT IS LIKE SAND BLASTING, BUT USE A BAKING SODA TYPE MEDIUM. AS FOR THE INTERIOR WALL PANELS THERE IS A PRODUCT THAT DOES SEAL THE MATERIAL, BUT IT IS AN OIL BASED PRODUCT AND DOES TAKE A LONG TIME DRYING. IF YOU ARE IN NEED OF REMOVING PAINT OR GRAFFITI IS TO SODA BLAST IT. THE BLASTING WILL NOT ROUGHEN UP THE SURFACE.
CHRIS MILLER
STRUCTURAL STEEL FABRICATOR AND INSTALLER - PHOENIX, ARIZONA
---
June 25, 2010
A. Abrasive blasting is the way to go for an even rust finish.

I have found that the original rusting stage does produce staining but once this has been achieved the run off is minimal. The nature of corten, as I understand it, is that the oxidation layer becomes very dense and this protects the underlying material. There is not a continuation of oxidation into the material so there is no more oxides running off!

I love the dry dusty appearance of the corten and have never sealed it because I don't want to loose this. Is there any processes or materials that can seal the surface but leave the dry finish.

From my reading of any material about corten I understand that a coastal situation is not recommended but as David Brown has stated above he has done this.
I am trying to convince a client at the moment that corten will be suitable for a balcony balustrading on a house right on the beach here in WA.

can any body help me?
Rob McCulloch
- Perth,W.A. Australia
---
March 10, 2010
Q. After blasting the Corten steel surface is within no time black.
Is this copper, chrome or phosphor oxide which is left behind the surface and can we paint over this surface?
Erwin Nijman
inspector - Holland
---
---
Corten staining its surroundings
May 28, 2008
Q. I want to follow up on the discussion of Corten steel in signs. I'm interested in using Corten as dimensional letters/graphics on a monument sign. As the material oxidizes to its stable state should I anticipate streaking on the face of the sign?
Gary Fedota
- Atlanta, Georgia
---
A. Hi Gary. The runoff continues, and is a definite problem when buildings are put on concrete with no allowances for it. But whether it's enough to be a staining issue on the balance of your sign is harder to know. I suspect that if the sign is not absorbent, it's not going to be a problem.
Regards,
Ted Mooney, P.E.
finishing.com
Pine Beach, New Jersey
We need "Aloha" now more than ever
---
---
Speed up Cor-Ten weathering process
2003
Q. Can you please advise how a person can speed up the weathering process on Cor Ten steel to get the uniform rusted look. I have a customer fabricating a sculpture and would like the total surface rusted before placement. Can any chemical be used?
Thanks,
Don Rau
steel supply - Manistee, Michigan
---
2003
A. A slightly acidic, iron chloride solution should work. Take a 5-gallon plastic pail, add some rusty steel scrap, 3 gallons of tapwater, some salt and a gallon of hydrochloric (muriatic) acid. Let it react until the fizzing slows down, then apply to the sculpture with a paintbrush, polypropylene bristle broom, or similar. If dripping would be a problem in the location, use a polyethylene dropcloth. Let dry overnight, then hose off.
Ken Vlach
- Goleta, California
Finishing.com honored Ken for his countless carefully
researched responses. He passed away May 14, 2015.
Rest in peace, Ken. Thank you for your hard work
which the finishing world continues to benefit from.
---
---
August 5, 2008
Q. I wondering if I could get the same results as Corten with any other metal? I am looking for some other product which give me the rusty look but no stain or at least not too much.

Thanks,
mario gonzalez
architect - NYC, New York
---
June 2013
A. Hi Maria. I think a low grade of stainless steel, perhaps a 4xx, will work. Try soda blasting it for evenness and to remove any passivation, then maybe wiping with diluted vinegar a few times over the course of a few days, then neutralizing with baking soda and a hard rinse.
Corten / weathering steel is only "better" in that it has very little expensive ingredients in it so it's very affordable. If the project can afford stainless steel, my bet is there will be far less staining.
Regards,
Ted Mooney, P.E.
finishing.com
Pine Beach, New Jersey
We need "Aloha" now more than ever
---
May 13, 2009
-- this entry appended to this thread by editor in lieu of spawning a duplicative thread
Q. MY ISSUE IS A SIMPLE ONE. I HAVE USED CORTEN SQUARE TUBING, SQUARE BAR, AND FLAT BAR TO BUILD A BEAUTIFUL GAZEBO AND RAILING IN MY BACKYARD. IT HAS RUSTED TO A BEAUTIFUL DEEP REDDISH RUSTY COLOR THAT ONLY CORTEN CAN DO.
BUT IT CONTINUES TO DRIP RUST ONTO MY GRAY GRANITE PATIO, DISCOLORING AND STAINING IT. I DON'T KNOW IF I SHOULD NOW SEAL IT TO STOP FURTHER RUST DRIPS, WHETHER ANY TYPE OF SEALER SHOULD BE USED THAT WILL NOT DISCOLOR MY EFFORTS AND HOLD UP OVER THE YEARS, OR ANY OTHER SOLUTION TO MY PLIGHT. I WOULD APPRECIATE ANY AND ALL HELP.
LOUIS HOWARD
- WESTPORT, Massachusetts
---
July 9, 2009
Q. Hi I saw a person rolling on what he called an Oil based smelly coat coat to seal that sexy rusty metal artwork.

What is it called? Please name a brand or two.
Max Golem
artist - Australia, Melbourne
---
October 1, 2009
-- this entry appended to this thread by editor in lieu of spawning a duplicative thread
Q. Has anything conclusive been offered in terms of stopping the rusting process of Corten?

I have a client who now likes the dark gray of the initial Corten state (and I do in this instance as well) and would like to know if there is some proven or tested method of removing what little rust that has formed and then seal it to remain as a raw, deep gray metal.

Thank you!

Mario
Mario C
[last name deleted for privacy by Editor]
- Los Angeles, California
---
June 2013
A. Hi Max. If it was smelly, it was probably linseed oil.
Hi Mario. We appended your inquiry to a thread which, if not offering a universal silver bullet, at least tells you what other people have been doing. Good luck.
Regards,
Ted Mooney, P.E.
finishing.com
Pine Beach, New Jersey
We need "Aloha" now more than ever
---
---
(2008)

Q. I am looking for some Cor-Ten samples; including corrugated, and perforated.
Can anyone recommend a reputable company that will provide specs with the sample?
Any ideas for other interesting metals for exterior uses?
Tim Koelle
artist - NYC, New York



---

Hi, Tim. Major national roofing companies will do this. But we don't offer opportunity to commercially profit from postings because it's like raw meat to hyenas: it attracts shills posing as satisfied customers, and precipitates a race to the bottom as each sales manager posts 5 reasons his company is better than the previously mentioned one :-)
Our postings are restricted to technical issues; we don't print any recommendations of suppliers. Sorry.
Regards,





Ted Mooney, P.E.




finishing.com




Pine Beach, New Jersey




We need "Aloha" now more than ever




---
---
Sculpture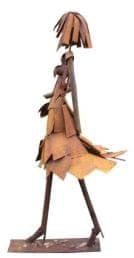 March 28, 2009
I love Corten steel for its color and turn it into women.
You get a kind of black color if you leave 2 pieces on top of each in a wet environment.
This is one of my women. Height 1.60 m.

Willemine van Laarhoven
sculptor
Willemine van Laarhoven
- Holland
---
March 28, 2009

For cold steel, she's quite "hot", Willemine :-)
Regards,
Ted Mooney, P.E.
finishing.com
Pine Beach, New Jersey
We need "Aloha" now more than ever
---
December 8, 2010
Q. We have a metal sculpture fabricated in Core Ten that was graffitied. The only way we could remove the graffiti was with a wire brush which took us back to the bare metal. I know that eventually the patina will weather out but as this sculpture is "high visibility" and I know will get "hit": again, is there any way the bare surfaces can be treated to promote quicker oxidation.
Fred West
Marble West - South San Francisco, California USA
---
February 3, 2011
A. To obtain a quick patina on Cor-ten you can try to use some sulphuric acid or hydrochloric acid. You will have a rusty surface within a day :-)
Careful when applying!
Endre Kalmar
- Budapest, Hungary
---
---
A discussion started in 2002 but continuing through 2019


If you have a question in mind which seems off topic, please Search the Site