topic 27758
Mirror finish water based chrome paint: topcoat yellowing
An ongoing discussion from 2004 through 2014 . . .
(2004)
Q. Is there anyone who has used any type of three-step spray chrome system that requires special equipment. If so, is it worth the investment?
Zarron LaBarge
autobody refinishing - Bridge City , Texas
---
(2004)
Q. Hi,
I have a panel shop in Perth Australia. We have recently taken on a new water based chrome paint system ( with the mirror finish ) to compliment our ongoing business. Having a few difficulties which we would love someone out there to help us overcome. We are getting a browning ... almost rusting effect that comes up a couple of weeks after we have sprayed. This is definitely under the clear coat. Also a milky side tone in the chrome. We have tried different temperature controls, changing the settings on the guns, and different 2-pack clears over theirs -- all with no joy. Can anyone help us? Many thanks.
Adrian Ridgway
automotive ind - Perth, Australia
---
(2004)
A. What does the paint supplier/manufacturer/franchiser (or whoever the principal is) have to say about it?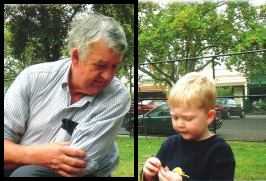 Bill Reynolds
consultant metallurgist
Ballarat, Victoria, Australia
We sadly relate the news that Bill passed away on Jan. 29, 2010.
---
(2004)
A. Hello,
I've seen the exact problem that you are describing. I have a feeling that there is a considerable amount of moisture still present after you have finished the silver nitrating process. The moisture is what is causing the brown tarnish, and it really doesn't matter if you are topcoating, as this traps the moisture (oxidation could occur quicker).
Try to run the parts past some kind of heat source, try 150-200 °F for 15 minutes before applying the topcoat.
Check with the manufacturer first to see if they might know what your problem is.
Sincerely,
Jake Koch
G. J. Nikolas & Co., Inc.
Bellwood, Illinois
---
(2004)
A. Hi Adrian from Down Under,
I totally agree with Jake about your problems. However, it appears that you are not paying enough attention to details or instructions. Please be aware about the importance of strictly following the instructions.
One of the points as I recall was to make sure that the basecoat is baked for at least 1.5 hours in 130 °F and then the object should be left to cool down preferably over night. The chemical reaction and bonding with the basecoat will not take place unless you make sure that the basecoat is absolutely 100% dry. If your basecoat is not dry enough or the object is still warm, then the chemical reaction and bonding with your basecoat will not happen, even if the activator sheets, you will definitely have a milkiness in the "chrome" layer.
Then there is of course the obvious problem with UV, Sunlight and the effect on Silver nitrate (the "Chrome" layer). You need to block or shade the windows of your spray booth from sunlight, and changing your fluorescent lights inside the booth from "blue" UV emitting ones to a softer "white" light. You should know the effects this UV contamination can have in the "Chrome" layer.
Then there is another problem with not doing a thorough enough job blow drying your "Chromed" object. I have seen and heard of too many "painters" from the old school having this problem. Spend a few more minutes thoroughly blow drying the object you spent so many hours to prepare. Unfortunately, your eyes cannot pick up the trapped moisture under the "Chrome" layer. If you then spray the topcoat onto a moist surface, you should know the result. If you don't, here is what happens: Milkiness in your topcoat. There is also another reason why you could get the "Browning Effect". When you mix your activator, the TIN (II) chloride is very sensitive to: O2, CO2 and moisture. If you are not using all of the contents of one container and are using portions at a time, you MUST make sure that you do not use any metallic objects for measurement, close the lid immediately after use, only open and mix in a very clean environment away from any potential contaminants, and make sure that the container is never opened in a moist environment.
Be happy that by trapping moisture between the 2 layers of 2-pack, you did not get a peel off of the "Chrome" and topcoat. When you have trapped moisture in between the 2 layers and heat it up, think about what happens with the moisture. It tries to evaporate and becomes a gas (steam in this case). The result is the separation of the "Chrome" and topcoat layers from the basecoat (quite logical really). 99.9% of the problems lie with the operator and not the product.
Mike Pietsch
- Chaska, Minnesota
---
(2006)
A. You need to use black or silver basecoat to stop the streaky milking effect you are talking about,

Humidity must be 50%, temperature must be 25 °C to spray chrome,

Need to be put in a drying area far away from paint machine, (this is where your rust spots come from)!

Drying room should run cool for first 25 minutes to let the water dissipate, then you heat the room to 130 degrees for the normal amount of time

clear coat should not be done until at least 24 hours after laying down the chrome

Basecoat must be polyurethane (helps with bonding).
Jason Speis
- Queensland, Australia
---
(2007)
A. Response for Adrian Ridgway,

The browning after a couple of weeks may be also to do with the handling of the product before topcoating. It is imperative you wear gloves prior to top coat, otherwise delayed contamination will occur such as the browning. Hope it might help a bit.
Q. Yellowing after chrome-look paint topcoat. Interesting reading ref tarnishing of product; could anyone please let me know if they have managed to overcome this problem as we are still experiencing the issue of 'yellowing' after top coat periodically?

Many thanks
Stuart Blackwell
- Coventry, West Midlands, England
---
(2007)
Q. I have also a problem of yellow after the signal coat. I very re-examined and it would seem that the filter that I use for the water of chromium does not correspond to the need for purity. Yours can be the same problem. Can a person say to me that it filters have to used and/or where to find it? Thank you in advance.
Serge Carre
- Martinique
---
(2007)
A. Yellowing or tarnishing can occur by means of a couple of things firstly the chemicals your using are out of date they should be clear (look at the activator if it is a brownish colour before you use it think what it will do if you spray it) secondly your water must be pure any contaminants salts minerals, etc. will all effect the result.
hope this helps.
Chris Massey
- Chester, England
---
Why does topcoating of chrome-look paint cause yellowing?
August 8, 2008
-- this entry appended to this thread by editor in lieu of spawning a duplicative thread
Q. Hi,

I have recently purchased a spray chrome machine with four cylinder tanks, one is for water and the other three are for chemicals. I have not been successful chroming, just when I spray the top coat, the object start to yellow. Please suggest what may cause this problem and what is the solution.

Thanks,
Lenny
Lenny Soenaryo
Buyer - Surabaya, Jawa Timur, Indonesia
---
April 7, 2009
A. I had the same problem, try misting/fogging the clear coat, by that I mean you instead of spraying the clear coat directly onto the chrome paint have your gun/aerosol spraying over and not onto (like dusting) the paint. Oh, and leave the paint to dry for at least 48 hours; paint dries on the top but cures outward and that can take up to eight weeks.
Jope this helps
jaima
from (Drumchapel/Glasgow)
jaima McBeth
- Glasgow Scotland
---
March 1, 2010
A. We have spent the last year in a consultancy to investigate the above problems. The main problem of discolored silver is due to problems with the strength or formulation of the Reducer component; additionally the sensitizer solution's formulation also effects this area. First check that you are correctly diluting your stock solutions before spraying. Sometimes reducing the strength of the reducer buffer mix compared to the silver solution helps. Frankly the accuracy with which some suppliers make up their product seems very variable!

Rest assured the basic aerosol silvering system can be made to work reliably but in order to do so there has to be attention to detail right from the start of the manufacturing process to the final spraying; any error of formulation or contamination of the solutions results in defects.
Colin Gammans
- Ashford Kent UK
---
February 27, 2013
-- this entry appended to this thread by editor in lieu of spawning a duplicative thread
Q. Hi. I have a problem: when I spray top coat on the silver it goes yellowish.
I need help.
Abed Ghazzawi
- Beirut, Lebanon
---
---
Milky UV paint on PVD parts
April 28, 2014
Q. 3 Layer coating system (primer, PVD & topcoat) problem:
The spray application with UV-lacquers on PVD treated parts in the laboratory develops very well and we are close to deliver samples to some anxious customers. However, as always, we have one final issue.

On some areas, the topcoat become milky, se attached pictures. It is not visible directly after curing but develops during 1-5 days. It is concentrated to areas were the coating is expected to be thicker than on other areas. So far, we have only observed it on horizontal areas well exposed to the UV-light. All observations are done with Al/Si-alloy as metallization and with maximum 1 hour between metallization and top coating.

For the moment, we do have 3 theories:
1. Under curing: Due to extra thickness, the lacquer is not fully polymerized and therefore sensitive to humidity absorption.

2. Over curing: Stresses between thick and thin create a process that broke up the crosslinking making the lacquer opaque/non-transparent.

3. No flash of: In order to avoid dust and other defects, we use no flash of before UV-curing. If the lacquer, the working atmosphere and the substrate surface includes some water molecules, those will be trapped in the cured lacquer, and maybe causing this milky effect over time.

We do work according to all parameters by UV-lamp supplier Fusion and UV paint manufacture recommendations. You might have other theories and those are most welcome. We like to hear your opinions in order to know in which direction we shall go.

Patrick Thuresson
Technical advisor - Hassleholm, Sweden


This public forum has 60,000 threads. If you have a question in mind which seems off topic to this thread, you might prefer to Search the Site