Live! From Pine Beach NJ: The world's most popular metal finishing website, and the internet's friendliest corner
topic 24359 p2
Barber Chair Restoration Problems & Solutions
---
---
A discussion started in 2001 but continuing through 2019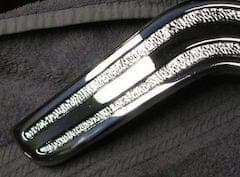 TUTORIAL FOR NEWBIES:

Readers who are interested in trying to follow along through this section, but who are not experienced in plating, should start with our "Introduction to Chrome Plating" before continuing ...

Now that you're back, "LCD" is an acronym for "low current density". When parts are immersed in the plating tank, the electricity takes the path of least resistance, so edges and corners get high current density, and recesses get low current density. The plating deposits differently depending on the current density.

Chrome plating will not occur unless there is a small and carefully controlled amount of "catalyst" in the solution; the 100:1 ratio of chromic acid to sulfuric acid that Tom is using is the most conventional approach for the catalyst.

As discussed in the "Introduction to Chrome Plating", chrome fumes are toxic and carcinogenic, and we do not feel that hobbyists should attempt chrome plating. But those who cannot be dissuaded should at least realize the necessity of the "fume blanket" -- a floating layer of oily specialty fluorine-based chemicals that catches most of the "champagne bubbles" generated by the plating process.

Decorative chrome plating is always preceded by bright nickel plating, and the most common formulation is called Watts Nickel.

The usual temperature of the chrome plating solution is 110 ° F.
2006
Q. Hello all:
I appreciate any help given....
I am having a problem with my chrome giving off a haze in the LCD areas.
It is a standard Hex bath with no additives
33 oz chromic acid
.33 sulfuric
Water
Fume blanket
Chrome plating is preceded by standard bright Watts Nickel.
I have tried varying the temp from 110 to 120 °F, and get the same results. When I turn up the power to the point of making the haze disappear I start to get a slight burning on the edges. It does not matter the base metal as it happens with everything from steel to zinc die castings.
I have sent samples out of both the nickel and chrome and am awaiting analysis.
Thank you,
Tom Haltmeyer
hobby plating - Peoria, Arizona
---
2006

Tom, sorry I can't be of any help with your question, but the texture on the part shown in the photo is interesting, did you make the part?

Duck
Lawrence Duckworth
- Cleveland, Georgia, USA
---
2006
Lawrence:
The parts are from a early 1900s KOKER barber chair.
They are the "legs" that go from the arms down to the footplate.
Tom Haltmeyer
hobby plating - Peoria, Arizona
---
2006
A. Just a shot in the dark but have you checked for any zinc contamination in your chrome AND nickel bath in ppm?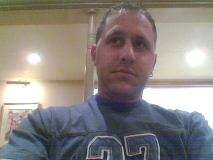 Gary Joseph
Johannesburg, South Africa
---
TUTORIAL FOR NEWBIES:

Other metals can get dissolved in the chrome plating tank from the parts themselves, earlier plating steps, or acids dissolving the copper wiring; that wreaks havoc on the chrome plating.

In production plating, numerous parts are hung on a single plating rack and carried from tank to tank. It is possible for a part to fall off the rack and sit on the bottom of the tank slowly dissolving.
2006
A. I have had High Iron in my chrome bath lower my efficiency of my chrome bath and cause the same problem. One source of either Zn, Cu, or Fe could be parts in the bottom of your tank.
Chris Snyder
- Charlotte, North Carolina
---
2006
TUTORIAL FOR NEWBIES:

The earlier layer of nickel plating, if old rather than freshly plated, can oxidize to where it is difficult to chrome plate. Rudolf is suggesting that a different catalyst (fluoride based instead of sulfuric acid) might help address the problems.
A. Hello,
It looks like you have some passive nickel or your chrome bath doesn't activate enough. Try a mixed catalyst bath.
Rudolf Kempf
- Haan, Germany
---
2006

I finally got it all fixed. :)
My leveler was very low in one bath and gone in the other in my nickel. I has also learned that I should use a ratio of 5:1 brightener/leveler when making adds to the nickel bath. (I use a lot of auxiliary anodes for restoration work and it was killing my leveler)
I also needed more current in the chrome.
So ... all is well now.
Thanks!
Tom Haltmeyer
- Peoria, Arizona, USA
---
---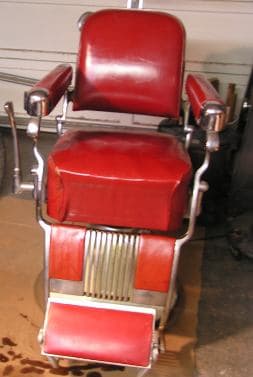 Belmont Barber Chairs
June 16, 2009
Q. I have purchased an old Belmont barber chair. I want to restore it; it reclines but does not swivel or raise lower. I can't find parts or manuals. It appears to be a Koken classic design.

THANKS!
Tim Leslie
Hobbyist - Menlo Park, California
---
July 4, 2009
A. Try kicking the handle forward. Sometimes they stick when they have been pulled back too hard. I use these chairs on a regular basis. In fact one of mine I got at a discount because the arm was froze in position and I knew all I had to do is kick it forward. Unless it's just moving forward and backward and still not working.

All the way forward and down holding it there lets it down. pushing the lever forward and down and up raises it, and just halfway down/forward lets it swivel. to lock in position lightly pull back to the upright position.

Hope that works
William Farrell Stephens II
- Saint Johns, Florida
---
May 20, 2010
A. For the guy with the chair that does not go up or down, check the oil level and lubricate all of the parts in the handle.
Steve Hicks
- Ludlow, Massachusetts
---
February 7, 2010
Q. I am restoring 2 Belmont barber chairs. All good except hydraulic parts (small spring loaded valves). Can anyone help with supplier of parts & type of oil & volume of oil?
Murray Badenoch
Barber shop owner - Brisbane, Queensland, Australia
---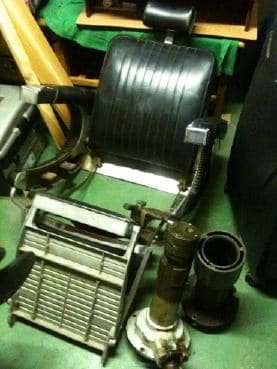 February 10, 2011
A. Hello there, greetings from Toronto, Canada. That looks like a beautiful chair! I have been doing research on Belmont barber chairs and recently purchased that exact chair but with red leather. I really love that design, and I'm interested to know how your repair went? Can you post any finished pictures? Also, it may be too late but a friend advised me most chairs will take about 2 liters of unleaded motor oil.
Cheers
Jason Chong
- Toronto, Ontario, Canada
---
August 10, 2012
Q. Hi all I am looking for a chrome ring for an old Belmont barbers chair pedestal.
Allen Yee
- Honolulu, Hawaii
---
November 13, 2013
Q. My Belmont chair won't recline.
Charles Gaines
- Bellflower, California
---
December 3, 2013
Q. I have Belmont barber chair from the 60's and it will not recline any ideas what is the cause and how can I fix this. I loosen and tighten the springs on the side but still not reclining.
Dario Ciutti
- Sudbury, Ontario, Canada
---
March 17, 2014
Q. Can metal Antique barber chair parts be welded? My name is John and I'm thinking of buying two Takara Belmont barber chairs. both chairs have the long arms broken in half -- the arms that attach to the foot rest. Does anyone know if this type of metal can be welded?
I cannot find the parts to replace them. The serial numbers are 60819 and 60820 I believe; if I'm reading the serial numbers right they were made 1960 August 19th and 20th
John Ens
tattooist - Barrie Ontario Canada
---
March 18, 2014
A. Hi John. These parts are probably cast iron, which is difficult but not impossible to weld. If you google "weld cast iron" you'll get the picture. But you might also consider having it brazed, since this is perhaps a little easier. So also google "braze cast iron". If you find a good weld shop, I think they'll be able to do it. Good luck.
Regards,
Ted Mooney, P.E.
finishing.com
Pine Beach, New Jersey
Striving to live "Aloha"
---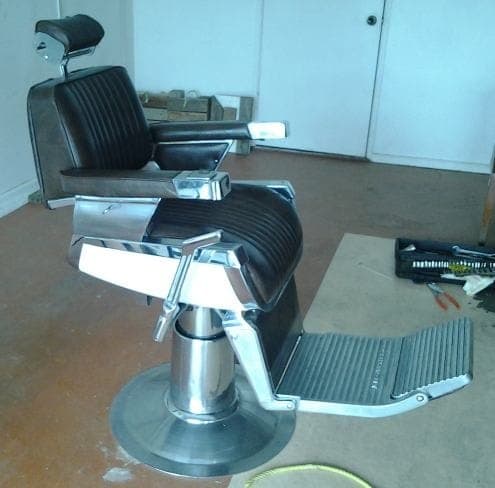 January 15, 2015
Q. My dad has a 1970s era Belmont barber chair, but the fluid seems to be low and we can't figure out how, where and what type of fluid to install. We would be grateful to receive a reply with any help. Thanks.
Victor Ruiz
owner of chair - bakersfield, California USA
---
April 12, 2015
Q. Looking for a 1950's Belmont pump handle. Any help would be appreciated. Cheers.
Bill Majovsky
winter project - Sarnia, Ontario, Canada
---
---
Paidar Chairs
April 28, 2010
I have a Paidar 1920's porcelain barber chair that I'm restoring and accidentally broke the bracket that connects the back rest to the arm rest on the rights side if you're sitting in the chair. I tried to weld it but it just won't hold. Where can I find a part for sale?

Please help.
Todd Oleson
HOBBYIST - Macomb, Michigan, USA
---
June 28, 2010
Q. My son has a 1960 Paidar chair that he took apart to have the parts chromed. After four years he is trying to assemble it. Does not remember how all the parts go back together. Have tried to find a repair booklet but no luck. Would appreciate any help.
George Ranallo
- Overland Park, Kansas
---
---
July 1, 2011
Q. Paidar chair but original numbers plate missing from seat. Not sure of year and need same before I head in to full restoration. All mechanicals work well but appearance is rough. Any help would be greatly appreciated.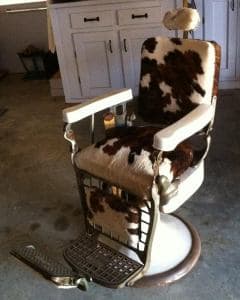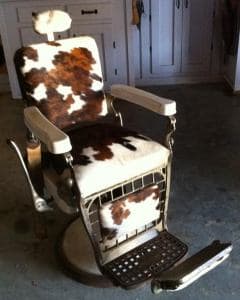 Dan Stevens
hobbyist - Magnolia, Texas, USA
---
June 28, 2014
Q. Final result of plating and restoration project (July 2011 original post).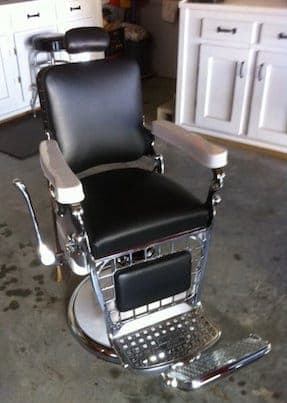 Dan Stevens
[returning]
Hobbyist - Magnolia, Texas
---
June 2014

Wow!
Regards,
Ted Mooney, P.E.
finishing.com
Pine Beach, New Jersey
Striving to live "Aloha"
---
---