Where the world gathers for
plating, anodizing, & finishing Q&As since 1989
"Barber Chair Restoration Problems & Solutions"
-----
---
< Prev. page (You're on the last page of the thread)


Theodore Koch Barber Chairs
I am in the process of restoring a Theo A Kochs' barber chair. Unfortunately the white pedestal base was badly hit or the chair was dropped, resulting in a medium sized piece of porcelain finish being flaked-off from the bottom of the pedestal near the nickel plated ring surround.
I am unsure as the best method of completing this repair as it may be difficult to match the colour of the repair portion with the remaining portion of the original base.

Would it be possible to obtain a porcelain repair kit and then repaint the entire base with a good epoxied automotive enamel or alternatively use a good automotive epoxy body filler instead of the porcelain repair. Is there an even better alternative? Thank you in advance for any assistance which is greatly appreciated.
William Smith
hobbyist - Chute A Blondeau, Ontario, Canada
August 27, 2009
A. It's going to be difficult to find a paint which will adhere well to porcelain. I'd suggest using body filler to bring the damaged section up to level with the original porcelain, then painting just that spot with color matched paint.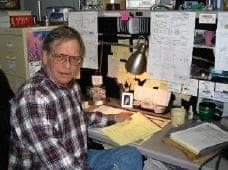 Jeffrey Holmes, CEF
Spartanburg, South Carolina
A. Try Ceramit(TM) paints-special epoxy based paints for porcelain enamel restoration.Hope it helps and good luck!
Goran Budija
- Cerovski vrh Croatia
---
---
Q. Hello, my name is Teresa. I have just purchased a Theo Koch's chair, not sure of age. I have taken all the leather pieces off and cleaned the porcelain. The metal parts need help, someone mentioned chrome rouge. Please tell me where I can purchase this product and should I use some steel wool first to clean it up a little more? Thanks for your help, I live in Toms River NJ if anyone is near buy that works on these chairs.
P.S. I also think some parts are missing for chair to recline, when I took off leather foot rest it did recline, but something seems off.
Teresa Zaza
hairstylist/salon owner working barber chair - Toms River, New Jersey USA
March 12, 2011
---
---
Q. I have a wooden Koch barber chair #c16907. Any way to tell the age or other info?
Richard Fabrizio
- Warwick, Rhode Island, USA
January 7, 2012
---
---
Q. What is the best way to clean and polish the porcelain on my 1939 Koch chair? It looks clean but not like a restoration. Thanks
bill groth
- chicago, Illinois usa
August 28, 2012
---
---
RFQ: I'm looking for a company or individual to refurbish my old Theo A Koch.
It needs repair on the enamel, new upholstering, and the metal needs blasting. It also needs a foot rest and head rest.
I haven't been able to find anyone in my area and frankly I don't have $5,000 for this project.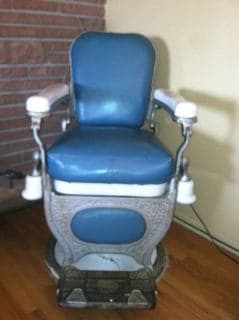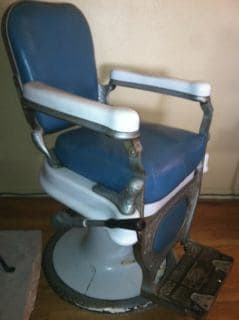 Any help would be appreciated!
Sincerely;
Sandra
Sandra M
retired - Wheat Ridge, Colorado
February 17, 2013
---
---
Q. I am restoring a 1910 - 20s Koch barber chair. I just started working on the pump and in taking it a part I found a 1 1/2" brass with fins on one end and threaded on the other, also a leather washer. Can anyone tell me were they go? I've look at pictures on the Internet and cannot find it. The plunger has a brass piece in it. I'm going to try to post a picture. Thanks for your help.
John Tabor
- Waxahachie, Texas, USA
April 27, 2013
---
---
"Theo A. Kochs 1880 Catalog"
from Abe Books
or

Affil. Link
Your purchases make finishing.com possible
Q. Hi, I have an old Theo Koch barber chair and I don't know the year of it. Also it's the only one I have seen with white milk glass looking arms and it also has a extra little round seat that pivots from front to back on right side. Any info would be appreciated. Thanks.
Dave Phipps
- Paoli, Pennsylvania, U.S.A.
August 16, 2013
---
---
Q. Hello I have a 1910-1920 Koch Barber chair. I cannot get it to lock in the upright position. If you sit in it you start to lean backwards. Pictures and directions would be greatly appreciated. Can anyone provide some help? All other functions work. Thank you.
Brian Fos
- Missoula, Montana, USA
November 20, 2013
---
---
Q. Hi, I have an old Koch chair which I'm restoring. The hydraulics fluid is low; how much does it take and does anyone have a type they like?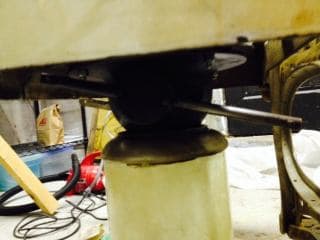 Also, there is a bar (seen in picture) under the seat which runs perpendicular to the column, does anyone know what this is for? Thanks,
Alan
Alan Shapiro
- Boston, Massachusetts
July 7, 2014
---
---
Q. How do you disassemble the pump handle #308 on a Theo A Koch chair?
michael dedona
- westport Connecticut
December 26, 2014
---
---
Q. Hello, I need the brackets, that connects the two footplate together. For Koch's barber chair. Thanks Roy.
Roy Zitek
- Redmond Oregon usa
March 15, 2016
---
---
April 7, 2017
Q. I just recently acquired an 1920's Theo A Kochs barbers chair that needed some work. I have taken off the cast iron and it is in a finishing shop as I speak to be re plated in nickel. Now, the huge question, the upholstery needs to be redone. The color appears to be a "tanish" color. What I would like to have done is have all the upholstery redone in a red color. Is there a specific red color used? If so, would anyone know the name of that red color? Many thanks in advance.
mark simo
- Bartlett, Illinois,USA
---
---
September 3, 2017
Q. What's a good way to clean & polish white porcelain? Just finished working on a Theo-A-Kochs barbers chair. Did what I could afford, few pieces of the cast iron redone (couldn't afford to do all of them however) and had it reupholstered. Just need to work on the porcelain now.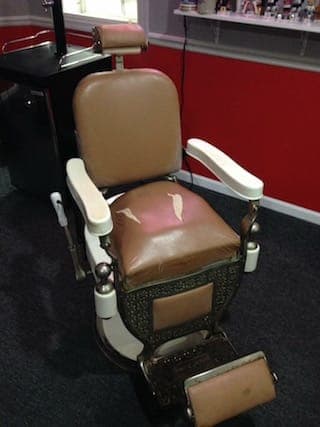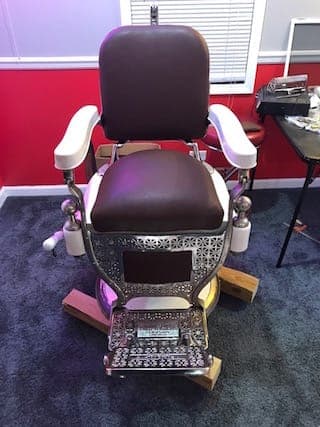 Mark Simo
[returning]
- Bartlett, Illinois, USA
---
---
February 19, 2020
Q. Hello. My name is Ashley. I fix and service barber and styling chairs. I am looking for any help locating a upholstery kit for a vintage Koch 1958 barber chair. I have researched material and it can be done from raw, but so many chairs were made that I'm hoping to find a pre fabricated kit. Any help is greatly appreciated. Thank you.
Ashley Williams
Hand Man - United states
---
---
Q. Hey guys I am re-assembling a 1910-20's Theo a Koch barber chair and I forgot how I took apart the reclining assembly. I have pictures of parts and all that of the space but I just can't figure out which direction to put the pieces. Any help would be greatly appreciated!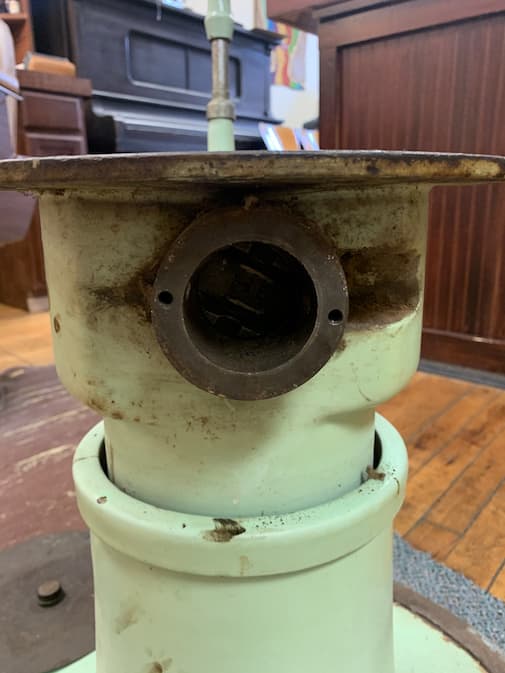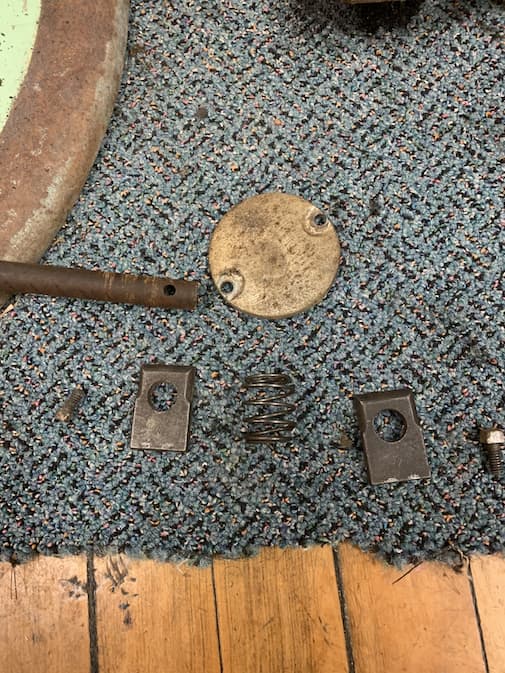 Nathan McDonald
Barber - oneonta New York usa
May 1, 2020
A. Nathan - Did you ever figure this out? Getting the pieces in there is easy. Getting the cover/cap back on is difficult.
The round end with the through-hole near it goes to the back of the chair. The flat, tab-like end goes toward the front. The two keys go on the rod with the holes closet to the edge, toward the inside of the base.
Start the rod into one side of the base (front to rear worked best for me). Push it in enough to get on one key. Push the rod in a bit more to get the spring and then the second key. Push the rod in so it's at the midway point. Put cotter pins through the two holes (the one near the round end and the one about halfway down the rod). You should have a cotter pin to the front of the opening and one on the other side of the opening. Connect the flat end of the rod to the bracket on the back of the leg rest.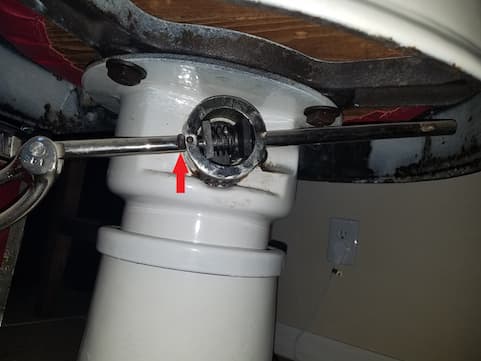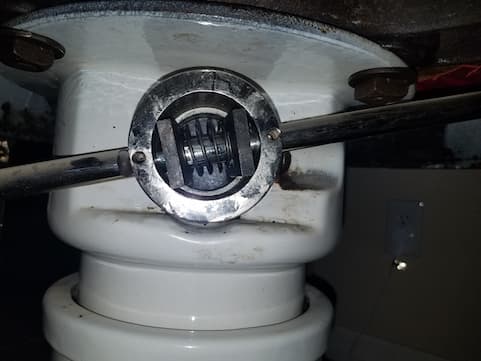 That's the easy part. Because the keys are spread apart by the spring, you need to compress them to fit into the space on the back of the cover. I found it best to set the cap onto one of the keys, move the cover to center of the opening, and then use a stiff-blade putty knife/scraper to push the other key. The cover will fall into place over both keys - do not let up on the cover. Keeping the cover firmly in place, thread in and tighten down the screws.
Good luck!
Denny Cardona
- Sierra Vista, Arizona
---
---
Misc. Barber Chairs
RFQ: My wife has a 1955 barber chair in our home. The bottom leather seat is beginning to split open on the side and the headrest is torn. We would like to have these 2 pieces refurbished. I believe the material is leather. We live in Central New Jersey, so looking for someone in the area that could do this work.
David Miller
collect neat antiques
- Jackson, New Jersey, USA
December 30, 2010
---
---
Q. Hello, I have a chair whose brake is either malfunctioning or missing. Can anyone help explain how the brake functions and where its locality is? Most appreciated as I am needing this chair in my functioning antique shop.
Thank you.
Ty
Tyler Atkinson
Barber - Ridgefield, Washington
January 26, 2012
---
---
Q. I have a Barber Chair that has the battening in the seat completely shot. The battening is made of material that I can't locate. It looks like a straw based material. Does anyone have any ideas what I can use or where to get matching material.
Robin Hart
- Susanville, California, USA
February 2, 2012
---
---
Q. Hello

I brought this chair in France, at a flea market, it's a "Triumph" (maybe made by Koken in St. Louis). Is there any expert to date it (my feeling is 1920 to early 1930), and to confirm me that's a Koken made chair?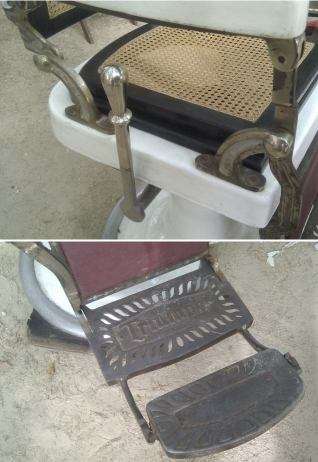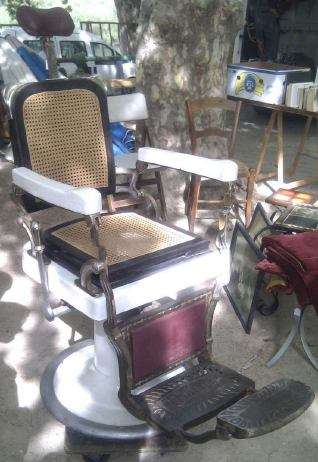 Regards folks !
Bascoul Charles
- Montauban France
July 30, 2012
---
---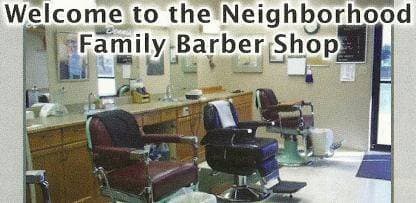 Q. I have an old barber chair that the stop handle does not work on it (right hand chair in photo).
Does anyone know if this is a job I can do or do I need a professional to do? These chairs are extremely heavy and takes 2 big guys to move them. Any suggestions will be helpful or if you know anyone in my area of Arizona that can restore that part please e-mail me.
Thanks
Dick White
barber shop - Sun Lakes, Arizona
August 6, 2012
---
---
Q. I have just purchased a barber chair for restoration and the casting is cracked. How can this be brazed or welded or whatever it may be?
Kevin Orr
- Port Angeles, Washington, USA
February 10, 2013
A. Hi Kevin
Cast iron can be brazed and it can be welded. But both are sufficiently difficult, apparently requiring both preheating and specialty rods, such that I think you should look for a person or shop who knows how to do it, rather than trying to instruct yourself or someone else on how to do it ... but there are webpages and youtube videos on each.
Luck & Regards,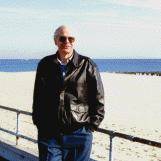 Ted Mooney, P.E.
Striving to live Aloha
finishing.com - Pine Beach, New Jersey



---
---
"Barbershop: History and Antiques"
by Christian R Jones
from Abe Books
or

Affil. Link
Your purchases make finishing.com possible
Q. I have a problem with my barber's chair. I have a Weber chair, and when I jack it up, it slowly lowers itself down ... so it's not holding the pressure. Please help.
Marty Petty
- Ste. Genevieve, Missouri
June 22, 2013
A. Hi Marty. I don't know anything about Weber barber chairs, but when hydraulics lose pressure it's usually because the seals are bad. As they get old, worn, and dried, it becomes too easy for hydraulic fluid to leak past them.
Regards,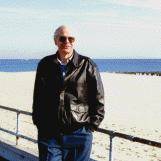 Ted Mooney
, P.E.
Striving to live Aloha
finishing.com - Pine Beach, New Jersey
---
---
Q. Hi

Can I please get advice on how to restore the porcelain enamel finish on an old barber chair.

Thank you & kind regards.
Vincent Stevens
- South Africa
August 17, 2013
---
---
Q. Hey guys, I've recently purchased a 1940's Bausch + Lomb optometrist chair. The base size looks much like the barber chairs I've seen of the era and am wondering approx. how much fluid should be used in the base to raise and lift it? It was working slowly when I bought it, but I think the fluid all leaked out during the move. Any help would be much appreciated.
Rusty Hinshaw
- Roxana, Illinois
December 2, 2013
---
---
Q. I have a styling chair that the hydraulic lift is not working when I pump up the foot pedal, any suggestions on what to do?
Pinky Hue
- WEST HEMPSTEAD NEW YORK
July 9, 2014
A. Hi, please start by googling "how a hydraulic cylinder works" so you have a rough idea of what is involved in terms of fluid, valves, seals, etc. This will help you figure out what's wrong.
It seems that little info remains about the hydraulic operations on these old barber chairs but I doubt that each chair maker made their own valves and seals, so if you can find the dimensions on the worn-out parts, you can probably get them from a place like Grainger, McMaster-Carr, or a hydraulics supplier. Good luck.
Regards,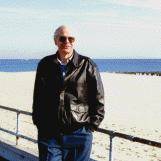 Ted Mooney
, P.E.
Striving to live Aloha
finishing.com - Pine Beach, New Jersey
---
---
RFQ: My wife and I recently purchased an old barber chair at a flea market. Neither of us are very handy so restoring it ourselves is out of the question. Does anyone know a restorer near Carroll County Maryland that does full barber chair restores? Thanks for your help.
Greg Favretto
- Finksburg, Maryland, USA
July 21, 2014
Ed. note: Sorry, this RFQ for private contact is now outdated, but public technical replies are still welcome. No public brand/source suggestions please ( huh? why?)
---
---
Q. Need help with a 1800's Geo. Archer cast iron barber chair. Any information would be great! I know the foot plate is fake. Would love to follow original colours and finishes.
I am in Australia
Love to hear from someone that can help
I also have a Koken oak made in 1903 in mint condition but that's another story :)
Matt gallardo
- Adelaide South australia
October 10, 2014
---
---
Can Powder Coating be done onto Porcelain ?
Q. Hi! Enjoy your website,
I'm wanting to know if Powder Coating can be accomplished over white porcelain? What has to be done for it to work? And what if there's a blemish / scratch / dent, prior to the powder coating?
I want to Powder Coat the Base pedestal & chair arms of a "1909" Theo A. Koch's Barber Chair in a glossy White color.

Thanks for your time,
Mike Lashinsky
Barber Chair restoration & Stone Mason - Greensburg, Pennsylvania U.SA.
October 31, 2014
---
---
How to clean barber chair porcelain and bring it back to a shine?
Q. My dad and I are redoing a Barber chair and the porcelain is stained and dingy. (It is an off white color) How would we clean the porcelain and bring it back to a shine?
Chad Broughton
hobbyist - Lake Helen Florida
November 25, 2014
---
---
Q. HELP: 2 barber chair recline retention brake assemblies!!
Does anyone know where I can obtain 2 barber chair recline retention brake assemblies? I am in Sydney, Australia but am happy to have it shipped from abroad.

Thanks!

Chris
Chris Peters
- Darlinghurst, NSW, Australia
June 22, 2015
---
---
Q. HELP! THE HYDRAULICS won't budge, so I can't get it apart. Also I need the brackets and calf rest. Anyone help?
Stogie Mavs
- Avondale, Arizona
August 30, 2020
---
---
Q. I have what I believe is a Berninghaus chair. My issues...
1.The chair back has no porcelain. It has a large headrest groove/saddle in the top. It has a single post headrest.
2. The area where your calves would lay is completely wood covered in Naugahyde. There is no metal framework around the pad. All of this appears to be original.
I am wanting to know what model this is and what is correct and not correct prior to restoring. Any info helps.
Rich Dolsen
- Ft Wayne, Indiana, USA
February 27, 2017
---
---
September 1, 2017
Q. Are Berninghaus Hercules chair parts interchangeable with Koken of similar model?
darryl brooks
- romeo Michigan
---
---
November 2, 2017
Q. Hello,

I am writing from a production company in London. We are making a show about antique restorations and I wanted to ask some questions about an antique 19th century barbers chair we have. We want to know how the head rest may have been contracted as we are missing an element. It is currently a bare shell showing some springs. I have photos and more information if you need.

If you think you could help it would be wonderful if you could email me to discuss further. If not, do you have any contacts who might specialise in this sort of thing?

Many thanks,
Katie Garner
<katiegarner@curvemedia.com>
Curve Media - London, united kingdom
---
---
Q. I have just bought a 1920/40s antique Koken barber chair. The chair pumps up and down, swivels all around, and reclines, but it does not lock in place when it reclines. So when you're sitting in it, it slowly will tilt back. There is a screw in the middle on the bottom to tighten it and it does falls back as much, but once you push it back to recline it becomes loose again. So there is no set position for the arm pump to be in, you just push the chair back to recline, but then it won't lock, any help?
tim beard
- austin, Texas, USA
February 13, 2018
---
---
Q. What oil does the hydraulic cylinder take. And how do I install it?
Adolph Gallegos
- Questa New Mexico US
July 5, 2018

Hydraulic Fluid
A. Hi Adolf. Power steering fluid is probably fine if you can't find anything more specific. Hydraulic cylinders will have a plug you unscrew to add fluid. There are lots of youtube videos on how to add oil and how to rebuild them. Good luck.
Regards,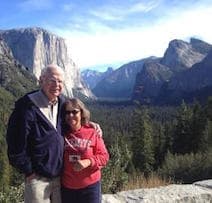 Ted Mooney
, P.E. RET
Striving to live Aloha
finishing.com - Pine Beach, New Jersey
July 2018
---
---
Q. A while back I came across a site that makes aftermarket footrest supports. They fit perfectly into the triangular impressions. I cannot seem to find the site any longer. Has anyone else seen what I am referring to?
Jay wells
- Ohio Cleveland
October 18, 2018
---
---
November 10, 2021
Q. Hi Eric, You were instrumental in helping me figure out how to rotate and raise/lower my Koch's chairs, therefore I was hoping you had some guidance on the recline brake on one of my chairs.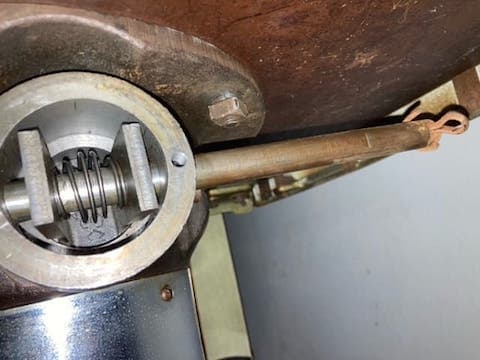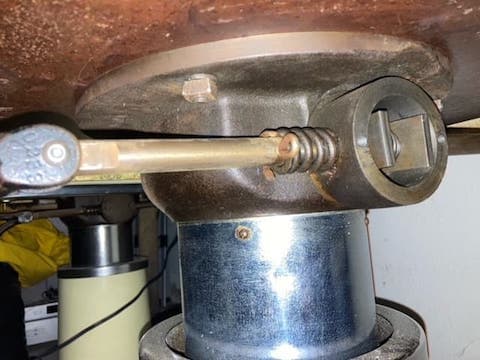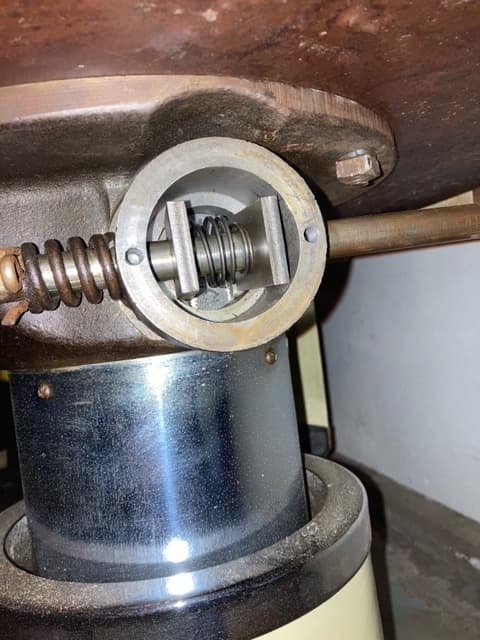 Essentially it is sticking when reclining and won't return to the upright position without taking off the cap and using a pair of pliers to 'pinch' the 2 metal plates back together. And of course trying to get that plate back on is a whole other issue in and of itself.

Any guidance would be greatly appreciated!
John White
- Orange County, California
---
June 10, 2022
A. John,

See my response to Sean below yours in this thread on how to fix this issue.

Hope it helps if you haven't fixed it already.
Johnny Fishtown
Machinist - Fishtown Philadelphia, PA
---
January 30, 2022
Q. I'm having the exact same problem with my recline mechanism! Did you get it fitted out? Also trying to figure out how/where to install the rotating brake.
Sean Anderson
- Virginia Beach Virginia
---
June 10, 2022
A. I just finished overhauling the mechanics on a 1959 Paidar for my barber.

To restore the reclining function you must remove the housing that contains the two plates and the rod.

First remove the pin that attaches the rod to the upper footrest. Remove the screw on the back, opposite side from the footrest. The round assembly with the rod through it should now be able to be removed by pulling it straight out from the shaft. Remove the two screws that hold the cover plate on. Squeeze the two plates together and see if the rod moves freely, if it does not the shaft will need to be removed and any galling or damage on the shaft will need to be lightly sanded out.

The chair I worked on did not have a cotter pin on the back end of the shaft. This was the case on the chair I worked on. I sanded a few small drags that had raised metal and used a scotch brite pad to clean up the shaft. The shaft should slide freely through the housing and the two plates while everything is apart. I lightly oiled the cup in the back of the housing where it slides through the small diameter. Slide the rod through the housing and one plate, install the spring and 2nd plate. This can be a little tricky, you must squeeze the plates together so the rod can slide while you line up the holes and get the rod back in, pushing the back of the cup will help with squeezing the plates. Once in, squeeze and slide all the way up to the spring.

Now to get the cover back on, you must squeeze the plates and push on the back of the cup in the small diameter, the plates should stay squeezed. Place the cap over the one plate lining up the square pocket, now push the cap towards the other plate until it drops in to the square opening on the cap. Hold the cap in place and install the two screws. You should be able to push the cup on the back of the housing and slide the rod in and out now. I lightly oiled the outside of the housing where it goes inside the base and reinstalled it. Make sure the housing can twist or pivot. On the chair I worked on the screw that goes into the groove could be tightened to the point that it locked the assembly from being able to rotate. I added an extra washer to prevent this.

I was unable to properly install the housing cover without removing it from the chair, the one plate would cock the wrong way and I couldn't get it to drop in the cover pocket. I believe this is because the twisting on the handle does not push the cup in as far as needed to reassemble properly, the cover can screw all the way down with one plate in the pocket and one cocked the wrong way. From what I found online, it is common to crack this cover plate by attempting to fix this improperly, as it was one of the only parts with a modern replacement available.

Hope this helps.
Johnny Fishtown
Machinist - Fishtown Philadelphia, PA
---
---
March 4, 2022
Q. Hello, I recently picked a 1963 Emil J Paidar barber chair and I was looking online for the piece that connects the headrest to the chair. But no luck. If anyone can help me out that would be greatly appreciated. I also can't get the chair to recline. The hydraulics work fine but no recline. Can't find anything online for this problem either. I've attached some pictures also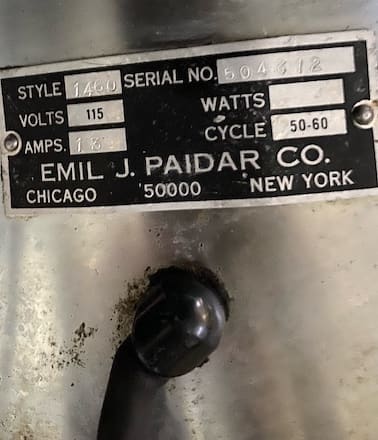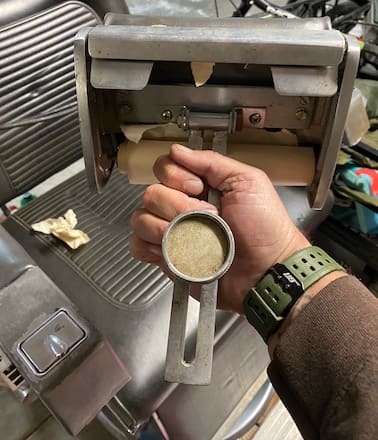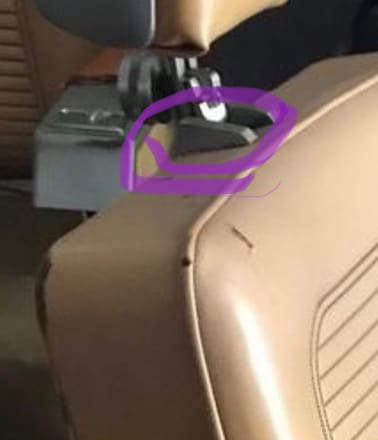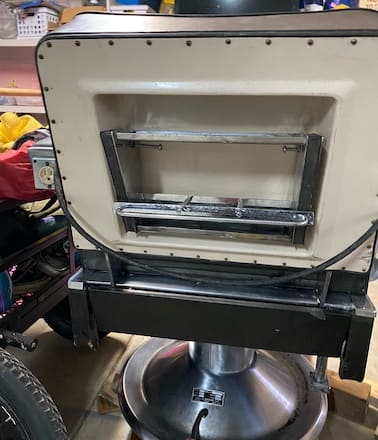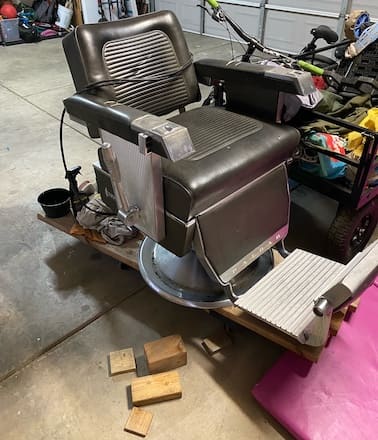 Dave Martin
- Modesto California
---
June 10, 2022
A. Dave,

See my response to Sean above in this thread on how to fix the recline.

Hope it helps.
Johnny Fishtown
Machinist - Fishtown Philadelphia, PA