Not a lecture hall but a roundtable with a seat for you!
60,000 topics spanning 36 years. Education, Aloha, & Fun
topic 22164p6
Difference between Electrogalvanized and Hot Dip Galvanized Steel
---
< Prev. page (You're on the last page of the thread)
---
A discussion started in 2003 but continuing through 2020
May 29, 2017
Q. Hello,

Can someone please explain to me the difference between hot dip galvanizing and zinc electro plating. I have bean searching for the answer too long. The two systems have the same characteristics.
elias boutros
- UAE, DUBAI, MERDIF
---
---
July 4, 2017
Q. I have a drinking water system. I want to know what can I use, Hot Dip Galvanized Carbon Steel Pipes or Electrolized Galvanized Carbon Steel Pipes?

These pipes are exposed to sunlight.
Mostafa Hussein
EL SEWEDY - Cairo, Egypt
---
---
August 16, 2017
Q. If Steel Wire is zinc coated : 14g / mm2 would you say this is electro galvanised or hot dip galvanised?
Thanks in advance for your reply.

Regards, Simon
SIMON VELLA
G,VELLA AND SONS LTD. - MARSA, MALTA
---
---
September 14, 2017
Q. What do you recommend for a dock?
stacey drake
- elberton Georgia
---
---
Does zinc plating require pretreatment before powder coating?
October 11, 2017
Q. Hi,

This is a very interesting forum to follow. I am just wondering does electrogalvanized steel (Zinc coated steel) needs special surface treatment like cleaning before it enters powder coating line?

Thanks in advance.

Jeremy
Jeremy Walkins
- Cleveland, Ohio, United States
---
October 12, 2017

Hi Mr. Ted Mooney,

Thank you for your swift reply. Yes, I have seen this Special Chromate-Free Coating in the specs of the electrogalvanized steel that we purchase locally. Do you mean that if the surface is already coated with this Special Chromate-Free then we do not need to apply other treatment?

Do you know what is the best (economically) chemical agent that can be used to clean the surface from dust and oil?

Thanks and looking forward to your reply.

Jeremy Walkins




- Cleveland, Ohio, United States





---

October 15, 2017

A. I would think that this item requires further explanation.
The Zinc Di-Chromate rinse typically used to delay the onset of white rust on Zinc coated parts is not, of itself, a suitable pre-treatment system for subsequent powdercoating.
In fact it actually inhibits powder adhesion and is more often looked at as a contaminant or soil to be removed prior to traditional Zinc pre-treatments like Zinc Phosphate.
Hope this helps,
Regards,
Bill

William Doherty




trainer - Newcastle, NSW, Australia




---
---
December 13, 2017
Q. Hi All experts.

What is the difference between GI Plate with EG Plate?

Is EG plate a type of GI plate or via versa?

Or completely different things?
As my reading continues, more confusion I get.
Please advise.
Thanks and have a good day!
Braham Zacharia
- Jakarta Indonesia
---
---
May 15, 2018
Q. Hello,
Is anyone able to recommend hardware requirements for an outdoor hockey rink? The options are hot dip galvanized or electroplated. From earlier comments, it seems hot dip galvanized is thicker and will last longer.
Thanks everyone,
Amy
Amy Bernard
- Canmore, Alberta, Canada
---
---
June 6, 2018
Q. Hi, We produce steel doors that are powder coated. We are about to have a fire test done on our doors. Would HDG be more fire resistant than the Zintec doors? Thanks for your time.
Jack Bannister
Norwood Group - Heaton Mersey
---
---
July 18, 2018
Q. I live in a Chicago high rise and we're about to construct a 2000 sq.ft. roof deck using pedestals, 2 x 2' trays, and 2 x 2' porcelain tiles sitting on top of them. When I asked whether the trays were hot dipped or plated, he said he'd have to check with the China plant. He came back and said hot dipped. Both sides are mottled, with the frosted glass appearance, but on one side, just the corner areas are smooth where there is a piece welded on top of each corner.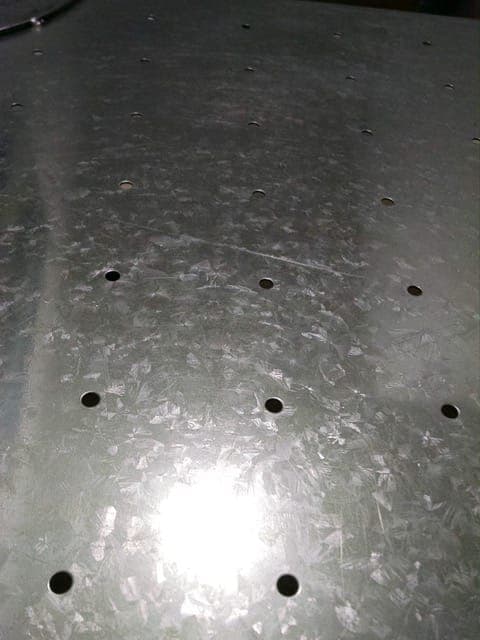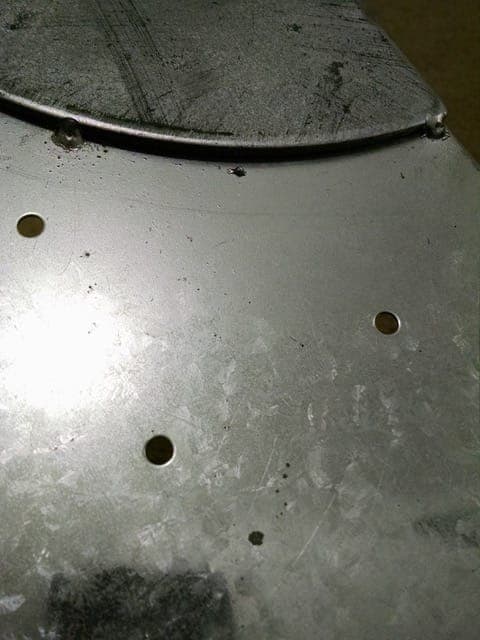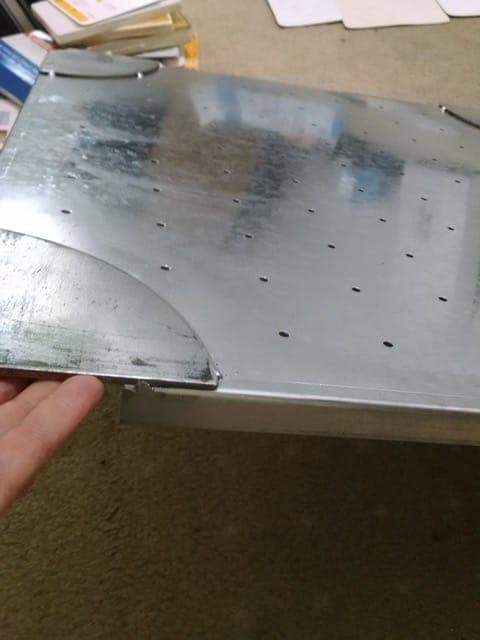 This deck has to last decades exposed to Chicago's weather and we're concerned it won't last if not hot dipped. Think it's really hot dipped except for the corners?
Keller Teal
- Chicago, Illinois USA
---
July 20, 2018

A. Sir:

I recommend getting a thickness gauge and see how much zinc is on the steel. More zinc means longer lifetime. I recommend that you have at least 4 mills (100 microns)

Regards,

Dr. Thomas H. Cook




Galvanizing Consultant - Hot Springs





---

July 19, 2018

Q. I suspect that the dipper was instructed to make sure that those tile support plates could be welded/soldered to the corners afterwards, so he may have done something to smooth them out? Perhaps it's difficult to weld/solder to HDG?

Keller Teal

[returning]




- Chicago, Illinois, USA




---
---
---
August 15, 2018
Q. Hello,

Why do the carmakers stampers prefer Electrogalvanized over hot dip galvanized steel?
Carlos Alberto Ferreira
- Joinville, SC, Brazil
---
---
Electroplating vs. galvanized for permanent tent
September 8, 2018
Q. Hi.

I am in the process of purchasing an A-Framed tent for worship purposes. The quote for Electroplated frames is significantly cheaper than the hot-dipped galvanized steel. Can I go with the electroplated in this case? The tent will be permanently set up!
Deone Jerome wardle
Evangelism - South Africa, Cap Town
---
---
December 13, 2018
Q. We are using EGI steel sheets to fabricate fire resistant steel doors with infill as honeycomb or Odiboard 2.6. Are we on the right direction? Our primary requirement is a one hour rating. The overall door width is 40 mm. Thank you
Tony Ranasinghe
Trat Coatings Pvt Ltd. - Ragama ,Sri Lanka
---
December 19, 2018
Q. Thank you for the reply. Yes we use EGI steel sheets for corrosion control and resistance since SRi Lanka is an Island. We use powder coatings as a finish product. Thank you.
Tony Ranasinghe
[returning]
- Ragama ,Sri Lanka
---
---
December 3, 2019
Q. Hi, to follow up on a recent post where I asked about how to tell if a process of hot dip galvanizing being offered for roofing gutters was technically accurate (thread 29835), I should have contextualized (for the benefit of you and the readers) that the reason I wanted to know about the visual difference between the bright spangles associated with electro galvanizing versus the flat full grey associated with hot dip galvanizing is that hot dip galvanizing has a -- generally speaking -- greater longevity in outdoor situations and also that for me the full flat grey appearance is, for one thing, more aesthetically pleasing -- taking on the the visual qualities more closely along the lines of lead coated copper gutters and downspouts though without the almost prohibitive costs of lead coated copper, while simultaneously providing a corrosion resistant coating that exceeds that of electro-plating zinc.
My concern is that through accidental obfuscication or willful ignorance the terms and qualities advertised for the roof gutters and related components are being conflated or confused and I wanted to research the product enough on my own (and with your help and that of this forum) to share a method of inspecting a sample with the naked eye (for those of us without laboratory testing equipment to discern the difference and by extension to make an informed purchasing choice.
Richard Roepnack
Roughouse GV LLC - New York NY usa
---
---
June 3, 2020
Q. Hi Sir ... Which type of galvanising is required for bucket handle, Hot Dip or Electro-galvanising? Because one of our customers is complaining that the material we supplied to them (which is HDG) is getting dull after some days of manufacturing. Please suggest. At present we are sending him material without wax. Shall we try for waxing? Will this waxing increase the life of shine on wire?
Manoj M Thakur
- Abu Dhabi, UAE