Live! From beautiful Pine Beach New Jersey: Welcome to the world's most popular metal finishing website
topic 18375
Zinc plating thickness testing
A discussion started in 2002 but continuing through 2017 . . .
2002
Q. Can Zinc electroplating thickness be checked with a non-conductive coating thickness gage? If not, any recommendations on a suitable gage.
Jim Pierson
- Urbana, Ohio
---
2002
A. Theoretically, the non-conductive coating method (eddy current) can be used, but magnetic gauges are easier to calibrate and more accurate (or very inexpensive with less accuracy). Other suitable methods, e.g., coulometric & XRF, are more costly and require greater expertise.
As the Metal Finishing Guidebook article on Control, Analysis, & Testing points out, the conductivity of zinc plating varies with the cyanide, chloride, or alkaline plating solution; hence, the eddy current method requires solution-specific standards.
Magnetic gauges are available as inexpensive 'pencil' (± 15%) and 'banana' (+-5%) style mechanical gauges or as digital meters (± 1 to 3 %).
Ken Vlach
- Goleta, California
Finishing.com honored Ken for his countless carefully
researched responses. He passed away May 14, 2015.
Rest in peace, Ken. Thank you for your hard work
which the finishing world continues to benefit from.
---
2007
Q. I want to know how to check whether Zn plating is done or not. If any chemical method is used, in which standard it is described. And one more thing, If a component is passivated after Zinc coating how to remove passivation and then check the coating? Please help, Urgent matter.
Pathak Mithilesh
- PUNE, Maharashtra, INDIA
---
A. Hi Pathak. Sorry if I am misunderstanding, but no need to remove the chromate conversion coating for magnetic thickness testing.
Regards,
Ted Mooney, P.E.
finishing.com
Pine Beach, New Jersey
Striving to live "Aloha"
---
---
April 16, 2017
-- this entry appended to this thread by editor in lieu of spawning a duplicative thread
Q. What are the thickness checking methods for Zinc Nickel electroplated components, other than XRF?
Rajendra Pawar
Jayvin Industries - Pune, Maharshtra, India
---
Digital version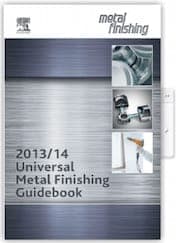 (No longer published, but Elsevier hasn't yet de-commissioned the online version of the Guidebook)
Download it before it disappears.
April 2017
A. Hi Rajendra. If you need a discussion of all the possible destructive & non-destructive thickness testing methods, please review the thickness testing chapter of the Metal Finishing Guidebook =>
or another plating textbook.
If you want suggestions for methods that are most appropriate for your particular application, you can't leave it so abstract, but you must tell us what your substrate material is (magnetic/non-magnetic?, conductive/non-conductive?), what a typical thickness would be (different methods have min. and max. thicknesses which they are appropriate for), and info about the parts and the area to be tested (do you want the minimum thickness on a pinhead sized area, or the average thickness on a flat shape).
Ken has already offered probably the best general answer: try a magnetic gauge if the substrate is magnetic, the thickness is in the 5 to 25 micron range, you can't afford to destroy parts with destructive testing, reasonably sized flat areas will be tested, you want a simple inexpensive device, and a good statistical average thickness will suffice. Good luck.
Regards,
Ted Mooney, P.E. RET
finishing.com
Pine Beach, New Jersey
Striving to live "Aloha"


If you have a question in mind which seems off topic, please Search the Site