60,000 Q&A topics -- Education, Aloha, & Fun
topic 18029p3
Problems in White phenyl Manufacturing
---
---
A discussion started in 2002 but continuing through 2019
May 20, 2014
Q. Hi,
Does the water quality affect the stability of Emulsion?. Is it necessary to use only soft water / RO water to dilute the phenyl concentrate? What are the characteristics of a Good phenyl Concentrate?
Murali Kumar
- Salem, Tamilnadu, India
---
---
How to Make Harpic Solution?
July 26, 2014
Q. How to make Harpic solution; please help me sir.
Aakash Srivastava
student - Gorakhpur;Uttar-pradesh;India
---
July 2014
A. Hi Aakash. The formulation of proprietary products like Coca-Cola and Harpic brand cleaners are trade secrets protected by international law. If that is what you mean by Harpic solution, no one can tell you how to make them (your teacher should know that). But if you describe what general type of cleaner you are interested in, people may give you hints. Your school or area library should have books that cover such formulations -- and by reviewing such books you will truly learn something from the assignment.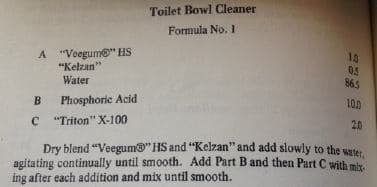 (from The Chemical Formulary Vol. 23)
Have fun, and good luck!
Regards,
Ted Mooney, P.E.
finishing.com - Pine Beach, New Jersey
Striving to live Aloha
---
July 31, 2014
A. If you can get a copy of the product MSDS, it will tell you the hazardous ingredients at the very least, and depending on the type of product sometimes those are the key bits. Other times the non-hazardous proprietary stuff is where some or all of the magic happens, though.

Ray Kremer
Stellar Solutions, Inc.

McHenry, Illinois
---
August 5, 2014
Q. How to increase essence/smell in white phenyl? Our phenyl smell is not spreading? Please tell me the solution for making of hard smelling white phenyl.
Yogiraj Bhimade
- Solapur, Maharashtra, India
---
---
October 13, 2014
Q. Is there any license required to manufacture of white phenyl and toilet cleaner?
Arun Kumar Sharma
- Delhi, INDIA
---
October 14, 2014
Q. Sir my question is: pH meter displays 0-14 only, so how can we measure 80-170 in pH for good quality of White phenyl Manufacturing?
amit baranwal
- birgunj, nepal
---
October 2014
A. Hi Amit. That's a good question :-)
You are correct that 80-170 is not an appropriate value for pH. I think Satya was talking about water hardness: I'm not sure of the units, but possibly mg/l.
Regards,
Ted Mooney, P.E.
finishing.com - Pine Beach, New Jersey
Striving to live Aloha
---
---
October 9, 2014
Q. Dear Sir What is a turkey red oil?
Shaik abdul rahaman
transport - hyderabad Telangana, India
---
October 17, 2014

A. Well, I guess I'll answer the "Red Turkey Oil" question.
Better known as turkey red oil. This is a process of adding sulfuric acid to conventional Castor Oil. The sulfuric acid makes the Castor Oil water soluble. When added to water it disperses evenly without the use of a suspension agent. The solution is red in color. Don't you just love Google?

Mark Baker




Process Engineer - Phoenix, Arizona USA





---

October 17, 2014

A. Hi,
Turkey Red Oil is sulphonated castor oil.




Harry Parkes




- Birmingham, UK




---
November 11, 2014
Q. DEAR SIR, I'M MANUFACTURING WHITE phenyl IN MY HOME. IT'S LIKE GREASE LAYER IN GROUND. WHAT TO DO?
PAKKIR BALAJIKK
trading - CUDDALORE,TAMILNADU,INDIA
---
November 24, 2014
Q. I want to make phenyl for toilet and tile cleaning purposes. So please tell me complete process of making phenyl. I read some pdf but in that they have given making of only white phenyl. I want to make phenyl with different flavors and colors. So please help me.

Thank you in advance.
praveen kas
- belgaum Karnataka India
----
Ed. note: Please provide the address of that pdf, Praveen. Many of the people waiting in line in front of you seem to be looking for that information. Thanks.
---
January 27, 2015
A. Dear All
This is my pleasure to share the real formulation as used by us. There is no problem at all. Take 2.5 Kg. Turkey Red Oil (T.R.O) Mix 7.5 Kg. Pine Oil. Shake Well for 2 Minutes. leave this for 5 Minutes. Again shake well for 2 minutes. Leave again for 10 Minutes. Now add Alphox 200 Emulsifier of IGL about 1 Kg. slowly till the transparency is obtained. If some more emulsifier is required add this but not more than 1.2 Kg. in all. Now leave this compound for next 24 hours. Now you can make 10 times to 20 times water emulsion of white phenyl. In case you are satisfied with your process you can mix 30 times water to this compound. This will give you stable white floor cleaner with mind blowing fragrance.
subhash aggarwal
Bhawna F.M.C.G Udyog - Delhi India
---
December 16, 2017
? What is the alphox 200?
shaik abdul rahaman
- hyderabad india
---
March 15, 2015
Q. I GOT BAD ODOUR IN PERFUMED phenyl, WITHIN 10 DAYS, I AM SHOCKED TO SEE THIS
PERFUME + EMULSIFIER
KUMARAN LAKSHMI KANTHAN
phenyl MANUFACTURER - CHENNAI, TAMIL NADU, INDIA
---
March 22, 2015

Dear Sir/s
It was good to go through so many comments of many manufacturers/ apparent established experts/ debutants and the keen observer Ted Mooney, P.E. RET, of finishing.com

Nowhere has LABSA [Linear Alkyl Benzene Sulphonic Acid] or acid slurry been discussed in the recipe of white disinfectant. I somehow cannot understand the role of cutting oil in domestic white Disinfectant, more popularly known as white phenyl. Cutting oil does not contain any antibacterial or disinfectant properties. Presence of pine oil 40% + acid slurry + emulsifier like nonionic + essential oil like oil of eucalyptus/lemon grass/ citronella should be added to get the desired results.

Making bogus white coloured solutions and befool the public should be stopped. I request Mr Ted Mooney not to remain silent and give a deep thought to queries of white disinfectants and a formula of a genuine white disinfectant.
Expert comments of chemists/consultants should be welcome and contacts to take consultancy should be added in this thread.

Ish Kumar




- Rourkela.odisha,India





---

March 2015

Hi Ish. Thanks for the kind words, but I am just the website operator, and although I post these Q&A's, I have no knowledge of disinfectant solutions by which to judge them. But yes, I find it silly that people are unwilling to read a book or patent, and want to formulate & market disinfectant solutions based solely on internet advice from strangers instead :-)

We welcome & post all responses which offer technical information or advice, but the questions asked outnumber the proffered answers by 50:1, so while we've printed every answer that was submitted, only a fraction of the questions. We have tens of thousands of excellent threads on this site, but we also have a few more questionable ones like this one :-)

Consultants are welcome to advertise their consultancy offers on our site -- but not to solicit business through messages in the forum because the threads quickly become spamfests; plus it would be unfair to those who make this site possible for others to pay no part of the cost, yet try to steer customers away from those who are paying the bills. Thanks again.

Regards,




Ted Mooney, P.E. RET




finishing.com - Pine Beach, New Jersey




Striving to live Aloha




---
March 29, 2015
Q. Dear Sirs,

I have started a new business dealing with phenyl but the problem is separation. After some time it starts. Base looks like water, and on top it becomes like a layer. Please reply.

Thanks,
amit
amit baranwal
- birgunj, nepal
---
June 17, 2015
We are manufacturing coloured phenyl. I want to share my formula ...
Please suggest is it right or wrong.
First I am adding 2.5 ltr. Cutting oil in 100 ltr. water slowly slowly. And mixing 1-2 minute with plastic stick.
Then I am adding 1.5 ltr. Pine oil slowly slowly and mixing 1 minute.
Then I am mixing fragrance 200 ml. And mixing slowly slowly.
Then I am packing in plastic bottles.
So suggest me should I put mixed material for some time or should pack immediately after preparing phenyl?
gourav satija
shubh grah udyog - chhindwara madhya pradesh india
---
---
October 2, 2015
Q. I am manufacturing homemade phenyl of the mixture of cutting oil & pine oil but I did not get Thicker in level , so what types of chemical I should use for getting thick white phenyl,
Pls sir, tell me percentage of chemical to get right & thick white phenyl
Tulshi Meshram
homemade phenyl - pune, maharashtra - India
---
October 29, 2015
Q. HOW to MIX THE CITRONELLA OIL IN phenyl? IT IS NOT MIXING WITH WATER, AND ODOUR GOES OUT FROM THE phenyl. PLEASE HELP ME TO GIVE A SUGGESTION HOW TO KEEP ODOUR IN phenyl.
PRITAM CHAKRABORTY
- KOLKATA,WEST BENGAL,INDIA
---
November 14, 2015
Q. Dear Ish Kumar

Thanks for valuable answer about disinfectant phenyl.
Here I have a question, how many % of LABSA, Emulsifier & fragrance should be added in to 40% pine oil? Please explain the procedure of the same if possible, thanks.
Rasheed Pudussery
- theissur, kerala, india
---
December 7, 2015
Q. What is the manufacturing process of Concentrated Dark green Phenyl with a pleasant long lasting fragrance? is there any other chemical for emulsifier instead of TRO? in the india there is famous sunny phenyl which is concentrated green, how can we manufacture it?
Kunal Agiwale
- Mumbai, Maharashtra, India
---
March 19, 2016
Q. I WANT TO MAKE LINEAR ALKY BENZENE SULPHONIC ACID (POPULARLY KNOWN AS ACID SLURRY) BY BATCH METHOD. WHAT GRADE OF STAINLESS STEEL SHOULD BE USED FOR THE SULPHONATION AND THE SEPARATION.
ASLO HOW THE PRODUCT CAN BE MADE LIGHT IN COLOUT WITH MAXIMUM ACTIVE DETERGENCY (90% AND ABOVE)?
NAVIN JINDAL
FORMULATOR - LUDHIANA
---
---