Where the world gathers for
plating, anodizing, & finishing Q&As since 1989
Re-anodizing Aluminum
(
-----
)
---
< Prev. page (You're on the last page of the thread)
Skip to newest posting

---
May 3, 2019
Q. Hello, My name is Anthony and I do building envelope consulting in the NY metro area. I have a large number of aluminum posts and rails I was called in to look at on a high rise building. Due to the way the post attachments were placed, the attachments were failing in part from a block-out and grouting detail used to embed the post.

The system, which also has safety glass panels, is very nice, and I'd prefer to remove the guard rail systems, modify the posts bases to have a welded aluminum alloy plate with pre-drilled holes, and go back with a surface mount detail once the substrate is repaired (and assuming the engineering math allows it to work to code).

Anyhow, with the amount of heat involved from welding base-plates to posts, I'm expecting there to be some distress to the local metal that will require re-finishing to provide a uniform appearance.

So, my questions are:
1) How badly does welding impact an existing anodized finish as far as appearance and performance?
2) If my goal is to have a finished product with a hi-quality aesthetic appearance, is it best to just clean/re-anodize all the modified post extrusions?

Thanks!
Anthony Malara
Architecture - New York City, New York, USA
---
May 12, 2019
A. Welding will destroy the anodizing at the weld, and for some distance beyond, depending on the temperature, probably for 1/2" to 1", possibly more.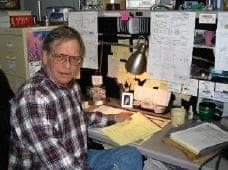 Jeffrey Holmes, CEF
Spartanburg, South Carolina
---
---
June 7, 2019
What would be a ballpark cost to re-anodize an aluminum frame for a computer keyboard? Estimating a 15"x5" hollow aluminum frame with 1.5" tall "walls" that are ~ 3/8" thick.
R. Friis
Sargent & Lundy - Chicago, Illinois - USA
---
June 2019
A. Hi R. Friis. $125 is probably as good a guess as any. Like in most businesses, labor is the largest cost for anodizing, and one-of-a-kind projects involve setup, evaluation, and quality control so most anodizing shops will have a minimum lot charge that could vary from probably $75 at hobbyist level anodizers to $200 or more at shops with NADCAP and other advanced quality systems.
Regards,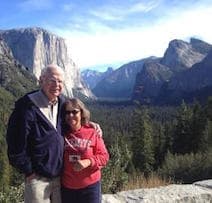 Ted Mooney
, P.E. RET
Striving to live Aloha
finishing.com - Pine Beach, New Jersey
---
---
July 5, 2019
Q. Hello,

I have a few of questions. I recently purchased some anodized aluminum fasteners which are the wrong shade of colour I was looking for.

Is it possible to anodize over the coloured fasteners with the shade I want and will the desired colour show through? Can a shop match the shade from an example I have?

Is better to get non-anodized fasteners and have shop try to match the colour I want from my example? Thanks for your time.

Jay
Jay Bird
- Ottawa, ON, CANADA
---
September 2019
A. Hi Jay. The old anodizing must be stripped, which will remove the dye so nothing will show through. This will change the dimensions, however, because anodizing is not something that goes on top of aluminum like paint or electroplating; rather, anodizing consumes aluminum in making the aluminum oxide coating -- it takes roughly 0.0002" of aluminum to build 0.0004" of anodizing. So when you strip and re-anodize, you lose dimensions. Thus it's important to know what kind of fasteners you are speaking of.
Regards,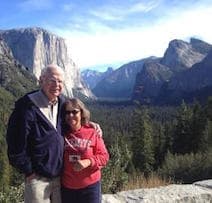 Ted Mooney
, P.E. RET
Striving to live Aloha
finishing.com - Pine Beach, New Jersey
---
---
July 10, 2019
Q. Hi guys my name is mark and my hobby is 1/14 scale r/c tractor trailers. I just bought this trailer and its anodized a really weak color blue. Is it possible to re anodize it a darker blue without having to strip it back to Raw aluminium?

Mark Carreno
- Mastic beach, New York
---
September 2019
A. Hi Mark. You must strip back to raw aluminum first. The reason your color is "weak" may not be the dye, but the fact that the anodizing isn't thick enough to absorb enough dye for a fully saturated color.
Regards,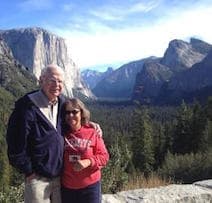 Ted Mooney
, P.E. RET
Striving to live Aloha
finishing.com - Pine Beach, New Jersey
---
---
August 4, 2019
Q. Hello, My name is Terry and I restore old stereos from the 60's, 70's and 80's. I have an early 1970's Marantz 2230 stereo that has an all aluminum face-plate that has stamped lettering and is anodized with what has been called "Champagne" color. The face unfortunately has been scratched badly in several locations but not in any of the stamped lettering. At one point in time this was sanded down thru the anodizing to bare metal. Can this face-plate be sanded back down on a belt sander and re-anodized with a similar color? I am assuming that the black lettering will have to be repainted on following the anodizing. This is a potentially valuable unit and I would like to get it looking as close to original as possible.
Thank you.
Terry Vermost
Stereo Restorations - Fort Smith, Arkansas, USA
---
September 2019
A. Hi Terry. High quality lettering on anodized aluminum is done by anodizing the aluminum, screen printing the lettering so the ink is absorbed into the tiny honeycomb-like pores of the aluminum, then the aluminum is sealed (swelled in boiling water or other chemicals to close off the tops of the pores). Theoretically an anodizing shop could build the necessary silk screens, do the anodizing, apply the ink, and seal the faceplate but it would probably be prohibitively expensive.
It wouldn't be as good an answer, but you could have the face plates anodized, apply chartpak decal lettering yourself, and a high quality clear coating.
Regards,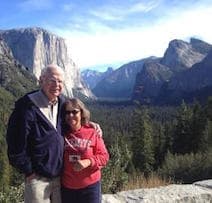 Ted Mooney
, P.E. RET
Striving to live Aloha
finishing.com - Pine Beach, New Jersey
---
---
September 20, 2019
Q. Dear sir is it possible to re-anodize already anodized surface of thin aluminium sheet.
murthy psn
shop owner - vijayawada,andhra pradesh,india
---
September 2019
A. Hi Murthy. Yes but :-)
"Thin" is relative and usually, but not always, the anodizing is substantially thinner than the thin sheet. Further, anodizing can take a lot of current and heat up the aluminum, so you must determine that the racking distributes the electricity well since a thin sheet can't carry much.
Regards,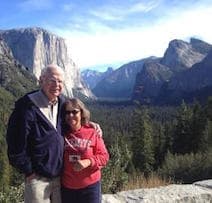 Ted Mooney
, P.E. RET
Striving to live Aloha
finishing.com - Pine Beach, New Jersey
---
October 8, 2019
Q. Sir can I re-anodize a 0.30 mm aluminium sheet. These sheets are printing plates which are already used.
psn murthy
[returning]
employer - vijayawada, india
---
October 2019
A. Hi again, Murthy. Sorry but, although you've given us the thickness of the sheet, your question remains abstract and I don't know how to further clarify my answer, except to also tell you that anodizing is not an additive process like painting or plating where you can strip the coating and start completely over again. In anodizing you consume aluminum in building the aluminum oxide. If your anodized coating is say 8µm thick on each side, about half of that thickness came from the substrate aluminum, so when you strip it the aluminum with be 8µm thinner than when you started; it's worse if your anodized layer is more than 8µm thick, and somewhat better if the coating is thinner.
Please tell us about your shop's anodizing capabilities and how you anodized them the first time around because anodizing thin sheets without burning is tricky. Can we assume you want to use them for printing again? They were used exactly once and you want to use them again? -- or are you talking about scrap collecting? Give us a half-page to full page of facts, figures, and data, and somebody will probably be able to advance the answer beyond "maybe" :-)
Luck & Regards,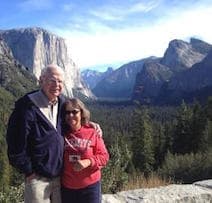 Ted Mooney
, P.E. RET
Striving to live Aloha
finishing.com - Pine Beach, New Jersey
---
Anodizing of aluminium of 0.30 mm thickness
December 14, 2019
Q. We want to anodize thin aluminium sheet of 0.30 mm, in our process we are using sulphuric acid. But while anodizing the sheet is thinning. Please advise.
Psn Murthy
[returning]
- Andhra-pradesh, Vijayawada, India
---
December 2019
A. Hi Psn. Although there may be additional problems in your process, like poor contacts that are causing burning, or inefficient caustic soda stripping which is wasting aluminum, it seems that the main problem may be that you are misunderstanding a principal situation about anodizing. Anodizing is not a coating you put on top of your aluminum, it is a "conversion process" which turns the aluminum on the surface of your sheet into aluminum oxide and related compounds; the aluminum portion of that coating comes from the sheet -- it can't come from anywhere else.
If you do a .001 mm anodized coating on each side of that sheet, you're going to lose about .0005 mm of aluminum from each side of the sheet or .001 mm total. If you then strip the anodized coating with a perfect stripper that does not waste or lose any aluminum at all, your sheet is going to be .299 mm, not .300 mm.
I know that aluminum printing plates must be properly grained (the surface made into sort of a sponge so it is highly hydrophillic) before anodizing but, sorry, I do not know enough about printing plates to know whether in the course of stripping the anodizing the usefulness of the graining is compromised such that you must re-grain as well, nor whether it is conventional to strip and re-use such plates.
No readers have responded to your postings in 4 months now. So please try to attract their interest by telling us how thick an anodized coating you are trying to apply to this .300 mm thick sheet, how thick the sheet measures after you've done so, what material/process you are using to strip the anodizing, how thick the sheet is after stripping, and some hints about what you think might be thinning the plates ... and give us a general introduction to your process and overall situation which explains how you are handling this coil or these cut sheets that you are trying to re-use. Then hopefully readers will help you assess whether you are doing anything wrong or not. Thanks!
Regards,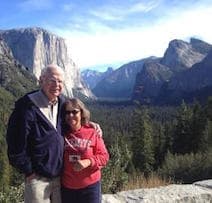 Ted Mooney
, P.E. RET
Striving to live Aloha
finishing.com - Pine Beach, New Jersey
---
---
October 28, 2019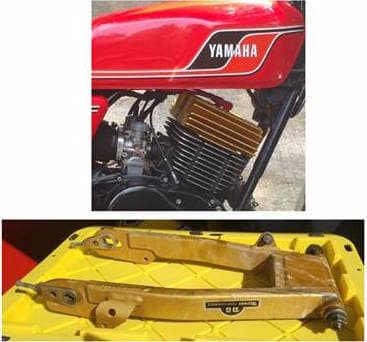 Q. I just purchased a vintage, gold anodized motorcycle swingarm, manufactured by a copy called DG in the late 1970's. The part is weathered, scratched and worn. I would like to have it reanodized to match the like new cylinder head from the same DG company that is currently on the motorcycle. Is it possible to color match the aged swingarm to the like new head?
Steven Liberatore
Yamaha Motor Corp USA - Acworth Georgia
---
December 15, 2019

A. It is definitely possible, but may be very challenging for your anodizer. The main reason being is that the 2 alloys are probably not the same. Anodizing colors, especially the lighter ones like gold can be dependent on alloy, surface finish, and coating thickness. My approach if I were you would be to take your swing arm down to a professional anodizer, and have them show you what colors they offer. Once agreed upon, the swing arm will have to be stripped, any non-aluminum hardware removed, polished, and then reanodized. Your anodizer may not guarantee an exact color match, but should be able to come close.

Have you considered powder coating? It would be less susceptible to dings and scratches compared to anodizing, and it not dependent on the variability that can occur with anodizing.




Marc Green




anodizer - Boise, Idaho





---

December 17, 2019

A. Yes, it looks like it could use a little restoration before anodize but you could certainly get close on color. Looks to be a FAO / FSO inorganic dye. Those dyes produce a nice looking gold color - lightfast too, which would be perfect for this situation.

Taylor Clarke




- Minden Nevada




---
---
October 8, 2020
Q. Hi, I'm Rodney,
I dabble in a little bit of everything. But since retiring, I've focused on restoration and building of weapons. I have some aluminum 7075 AR15 lowers that have been anodized on the exterior. I have to finish the machining on the inside chamber, which will expose unfinished aluminum. My first thought was to tape off the exterior and just Cerakote the inside for protection. I have read some of the questions and answers on re-anodizing exposed parts to also cover the freshly machined areas. I noticed that a few of the replies, stated to tape off the anodized areas that have already been finished and then anodize the new areas. How do i accomplish this? What type of tape do i use that Won't be destroyed during the process? I have no problem using Cerakote, i just wanted a more durable finish for the moving parts.

Sincerely
Rodney Cotillier
- Cabot Arkansas
---
October 2020
A. Hi Rodney. I'm not familiar enough with AR15 lowers to know whether stripping the existing anodizing and re-doing it (which is probably the easier approach) would cause dimensional problems, but as for masking finished areas, the general rule is that vinyl is resistant to most stuff in a plating or anodizing shop ...
So vinyl caps or plugs, if they fit, are one answer. Vinyl 'platers tape' similar to electricians tape but thicker can work if the area can be wrapped. Other than that there are liquid maskants made for the purpose.
Luck & Regards,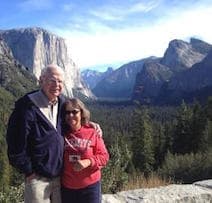 Ted Mooney
, P.E. RET
Striving to live Aloha
finishing.com - Pine Beach, New Jersey
---
---
TUTORIAL FOR NEWBIES:

Anodizing of aluminum is different dimensionally than most other finishing processes because the aluminum portion of the aluminum oxide surface you are creating comes from the substrate and therefore permanently reduces its dimensions. When you do anodizing of, say, 0.0004" thickness, you consume approximately 0.0002" of aluminum in doing so (roughly 50%).

So the first time you anodize a surface to 0.0004" thickness, it's dimension only grows by about 0.0002" because the substrate was reduced by about 0.0002".

If you re-anodize it, first you must strip it, which will leave it about 0.0002" shy of it's original dimension, then when you anodize 0.0004" thick again, about another 0.0002" of aluminum is consumed and your finished dimensions will be about the same as before you started any anodizing :-)
December 29, 2020
Q. I engrave after anodize to have bright aluminum colored lettering show through. I made a mistake on just a few parts. The part is basically a block with holes drilled in it and slots cut with an end mill that has been anodized black. I plan to face off the side with the mistaken engraving and re-anodize black. Dimensions and build up doesn't matter. Will the re-anodize surface resemble the already anodized surface.
Will it be presentable and structurally sound.
Mario Torres
- Monrovia California
---
December 2020
A. Hi Mario. Sorry but I'm not sure what you mean by "face off the side with the mistaken engraving and re-anodize". If you mean you want to mask off everything else except that one side, then strip the anodizing on that one side, and re-do it ... well, it's possible; but when dimensions aren't critical that's more complicated and probably more expensive than simply stripping off all the anodizing and re-doing the whole thing -- which will give you a better quality product and a more consistent look.
Luck & Regards,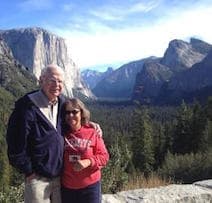 Ted Mooney
, P.E. RET
Striving to live Aloha
finishing.com - Pine Beach, New Jersey
---
---
February 25, 2021
Q. Have an older gun with worn and unsightly pink anodize on the aluminum frame. What are easy options to remove the pink anodize and re-anodize clear or ? Thanks.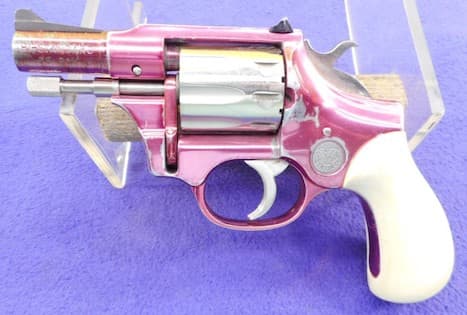 MICHAEL ROGERS
- SANTA FE, New Mexico
---
April 2021
A. Hi Michael. The method is pretty straightforward: strip the existing anodizing in caustic soda or, if dimensions are critical, search the site for "strip anodizing with chromic-phosphoric acid", and strip with that; then do type II anodizing of appropriate thickness. But 'easy' is relative and dependent upon your experience. If you have no previous experience stripping & anodizing I would urge you to acquire some successful experience working on scrap rather than practicing on something valuable to you.
Luck & Regards,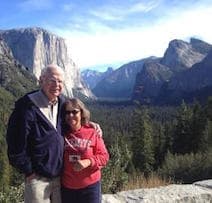 Ted Mooney
, P.E. RET
Striving to live Aloha
finishing.com - Pine Beach, New Jersey
---
---
<- Ed. note: No abstract
questions please!
Please tell us YOUR
situation. What? Huh?
April 26, 2021
Q. Hello! I was wondering if it's possible to tell if a part has been "Hard" anodized as opposed to regular anodizing?
Thanks in advance.
Mars
Mars TSM
hobbyist - Eugene Oregon
---
April 2021
A. Hi Mars. The single biggest difference is the thickness of the anodizing. If it's about 0.002" it's essentially hard anodizing (although there is more to qualifying as proper hard anodizing than just the thickness); if the thickness is more like 0.0002-0.0007" it's probably conventional Type II anodizing.
Luck & Regards,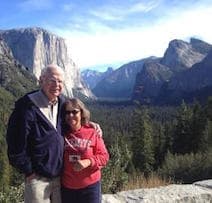 Ted Mooney
, P.E. RET
Striving to live Aloha
finishing.com - Pine Beach, New Jersey