World's #1 finishing resource since 1989
No login needed: Chime right in
topic 26417
True gold anodizing spray paint?
2003
Q. Hi,
I restore 77 Trans Am S/E's and I have always searched for the best anodizing gold paint to refinish the gold on aluminum dash bezels. Dupli-color has a yellow that looks a little gold, and Eastwood makes a gold that looks yellow. Does anyone make a true gold anodizing spray paint that looks gold? Does anyone know what GM used in 77 to achieve that wonderful rich gold color?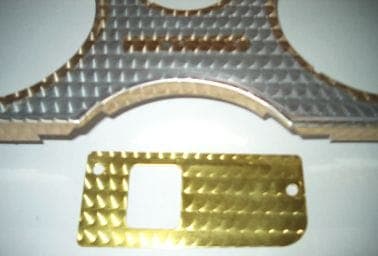 In this picture you can see what Dupli-Color looks like compared to what the original gold looks like on the unfinished dash. The Duplicolor is on the small plate, and the gold on the big dash was under the bezel rings left over from the original dash. The sun could not get to gold under the rings to fade it, so I still have that to go by. I have been working at this for years, and came across your web site today. I hope you can help me out. I restore lots of dashes, and the yellow look is awful and not a true reproduction.
Best regards, George
Thank you, and best regards,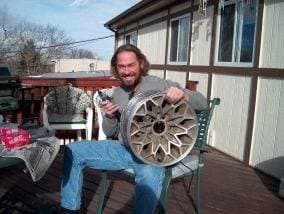 George Holt
hobbyist - Trans Am restorer - Lakewood, Colorado
---
2003
A. If the parts were made out of aluminum I am guessing that they were anodized that color, not painted. anodizing is a process in itself totally unrelated to painting. its a ceramic layer that is grown from the aluminum and then pigment(dye) is added to this layer to give it color. I don't know of any paints that will replicate an anodized look. from the picture it looks like the pieces also have a jeweled finish to them, painting tends to conceal. I would say either locate an anodizing shop that will do small quantities or just purchase the pieces from a T/A restore company. good luck
jason aube
- flint, Michigan,usa
---
---
2004
Q. I have a 78 TA and have been looking for the "prizmatic" swirl dash bezel in silver in excellent condition for sometime. As I have had not luck finding one, I'm hoping I might find someone that knows how to machine turn or restore one by any means possible. If anyone has any ideas let me know.
Thanks,
Mark Driggs
- Oklahoma City, Oklahoma
---
2004
A. This question has come up several times here, and different people have called those overlapping circles a "jeweled finish", "engine turned finish" and "dowel finish". Some explanation of how it is done is on letter 13213.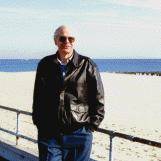 Ted Mooney, P.E.
Striving to live Aloha
finishing.com - Pine Beach, New Jersey
---
2006
affil. link
"Artists Anodizing Aluminum: The Sulfuric Acid Process"
by David LaPlantz
from Abe Books
or
info on Amazon


affil. link



Aluminum How-To
"The Chromating - Anodizing - Hardcoating Handbook"
by Robert Probert
(Finishing.com has sold 700+ copies without a single return request)
A. The originals were gold anodized. The durability and process of anodizing is as different from painting as the east is far from the west.

BUT...That gold color is a dye (stain) in which the part was dipped after anodizing. The anodized layer of the metal is aluminum oxide, which absorbs the gold dye. The PRINCIPAL of achieving the desired color is the same: With anodizing a colored transparent dye soaks into the raw anodize surface and colors it "GOLD". Similarly, a just-right mix of transparent yellow and clear, applied over clean aluminum can duplicate that look.

Given enough patience, you should be able to near-duplicate that look with paint. That color you have been using is too heavy (tinted) for the look we so covet. You will not be able to get the results you want with spray cans. You need to mix compatible clear with the transparent yellows or golds. Of course, you must use only transparent colors WITH NO METALLIC OR OPAQUE content whatsoever.

You should mix the paint VERY THIN and spray on a very thin coat. You goal is to get the color right with ONE COAT. (Every subsequent coat would deepen the color, but I recommend achieving the desired color with a single VERY THIN coat.) After drying, follow with one or two thicker coats of straight clear for protection.

By the way, plastic pieces with a gold finish also utilize a transparent "gold" (yellow) clear coat. Such pieces are vacuum aluminized and then coated with a transparent color top coat.

Again, the point of my post is to encourage and convince everyone that you can near-duplicate the TransAm gold using a mix of clear and transparent color paint. Of course, this is an old post and the original poster may never see this.
Edward M, Baker
- Madison, Alabama
-----
Ed. note: Although the original poster may or may not see your response, Edward, many other people will. So, thanks.
---
2006
A. See "Gold Dash Bezel Restoration Service" at www.transamcountry.com/sponsor_GBRS.htm. He also re-swirls them and restores the silver ones.
Ron West
- Alameda, California
----
Ed. note: Although the link which Ron provided has since broken, his search term will work well on search engines. Good luck.