Where the world gathers for
plating, anodizing, & finishing Q&As since 1989
"How to Blacken Stainless Steel"
adv.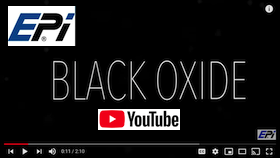 -----
Q. Hey there, I work for an aftermarket auto parts company that produces high quality roof racks and other exterior products. All of our products receive a black exterior grade powder coat finish, and thus we use black finish fasteners. We want to know what the best finish option would be for a black stainless steel fastener that is resistant to UV exposure, salt, road debris, etc.
Brian Hille
Product Manager - Scappoose, Oregon
May 16, 2023
A. Hi Brian. If you mean really high quality, then black chrome plating is probably the ideal. A black PVD finish may be excellent too. Slightly more affordable but still probably very good would be zinc-iron plating with black chromate. Depending on the type of fastener and the tool required for it, electro-painting or selective powder coating might be okay, but tools can obviously chip organic coatings.

Luck & Regards,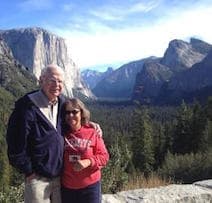 Ted Mooney, P.E. RET
Striving to live Aloha
finishing.com - Pine Beach, New Jersey



---
---
↓ Closely related postings, oldest first ↓
---
---
Q. Hello, I'm looking for information on the processes available for blackening stainless steel. If you could direct me to any publications or services, I would greatly appreciate it. Thanks,
Terry H
[last name deleted for privacy by Editor]
UC Santa Barbara, California
1995
A. Hi Terry. The Metal Finishing Guidebook lists 3 formulations of blackening baths for stainless steel. The one that sounds simplest to me, although I can't comment on its efficacy, reads:
- Sulfuric acid, 180 parts
- Water, 200 parts
- Potassium Dichromate [affil link], 50 parts
- Operating temperature, 210 °F.
Proprietary processes are also available. Although we don't discuss/suggest particular brands in the forum ( huh? why?), the forum is supported by advertisers who offer proprietary black oxiding products for stainless steel.
There are also PVD processes, painting & powder coating, stainless steel anodizing processes and black passivation processes. There are all sorts of black electroplating and electroless plating processes.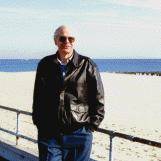 Ted Mooney
, P.E.
Striving to live Aloha
finishing.com - Pine Beach, New Jersey
A. Terry,

Your question did not specify what purpose the blackened stainless steel is to be used for.

Some of the components inside a TV tube must be "blackened" using a process of heating and cooling in a controlled atmosphere.
Leslie R Williams
- England
Ed. note: Please appreciate Leslie's point, folks. People get the fastest and most rewarding answers to their questions when they employ the reporters' creed of "who, what, when, where, & why" when posting their questions :-)
---
---
Q. Hi,

I am interested in blackening of stainless steel surgical instruments. The finished product is used in laser surgery, aka laser finished instruments. The final product should be a high quality, durable black satin finish.

More information will be greatly appreciated.
Andre Keeve
- Atlanta, Georgia
2001
A. For Black color in Stainless steel surgical parts only PVD coatings are recommended such as TiCN or AlTiN (Titanium carbo nitride or Aluminium Titanium Nitride). These are Thin film coatings and suitable for all surgical and body implants.
C.Lokanathan
PVD shop - Hosur, Tamilnadu, India
2007
---
---
Q. I am also interested in blackening of Stainless steel. I make etching in knife blades as is covered with Wax. The stainless steel I use is RWL34. The color method must not destroy the wax layer, as it is only the lines as I have drawn in the wax as shall be black.
Lars Tougaard
- Faaborg, Denmark
2001
A. Dear Lars,

Consider doing your artwork on a paper stencil and using an electrochemical etch to create the black markings on the steel. The cost of the markers is fairly low and the paper stencils can be made inexpensively. If the wax is a "hard" wax applied thinly, and does not move under pressure, it may work as well as the paper in keeping the chemicals from these areas of the steel.

Try looking for "electrochemical marking" with your favorite Internet search engine to find commercial suppliers for the equipment and chemicals.

The depth of penetration should be between 0.010 mm and 0.100 mm, depending on the chemical and the polarity of the electricity you choose. AC is less, DC is more.
Dave Hass
- Oklahoma City, USA
2002
---
---
Q. I have started to produce jewelry (Rings) using stainless steel and want to blacken the surface. Any suggestions would be gratefully received. I would prefer a dark, matte finish.

Thanks,
Burt Qwallis
- UK
2002
adv.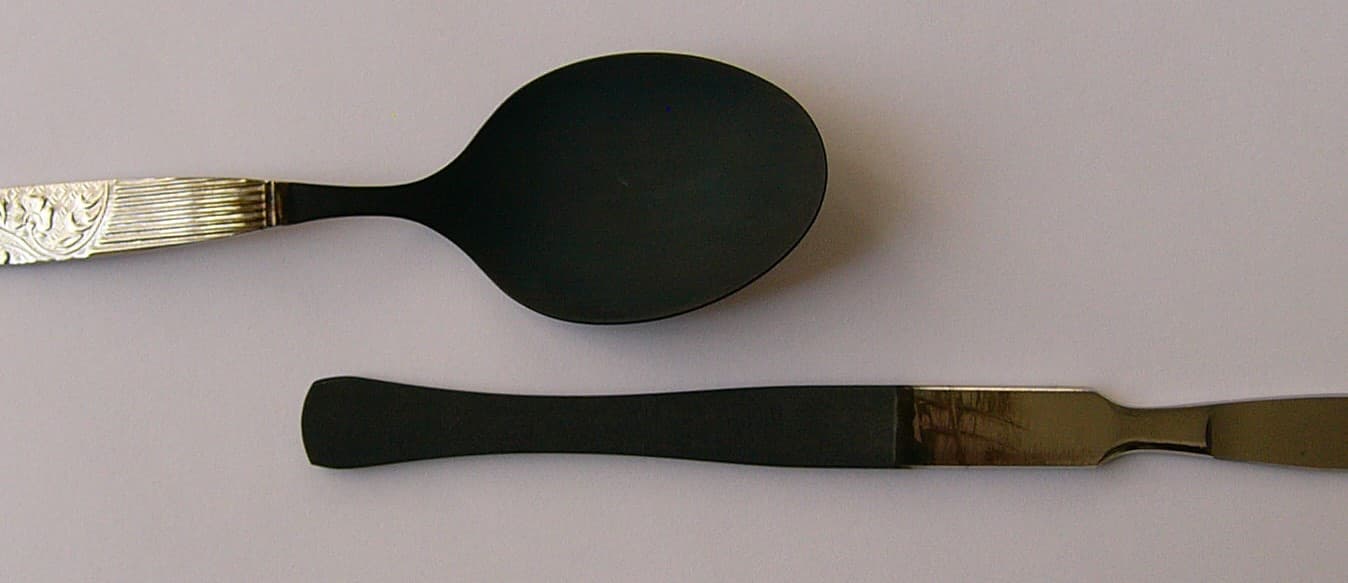 Burt, please visit our web site - there is a picture of black finished stainless steel spoons.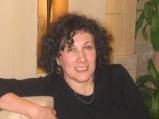 Anna Berkovich
Russamer Lab

Pittsburgh, Pennsylvania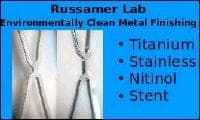 ---
---
Q. How do you prep stainless steel to accept oxidizers that will color it black in the field for example elevator interiors or doorways and entrances at high-rise office buildings.
#2: What type of chemical will work if not oxidizer?
Harry Smith
- Brisbane, California, USA
2003
---
---
Q. I am looking to have my Smith & Wesson Stainless Steel Revolver blacked. I had the process done to another of my SS revolvers over 12 years ago. Their site mentioned that it produced it's "black coatings on stainless steel and alloy steels by a "conversion" process. The chrome in the stainless steel is involved in a chemical reaction with the oxidizers in the solution producing chrome-sulfide." The finish has held up exceptionally well but that shop no longer offers blackening of Stainless Steel.

Thank You,
Adolph Alvarez
Hobbyist - Vista, California, USA
2004
---
---
Q. I have a Vintage Black Titanium Watch whose band broke years ago. Since then, I cannot find another Black Titanium Band to match. Would I be able to take a stainless steel band and "Match" it to the watch itself via Plating it or coating it?

If I cannot match it, would I be able to Plate or Coat the entire Watch Housing and band in a flat black color.... that will not wear off when worn?

Thanks in advance for the Help!
Jay Jackson
- Boca Raton, Florida
2005
Hi, Jay. It doesn't sound practical to me. Lots of black titanium watches have black leather bands. Maybe yours could? :-)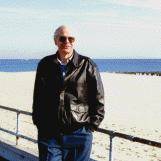 Ted Mooney
, P.E.
Striving to live Aloha
finishing.com - Pine Beach, New Jersey
---
---
Q. I need help blackening or darkening Stainless Steel,

Parts are approx. 20'x 6" x 4"

These pieces need to be welded on site.

Should parts be treated before or after installation?

Will welding affect pre-treated parts?

What Process can be used to do this?

Grateful for any help!
Marisa L
[last name deleted for privacy by Editor]
Casting Foundry - Beacon, New York
2005
---
---
Q. I am looking for the process which causes the surface of stainless steel to go black. Does it affect the corrosion resistance?
Robert Wark
Alstom - Pymble, Sydney, Australia
2005
A. Simple and cheap way to blacken stainless:
Oil it very sparingly (any edible oil),
then heat it slowly to max. 400 °C
Repeat if needed.

Good luck!
Goran Budija
- Cerovski vrh Croatia
A. If you heat stainless with an oxy-acetylene torch (neutral flame) until it has an orange glow uniformly, then let it cool naturally it will remain black. Polishing with steel wool and metal polish enhances the finish. This is for cosmetics only. It is a very hard finish but will scratch with sharp objects. It is black about .002" into the metal.
Repeat the process again with a warm water quench and some stainless will harden. The blackening occurs because the chrome and nickel are being burned out. The remaining metal seems to be the same strength, toughness, etc.
L.A. Jones
- la mesa, California, USA
September 14, 2011
---
---
Q. Is there a simple way to make chrome steel rods black in color?
Worth Hayden
- Winnipeg, Manitoba, Canada
October 17, 2012

A. Oil it very sparingly, and then heat it to 200 - 400 °C (slowly). Any edible oil or fat can be used, but linseed is the best. You can use hot air gun as source of heat. Hope it helps and good luck!
Goran Budija
- Cerovski vrh Croatia
Blade blackening for knife makers
Q. I am a small-shop knife maker. Is there a reasonable way to blacken hunting knife blades?
(1) carbon steel ,
(2) stainless steel
… in my shop? It should be effective as a corrosion inhibitor (carbon steel) and should not wear off when used under normal conditions.
Fran Varnum
Knife Maker - Luray, Virginia USA
September 3, 2014
A. Hi Fran. As you see, we've appended your inquiry onto a thread where Goran answered a similar question with a method that should be simple and low cost enough that you can try it and get back to us with your comments about it.

But corrosion-proofing carbon steel is not very simple, and most reasonably priced blackening methods are quite thin and nor particularly durable. PVD processes or black chrome plating would probably fully satisfy your needs, but at significant cost. Thanks. Good luck.
Regards,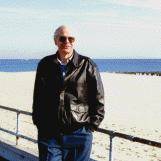 Ted Mooney
, P.E.
Striving to live Aloha
finishing.com - Pine Beach, New Jersey
---
---
Q. Hi,
I want to know about blackening processes of upper frames of kitchen stoves.
Many thanks for your any help you might give me.

Shahr Afkham




steel development co. - Tehran, Iran




May 19, 2015






A. Hi Shahr. I think what is called in your country "upper frames" might be called "grates" in mine? You are referring to what sits above the gas burner, and upon which the pots and pans sit during cooking? To my knowledge these are usually porcelain enameled. I don't know whether common practice is too dip them in a pot or fluidized bed of molten ceramic frit or whether the frit is flame sprayed on them. Hopefully someone else will.

But to my knowledge these are steel or cast iron. I am not aware that they would ever be made of blackened stainless steel.

Regards,

Ted Mooney

, P.E. RET

Striving to live Aloha

finishing.com - Pine Beach, New Jersey
---
---
Q. We have 50 year old Eldan stainless cutlery which has a floral pattern embossed in the handles with a black tint in the background. The black has faded, especially on the spoons where submersed in the coffee or tea.
How would I restore the tint safely?
dave canaday
- Aurora, Colorado, USA
June 30, 2015
---
---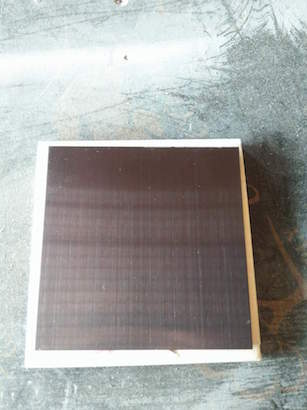 Q. Hi. We are a signage fabricator. Our client's requirement is for a hotel's room number using black stainless steel hairline finish as a backing for the numbers. I would like to consult other methods we can use to blacken stainless while maintaining the hairline finish of the raw material. Black Oxide patina however is not available from our country. Thank you very much in advance for your replies.
Joan Santiago Gonzaga
SignAries Advertising - Dinalupihan, Bataan Philippines
August 13, 2017
---
---
Q. I am looking to reuse my old s/s kitchen sink in a refreshed kitchen (as I have been unable to source a narrow, full length black sink that will fit within a 470 mm worktop.

I need a durable black or dark grey finish and was originally wondering if it could be somehow coated with liquid plastic (like tool handles). Any suggestions would be appreciated. Thanks.
Peter Fletcjer
- London, England UK
September 14, 2017
---
---
Q. I am looking for a way to darken a laser engraving on a knife scabbard. Unfortunately, the quality of stainless on the scabbard is nowhere near the quality of the knife. The engraver & my husband explained it is due to different layers of metal. Problem is, it makes the engraving look off, some places it almost appears nonexistent, but you can feel the engraving is there. Is there a way to darken the engraving without damaging the surrounding unengraved, polished stainless steel? The engravings vary in size from 1/4 inch to 1 inch (years of service and emblem).
Kate Lackey
- San Antonio, Texas, USA
September 11, 2018
---
Readers: We have a dozen long threads about blackening stainless steel. Please search the site with "Black stainless" plus your specific search word if you didn't find your answer on this page.
---