topic 7276
Stainless Steel Finishing to Achieve Colors -- Chemical / Electrochemical Process?
(2000)
Q. I would like to get full details on the electrochemical process of coloring stainless steel. If anyone can give me details or suggest me the source to obtain this information, I would be very much obliged.
PRADEEP GOPALAN
- CHENNAI,TAMIL NADU,INDIA
---
(2000)
A. Hi Mr. Gopalan. I am a graduate student of Shiraz University. Me & my friend work on coloring of stainless steel. Before us, another graduate student of Shiraz University worked on this. She could give green, blue, black, brown and .... color on stainless steel. I can give you any information we have, if you give us any information you have about this.
WITH THE BEST REGARDS,
Ali Reza Eftekhary
Shiraz university - Shiraz-Fars-Iran
---
(2001)
Q. I am interested about steel coloring, I would like some one help me how to get the information about this including the process and chemicals needed.Thank you
Musdinoviria
- Banyuwangi, East Java, Indonesia
---
(2003)
A. Electrolytic colour for SS(Ni/Cr 18/8):
H2SO4........1 lit
Na2Cr2O7......7,5 gm
70-95 °C,
0,06 A/dm2,
1,3V,
object = anode, cathode = lead
Colour sequence:brown-blue-yellow-reddish brown-purple-green.
Budija, Goran
- Zagreb, Croatia
---
---
"Blue Ion" Plating

(2001)

Q. I am in the medical industry and am looking for a surface finish for 316L SS resulting in a light purple or blue color. Finish must be able to stand up to high heat and moisture when being sterilized in an autoclave. Because of high use, it should not scratch easily. I have heard the term "blue ion plating" on SS, but have not had any success finding additional information. Thanks in advance for the help.

John Koontz




- Irvine, California, USA





---

(2001)

A. I haven't heard of "blue ion plating" either. Give it a couple of weeks, though, and google may start leading people who are looking for that term to this thread and, if there really is such a thing, answers might start coming .

But sometimes these terms are just trade names meaning not an awful lot. I never forgot the TV commercials from my childhood warning me that only Gleem Toothpaste had GL-70 :-)
Ted Mooney, P.E.
finishing.com
Pine Beach, New Jersey


---
---
(2004)
Q. This is very helpful but what strength sulfuric acid? More details if you could please. Thanks.
Frank Gyuru
- Clearwater, Florida, USA
---
(2005)
A. You must use 1,24 g/cm3 (density) sulphuric acid! Today I think that alkaline process is better solution, and it is RoHS compliant:
NaOH.....700 gm
KMnO4....10 gm
Na2S.....1 gm
H2O......1 lit
temperature 110-120 °C
20 V

Colour sequence: brown (3 minutes) - purple (40 minutes) - black (60 minutes)
According to Dettner/Elze :Handbuch der Galvanotechnik
Goran Budija
- Zagreb,Croatia
---
---
May 15, 2009
Q. We are looking for recommendations on the most robust method of treating/coating a stainless steel sculpture to withstand outdoor exposure. Hopefully we could get multiple colors, not just black. However black is also needed.

Thanks!
Mark Lueker
builder - Loveland, Colorado, USA
---
March 29, 2011
Q. Anyone know how to do peacock blue on SS parts?
Younas Bajwa
dental parts mfg - Chicago, Illinois, USA
---
A. Hi. Goran is an exceptionally knowledgable and always helpful metals conservator, but trying to do your own home-brew, based on an old book, is not necessarily what each and all want.
For those who may be looking for a commercially available process for coloring stainless steel from a shop with long experience in it, you can try finishing.com's supporting advertiser B&M Finishers [Kenilworth, NJ]; they call the process "Prismatic Finishing". Good luck.
Regards,
Ted Mooney, P.E.
finishing.com
Pine Beach, New Jersey
---
---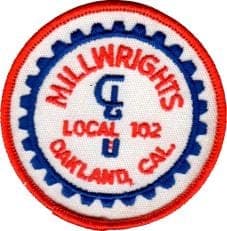 September 16, 2014
! I am cutting a logo out of stainless steel. The logo has several colors in the original. This is made of fabric; but I am reproducing it in stainless steel (red, blue, gold, white).
john liptrot
- napa, California U.S.A.
---
September 2014

Hi John. Please send us a photo of the stainless steel logo when you finish it. Any idea how you are going to achieve white and gold, other than paint? (I don't see gold in the fabric logo).
Regards,
Ted Mooney, P.E.
finishing.com
Pine Beach, New Jersey
---
---
What cathode material for stainless steel anodizing?
October 6, 2014
Goran, in the coloring of stainless steel that you described I would like to know what type of cathode you are using.
I am experiencing some problems using a lead cathode; it seems to be degrading during the anodizing process.
Ben Krafcik
- Cleveland Ohio


This public forum has 60,000 threads. If you have a question in mind which seems off topic to this thread, you might prefer to Search the Site