Live! From beautiful Pine Beach New Jersey: Welcome to the world's most popular metal finishing website
topic 16927
Coloring stainless steel (anodizing)
adv.
A discussion started in 2002 but continuing through 2018
2002
Q. Can someone please direct me into achieving coloring stainless steel (anodizing). I need to know what equipment to use and how to go about processing it. Thank you in advance.
Yours truly,
MUI THEN
- Delta, BC, Canada
---
2002
A. Stainless steel does not anodize like Ti or niobium, it is called inco-colouring and is usually done with heat and moisture. Oven heating at a certain temperature with a certain amount of humidity will colour stainless steel.
Jeff Swayze
- Kelowna, B.C.
---
2002
Q. Jeff,
Regarding Inco-colouring of stainless steel, how colorfast is the application for exterior applications? Thanks, Mike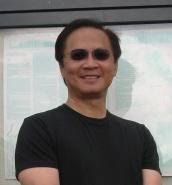 Michael Liu Taylor
specialty stainless steel distributor
Dallas, Texas
---
A. Well, the layer of colouring on the stainless steel is approximately 20-30 angstroms thick (the usual thickness of chromium oxide on most well passivated stainless), so if the parts are not abraded or in contact with corrosive environments, the colouring should remain intact. Perhaps if you used a clear aftercoat, the colouring will be protected from environmental damage. Which grade of stainless are you referring to, and what is the application? Will the parts be ornamental , or will they be handled regularly? Your results will be dependent on your application, as the colouring can easily be abraded, or etched away in relatively corrosive atmospheres.
Good luck!
Jeff Swayze
- Kelowna, B.C., Canada
---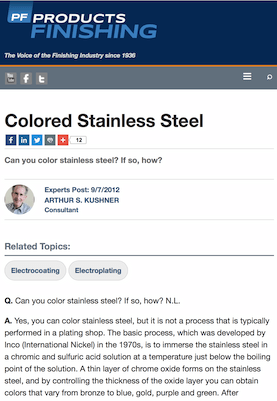 A. The coloring is completely lightfast because no pigments are involved; it's a diffraction (interference) coloration caused by the light reflecting off the surface of the clear chrome oxide coating and off the surface of the part below the coating. The coating is a partial wavelength thick, which causes the interference.
For that reason, though, I doubt that you can clearcoat it without losing most of the color, because that adds a second transparent layer, probably too thick for partial-wavelength interference. Good luck.
Ted Mooney, P.E.
finishing.com
Pine Beach, New Jersey
Striving to live "Aloha"
---
2002
A. Actually, there is a proprietary method sold by one of the advertisers at this site. Look for Prismatic Stainless Steel [from B&M Finishers, a finishing.com supporting advertiser]. Color is jet black.
James Watts
- Navarre, Florida
---
2002
DEFINITION:

"Inco process" and "Inco coloring" have quickly become slang, especially with the International Nickel Company no longer in existence to clarify their intentions.

While Jeff says the "Inco process" refers to electroless oxidation, and the Products Finishing article seems to imply the same, the European S.S. Development Assoc. says that the term refers to the electrolytic (anodizing) process.

Thus, the term should probably only be used in a specification with care & precision or it may result in a contract dispute :-)
2002
A. A coating on stainless steel may be achieved by an electro-chemical process, which creates a super-thin layer of chrome oxide. However, coloring 17-4 stainless steel is somewhat unpredictable, and better results may appear on 304 and 316 stainless steels. In theory, this procedure works best when the metal has been electropolished and demagnetized. In my experience, I have gotten different results, varying from drastic variation of tonalities from sample to sample (from brown to fainted black), to unevenness hues on one piece.
Instead, would black-oxide work for your application?
Clinton Tharp
- Avilla, Indiana
---
June 13, 2011
Q. Clinton Tharp, would you share your process and chemicals with me. I just want to color code 302 stainless steel pins, 22 gauge, 21 gauge and 20 gauge that are 3/4 inch long. So my pot or volume required is minimal and since my volumes are very small, it is not worth going outside for the process.
Mike Dalton
- Skokie, Illinois, USA
---
May 13, 2008
-- this entry appended to this thread by editor in lieu of spawning a duplicative thread
Q. Please let me know what process is used to colour 304 stainless. Can I do it myself?
Theunis Pretorius
knives - Kempton Park, Gauteng, South Africa
---
January 24, 2012
Q. I WANT TO GIVE BROWN COLOR ON STAINLESS STEEL 304 BY DIPPING INTO A CHEMICAL (BY CURRENT OR WITHOUT CURRENT). PLEASE ALSO TELL ME , WHAT OTHER COLORS CAN BE OBTAINED ON STAINLESS STEEL BY DIPPING INTO SOME CHEMICALS.

REGARDS
Shahzad Amin
- Gujranwala, Pakistan
---
April 27, 2012
Q. Most people are talking about using only 18SWG thick SS 304 or 316 material. Can this be done on 202 grade material which is 24SWG thick?
Visweswaran Manickam
- Trichy, India
---
---
April 14, 2014
-- this entry appended to this thread by editor in lieu of spawning a duplicative thread
Q. Hello, I have a slight problem and would appreciate some help
I have been asked as a degree project to color some steel accessories (small pieces used for clothes).
After some research I have found that the steel in question is most likely stainless steel although I don't know what family exactly. I saw that it could be colored by adding a layer of chromium oxide by passivating it.
Now I used different baths and this is what I got so far :
. nitric acid 20% --> stainless steel goes yellow then dissolves if exposed any longer
. nitric acid 20% + sodium dichromate (3oz/gal) --> same result as above
. citric acid 10oz/w --> stainless steel goes tin pink but doesn't dissolve

So I want to ask, am I going in the right direction? And what am I doing wrong because I want to have other colors?

Thank you for your time
Salem Mohamed Medhat
student - Korba, Tunisia
---
April 2014
A. Hi Medhat. A first principle for science experiments is that they must be replicable. Nothing has been learned if they are not. So a science student should not be trying to develop a treatment process for an unknown material. You must find out what stainless you have :-)
Austenitic stainless steel is much more suitable for coloration than martensitic, so start by verifying that your sample is non-magnetic if you have no other clues. I don't have hands-on experience with this stuff, but we've linked to a Products Finishing artice about it. I have also read that you can do an anodic treatment to get the chromic oxide for better coloring, and that cathodic post-treatments are used for hardening the coating. While the finest treatments have surely been the result of extensive proprietary development, your experimentation can take you further than it has so far. Good luck!
An outstanding paper on all sorts of stainless coloration is "Colouring Stainless Steel" by the European Stainless Steel Development Association.
Good luck and Regards,
Ted Mooney, P.E.
finishing.com
Pine Beach, New Jersey
Striving to live "Aloha"
---
---
June 11, 2018
Q. Which of these PVD (Physical Vapour Deposition) or Electroless (Inco process) is the best process for colouring of Stainless steel?
N Narasimha
- Bangalore, Karnataka & India
---
June 2018
A. Hi Narasimha. Many different methods would not be available if one were "best" of course. You need to describe the application, including what kind of coloring effect you are looking for, before anyone can explain the important advantages & disadvantages for that particular case.
But, in general, the previously referenced "Coloring Stainless Steel" white paper from the European Stainless Steel Development Association says about the electroless immersion process described in the illustrated "Products Finishing" article that "the coloured film obtained in this way proved too soft and porous to give adequate wear and abrasion resistance", and it references a study on it. It also explains why only corrosion-resistant stainless should be used for the electrolytic coloring process (anodizing), type 304 or better.
PVD coatings have true coloration to them, whereas electrolytic colored coatings are actually transparent and get their color from diffraction. So if you want varying rainbow coloration like an oil slick, or you like the colors to change when viewed from different angles, PVD won't do it; but if you demand that the color not change when viewed from different angles and under different lighting conditions PVD is better.
Regards,
Ted Mooney, P.E. RET
finishing.com
Pine Beach, New Jersey
Striving to live "Aloha"
---
June 13, 2018
Q. The application is for "316L stainless steel watch case" and required colors are Gold, Rose Gold, Dark Silver (lighter than Gun metal) and black(matte). Which is the best process for coloring this application?
N Naraimha
[returning]
- Bangalore, Karnataka & India
---
June 2018
A. Hi again. Probably PVD. Good luck.
Regards,
Ted Mooney, P.E. RET
finishing.com
Pine Beach, New Jersey
Striving to live "Aloha"
----
Ed. note: Additional threads about coloring/anodizing of stainless steel include topics 1383, 21437, and 24520.


If you have a question in mind which seems off topic, please Search the Site