Where the world gathers for
plating, anodizing, & finishing Q&As since 1989
-----
"Rainbowing" and "Bluing" of Stainless Steel
February 7, 2022
Q. I know this is an old thread but any luck doing green on stainless steel?
Josh Brackenreed
Metal artist - Leduc alberta
---
February 10, 2022
Various colors on stainless steel 18 Cr / 8 Ni

7,5 grams of sodium dichromate, 1000 ml of sulfuric acid (1,24 g/cm3), lead cathodes, object as an anode, 70-90 C temp, 0,06 A/dm2, voltage 1,3 V - colors depend on the duration of the procedure (5-50 min.), brown, blue, reddish brown, yellow, green. According to Russian literature after processing items should be soaked in a solution of potassium bichromate (5-10%), 5-15 minutes, 70-90 °C temperature of the solution. According to one Chinese patent treated objects can be then immersed in a hot diluted sodium silicate solution ( 1-5%, 95 °C, 3-10 min. ). Hexavalent chromates are carcinogenic and toxic, molybdate-based solutions are now being proposed as a substitute.

According to Wikipedia article on Chemical coloring of metals.Hope it helps and good luck
Goran Buidja
- Cerovski vrh Croatia
---
February 11, 2022
A. Immersion in boiling solution of 950-995 ml water and 5-50 ml phosphoric acid can be used too (according to USPT 2,521,580). 180 minutes! Hope it helps and good luck!

Goran Budija
- Cerovski vrh Croatia
---
---
---
Closely related Q&A's, oldest first:
2000
Q. I would like to get full details on the electrochemical process of coloring stainless steel. If anyone can give me details or suggest me the source to obtain this information, I would be very much obliged.
PRADEEP GOPALAN
- CHENNAI,TAMIL NADU, India
---
2000
A. Hi Mr. Gopalan. I am a graduate student of Shiraz University. Me & my friend work on coloring of stainless steel. Before us, another graduate student of Shiraz University worked on this. She could give green, blue, black, brown and .... color on stainless steel. I can give you any information we have, if you give us any information you have about this.
WITH THE BEST REGARDS,
Ali Reza Eftekhary
Shiraz university - Shiraz-Fars-Iran
----
Ed. note: Hello Ali and other readers. In addition to this page, please see threads 1383, 16927, and 24520 for loads of info on this topic of anodizing/coloring of stainless steel if interested. But this forum is for publicly sharing whatever you wish to share, it's not a matchmaking service for private communications.
---
---
To minimize searching & thrashing, multiple threads were merged; please forgive repetition, chronology errors, or disrespect of other responses (they probably weren't there) :-)
---
---
2001
Q. I am interested about steel coloring, I would like someone to help me how to get the information about this including the process and chemicals needed.Thank you
Musdinoviria
- Banyuwangi, East Java, Indonesia
---
2003
A. Electrolytic colour for SS(Ni/Cr 18/8):
H2SO4........1 lit
Na2Cr2O7......7,5 gm
70-95 °C,
0,06 A/dm2,
1,3V,
object = anode, cathode = lead
Colour sequence:brown-blue-yellow-reddish brown-purple-green.
Budija, Goran
- Zagreb, Croatia
---
2004
Q. This is very helpful but what strength sulfuric acid? More details if you could please. Thanks.
Frank Gyuru
- Clearwater, Florida, USA
---
2005
A. You must use 1,24 g/cm3 (density) sulphuric acid! Today I think that alkaline process is better solution, and it is RoHS-compliant:
NaOH.....700 gm
KMnO4....10 gm
Na2S.....1 gm
H2O......1 lit
temperature 110-120 °C
20 V

Colour sequence: brown (3 minutes) - purple (40 minutes) - black (60 minutes)
According to Dettner/Elze :Handbuch der Galvanotechnik
Goran Budija
- Zagreb,Croatia
---
October 6, 2014
Q. Goran, in the coloring of stainless steel that you described I would like to know what type of cathode you are using.
I am experiencing some problems using a lead cathode; it seems to be degrading during the anodizing process.
Ben Krafcik
- Cleveland Ohio
---
---
"Blue Ion" Plating
2001
Q. I am in the medical industry and am looking for a surface finish for 316L SS resulting in a light purple or blue color. Finish must be able to stand up to high heat and moisture when being sterilized in an autoclave. Because of high use, it should not scratch easily. I have heard the term "blue ion plating" on SS, but have not had any success finding additional information. Thanks in advance for the help.
John Koontz
- Irvine, California, USA
---
2001
A. I haven't heard of "blue ion plating" either. But sometimes these terms are just slang, or perhaps trade names not meaning an awful lot. I've still never forgotten the TV commercials from my childhood telling me that I needed to buy Gleem toothpaste because it and only it offered GL-70 -- why even bother brushing if your toothpaste doesn't have GL-70? :-)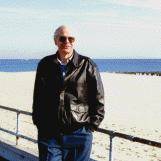 Ted Mooney
, P.E.
Striving to live Aloha
finishing.com - Pine Beach, New Jersey
---
---
2003
Q. My hobby is modifying and customizing pocket knives for my personal use. The blades are typically stainless steel of various types. I would like to know how to "color" stainless steel as one would "blue" gun metal. Another interesting effect I've seen is giving the SS rainbow hues. It would be great to find out how I can do that. Will these same processes work on titanium and aluminum?
Thanks for your help,
Ed Acunzo
- New Orleans, Louisiana
---
2004
Q. Hi, I am on the lookout for bluing stainless steel. We manufacture mugs, and are looking for the variety that could be provided by color on the metal. Since it's a product of everyday use, I am looking for something that would be permanent and resistant to washing and scrubbing, and very importantly non-toxic. Thanks for the help.
Rishi Jain
- Bombay, India
---
2004
Hello Ed,

Black oxiding of stainless steel is done industrially in a fashion very similar to black oxiding of steel, but with modified proprietary chemistry. If you know how to do black oxiding you could experiment on the stainless. Note that black oxiding is very dangerous because it involves strong caustic solutions at 270 °F. When water (which flashes to steam at 212 deg) is added to make good evaporation losses, there is a great potential for the solution to virtually explode.

Rainbow coloring of stainless steel can be done by a proprietary process called

Prismatic Stainless Steel

[from B&M Finishers, a finishing.com supporting advertiser]

.

Although titanium and aluminum can also be anodized, the processes are very different. The coloring in titanium anodizing is due to the formation of thin refractive films, but colors are applied to anodized aluminum with dyes.

Hello Jain,

Black oxide / bluing would be inappropriate for this application. The above-mentioned Prismatic anodizing might be appropriate though. Good luck.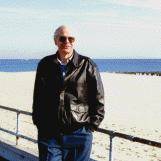 Ted Mooney
, P.E.
Striving to live Aloha
finishing.com - Pine Beach, New Jersey
---
---
To minimize searching & thrashing, multiple threads were merged; please forgive repetition, chronology errors, or disrespect of other responses (they probably weren't there) :-)
---
---
How to Anodize Stainless Steel Green
2004
Q. I have stainless steel parts for my car, and I would like to know what I need to do to anodize them green.
T. Schrader
student - Camanche, Iowa
---
2004
? You're sure they're stainless? While it is fairly common for hobbyists to anodize aluminum, I don't know of hobbyists anodizing stainless steel. I do know of proprietary processes for anodizing stainless steel though.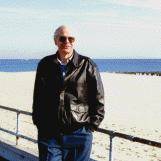 Ted Mooney
, P.E.
Striving to live Aloha
finishing.com - Pine Beach, New Jersey
---
2006
A. Yes you can

SS colour anodizing(only for 18/8 SS):
1 lit sulphuric acid
7,5 gm sodium bichromate
object=anode,cathode= lead
70-95 °C temp.,0,06 A/dm2, 1,3 V
Colour sequence brown - blue - yellow - reddish brown - purple - green.

----- I take no credit for this info I got it off another post on this site -------
Craig M
[last name deleted for privacy by Editor]
- Bessemer, Alabama
---
! Thanks, Craig; this in turn came from Dettner & Elze: "Handbuch der Galvanotechnik". But hobbyists should note that sodium bichromate (sodium dichromate) is hexavalent chromium -- the toxic and carcinogenic material that made Erin Brockovich [affil. link to Amazon] a household name; we don't know what cautions if any are included in the handbook.
Goran is exceptionally knowledgable and always very helpful; but he is an accomplished professional metals conservator, and trying to do your own home-brew like he is able to do may not be for everyone. For those who may be looking for a commercially available process for coloring stainless steel, from a shop with long experience in it, you can try finishing.com's supporting advertiser B&M Finishers / Prismatic Stainless Steel [a finishing.com supporting advertiser] [Kenilworth, NJ]; they call the process "Prismatic Finishing". Good luck.
Regards,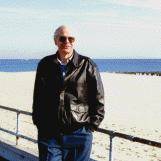 Ted Mooney
, P.E.
Striving to live Aloha
finishing.com - Pine Beach, New Jersey
---
August 10, 2011
Q. Craig, can you tell me how much % sulphuric acid to have? Is it 98%? BTW, sorry for my English.
Luck Ancypo
- Sokolka Poland
---
August 10, 2011
A. Hi, Luck.
We've now combined several threads including one where Goran Budija notes that the H2SO4 is 1.24 gr/cm3, i.e., about 28% (about the strength of battery acid).
Regards,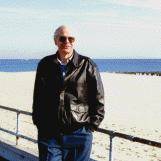 Ted Mooney
, P.E.
Striving to live Aloha
finishing.com - Pine Beach, New Jersey
---
---
February 9, 2008
Q. Aircraft seat buckles. Hi is it possible to anodize 2 different metals at the same time, i.e., aluminium and chromed steel
Rog Comber
hobby - England
---
February 12, 2008
A. Hi, Rog. I'm not clear whether you are speaking of anodizing stainless steel (with chromium in its composition) or chrome plating of steel. But, sorry, neither can be done in combination with anodizing of aluminum. You must do the processes before assembly.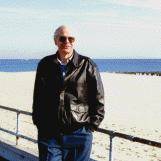 Ted Mooney
, P.E.
Striving to live Aloha
finishing.com - Pine Beach, New Jersey
---
---
May 15, 2009
Q. We are looking for recommendations on the most robust method of treating/coating a stainless steel sculpture to withstand outdoor exposure. Hopefully we could get multiple colors, not just black. However black is also needed.

Thanks!
Mark Lueker
builder - Loveland, Colorado, USA
---
March 29, 2011
Q. Anyone know how to do peacock blue on SS parts?
Younas Bajwa
dental parts mfg - Chicago, Illinois, USA
---
---
March 23, 2011
Q. What process will Color Stainless Steel Screws Gold in color?
Jerry Siegel
Manufacturer - Los Angeles, California
---
March 30, 2011
A. It's pretty common to coat stainless steel screws with titanium nitride to get the gold color. Cathodic arc deposition works best. You get the best adhesion with the arc and superior part coverage. The coating is thin enough that it will not affect the screws' performance, and in most cases it will improve it.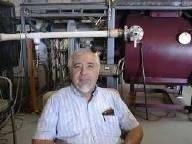 Jim Treglio
-
scwineryreview.com
PVD Consultant & Wine Lover - San Diego,
California
---
March 31, 2011
A. Jerry,

We have not paid much attention to this technology for a long time, since the most obvious way to color stainless steel is to use hazardous chemicals. However due to massive requests to find the bio-acceptable electrolytes and eco-friendly process to color-code medical stainless steel surgical instruments, we have decided to dedicate some time to research and experiments. See attached pics - our results.
adv.
Contact us for more information.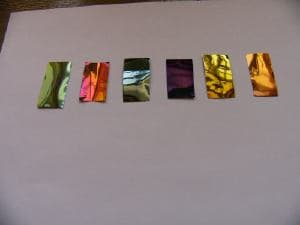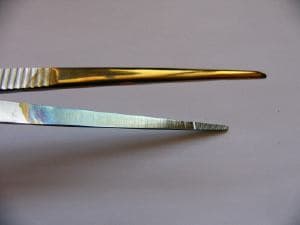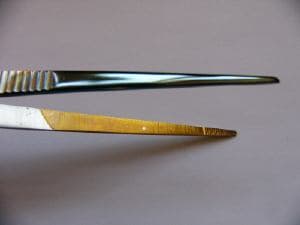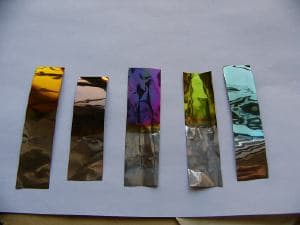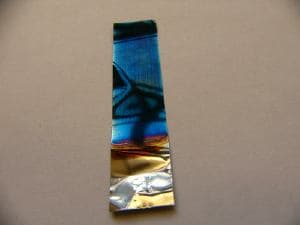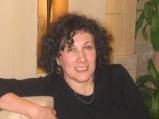 Anna Berkovich
Russamer Lab

Pittsburgh, Pennsylvania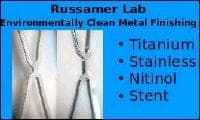 ---
June 21, 2011
A. Probably the simplest way is just to use heat. It takes a bit of practice, but small objects can be heat colored with a simple propane torch. Larger objects can be run through an oven. It is most important to ensure that the surface is clean.

I hope this helps.
Justin Kumpf
- Philadelphia, Pennsylvania, USA
---
---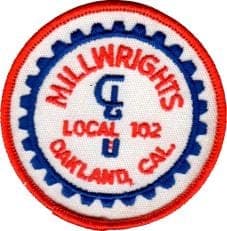 September 16, 2014
! I am cutting a logo out of stainless steel. The logo has several colors in the original. This is made of fabric; but I am reproducing it in stainless steel (red, blue, gold, white).
John liptrot
- napa, California U.S.A.
---
September 2014

Hi John. Please send us a photo of the stainless steel logo when you finish it. Any idea how you are going to achieve white and gold, other than paint? (I don't see gold in the fabric logo).
Regards,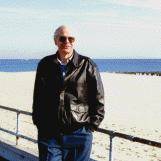 Ted Mooney
, P.E.
Striving to live Aloha
finishing.com - Pine Beach, New Jersey
---
---
Rainbow Stainless Steel
June 27, 2018
Q. Please help me and explain How to Colour Stainless Steel using Chemical Process?

Thank You.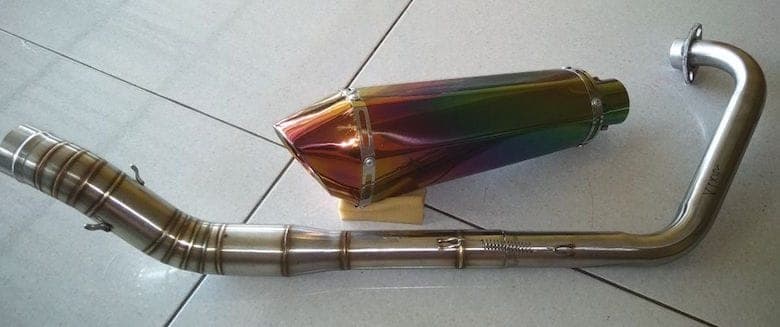 Best Regards,
Andhi Santosa
Hobbyist - Indonesia
---
June 2018
A. Hi Andhi. This thread, along with 1383, 16927, and 24520 cover it pretty exhaustively. Good luck!
Regards,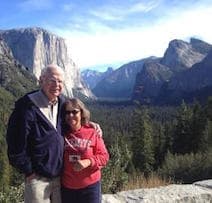 Ted Mooney
, P.E. RET
Striving to live Aloha
finishing.com - Pine Beach, New Jersey
---
---
February 1, 2019
Q. I would like to create a celtic symbol of three ravens swirling together on a brushed stainless plate. I want the brushed stainless to be the background and using a template only etch and color the raven bird pattern. I'd like to create colors of black, blue, purple and brown... but no pattern to the colors... just a swirled look like when you see a raven in the sun from different angles and can see the colors.

Any ideas on how to do this? The plate is brushed 304 grade stainless steel 15 x 15 inches square.

Thanks for any help or suggestions!
Jeff Neel
Blue Earth, LLC - Manhattan, Kansas, USA
---
February 2019
A. Hi Jeff. I think you might find splash anodizing of aluminum or rainbow anodizing of titanium easier than anodizing stainless steel. But with any of the materials the first step is to mask what you don't want colored. If you don't want to get involved in photomasking and special materials, you can probably cover the whole surface with black electricians tape (or preferably platers' tape) and cut out your celtic symbol with an Exacto knife, and experiment with formulas and procedures as described by Goran and others.
Gradually taking the tape off the patterned area so you get different immersion times and depths should offer some color variation. But it's probably best to experiment a bit with scrap before doing the actual piece.
Regards,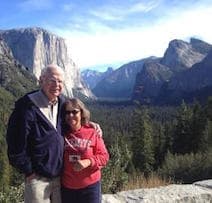 Ted Mooney
, P.E. RET
Striving to live Aloha
finishing.com - Pine Beach, New Jersey
---
March 21, 2019
A. Hello!
Regarding colorizing a pattern on stainless steel, I'm wondering whether "Firescoff", or something similar, might work if the areas not to be colorized were coated, and the areas to be colored heated with a small torch?

Since such coatings are used to protect areas of a work (including even gemstones, I think) from heat damage, it seems reasonable. I don't know whether any are sprays that could be used with a stencil, or whether thy'd need to be painted on (especially if thick layers are needed). But it might be worth a look?

I hope that helps!
Kris Krieger
- Houston, Texas, USA
---
---
304SS - Should knitting needles be heat-treated?
March 21, 2019
Q. Hello!

Since they are not commercially available, I'm going to make some long (20") straight knitting needles for knitting lace (I know there are "circular" ones with cables attached, but the needles themselves are far too short for me to manipulate). I ordered 3mm-diameter 304SS rod and will sharpen the tips as needed, then polish, using down to 12,000 grit or if possible, finer.

OK, so, my question is, Since these will be in my hands *a lot*, and since they also will be used with white or light-natural cotton crochet thread, would torching them result in a surface more resistant to oxidation?

I ask because I had bought some cheapo stainless steel needles, and they get a gray layer on them which spoils the yarn.

Since The only chemicals I keep around the house are NaOH, and Citric Acid (both as dry granules). I assume chemical treatment is not doable. I do have low-voltage widgets for basic (meaning "primitive") electrical etching, but again, I don't have the items I've seen recommended for plating or anodizing or any of that.

So that's why I'm focusing on heat...

Thanks in advance for any info/advice!
Kris Krieger
"one of my too-numerous hobbies" - Houston, Texas USA
---
March 2019
A. Hi Kris. The phrase "heat-treat" is usually reserved for heating processes which make a material harder, so you might run into some confusion because people will tell you that type 304SS cannot be heat treated. I would think that passivating the stainless steel with citric acid is the best approach and is something that you can do with materials on hand.
I've never worked with lace but I'd suspect that oils from extensive handling with your hands would discolor them and wonder if the thing to do might not be to wear thin gloves rather than trying to make the stainless steel impervious to hand oils?
Regards,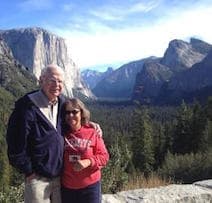 Ted Mooney
, P.E. RET
Striving to live Aloha
finishing.com - Pine Beach, New Jersey
---
March 27, 2019

Hello and thank you for your reply!

To first address your suggestion of wearing thin gloves, I can't manage that - the work is small in scale and I don't have enough dexterity to do it in gloves. I received my rods this morning and I think, with treatment, they'll withstand the handling and skin oils. I strongly suspect that the cut-rate "stainless steel" knitting needles I had bought were also cut-rate steel.

Moving right along:
Apologies for my inaccurate terminology - I admittedly pick info up willy-nilly, and the same goes for me confusing "heat treatment" with "heat tinting", which I actually had discovered while looking into how to "weave" chain-maille-type chains.

ANYWAY, since you gave me the correct terminology, I was able to do some searches on "citric acid passivation", and the "Nutshell Version" seems to be:
1) clean to remove grease,
then
2) "soak" for 30 minutes in a 150 °F bath of 10%-by-weight solution of Citric Acid in Distilled Water.

If I've understood it correctly, it's fairly straightforward and definitely worth a try, once I've finished grinding the points and polishing/smoothing the units.

Thanks again!
Kris Krieger
[returning]
- Houston, Texas, USA