World's most popular finishing site / Internet's friendliest corner
topic 24520
Anodizing of stainless steel
adv.
A discussion started in 2003 but continuing through 2019
2003
Q. I keep seeing requests for anodizing stainless steel. Is there a process for doing that?
I have been in the business for many years and have never heard of it.
Jim H
[last name deleted for privacy by Editor]
job shop - Lynchburg, Virginia
---
---
September 13, 2010
Q. In the house we bought 2 years ago, I have a 23 year old Thermador Cook n Vent cooktop with 4 gas burners and an electric griddle. It is stainless steel - 18 gauge, # 4 brush, grade 304 (Thermador informs me). It works great, but I have never been a fan of how stainless steel looks in a kitchen. I would like it to either take on the finish appearance of brass or nickel or an enamel-like appearance of white or black. Perhaps other colors. Perhaps other types of finishes I haven't thought of. Is this feasible? Is doing it, if it can be done, affordable? If yes to these questions, is there a company who could do this for me in New England?

Thank you so much for your attention to these questions. I am fascinated by this web site!
Barbara W
[last name deleted for privacy by Editor]
- Concord, Massachusetts
---
---
December 1, 2011
Q. Seeking care and cleaning/maintenance instructions for anodized stainless steel. Can any of the experienced industry contributors offer some simple care, chemicals to avoid?

Specific application: Pushbutton switch, switch has 200k life cycles expected...but will the anodized finish meet the life cycles with normal human touch or will it fade, chip or wear long before the electro-mechanical properties of the switch?
Joan Lanoux
- Minneapolis, Minnesota, USA
---
---
December 6, 2011
Q. Can 316 Stainless Steel be anodized a Gold color? Does it create an Oxide layer like when anodizing titanium? If so, do you know what process is involved, for example, does it need to be acid treated first, etc?
Joell Cruz
Medical Device Technologist - Palm Beach Gardens, Florida
---
---
August 16, 2012
Q. I want to know if the SS trim from a classic car can be colored even if the type of SS is not known.
Thanks.
Mark Brizzi
customs - Parish, New York USA
---
---
---
Anodizing Aluminum and Stainless Steel Together: Can It Be Done?
November 9, 2013
Q. I have a Japanese made fishing reel I wish to re-anodize all black. It has a stainless steel component held in place by stainless steel rivets. I wish to reanodize the whole thing without drilling out the rivets and removing the ss component because I cant find anyone competent enough to redo the rivets in the same quality as the manufacturer.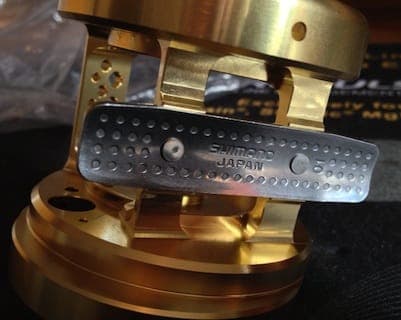 Can the aluminum and stainless be anodized together?

I also see mixed answers about anodizing stainless steel alone; some say it corrodes, others say it can be done. Can anyone give an authoritative answer on this?

Thanks!
Adam Jaynes
- Yucaipa, California, USA
---
---
April 18, 2014
Q. I want anodising on carbon steel or stainless steel fasteners. Is it possible ?
Paresh jadavani
Kundan - Mumbai,Maharashtra,india
---
---
July 29, 2016
Q. Is it possible to anodize stainless steel brake rotors for a motorcycle? Will the process of braking wear the color? For the record, I want to anodize the two front brake rotors and the one rear rotor of a Harley Davidson sportster. Thank you.
Robert Cluesman
Filmmaker - New York, NY, USA
---
---
February 1, 2017
Q. I need to remove some anodizing from a stainless steel part. Is that possible without damaging any pieces not anodized? Thanks for your help.
Kenneth Colemere
fabrication - San Antonio, Texas USA
---
---
August 8, 2017
Q. I have 3 different size ball gauges (21 mm, 25 mm, 28 mm) used for what we refer to as a ball drop test to check for the ID to be in spec. (plastics manufacturing plant)? I've currently got a good amount of each of these ball gauges, all solid stainless steel, and we are constantly having the balls mixed up by the operators. I am looking into having these finished in a way that they would be easily distinguishable. I would need something durable, as these are used upwards of 600 times a day. I can't risk any type of coating that would possibly leave debris of any sort in the part. Also, the dropped into a metal trough from about 3 feet high. Any suggestions?
Jordan Hamblen
- Gallatin, Tennessee, USA
---
---
October 14, 2017
Q. Can I do anodizing on stainless steel to weld it for polymer by hot press bonding ... thanks.
Mahmood M. Hamzah
- madaen, baghdad, iraq
---
(you are on the 1st page of the thread) Next page >
---