topic 7274
Anode Calculation for Chrome Plate Process
(2001)
I am a Tool Design engineer with limited experience in designing anodes for plating processes. I need to design an anode for chrome plating a 5.125 inch diameter (outside only)cylindrical part that is 7.50 inches long. The surface area of the part is 120.75 sq in. I plan to surround the part with a cylindrical lead alloy anode. An anode to cathode ratio of 2:1 suggests that the anode inside diameter (ID) should be 10.25 inches. This would place the surface of the part 2.56 inches from the anode ID. Is this correct? If not, my question is how do I calculate the inside diameter for the lead anode for proper spacing with the part?
Asa Smith
Robins Air Force Base - US Air Force
---
First of two simultaneous responses-- (2001)
With no more than what was given, this is a piece of cake for conforming anodes.
1. I would certainly use a grid anode rather than a solid sheet. Hard Chrome Consultants in Cleveland sells them. If no one in your shop has their manual, I would certainly buy one. 20% of the book is backslapping and badmouthing regular plating vs conforming anode two bus bar system, but the balance of the book is very down to earth and very useable.
2. It takes more voltage to drive an electron across a distance. This translates into unnecessary heat- A waste of time and money. I would personally set it up with a 1/2 inch spacing. If that seems tight, use up to a 1 inch spacing (part to anode). The tighter you get it, the less voltage you have to apply and the more directional the plate becomes. For a 7.5" tall part, I would use a 6.75 to 7.0 tall anode (grid). This will reduce the dog bone effect that you will get otherwise. Why put on chrome that you have to spend money to take back off and risk burning it because the grinder is in a rush. With a grid, you can nip off every other "post" to further reduce the effective anode area if needed to minorly reduce end overplating.
3. 4.4 to 4.5 volts and a solution temp of 120F will give you an awesome plate rate.
4. Why the grid? Because it percolates a lot better with the outgassing so you get a better agitation and knock down the diffusion layer on the part better.
5. Forget anode to cathode ratio. Anything above 1:1 will not generate much trivalent, so works well. To get more area, the anode has to be further away and is massively less efficient.
6. It works!
James Watts
- Navarre, Florida
---
Second of two simultaneous responses-- (2001)
Using a grid-type anode is preferable because a grid has considerably more surface area than a solid anode the same size. More surface area equals better anode/cathode ratio If you want a good smooth distribution of chrome on the part, use about 1 to 1.25 inches of spacing and if possible, make th anode about 1/2'' shorter than the part on each end, this will slow down the additional plating at the corners for an even distribution.
Regards,
Phil Sterrett
metal finishing shop - Cleveland, Ohio USA
---
(2001)
Hello:
Interesting question.
I think for such a small part 3 inch spacing is good enough.
But why are you surrounding the part with anodes. You may put flat anodes at both sides. You can move your cylindrical part after some time during plating to avoid any ovality.
Also you should make sure the length of the anodes should be less than the part itself. I would say 1 inch less in your case. Otherwise you will see dogbone effect at the bottom side of the part i.e. deposition build up.
Hope it helps.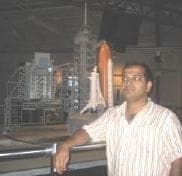 Hemant Kumar
- Florida, USA
---
January 6, 2013
Q. The suggested anode to cathode ratio is 2:1 or 3:1 now the question is for each and every batch the size of the anode will change so how to design the cathode on which basis?
Aijazullah Tajir
- Al-ain, UAE
---
January 6, 2013
A. Hi Azijazullah. The cathode is the part you are plating; I think you have swapped the words 'cathode' and 'anode' in your question.
Your question is difficult to answer because there are many different ways to fixture parts for chrome plating, and there are other issues in anode-cathode geometry besides the ratio of the areas.
Are you talking about decorative nickel-chrome plating (which is a different subject than the hard chrome plating process discussed here)? Hard chrome plating can utilize either standard tank anodes or custom made anodes, designed for each individual piece (sometimes built into the rack), but in hard chrome plating the anodes usually must closely conform to the shape of the part regardless. Please try your best to describe your situation, rather than posting an abstract question. Thanks.
Regards,
Ted Mooney, P.E.
finishing.com
Pine Beach, New Jersey
---
April 18, 2013
Q. I have Cylindrical part OD 38.50 mm & Length 205 mm. I have problem in chrome plating. I have No Idea For JIG & FIXTURE Design for this part.

When I try to do plating to this part/job down side thickness variation Suggest me How to do plating on this Part.
Gopal Jograna
- Gujrat, India


This public forum has 60,000 threads. If you have a question in mind which seems off topic to this thread, you might prefer to Search the Site